►
◄
latest
habitat tv
blog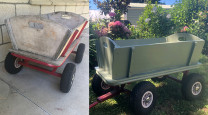 A fresh start for homeowners in nature-inspired home built following the Christchurch earthquakes
When the owners of an earthquake damaged homestead in Christchurch came to Jackie Nicholls for help with their new build's interior, they knew they asked the right person. Jackie is no stranger to interior design, and being one of Resene's valued Colour Experts, there couldn't have been a better person for the job.
Jackie knew the homeowners needed a fresh start, but that they also wanted to stay on the land they have lived on and loved for so long. The new build now sits at the back of their property right next to the beautiful Wairarapa Stream beside an abundance of nature, so Jackie wasn't short of inspiration, using the surrounding environment to help the homeowners choose a colour scheme for their new space.
She spent time with the homeowners to really understand how they wanted their new home to look and feel, looking at fabrics, the environment and other finishes to help pull it all together. The new home, known as the 'River House', was designed by AW Architecture and won an award for the thoughtful design which embraces the river setting and established trees that surround.
"River House is a beautifully designed home nestled at the end of a tree lined driveway," says Jackie.
"The architects were mindful of the surroundings, using natural materials and opening the house towards the river and courtyard, so the Resene colours I chose for the home needed to reflect the environment and create a sense of peacefulness and style. I love colours influenced from nature that are calming but intriguing, from gentle whites to dramatic deep shades."
The soft white of Resene Quarter White Pointer was used in the entrance, where the view to the garden takes centre stage. This continues into the main living space, which has beautiful tall, raked ceilings and a dramatic feature wall at the far end.
As you walk down the hallway, another inviting space catches your eye. A den full of books, art and comfy leather settees. The wall colour, Resene Gravel, a brooding mix of grey, green and brown, was carefully chosen to reflect the greenery outside and creates a calming space.
Inspiration was also taken from the beautiful olive and gold toned Carlucci linen fabric, making the den one of the homeowners' favourite rooms in the house. The deep wall colour gives it a high-end ambience with a side of comfort. This is definitely a room to snuggle up in with a blanket and a good book.
"Don't be afraid to add dramatic and deeper tones here and there," Jackie says. "It will elevate an ordinary space into something special, while also enhancing your furnishings and artwork. The addition of some timeworn pieces of furniture will bring a sense of history and character to a new home."
All dark shades in the home were painted with Resene SpaceCote Low Sheen to minimise marks and scratches and reduce glare. This paint is used to bring enamel style toughness to broadwall areas, allowing you to get a low sheen finish without sacrificing durability.
In the spacious living area, the wall painted in Resene Porter, a mysterious, dark charcoal brown creates drama and cosiness. The homeowners wanted the TV to disappear, and this shade does the job well making it barely noticeable. Instead, your eye is drawn to the floating shelves and wood burner. Lighter bright tones are included in the master bedroom with Resene Quarter Stonehenge, a restful taupe grey.
The spare bedroom is painted in Resene Quarter Foggy Grey from the Karen Walker Paints collection, a delicate shade of warm grey, sophisticated and timeless. This is another one of Jackie's favourites.
Even the garage got the Jackie touch with an interior lined with plywood and given a soft Resene Colorwood Whitewash finish to lighten it and create a link to the natural cedar exterior.
Jackie says she worked hard to create cohesion and unity throughout the house, despite the varying colours. The artwork in the two bedrooms echoes the earthy green and gold tones from the den, and all the rooms have their own extension through tones radiating from the natural environment beyond the windows.
"All of the colours are complex, with natural undertones that mix and match well creating a harmonious environment," says Jackie. "The use of some darker tones adds drama and a high-end vibe."
"I love everything we have done for the homeowners," says Jackie. "There are surprises and areas of interest, but it feels cohesive, and the way it opens to the beautiful setting from every room is very clever."
A favourite colour of Jackie's is Resene Quarter Foggy Grey from the Karen Walker Paints range. She likes this colour for its delicate and gentle, but surprisingly complex hues, sitting well in a new build but also stylish in an older home.
Jackie is a part time Colour Expert at Resene and also runs her own business, House On The Hill Design, teaching decorative painting techniques and doing colour consulting work for her clients. She lives and breathes colour every day and gets so much inspiration from helping others and sharing her ideas.
"It's always hard to imagine the finished result from a plan but engaging a consultant to help you through the process will give you the confidence to create a home that reflects your style and enhances your wellbeing every day," says Jackie.
"The best part of all this passion and experience is sharing it with others," says Jackie, "whether it's helping to create a beautiful interior for someone or sharing practical skills with a small group of like-minded people."
"It's about the simple pleasures and sharing, always good for the soul!"
See more of Jackie's work at House on the Hill Design: www.houseonthehill.co.nz
Top tip:
Use Resene SpaceCote for dark interiors – low sheen for main walls and the flat version for walls in areas like master bedrooms to help bring out the depth in the colour. Very adaptable, Resene SpaceCote can also be used on interior wet areas. Typically used on architraves, bathrooms, furniture, kitchens, laundries, plywood, skirtings and wallboards.
Prep: Clean surfaces down thoroughly to remove all dirt, dust and loose material. Ensure surface is free from oil, grease and mould.
Prime: For fibrous plaster use Resene Broadwall Waterborne Wallboard Sealer, for particle board and timber use Resene Quick Dry, for varnished or laminated surfaces use Resene Waterborne Smooth Surface Sealer, and for soft or absorbent surfaces where the surface to be painted is considered too soft to form a stable substrate, a saturation coat of a fully penetrating sealer such as Resene Sureseal may be required.
Application: Apply by brush, speed brush, synthetic fibre roller, or spray. Apply two coats of Resene SpaceCote in the required colour allowing dry time between coats.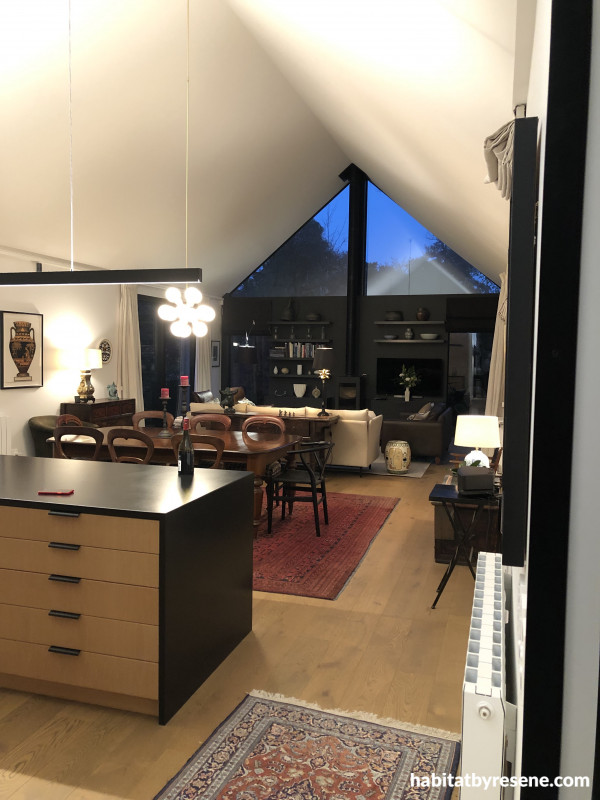 This striking open planning living and dining room shows all of the wonderful colour choices. The walls are painted in Resene Quarter White Pointer with the feature wall in Resene Porter and the ceilings and trims are painted in Resene Double Alabaster.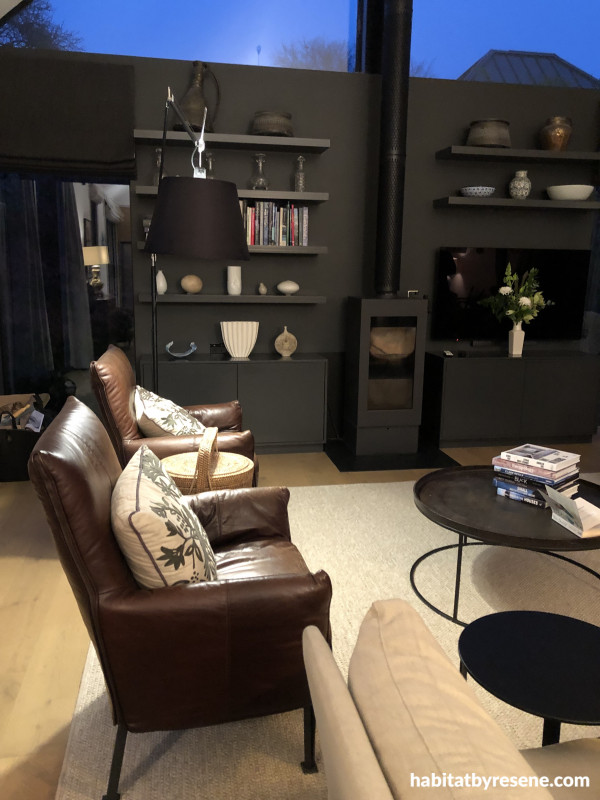 This cosy living room shows off the dark feature wall and shelves inResene SpaceCote Low Sheen tinted to Resene Porter to minimise marks and scratches and reduce glare and shine.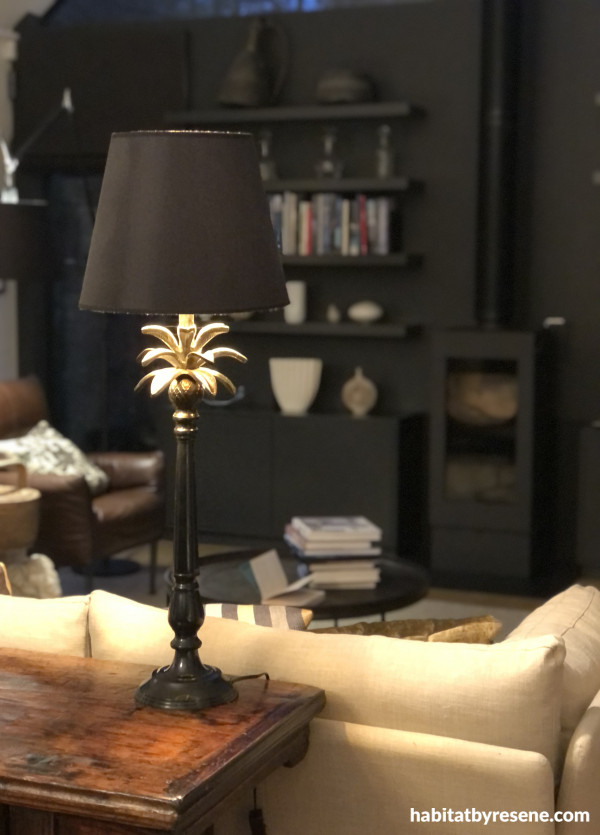 These furnishings were very carefully chosen to complement the feature wall in the living room, painted in Resene Porter.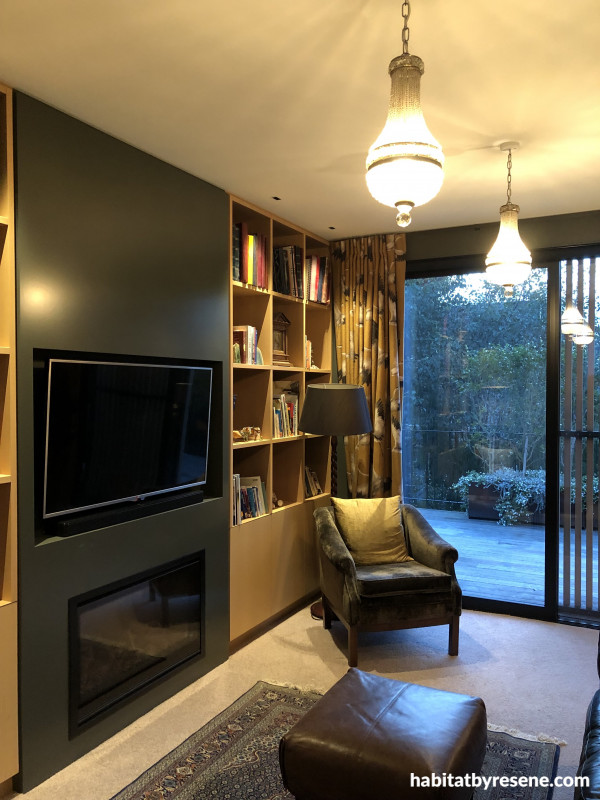 This cosy den and library painted in Resene Gravel makes you want to open a book and sit under a blanket. Ceiling in Resene Double Alabaster.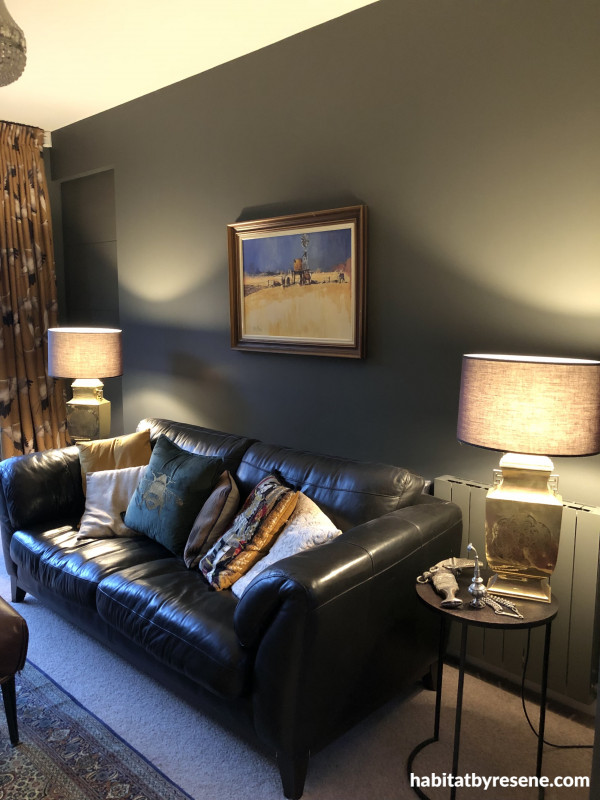 The den draws you in on those stormy nights, a little retreat to snuggle up in. The walls are painted in Resene SpaceCote Low Sheen tinted to Resene Gravel with ceilings painted in Resene Double Alabaster.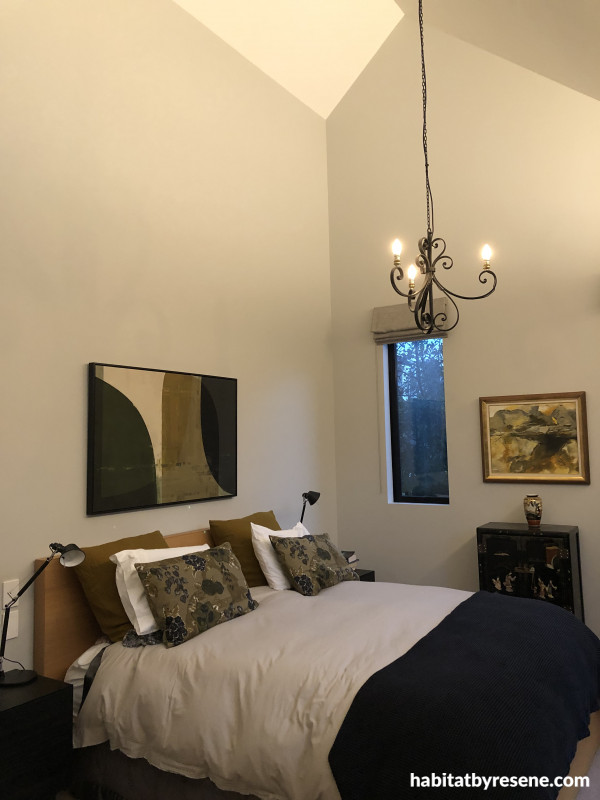 This master bedroom has elegant tall ceilings, and trims, painted in Resene Double Alabaster. The walls are painted in Resene Quarter Stonehenge, a relaxing colour perfect for a bedroom retreat.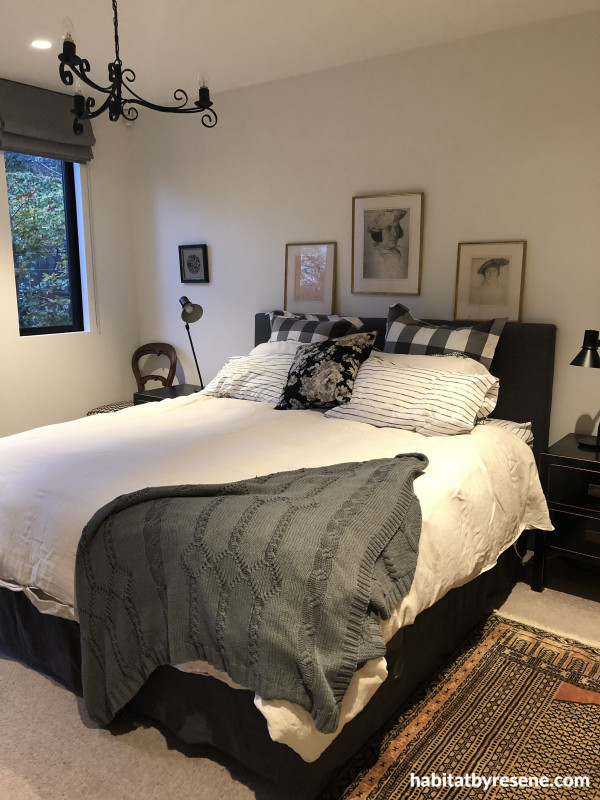 The spare bedroom, another inviting and cosy room in the house, is painted in Resene Quarter Foggy Grey, with ceilings and trims in Resene Double Alabaster.
Published: 11 Jan 2023
Do you have a home full of wonderful Resene paint and colour? Send us some snaps by emailing editor@habitatbyresene.co.nz.
Resene Quarter White Pointer
Resene Quarter Foggy Grey
Resene Quarter Stonehenge
the look
If you're stuck on what
colour to use or need colour
advice, try out the Resene
Ask a Colour Expert service.