►
◄
latest
habitat tv
blog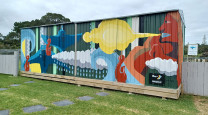 Aquas are splashing into interiors right now
Aqua is at the front edge of trending interior colours at the moment for walls, painted furniture, accents and accessories. From lighter versions like Resene Freelance to saturated shades like Resene Deep Teal, you can almost never go wrong with opting to decorate with beautiful blue-greens like these.
Since aquas are often associated with everything peaceful and calming – the ocean, clear skies, and Mother Nature in general – it makes sense that many of us want to be surrounded with the colour that make us feel at peace and reduces the stress of the breakneck pace of our everyday lives.
Here are six ideas to bring this splashy hue into your home.
Published: 08 May 2019
Do you have a home full of wonderful Resene paint and colour? Send us some snaps by emailing editor@habitatbyresene.co.nz.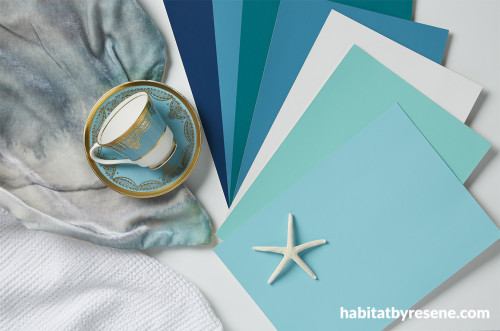 1. Try it in a tone-on-tone teal palette
Resene has a whole range of aquas and teals that are perfect for building an on-trend tonal palette. This one features A4 drawdown paint swatches (from front to back) in Resene Yes Please, Resene Freelance, Resene Poured Milk, Resene Hullabaloo, Resene Deep Teal, Resene Yowza and Resene Wishing Well.
Because aqua can tend to overwhelm when used in larger doses, be sure to balance it out with plenty of a crisp neutral colour, such as Resene Alabaster (shown in the background).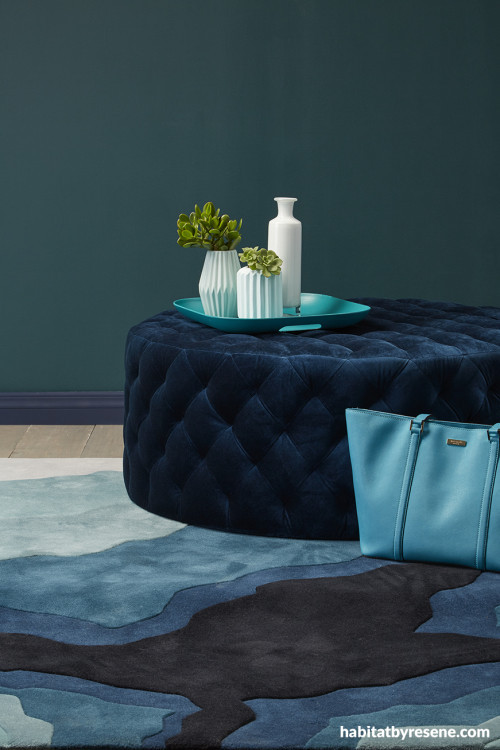 2. Liven up a lounge
In this lounge, the dark walls in Resene Atlas with architraves in Resene Indian Ink create a cocooning effect, making it the perfect place to relax after a long day. The Resene Colorwood Mid-Greywash floors provide balance to keep the intensity of the wall colour from swallowing the space. The tray pops in Resene Yowza while this show-stopping rug from Designer Rugs mixes in a healthy dose of visual interest with its topographic texture. The petrol blue velvet ottoman adds to the luxury of the look while the vases (from left to right) in Resene Meditation, Resene Kandinsky and Resene Poured Milk add softness.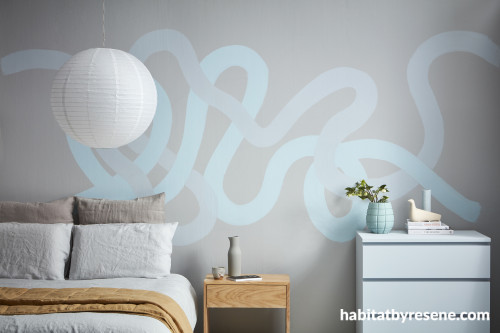 3. Beauty up a bedroom
Swirly waves of colour inspired by the lapping sea create a calm and peaceful environment for sleeping in this soothing bedroom. The wall itself is painted in Resene Grey Seal with overlapping painted swirls in Resene Mystery and Resene Remember Me. The design works almost in the same way as a bedhead to anchor the room.
To get the look, use a wide speedbrush, available from Resene ColorShops, to paint wavy lines across the wall. You can map out your pattern first as a general plan or you can be a bit random and it will still work well. If you're particularly nervous about the outcome try some options on plain paper first, then scale it up to your wall.
Bring the wall colours further into the space by painting a chest of drawers in Resene Remember Me and vases in Resene Unwind, Resene Grey Area and Resene Slipstream. Finish off the look with washed linen bedding in the palest of blues and a golden sand coloured throw.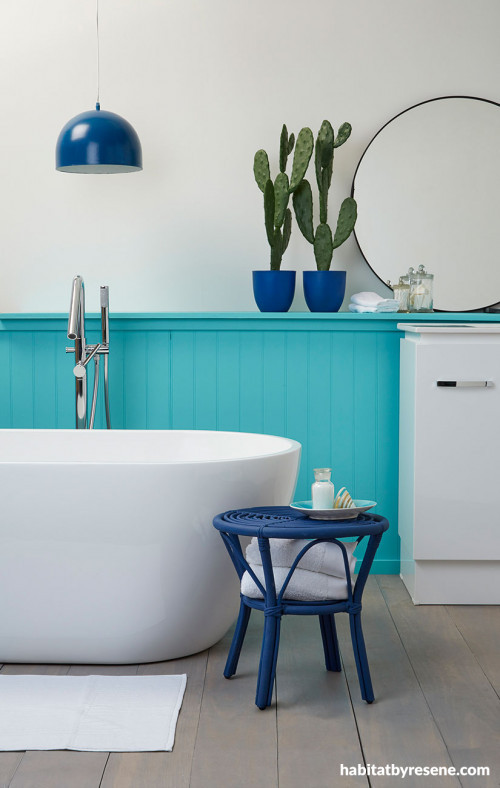 4. Brighten up a bathroom
In what could have otherwise been a very basic bathroom, this space has been given a massive mood lift with a few coats of Resene Yes Please on the tongue-and-groove panelling, complementing the creamy yellow undertones of the Resene Elderflower walls. Staining the floors with Resene Colorwood Mid Greywash gives the room a bit of a casual, beachy feel, which inspired the incorporation of deep dark ocean blues like Resene Wishing Well on the pendant lamp, Resene Submerge on the cacti pots and Resene King Tide on the rattan table.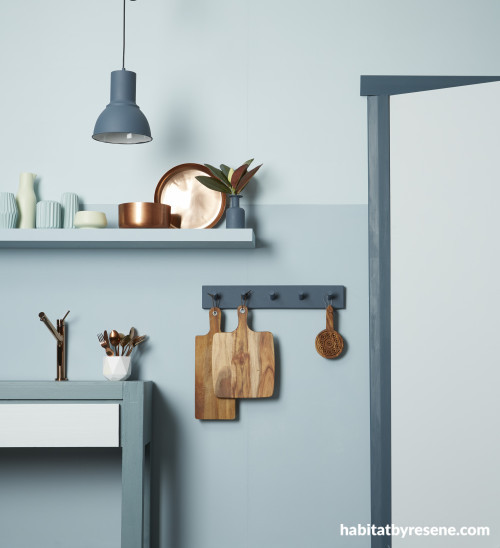 5. Try it toned-down in a kitchen
Studies have shown that bringing an aqueous colour palette into your kitchen may actually curb your cravings. The colour blue is usually thought of as unappetising for food, psychologically-speaking, because it rarely occurs naturally in food we eat, so it doesn't trigger an automatic appetite response. Despite this, blues are very useful for creating a soothing space to cook in.
The watery tones in this dreamy blue kitchen are certainly calming, from the dark slate architraves, light and hooks in Resene Safehaven to the pale icy blue of Resene Slipstream on the door, Resene Mystery on the upper wall, Resene Raindance on the lower wall and shelf and Resene Artemis on the cabinet top and legs. To break things up and keep the look from becoming too matchy-matchy, a couple of smaller accessories with a green twist have been thrown into the mix, including soft apple Resene Aura on the jug and bowl and Resene Unwind on the fluted vases.
To keep the space from feeling too cool, warm up the look with a range of copper accessories and fixtures and a few touches of stained timber.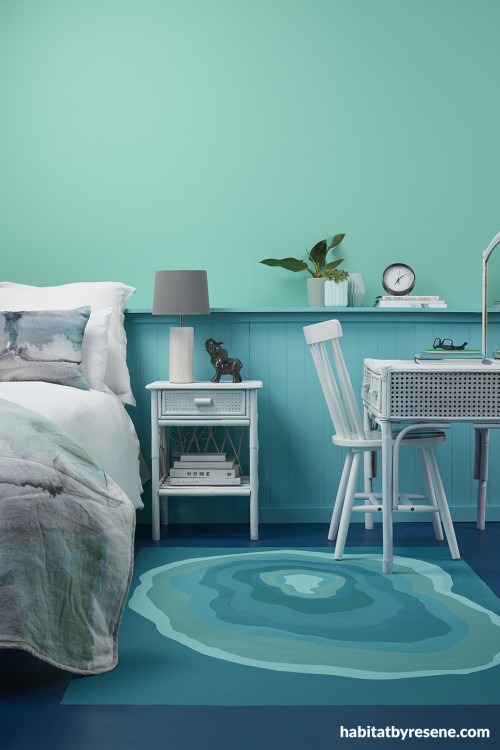 6. Take it from top to bottom
With walls in Resene Freelance and tongue-and-groove paneling in Resene Yes Please, this bedroom is about as aqua as they come!
The room-defining painted rug feature, which was inspired by agate, adds plenty of interest to the Resene Wishing Well floor. With its natural, asymmetric forms, it's easy to replicate this idea in your own home. We painted this floor rug feature using Resene Deep Teal, Resene Maestro, Resene Hullabaloo, Resene Blue Chill, Resene Yes Please and Resene Freelance.
To balance this fully-saturated look, add crisp cotton bedding and creamy white furniture, such as this rattan desk, bedside table and chair in Resene Poured Milk. Top it off with paler blue-green accessories, such as these vases in Resene Meditation and Resene Kandinsky.
styling Gem Adams, Kate Alexander, Megan Harrison-Turner
images Bryce Carleton, Melanie Jenkins