►
◄
latest
habitat tv

blog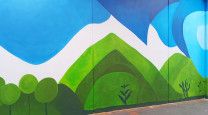 Beyond the ordinary: A home adorned in bold colours
Homeowners Jon and Natasha wanted a home that was exciting, spacious and social, with pops of bold colour throughout. With a joint effort from kitchen designer Alison (Ali) Withers and interior designer Abbie Chapman, this home now has bursts of exciting Resene shades and brilliant accented décor, becoming a popular hangout for friends and family.
As well as showcasing colour, the couple needed their house to be practical. Two key points in the brief were to accommodate for three growing boys and the ability to entertain a crowd. Built by Estilo Homes, the open-plan space is perfect for family and friends, providing enough room for larger scale furniture, stunning décor and entertaining.
Ali and Abbie worked together to ensure a harmonious connection between the kitchen design and the adjacent dining and living space. Natasha's brief for the kitchen was to create a functional and sleek design where she and her family could entertain large numbers of friends and enjoy family time – it needed to be the hub of the home with interest and bright statement colours.
"With stunning views out to Aotea, and a large airy space to work with, it was a no brainer to design tall joinery and have an open plan layout which incorporated the views of the lagoon and hills," Ali says. "The design journey was seamless and Jon and Natasha knew exactly what they wanted."
"We did come unstuck when Jon wanted a black kitchen and Natasha wanted white, however everything changed when they both fell in love with the Compac Unique Calacatta Black countertop. This is a dramatic yet elegant stone that leaves a lasting impression, and the classic Calacatta veining is given a unique twist with the black and white contrast and balance of bold and fine veining."
The choice of countertop made it easy to incorporate both Natasha and Jon's kitchen shades, creating a kitchen design they would both love for years to come. Ali matched the depth of the veins in the stone with the moody charcoal shade of Resene Foundry, using this on all joinery. The combination of dark and light provides a bold statement and visual impact in the space, just what the couple were after.
The overall design of the kitchen is simple yet elegant, using finger pull handles for a sleek finish, Blum drawers and Avantos flap doors for the upper cabinetry. Tall cabinetry and upper cupboards were seamlessly designed to frame the kitchen and fill the space, rather than creating a dust trap. The kitchen also extends to a large hidden scullery complete with a sink and large prepping and storage area for appliances and condiments – a great option for keeping the main kitchen area low in clutter.
"The extra details in the kitchen area include the stunning Belfast FireClay double fluted butlers sink, and tongue and groove panelling around the island," Ali says. "The 60mm solid benchtops with mitred legs provide a substantial waterfall feature with stunning appeal."
Abbie's job was to assist the homeowners in selecting the home's colour palette and flooring. Beyond this point, she also designed the living, dining and master bedroom spaces, selecting furniture, lighting, soft furnishings and exquisite accessories.
"Jon and Natasha wanted to cater for a crowd so a big dining table was a must," Abbie says. "Natasha loves French country inspired pieces, so the large rustic dining table gave a nod to that style and boasts seating for 12 people which ticked all the boxes and was a great scale to fit the large area. The timber with its visible knots, uneven surface and chunky metal accents adds some extra charm and character."
The striking and luxurious multi-colour designer rug underscores the living area along with bold accent cushions and deep green swivel chairs – a great way to enjoy the view beyond the window.
With strong colours in the furnishings and an open plan area with three large sliding doors to the outdoor living and large windows, the room needed a perfect neutral backdrop for the small remaining portions of wall. Resene Double White Pointer was selected for the walls and Resene White Pointer for the ceiling, skirting, internal doors and timber framework throughout.
Resene White Pointer on the vaulted ceiling contrasts beautifully with the rich, high-gloss black chandelier Natasha chose, and was the perfect choice for each of their son's bedrooms, the master and office, allowing any colour scheme to be introduced easily to complement this dusky white.
"The view across Porirua harbour to the hills beyond was the inspiration for using green in the interior scheme," Abbie says. "Resene Flax was chosen for its peaceful and earthy quality which provides a calming feeling to the master bedroom and merges with the view of the hills beyond, creating a cocooned feeling. Accent colours on the bed of camel, beige and deep purples bring a soft yet dynamic contrast to Resene Flax.
"Natasha liked this colour so much it was also chosen for the media room, just behind the barn-style door, creating a cosy inviting space to hang out."
The main bathroom, shared by the couple's sons Jayden, Mason and Tyson deserved a punchy colour, as bathrooms can often handle. It was important to choose a colour that was timeless as the boys grew, which lead Abbie to suggest Resene Lazy River, a muted blue grey with a good dose of 'pow'.
"This is a great 'wake me up' colour for early morning starts," Abbie says. "Selecting warm tones in the wall and floor tiles created a complementary colour scheme bringing warmth to the contrasting cool blue of Resene Lazy River."
Jon and Natasha have created a beautiful and personal home, unique to them, designed with their lifestyle in mind. With the help of Abbie, Ali and the build team, the finished result is a striking and practical home for the family, and the perfect destination for friends to gather.
"We've had two Christmases and multiple functions at our home, with up to 30+ people, and it's been easy to do," homeowners Natasha and Jon say. "We're always getting asked to hold events and gatherings due to the big, colourful space and amazing views."
kitchen design Ali Withers Kitchens
www.instagram.com/kaleidoscopedesignsaliwithers/
www.facebook.com/AliWithersKitchenDesigns
interior design Abbie Chapman
www.instagram.com/abbiechapman_interior.design/
www.facebook.com/profile.php?id=100076391282390
images Amber-Jayne Bain
Top tip: Using colour can really liven up and add depth to a space. Consider first what functions you're going to be using the room for: is it a cosy retreat, a lounge for entertaining or somewhere practical for getting work done? Decades worth of studies have shown that the colour you choose in a space impacts your mood when you're in it, so you'll want to select one that brings the right atmosphere for the activity at hand.
A strong colour scheme that showcases deeper, more saturated colours can elicit a strong emotional response. Certain bold shades create feelings of security and comfort while others may feel too heavy or even closed in.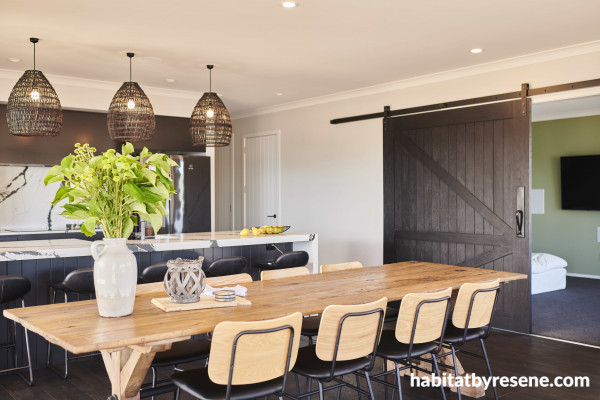 These warm white walls are painted in Resene Double White Pointerproviding a neutral base for the bold and dramatic shade of Resene Foundry on the kitchen joinery and tongue-and-groove island feature. A sneak peek into the media room beyond, painted in the gorgeous green shade of Resene Flax, the perfect choice for the media room. Resene White Pointer was used on the ceiling, skirting, internal doors and timber framework. For a black stained finish on a barn-style door, apply Resene Colorwood tinted to the shade Resene Pitch Black.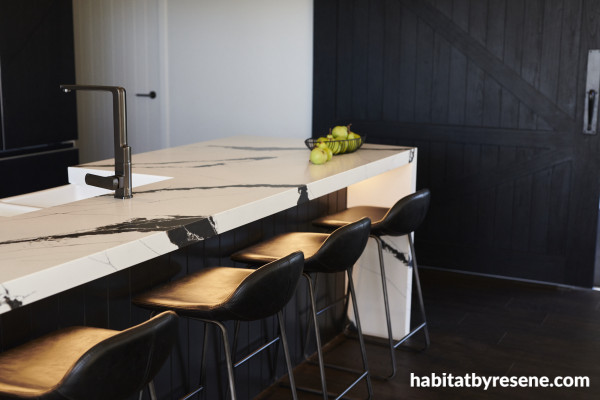 The 60mm deep marbled countertops create visual interest in the kitchen and complement the dark shade of Resene Foundryon the kitchen joinery and tongue-and-groove island feature and white walls in Resene Double White Pointer. Resene White Pointer was used on the internal doors and timber framework.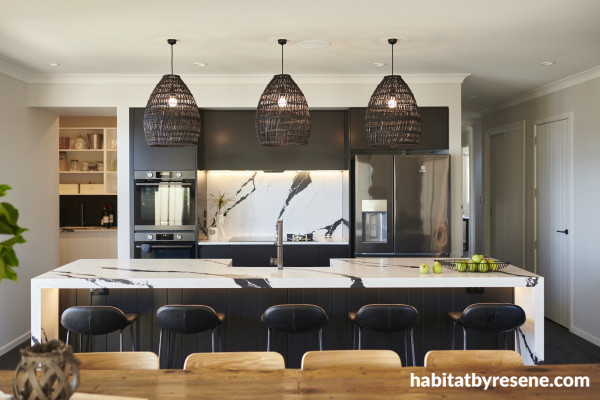 Exquisite décor and abundant seating was chosen for this home, built for entertainment and appeal. The walls painted in Resene Double White Pointerare the perfect contrast to the dark shade of Resene Foundry on the kitchen joinery and tongue-and-groove island. Resene White Pointer was used on the ceiling, skirting, internal doors and timber framework.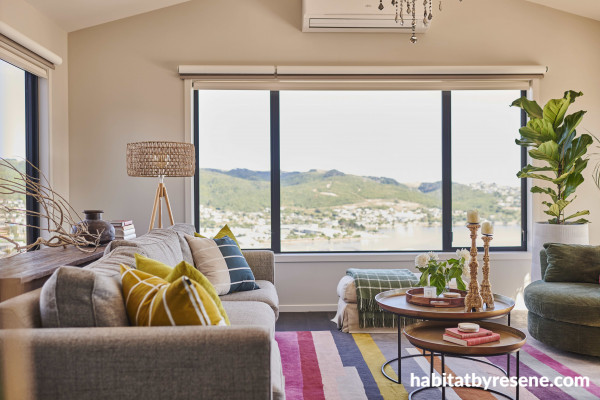 The warm and dusky shade of Resene Double White Pointer coats the walls in this stylish and colourfully accented living space. Pops of colours radiate from the designer rug, pillows and greenery. Resene White Pointer works in well for the ceiling, skirting, internal doors and timber framework throughout.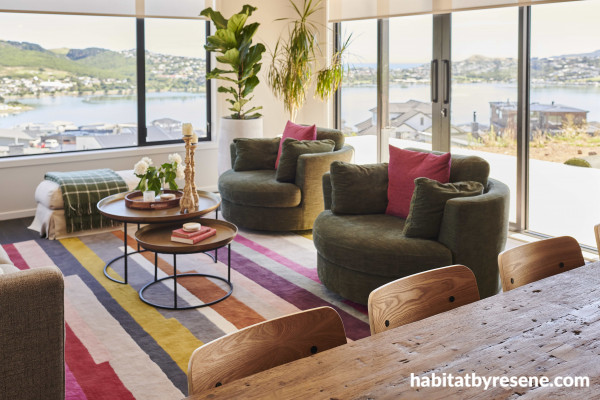 The comfy and luxurious swivel chairs are the perfect addition to the living room, offering views of Aotea and the stunning landscape. The walls are painted in Resene Double White Pointer with Resene White Pointer for the ceiling, skirting, internal doors and timber framework.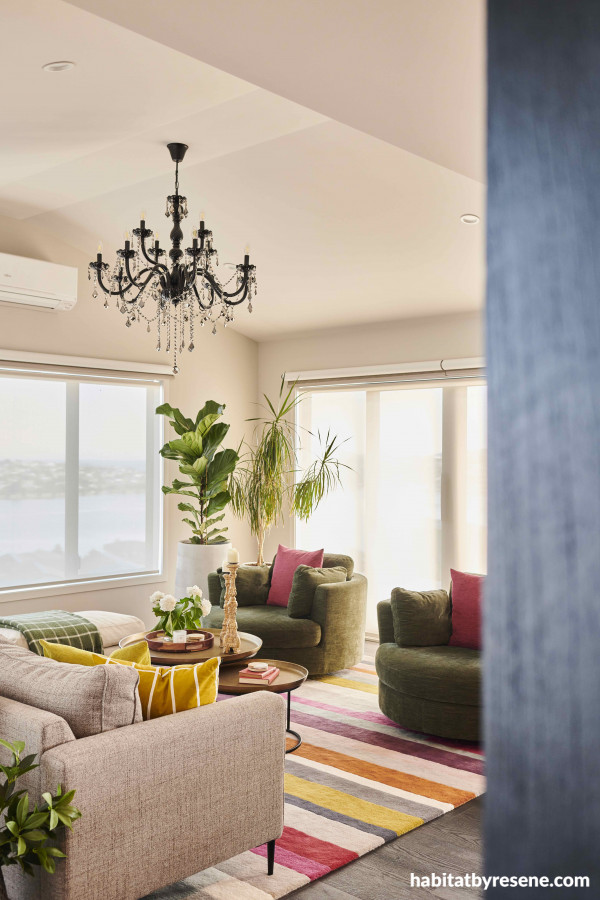 Choosing a neutral shade for a living space allows for pops of artistic décor and colour to stand out, showing off the homeowner's style. Resene Double White Pointer was used for the walls in this space, with Resene White Pointer for the ceiling, skirting, internal doors and timber framework.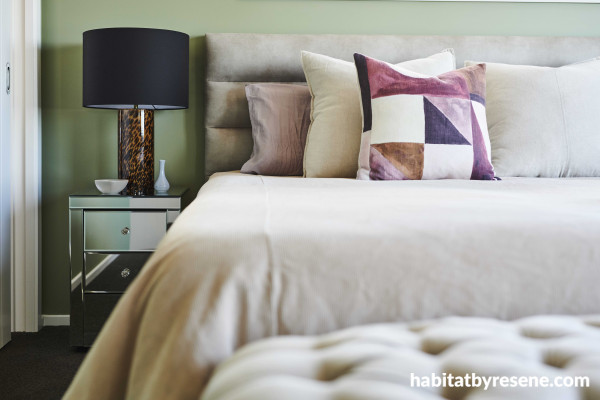 The hills and landscape were the inspiration for the shy, earthy green shade of Resene Flax used in this bedroom. It's perfectly paired with neutrals like Resene White Pointer on the skirting and timber framework and accented pillows.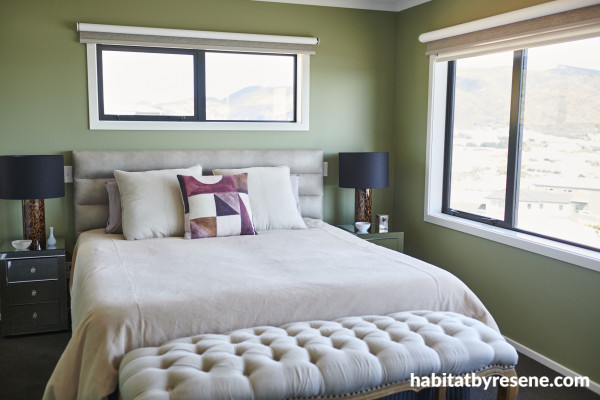 The subtle and beautiful shade of Resene Flax is used on all walls in this bedroom, while Resene White Pointer seamlessly frames the windows and complements the green.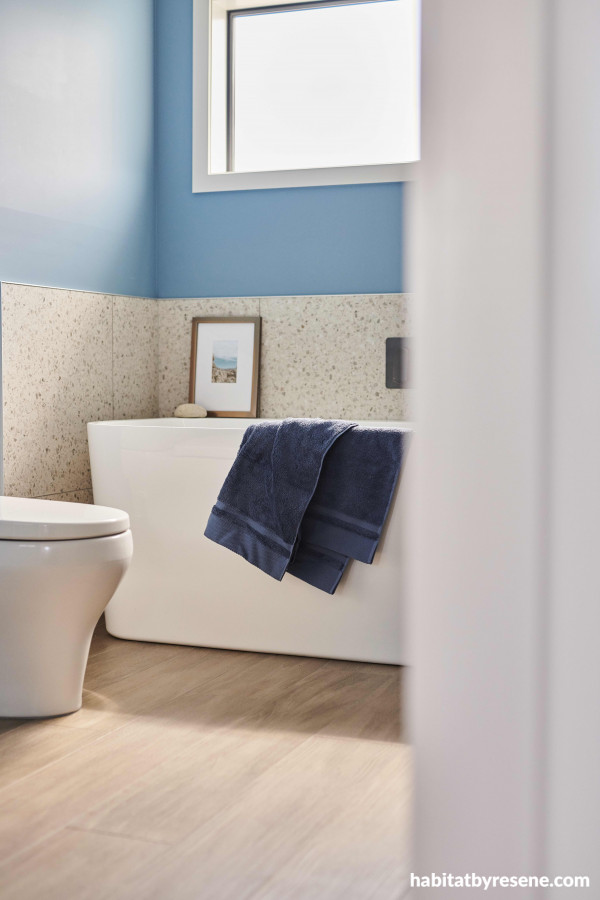 A blue-grey slate with hints of summer sky, Resene Lazy River, was used in the boys' bathroom. The warm speckled tiles, natural flooring and warm shade of Resene White Pointer on the trims and ceiling help to warm up the space for a cosy feel. For a light finish on timber flooring use Resene Colorwood tinted to the shade Resene Natural or for a more whitewashed look Resene Colorwood Whitewash.
Published: 04 May 2023
Do you have a home full of wonderful Resene paint and colour? Send us some snaps by emailing editor@habitatbyresene.co.nz.


Resene Double White Pointer












the look
If you're stuck on what
colour to use or need colour
advice, try out the Resene
Ask a Colour Expert service.