►
◄
latest
habitat tv
blog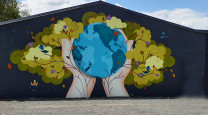 Resene blues for every room – and blues for outdoors: 30+ blue paints you'll adore
When it comes to designing with colour, blue is one of the all-time classics. There is a blue to suit every taste, every mood and every broader colour scheme or theme.
This versatility makes choosing a blue for your interiors a very practical choice. It has a classic timelessness that will help your colour choice stays looking fresh and contemporary for years.
The myriad shades of blue from wispy grey tones to bright primary shades and darker navies - with detours through green blues and purple-ish blues also mean blues can be adapted to suit any room in your house and how you want it to feel.
Sophisticated living rooms
Using a bold blue on living room walls, like Resene Coast or Resene Indian Ink can be surprisingly versatile. Pair with layers of rich colour-saturated tones such as Resene Clockwork Orange, golden Resene Hot Toddy, teal blue Resene St Kilda or wine-coloured Resene Red Berry for an opulent, maximalist finish perfect for a cosy den retreat or entertaining area.
Take those same dark walls and add light neutrals such as Resene Sea Fog or Resene Half Pearl Lusta with amber timber finishes in Resene Colorwood Natural or more weathered wood finishes in Resene Colorwood Mid Greywash to create a classic Hampton's fresh coastal feeling. Notes of rich green Resene Aquamarine or pale chartreuse Resene Chill Out will add extra interest.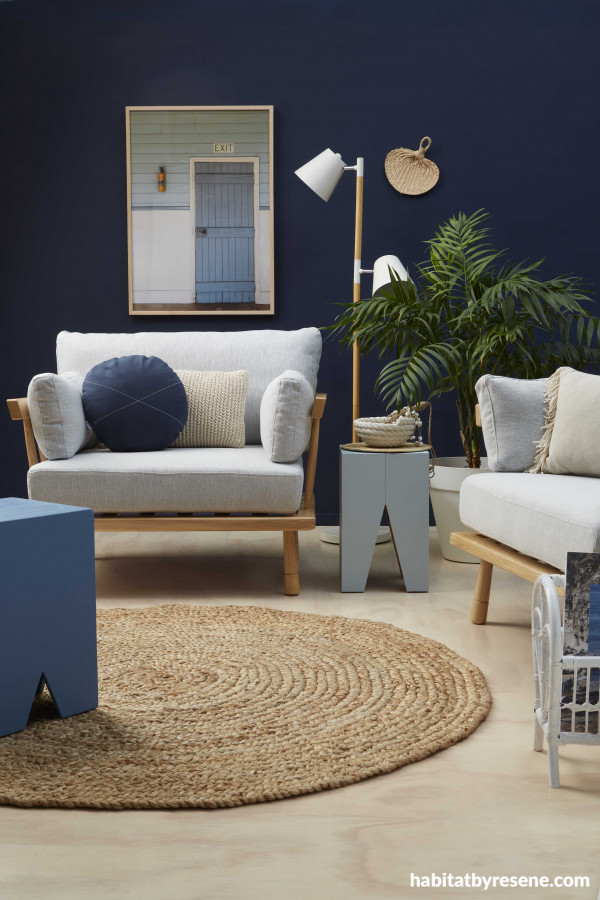 Midnight blues are often used to create looks with luxury and drama. Layering them with other paler blues and a range of textures and finishes can transform a living room into an airy, coastal space. This living room's walls painted in Resene Indian Ink anchor the softer shades, which include Resene Colorwood Whitewash on the floor and peg stools in Resene Halcyon (left) and Resene Wedgewood. The magazine rack is painted in Resene Half Sea Fog. Project by Kate Alexander, image by Bryce Carleton
Dramatic dining
The shade of blue you choose for your dining room will likely be determined by the type of room it is.
For a fun family gathering place, where kids play or do homework and adults congregate to chat, think about using brighter, fun, almost primary shades of blue such as Resene Resolution Blue. Match them with notes of golden Resene Golden Glow and creamy Resene Gin Fizz for calming freshness.
For a sleek and sophisticated or more minimalist dining room try more soothing, muted blues like cool Resene Frozen with deeper Resene Seachange and the earthy taupe of Resene Coffee Break. For opulence and creating the feel of a fine-dining restaurant at home, consider painting the walls - and even the ceiling - in a rich teal like Resene Nile Blue and use a satin or gloss finish for added glamour with brushed brass or matt gold light fixtures.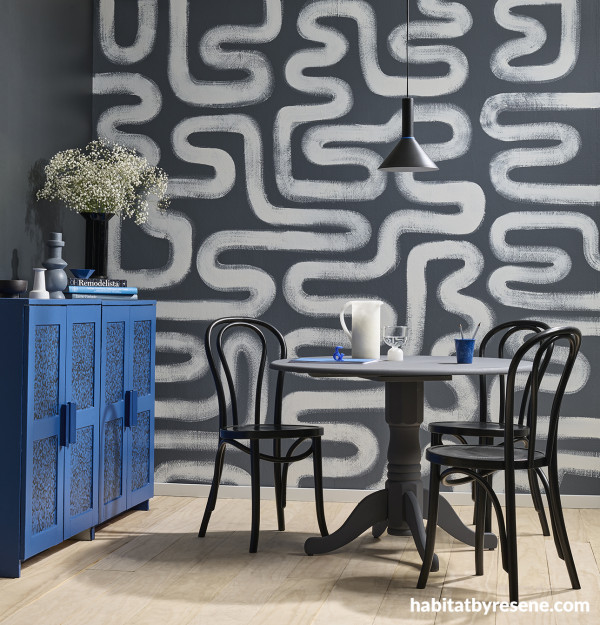 Embrace the trend for artistic flair with this eye-catching and simple-to-DIY wall design painted using the muted grey-blue of Resene New Denim Blue. The abstract brushstrokes are in neutral Resene Half Athens Grey to match the skirting. A cabinet in the much bolder blue of Resene Cobalt provides dramatic contrast and proves that not all interior blues must be soothing. Some are invigorating and energising conversation starters. The cabinet cupboard doors are painted with swirls in Resene Blackjack. Table in Resene High Tide, floor in Resene Colorwood Whitewash, tall vase with flowers in Resene Blackjack, middle vase in Resene High Tide and small vase in Resene Half Athens Grey. Project by Kate Alexander, image by Bryce Carleton.
Soothing bedrooms
Blue naturally lends itself to bedroom interiors because of its inherently soothing characteristics. This is particularly true for on-trend weathered or faded blues that feel well-loved and lived in, like your favourite soft and faded pair of denim jeans.
To create a breezy summery vibe try sun-bleached blues like Resene Dusted Blue or Resene Jungle Mist, layered with richer pastel shades like Resene Rock Blue or Resene Conch. Warm up the look with sun-drenched peach tones like Resene Tropical or Resene Red Thunderbird, or keep things cool with palest grey-blue Resene Narvik and muted teal Resene Bismark.
For a bedroom that's all about wintery luxury and escape, embrace deeper, moodier shades like Resene Blue Bark with burgundy Resene Hot Chile or green Resene Zuccini. Lighten the intensity with yellowed neutral Resene Dutch White.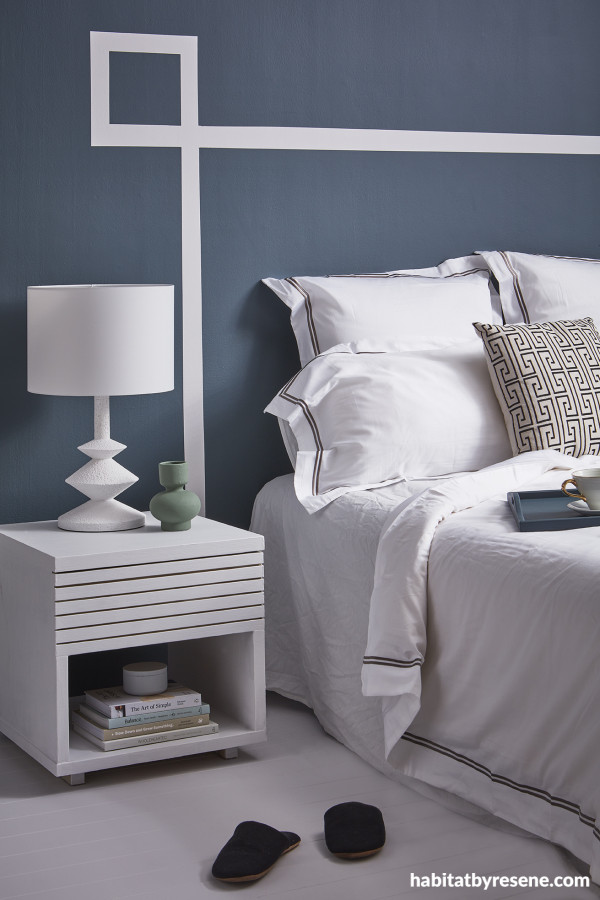 Pair sophisticated dusted blues with bright, crisp whites and clean lines to recreate hotel-level style in your bedroom at home. This elegant line design painted in Resene Half Concrete frames the bed and shows off the warm, suede-like finish of the Resene Atomic walls. The floor and bedside cabinet are also painted in Resene Half Concrete and the tray is Resene Atomic. A small vase in botanic green Resene Gecko adds visual interest and makes the white neutrals pop. Project by Laura Lynn Johnston, image by Wendy Fenwick.
Bold bathrooms
Opting for tonal layers of pale blue in a bathroom creates a space that feels fresh, modern and uncluttered, particularly if you have a smaller space containing a shower and/or bath, toilet, towel rail and cabinet.
Start with a stony pale blue like Resene Hermitage that works almost as a neutral, pair it with layers of muted blues like Resene Bali Hai and Resene Kashmir Blue and trim the space in the crisp and fresh classic Resene Alabaster.
If space and light in your bathroom are less of a concern, play with bolder blues that recall a summer sky for a bathroom that gives you an instant mood boost. Resene San Marino blue pairs well with the warm, almost sunny cream of Resene Colonial White, or, for an even bigger mood boost try blue-green Resene Maestro with citrusy Resene Lima and or amber Resene Pirate Gold.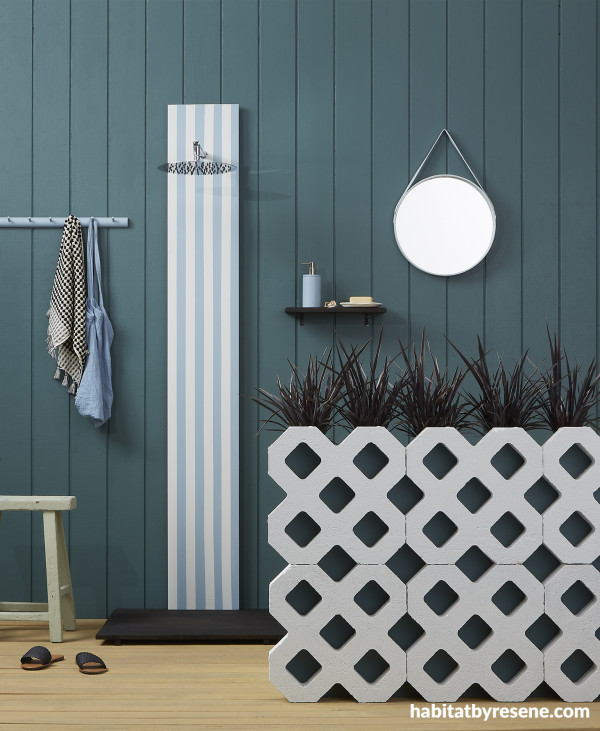 Beachy bathrooms in sea blues and sandy neutrals aren't just for the bach. This resort-style outdoor bathroom invokes the sea with walls painted in Resene Green Meets Blue and a striped shower wall in Resene Nepal and Resene Sea Fog. Breezeblocks painted in Resene Sea Fog, shower stand and shelf in Resene Pitch Black wood stain, mirror in Resene Breeze with soap dispenser and hooks in Resene Nepal and wooden floor is Resene Natural. Project by Kate Alexander, image by Bryce Carleton.
High-impact hallways and dwell zones
If you have under-used spaces in your house, like entry foyers, hallways or landings, clever use of colour can turn them into calming but functional parts of your home.
Blue works well as a transition colour in these types of spaces, because it can contrast nicely with neutrals without causing too much of a jolt for the eyes. If your stairwells or hallways are in a classic neutral like Resene Half Tea, try painting one wall of your landing in bold purple-toned blue like Resene Bullitt. Add a comfy chair and maybe a side table painted in bright green Resene Wellywood for a retreat space that's an unexpected surprise.
If bold is not your thing, but you still want a unique, eye-catching look, try a dreamy pale blue or blue-toned neutral like Resene Solitude on your walls with trim in slightly darker Resene Link Water. Then paint out a corner of your dwell zone or a short stretch of wall to frame a desk or chair in deep Resene Midnight Express. Consider painting out the ceiling and floor of the corner in your bold blue as well, to boost the sense of creating a whole new room.
When it comes to entranceways, consider using a bold blue like Resene St Tropaz on your front door, then echoing the colour on a bench seat, coat rack or large planter inside your entranceway.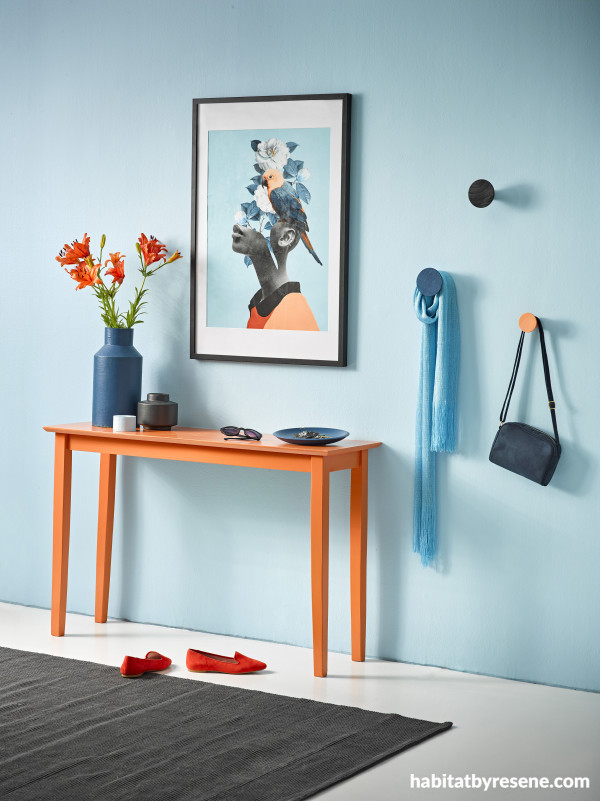 Bold complementary colour choices with walls painted in Resene Bluetooth and a console table painted in burnt orange Resene Jailbreak create an entranceway with impact. The tall vase and low bowl in darker Resene Wishing Well make both the bold shades pop without competing. Small dark vase in Resene Noir, tealight in Resene Bluetooth and floor in Resene Alabaster. Project by Vanessa Nouwens, image by Melanie Jenkins.
Don't forget your exterior
Blue is a natural choice for house exteriors due to its affinity with both sea and sky. Light blues with a touch of grey such as Resene Periglacial Blue from the Karen Walker Paints collection, Resene Nebula, Resene Escape and Resene Longitude sit softly in the landscape and work well with both heritage homes like villas or new builds.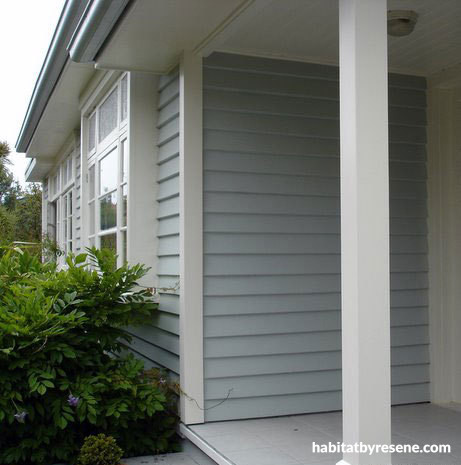 Homeowner Michelle painted the outside of her home Resene Periglacial Blue from the Karen Walker Paints collection with trims in Resene Quarter Spanish White.
Consider dark blues as an alternative to black on older 70s or 80s era houses or new builds and homes with architectural flair. Dark blues such as Resene Coast, Resene Blue Bark and Resene Indian Ink have the same dramatic dark qualities of black and recede into the landscape but these nature-inspired deep ocean blues have a softer quality. Many darker colours are available in Resene CoolColour technology to help the colour stay cooler.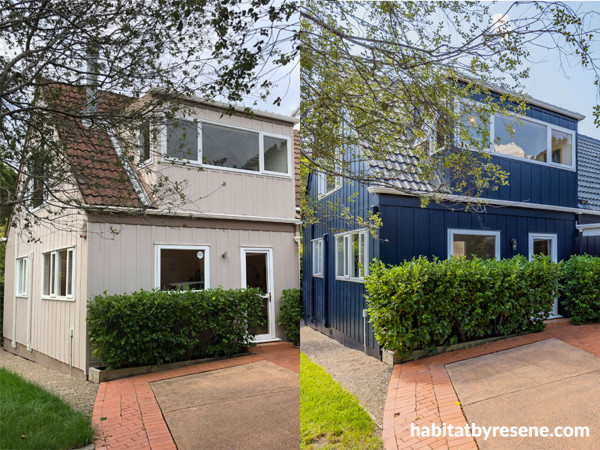 Homeowners Nicky and Dean said bye-bye to beige and painted their home in striking Resene Indian Ink with crisp Resene Alabaster trim.
Whether you're creating a luxe living room in Resene Coast, creating a dreamy bedroom in Resene Escape or rejuvenating your home exterior in Resene Nebula, there's a blue that's right for every part of your home.
Top tip: When painting your home exterior a dark colour, consider choosing a Resene CoolColour variant. The special heat reflective technology reflects more of the sun's heat to help keep darker colours and surfaces cooler.
Published: 20 Oct 2022
Do you have a home full of wonderful Resene paint and colour? Send us some snaps by emailing editor@habitatbyresene.co.nz.