►
◄
latest
habitat tv
blog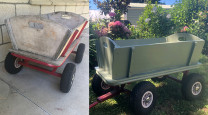 Blushing with pride, interior stylist Amber Armitage has a modern take on classic Kiwi bach colours
During the uncertainty of the pandemic, Amber Armitage knew one thing for certain when she saw a real estate listing for a home in Mangawhai - she had to buy it.
The home for sale was an ex-rental her parents used to live in near the coast, it had great bones and was in good condition - it just needed some Resene colour to make it feel like her home.
"The property has a really nice feeling about it, and in the back of my mind I thought if it ever came up for sale I would love to buy it," says Amber. "It is surrounded by trees and nature, and the perfect size for my second home and project."
Amber started her interior styling journey working for Homestyle magazine before moving on to grow her own business art directing photo shoots for interior and homeware brands. She has spent many years experimenting with style, design and palettes she liked.
With two bedrooms, 1250 square metres, plenty of opportunity, and Stevie the schnauzer by her side, Amber got to work creating her blushing beauty of a home. She began with painting all the walls in off white Resene Sea Fog, giving her a clean backdrop. She then used Resene A4 drawdown paint swatches in each room to get a feel for the colours she wanted.
"A lick of white paint might look fresh but adding the right colour really changes a whole feel of a room, "says Amber.
Her vision was to create a palette that was reminiscent of old Kiwi baches, channelling a feeling of comfort and nostalgia. Instead of classic retro reds and overly minted greens, Amber wanted a more muted, modern version of these that was pleasing on the eye and soothing to the soul.
"I wanted all the rooms to look different and tell a different story," says Amber.
The first space she tackled was the master bedroom, opting for a feature wall in a terracotta pink using Resene Tuft Bush. The room has a warm, welcoming feel no matter the time of day she says. Amber says the key to creating serene bedrooms is to keep the palette tight.
"Create tranquil spaces by editing both colours and objects. Keep a tight palette, take out all the things that you don't need and don't use. It is just as much about what is not in the space, as what is.
"Have plenty of storage, you don't need all your stuff on display – let the beautiful things you do have sing. It's a fine balance between what functions and what looks beautiful."
The bathroom posed the biggest decision for Amber. After 'umming' and 'aahing' for some time the colour inspo came from a ceramic wall sculpture, reminding her of her time spent in Turkish and Moroccan baths. She used moody grey and green tones, including Resene Inside Back and Resene Half Sea Fog, that ended up changing the whole feel of the room, which also doubles as a laundry. It's become one of Amber's most loved rooms in her home.
"I wanted to go against the rules a little for this one. A lot of people think the bathroom has to be white, it makes them think of sterile, clean areas, but I think a bathroom should be a relaxing place where you take a hot bath or shower," says Amber.
One of the most striking rooms in the house, a feature on its own, is the kitchen. Amber chose pink again but this time chose to go with a more mushroomy pink, a colour that was not too 'feminine'. After painting the cabinets in Resene Brandy Rose, she enjoyed it so much she continued it up the walls.
Repairing the kauri benchtop was a labour of love, a long and painful process which entailed filling cracks, stripping and sanding, but she couldn't be happier with the result. Next to the rosy kitchen colour, the kauri benchtop finished in Resene Colorwood Whitewash makes her smile.
"The kitchen just brings me so much joy, and after finishing the room by a stroke of luck Samsung brought out a pink fridge which was almost like a reward for the painstaking hours I had put in."
Throughout Amber's time in interior style, she has heard a lot of opinions pushing towards using lighter colours in darker spaces, and darker colours in lighter spaces. It takes courage to stand for what you feel is right sometimes, but Amber went with her gut using darker colours in the darkest places to allow the colours to really show and to give a more moody feeling.
"I've learnt not to overthink things," says Amber, " all you need is a simple plan, then develop ideas as you go."
"Doing most of the work myself, I had the freedom to make things up as I went along. I actually loved working like this, it felt more like creating an artwork rather than doing a job."
Amber shares her tips for people thinking of decorating their home… "Create an interior for yourself, one that reflects the people living in it, not for resale. Don't always stick to white, and don't be nervous about colour or materials being too personal if you want a space to feel considered and to have an identity."
"After a year of living here and creating a space that feels like the perfect place to retreat, I've decided to open it up for others to enjoy too," says Amber. You can now rent this beauty for yourself through Airbnb, but don't wait long we have a feeling it will be very popular!
Book Amber's Airbnb: https://airbnb.com/h/thelongweekend
Find Amber and her home on social:
Top tip: Paint kitchen cabinetry with Resene Enamacryl gloss or Resene Lustacryl semi-gloss. These durable enamel style waterborne paints are ideal for surfaces that need to be regularly cleaned and that are exposed to lots of wear and tear. They're also waterborne and low odour so you can paint your kitchen quickly and start using it again.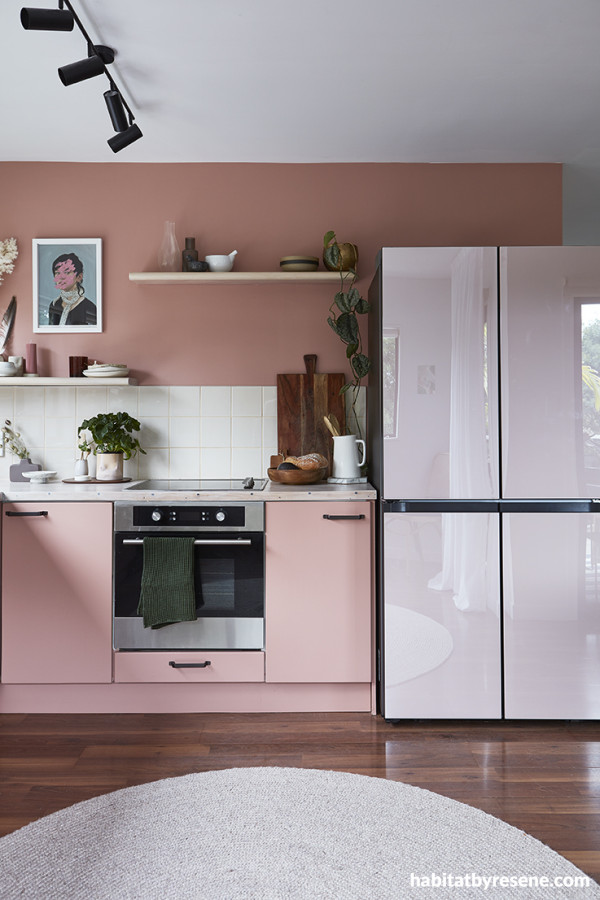 Kitchen cabinets and walls painted in Resene Brandy Rose with kauri benchtop finished in Resene Colorwood Whitewash.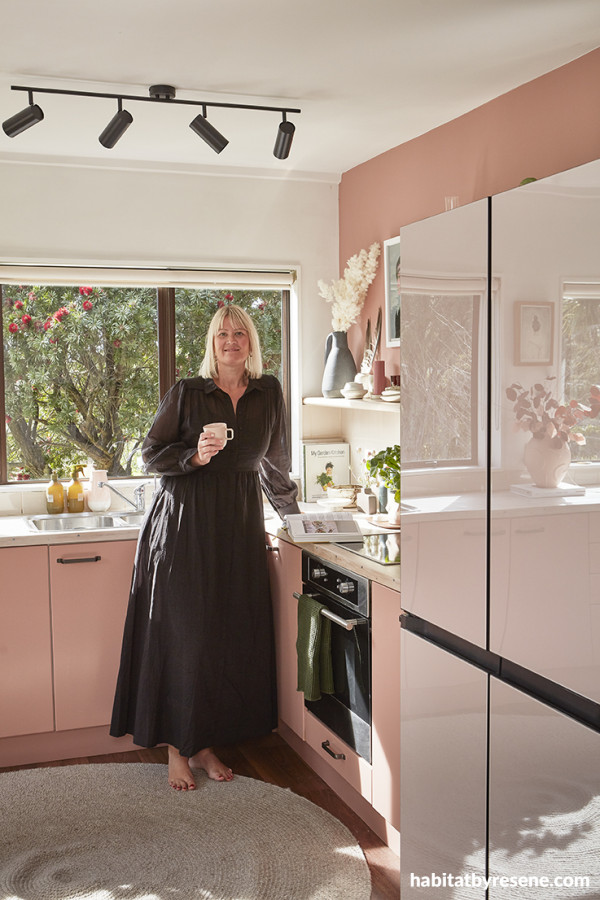 Resene Brandy Rose is a sandalwood pink, smooth and mild, perfectly paired with Resene Half Sea Fog, a barely there black edged white says Amber. Kitchen cabinets painted in Resene Brandy Rose and ceiling and trims in Resene Half Sea Fog.
Beachy inspired kitchen décor with walls painted in Resene Brandy Rose.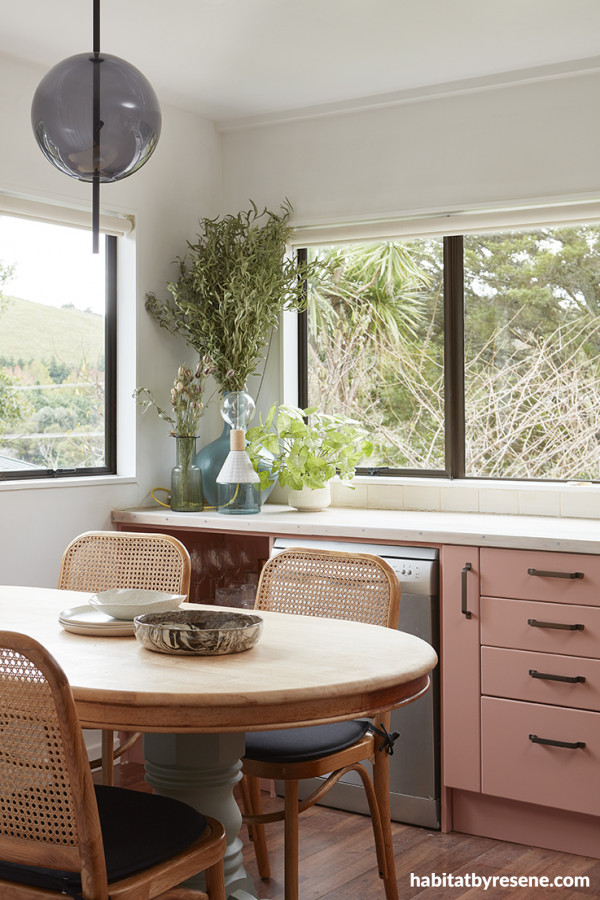 This second-hand table was rejuvenated with a leg saunter painted in Resene Envy. The kitchen cabinets are painted in Resene Brandy Rose and the wall and trims are Resene Half Sea Fog.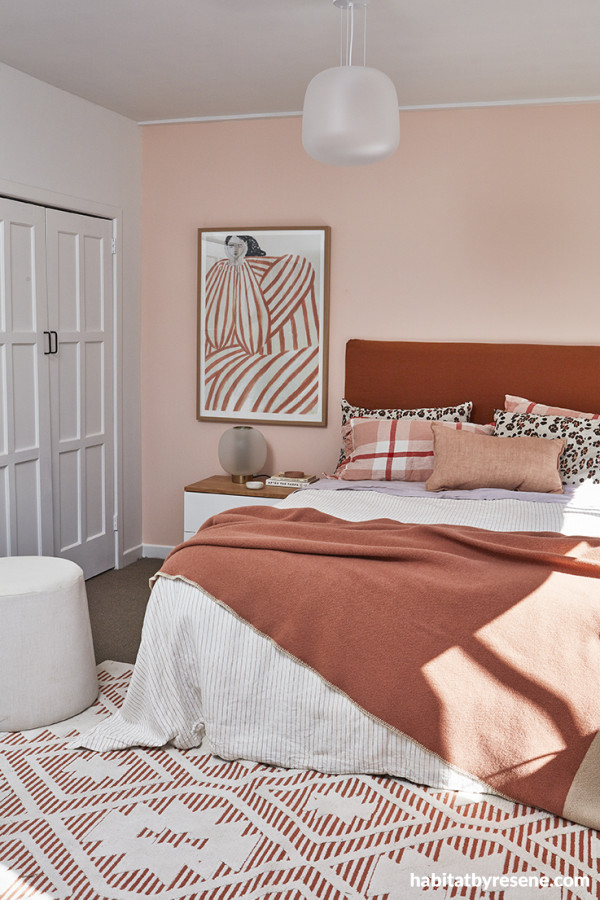 Amber kept her colour palette 'tight' with a feature wall painted in Resene Tuft Bush and adjacent walls, cupboards and ceiling in Resene Half Sea Fog. Further terracotta tones are introduced through the bedding, art and rug mirroring the colours Resene Tuscany, Resene Tuft Bush and Resene Brandy Rose.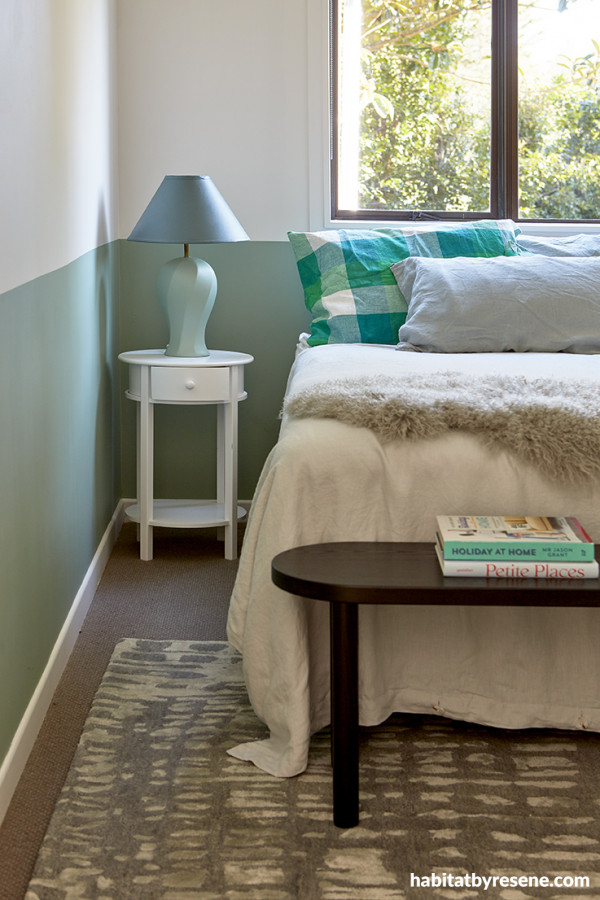 Resene Envy is a placid tranquil green, ideal for a bedroom, painted on the bottom part of these walls. Create your own crisp colour block 'tide line' using good quality masking tape. Resene Half Sea Fog is used on the top half of the walls and trims.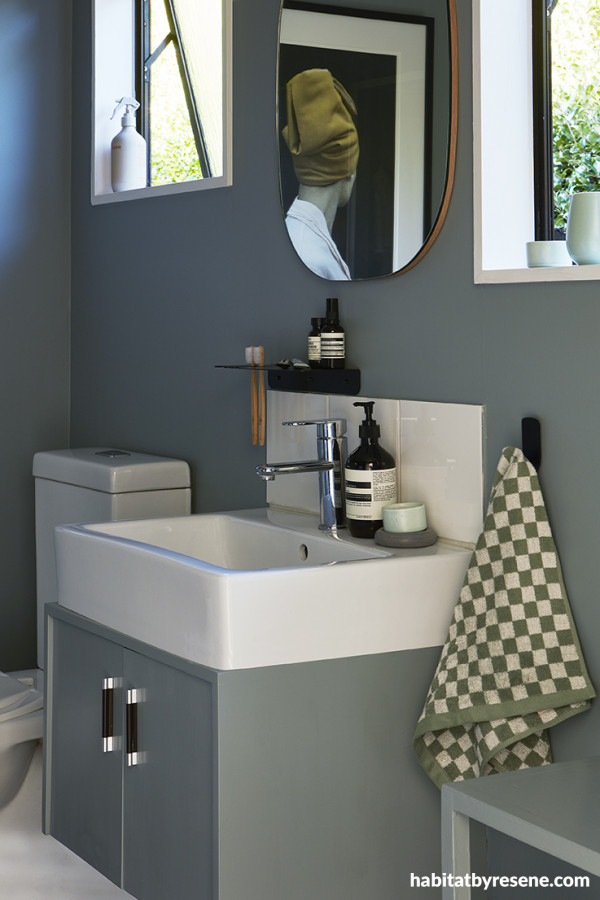 Bathroom walls and cabinet painted in Resene Inside Back and trims in Resene Half Sea Fog. "When it was painted white it always felt quite clinical – no matter how many plants I threw at it," says Amber.
Resene Inside Back shown in a different light on the walls, co-ordinating beautifully with the Turkish bath inspired ceramics and table.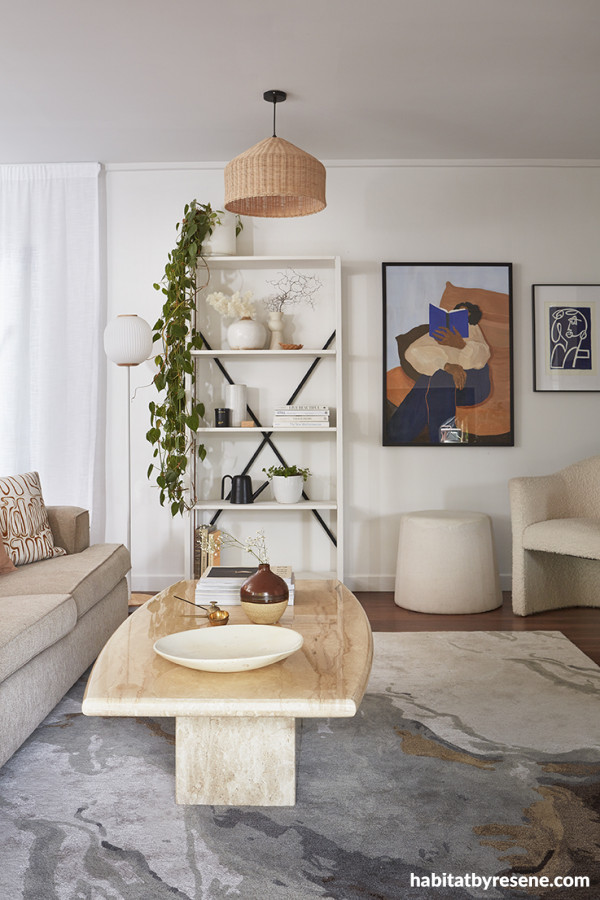 Living room walls, trims and ceiling painted in Resene Half Sea Fog give a neutral feel to the centre of the house.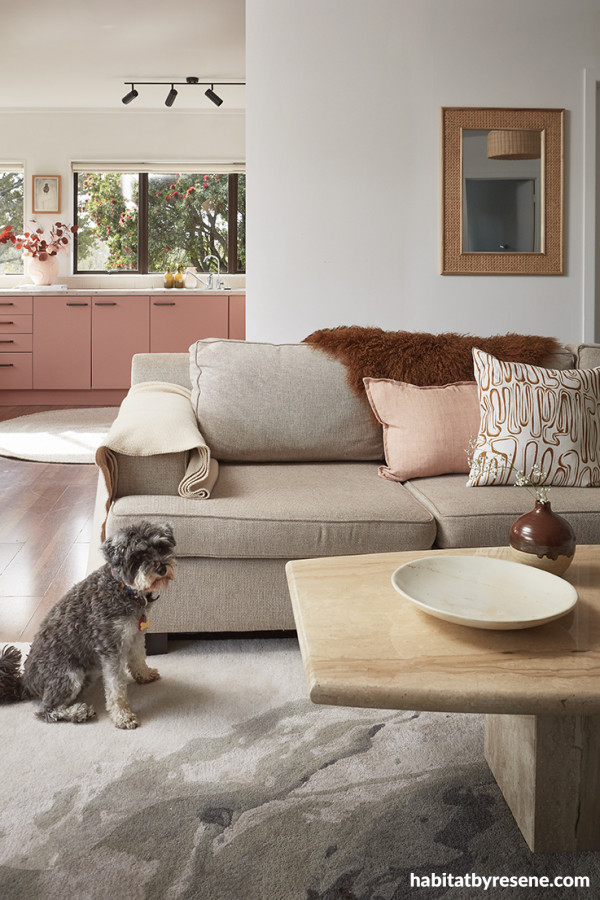 The living room walls are painted in Resene Half Sea Fog, with the kitchen peeking through in blushing Resene Brandy Rose. Ceiling and trims in Resene Half Sea Fog.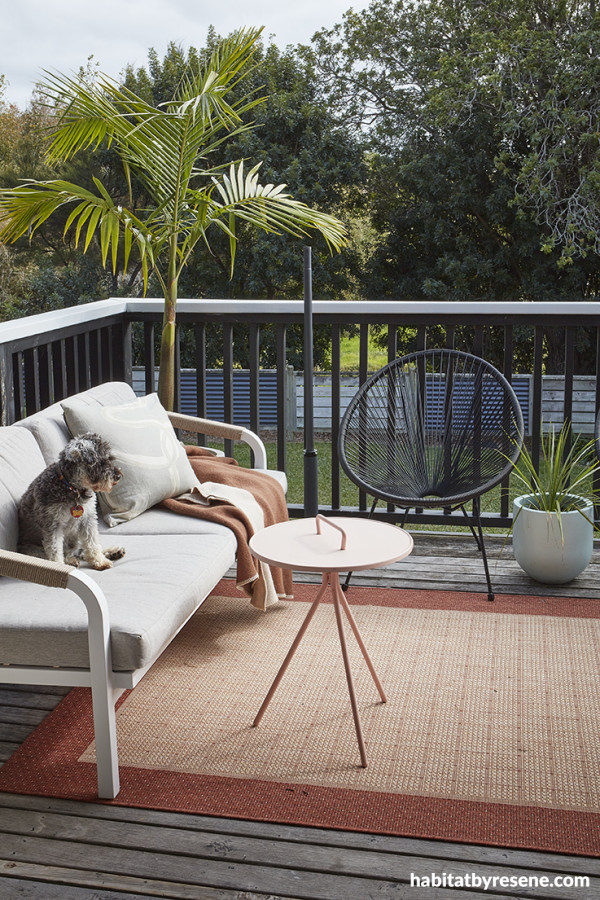 Exterior painted in Resene Bokara Grey with trims in Resene Half Sea Fog. Plant pot painted with Resene Opal.
Amber and Stevie outside their Mangawhai bach painted in striking Resene Bokara Grey with trims in Resene Half Sea Fog.
Published: 01 Dec 2022
Do you have a home full of wonderful Resene paint and colour? Send us some snaps by emailing editor@habitatbyresene.co.nz.
the look
If you're stuck on what
colour to use or need colour
advice, try out the Resene
Ask a Colour Expert service.