►
◄
latest
habitat tv

blog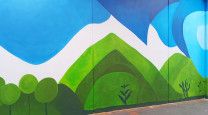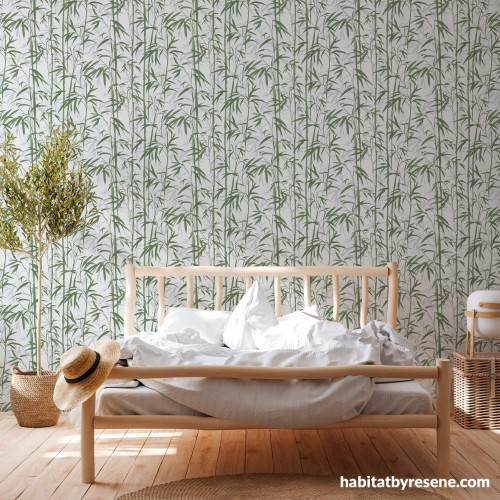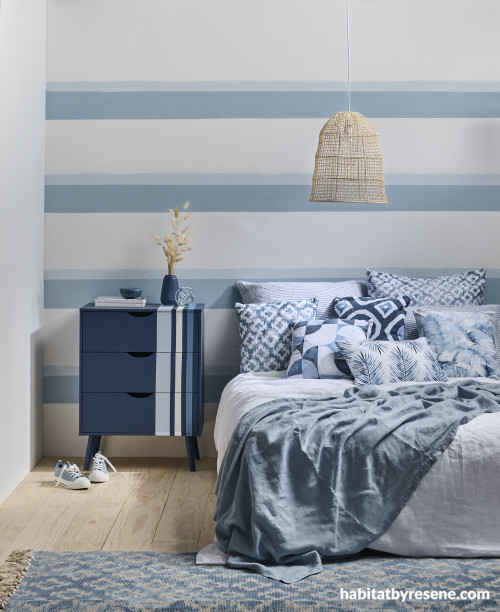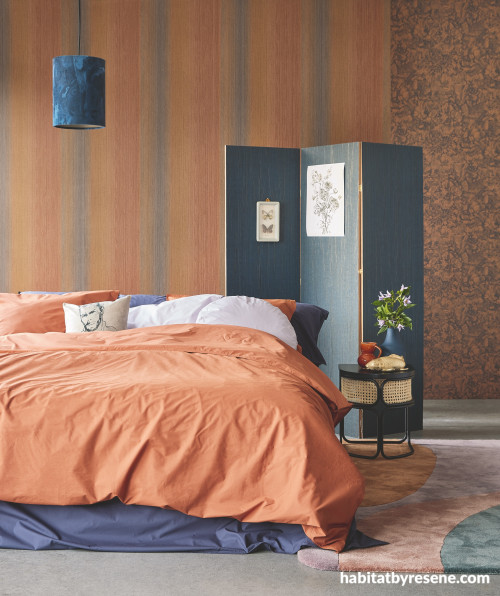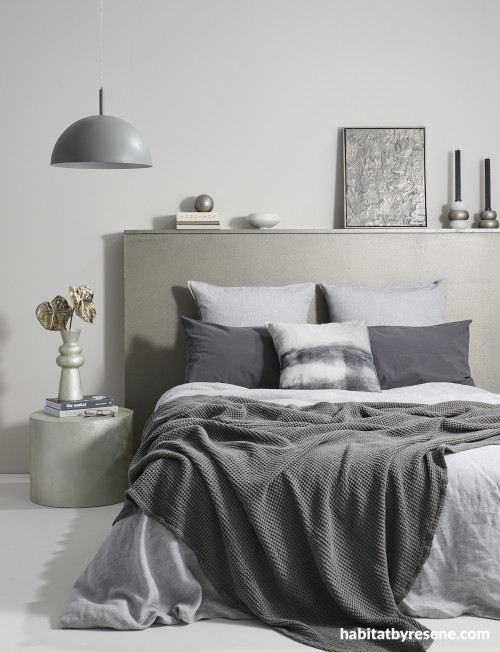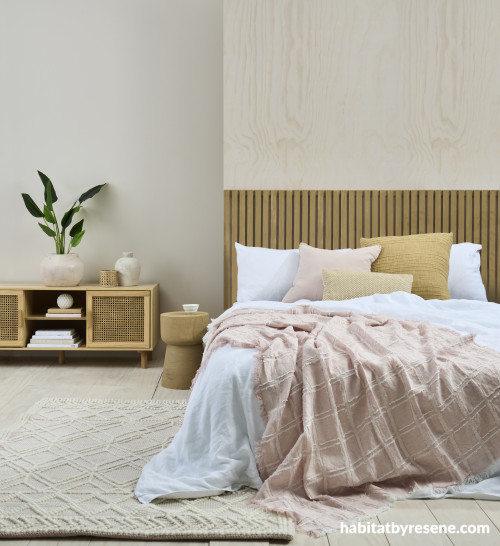 Creating your dream bedroom: 5 ideas that will elevate your sleep space
Your bedroom is more than just a space for rest and relaxation, it's a personal sanctuary where dreams are nurtured and rejuvenation takes flight. The design of your bedroom plays a vital role in creating an atmosphere that reflects your unique personality and brings a sense of tranquillity to your everyday life. From serene minimalism to opulent elegance, and vibrant palettes to soothing neutrals, there is no limit to what you can create with a touch of Resene paint colour and wallpaper.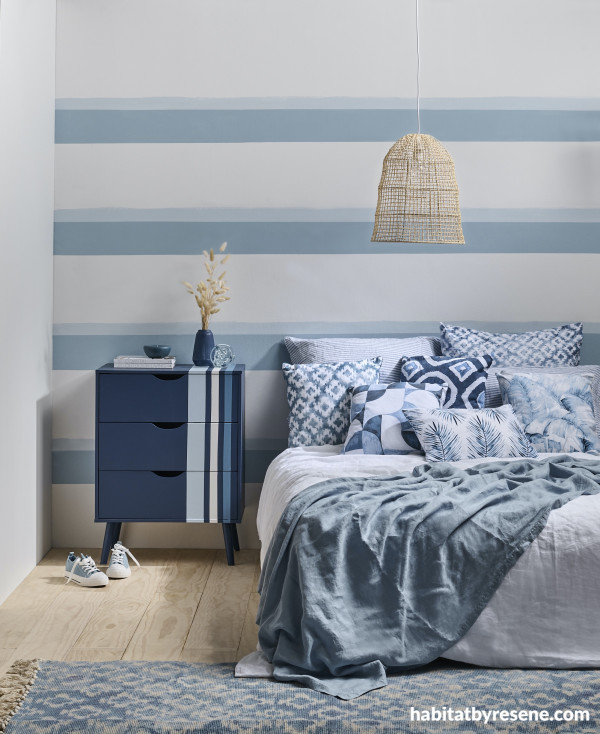 The shades of the seaside will help soothe you into a good night's sleep. This bedroom's rear wall is painted in Resene Alabaster with thick hand-painted stripes in Resene Frozen and narrow hand-painted stripes in Resene Quarter Frozen. The flooring is stained in Resene Colorwood Natural and the side table is Resene Kashmir Blue. Project by Vanessa Nouwens, image by Bryce Carleton.
The soothing sound of waves gently caressing the shore is one of the most tranquil and peaceful sounds to help you doze off. If relocating to the coast isn't an option, you can still recreate a calming beach vibe in your bedroom by incorporating relaxed lines, sand-toned wood finishes, and plenty of breezy blues – a colour that possesses inherent soothing properties.
Pattern mixing is one of those special interior decorating skills that some homeowners are afraid to try themselves and would rather leave to a professional designer. One of the most straightforward ways to get the right mix is to stick to a single colour family, such as blue in this bedroom. It will be immediately noticeable that your patterns share a colour in common even if they all have a different design. If blue isn't your thing, try an array of gentle greens like Resene Lemon Grass, Resene Surf Crest and Resene Spring Rain.
This wallpapered wonderland is luxurious yet cosy, using Resene Wallpaper Collection E307313, E307344 and E307334 to add texture, depth and appeal to the space.
Upon entering this room, you are immediately greeted by an ambiance of creativity and individuality. The walls are adorned with three different styles of wallpaper from the Resene Museum Wallpaper Collection, skilfully combined to create a harmonious yet dynamic atmosphere. This bedroom's design concept revolves around embracing diversity and celebrating the beauty of contrasting elements, which it achieves effortlessly by integrating the muted teals, sun-kissed oranges and rich blues. For complementary paint colours, try Resene Tuscany, Resene Twizel, Resene True Blue or Resene Atomic.
If you're loving this look, Resene has hundreds of wallpaper styles and collections just waiting for you to try. Pop in to your local Resene ColorShop to get some advice or get a taste of the new collections online at www.resene.com/wallpaper.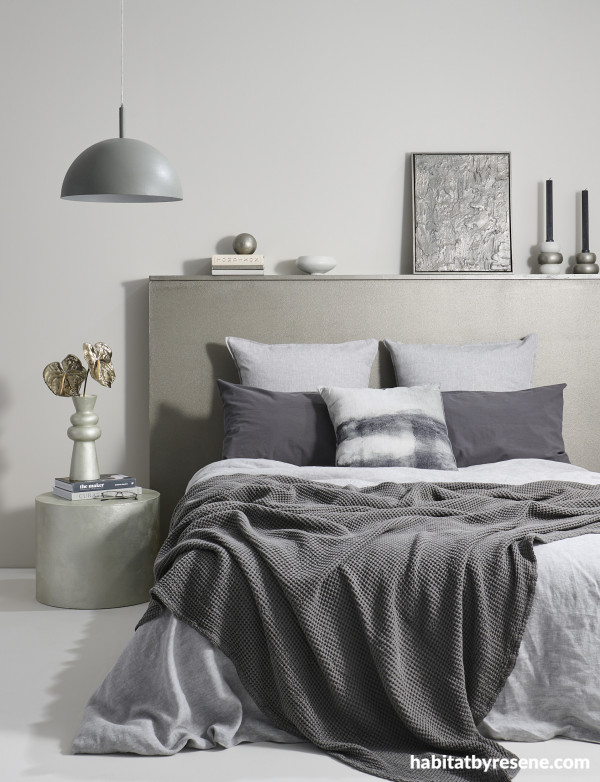 Sleep like a king or queen in this luxurious metallic bedroom. The wall is painted in Resene Cloud, floor in Resene Half Cloud, pendant in Resene Half Gravel, headboard in Resene FX Metallic Pure Pewter with Resene Chicago as the base colour. Side table in Resene FX Metallic Proton with Resene Copyrite as the base colour, vase in Resene Proton, ball and artwork in Resene Pure Pewter, bowl in Resene Cloudy and candlesticks in Resene Copyrite and Resene Pure Pewter. Duvet and pillowcases from Adairs, pattern cushion from Freedom, candles from Superette, flowers from Flux Boutique. Project by Vanessa Nouwens, image by Bryce Carleton.
Incorporating metallics into your home adds an air of opulence and glamour. The recent popularity of metallic finishes in home design has been driven largely from homeowners moving on from the minimalistic look and wanting spaces that reflect their personalities - explorative use of colour and incorporation of furnishings that tell stories or offer an element of fun. This bedroom is both personality-packed and fresh with Resene Cloud on the walls, and silver accents in the form of the headboard and bedside table. Resene FX Metallic Pure Pewter with Resene Chicago as the base colour makes for a shimmering headboard with impact. If you want to try another shade, use Resene Stun for a green glow, Resene Gold Dust for a golden glitter or Resene Magma for a spectacular red shine.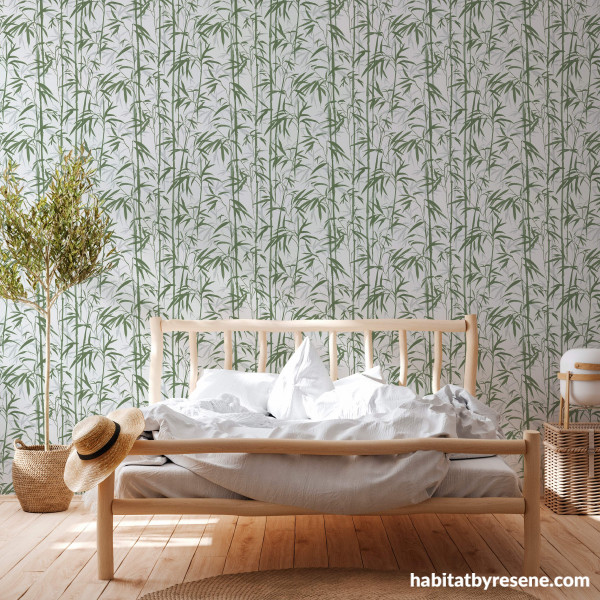 Escape to your own bedroom retreat with Resene Wallpaper Collection 379893_6. You'll never want to leave this serene sanctuary – just the spot to enjoy on lazy weekend mornings with a good book and cup of tea.
This tranquil room takes its inspiration from nature in many forms – the bamboo patterned wallpaper, wooden bedframe and floor, rattan décor, live greenery, and lush linens. If you love nature, having a nature-inspired bedroom gives you a sense of connection with the outdoors, even when you're inside. It can serve as a personal retreat where you can feel closer to nature, even in an urban environment. The serene colours of this wallpaper, design 379893_6 from the Resene Change Is Good Wallpaper Collection, pair well with greens like Resene Clover and Resene Highland, as well as neutrals like Resene Quarter Thorndon Cream, Resene Quarter Linen or Resene Merino.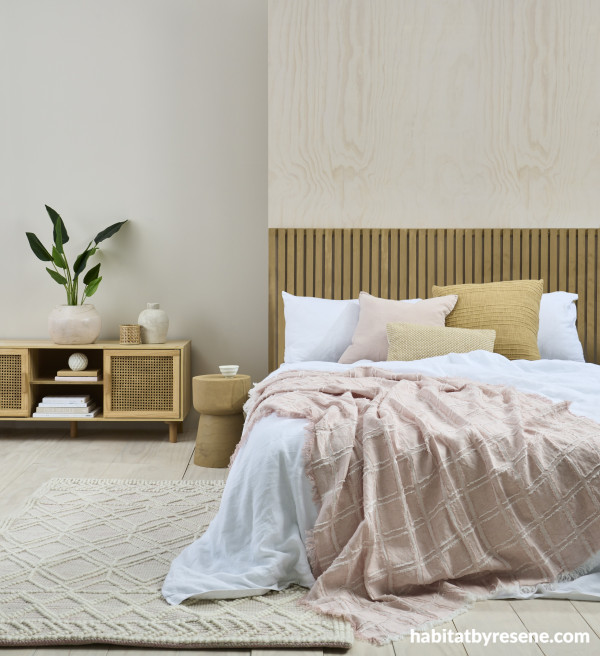 Create a DIY trellis headboard by nailing together narrow strips of stained natural timber for a natural beachy haven in your bedroom. Complement with light sandy tones for a soft relaxing space. Back wall painted in Resene Half Biscotti, floor in Resene Colorwood Breathe Easy, ply wall in Resene Colorwood Becalm, trellis headboard and bedside table in Resene Colorwood Bask. Small dish and deco ball in Resene Thorndon Cream and books in cabinet in Resene Wafer and Resene Gold Coast. Linen bedding from Foxtrot Home, cushions from Adairs. Project by Vanessa Nouwens, image by Bryce Carleton.
The subtle mysteries of a bedroom are important, as is adding depth and complexity to any interior scheme. This bedroom unfurls those mysteries beautifully, with each layer of interest opening like flower petals. At first glance it appears quite simple with its scheme of soft, faded, and restful Resene colours but there's so much more going on.
The headboard, made of battens, is a simple yet texturally interesting feature that sits further forward in the room, finished in Resene Colorwood tinted to the shade Resene Bask, a golden hue reminiscent of a warm sunset on the beach. You might notice that everything in this room is textured to some degree, which gives more visual layering – the timber grain, raffia, rug, weathered effect of the vases and the (purposefully) rumpled bedlinen that invites you in.
Other colours that would suit this gentle beach look are breezy blues like Resene Relax, creamy hues like Resene Coconut Cream, or a succulent apricot rose like Resene Wax Flower.
When it comes to transforming your bedroom into a haven of style and personality, Resene paints and wallpapers offer a world of possibilities. By carefully selecting the right colours, patterns, and textures, you can create a truly captivating space that reflects your individual taste and enhances the ambiance of your sanctuary.
For more bedroom ideas, check out the habitat plus – bedrooms book – pick up a free copy at your local Resene ColorShop or view it online.
Published: 23 May 2023
Do you have a home full of wonderful Resene paint and colour? Send us some snaps by emailing editor@habitatbyresene.co.nz.