►
◄
latest
habitat tv

blog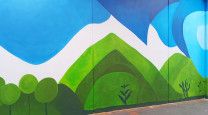 Fall into cosy: Make your home interior warm and inviting for the colder months
As the temperature starts to drop and the leaves start to change, you might be thinking about making your home interiors cosy for the autumn season. You don't have to do major renovations to make your home snug, all you need is some Resene paint or wallpaper, or perhaps a snuggly Resene Living duvet cover, to create a warm and inviting atmosphere. Here is some inspiration to get you going.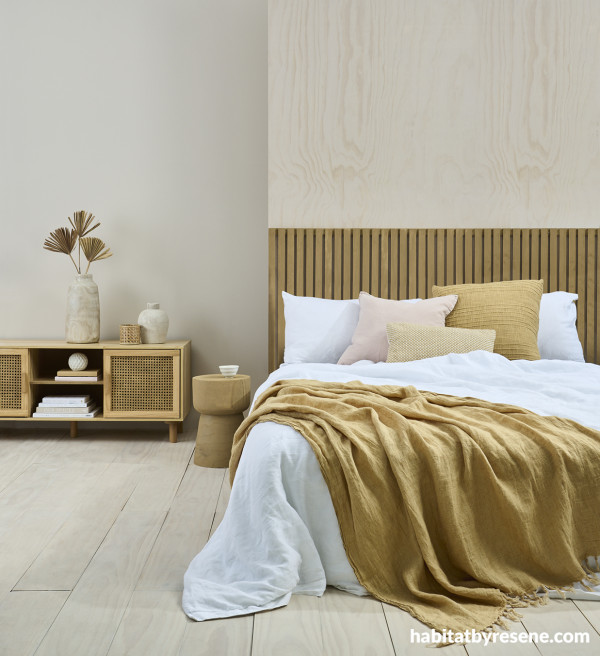 This beachy room has a golden hue reminiscent of glowing sand, making the most of its wooden features with flooring in Resene Colorwood Breathe Easy, ply wall behind the bed in Resene Colorwood Becalm, trellis headboard and stool in Resene Colorwood Bask and vases in Resene Colorwood Breathe Easy. The wall is painted in the warm shade of Resene Half Biscotti, dish and ball in Resene Thorndon Cream and books in Resene Wafer and Resene Gold Coast. Duvet from Foxtrot Home, cushions and throw from Adairs. Project by Vanessa Nouwens, image by Bryce Carleton.
Neutral colours can create a warm and inviting atmosphere that makes any space feel more comfortable and welcoming. In this room, the dreamy sand-toned wood stain shades are complemented by the main walls painted in Resene Half Biscotti, a silky soft beige with underlying warmth. If you're loving these coastal, earthy tones and feel tempted to add other sand, clay and ochre shades, try Resene Desert Sand, Resene Half Canterbury Clay, Resene Athena or Resene See The Light.
A tip for choosing neutral shades: If your room gets a lot of natural light, you can choose a warmer neutral tone to enhance the warmth of the room, such as Resene Quarter Spanish White or Resene Cararra. If your room has less natural light, opt for a cooler neutral tone to brighten the space, such as Resene Half Black White or Resene Barely There.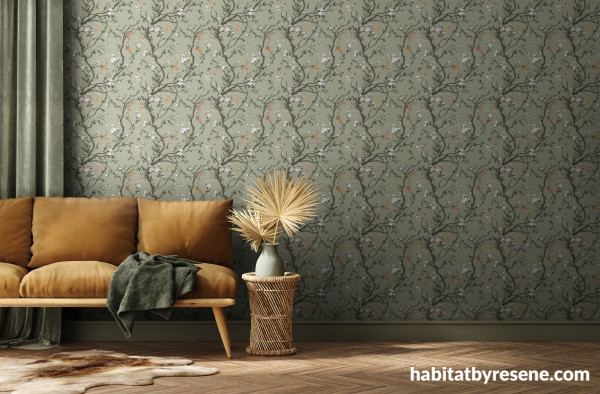 The elegant and inviting pattern in Resene Wallpaper Collection 291253 is the perfect choice for a cosy living room feature wall.
If you don't want to redecorate your entire room, a feature wall is a great option that can add interest and depth to your space. Choose a bold colour or pattern for your accent wall to make a statement and create a focal point in the room. When choosing a pattern, a repeating motif or simple stripe will provide a soothing backdrop to your décor without becoming overwhelming. The repeating florals in this wallpaper, Resene Wallpaper Collection 291253, ooze winter elegance with slight hints of autumn shades.
Try pairing this wallpaper with soft brown or tan coloured furniture, dried flower arrangements and cosy throws to top off the look. For complementary colours try a pastoral green like Resene Paddock, a pale, green-edged grey like Resene Harp, or a greyed white like Resene Quarter White Pointer.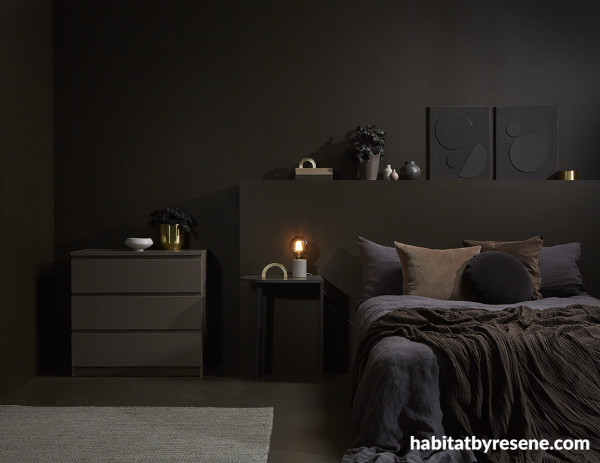 Paring back your colour palette to just tonal layers of one colour like this deep chocolate brown makes for a very inviting winter retreat. The walls are painted in Resene Monkey, floor in Resene Space Shuttle, dresser is Resene Kabul, lamp in Resene Americano and side table in Resene Kilimanjaro. Duvet, pillowcases, cushions from Città brown velvet cushion and throw from H&M Home, rug from Freedom, round cushion from Country Road. Project by Vanessa Nouwens, image by Bryce Carleton.
Dark earthy shades offer a rich and deep look and can create a sense of depth and earthiness in a room. It's all chocolate covered delight in this bedroom. Rich, luxurious brown is a fatefully overlooked colour when it comes to the bedroom – a space that craves cocoon-like comfort and cosy intimacy. Slight tonal variations have been used throughout this room, but the overall colour scheme has been kept relatively tight to enhance the feeling of being enveloped in comfort.
If you're loving the dark brown but wanting to break through a monochromatic scheme, try adding accented furniture or décor in shades like Resene Drought, a lighter beige in the same family, Resene Flax, an earthy green, or Resene Merlot, a soft velvety red.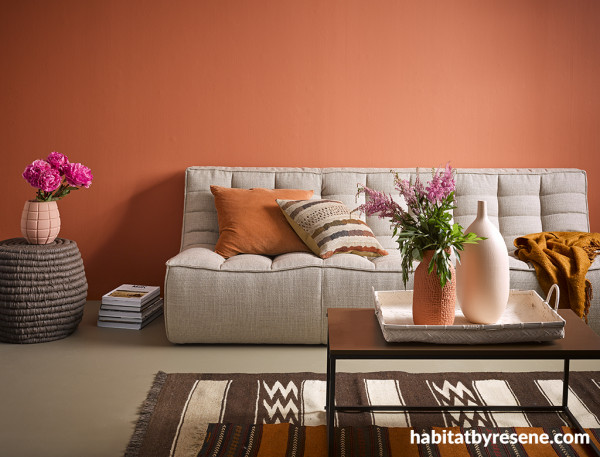 Inspired by the burnt terracotta hues of the Mojave Desert, Resene Sunbaked is used on these walls, grounded by Resene Earthen on the floor to create a space that oozes relaxation. The woven side table is painted in Resene Thunder Road, coffee table in Resene Sambuca, woven tray in Resene Despacito, woven texture vase , Resene Sunbaked, large vase in Resene Soulful and the grid vase is in Resene Just Dance. Rugs from Republic, cushions and throws from Furtex. Project by Claudia Kozub, image by Melanie Jenkins.
The warm shade of Resene Sunbaked casts a summer glow on interiors – something that you might want to hold on to coming into winter. Warm, earthy tones are a great choice for the autumn season. Deep reds like Resene Pohutukawa, oranges like Resene Ayers Rock, or browns like Resene Toffee will create a warm and pleasing atmosphere in your home, making it the perfect place to snuggle up and relax during the colder months.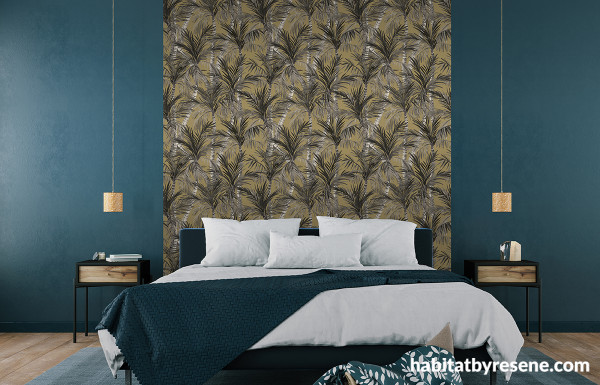 This stunning room features Resene Wallpaper Collection M37902. Team with a bold hue like Resene Guru or Resene Teal Blue.
Mixing and matching patterns and colours is a great way to add visual interest to your interiors. In this bedroom, Resene Wallpaper Collection M37902 is used as a feature headboard creating a focal point that also works to break through the colour on the walls. The deep teal shade of the walls mixed with the palm tree pattern gives off a tropical evening sunset vibe – a nice escape for those wintery nights.
When choosing colours to complement your wallpaper, be sure to choose shades that complement each other. Once way of doing this is to look at the colours visible in the wallpaper and bring those shades out onto walls or décor within your space. For example, colours that would look great with this wallpaper would be a golden hue like Resene Twine, a shadowy charcoal like Resene Foundry, or an off-white like Resene White Pointer.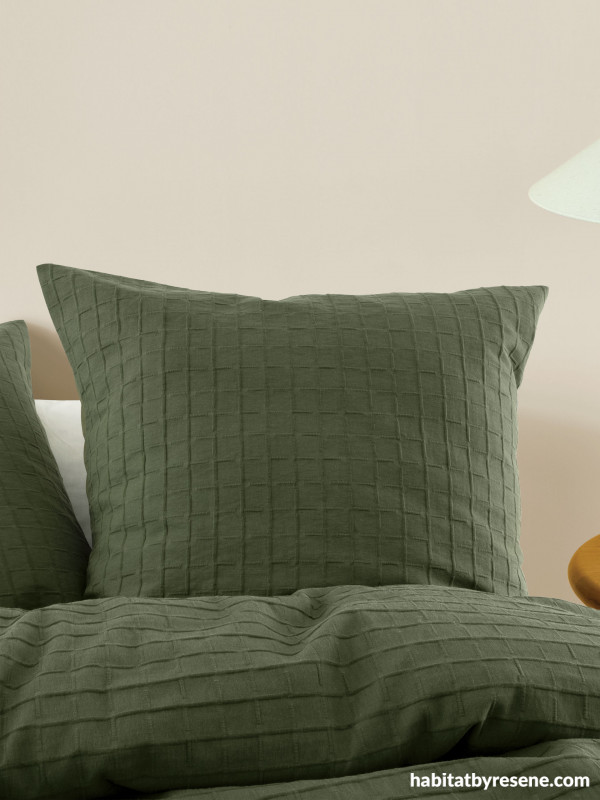 The Resene Living Dulcet duvet cover set inspired by Resene Scrub.
If it's cosy bedding you're after, the new Resene Living Dulcet duvet range will have you snuggling up in bed on those freezing mornings with a book and a hot cuppa. Not only are they super soft and snuggly, but the colours are inspired by Resene paint colours, so it has never been easier to create a cohesive look or stick to your favourite colour scheme. The enchanting, mossy green of Resene Scrub can also feature on your walls, and pairs well with paint colours like Resene Flax, Resene Budand Resene Merino.
Using paint and wallpaper is a great way to make your interiors cosy for the autumn season. By choosing warm and inviting colours or wallpapers, and adding homely accessories, you can create an atmosphere in your home that's perfect for snuggling up and relaxing during the colder months.
Published: 13 Apr 2023
Do you have a home full of wonderful Resene paint and colour? Send us some snaps by emailing editor@habitatbyresene.co.nz.