►
◄
latest
habitat tv

blog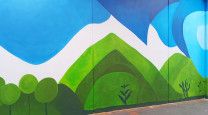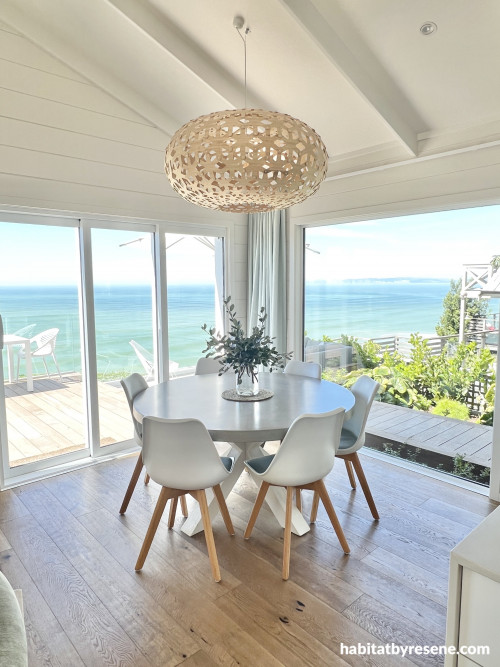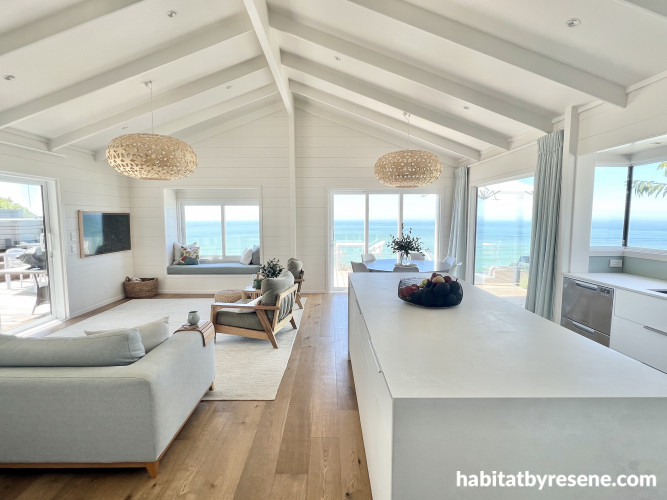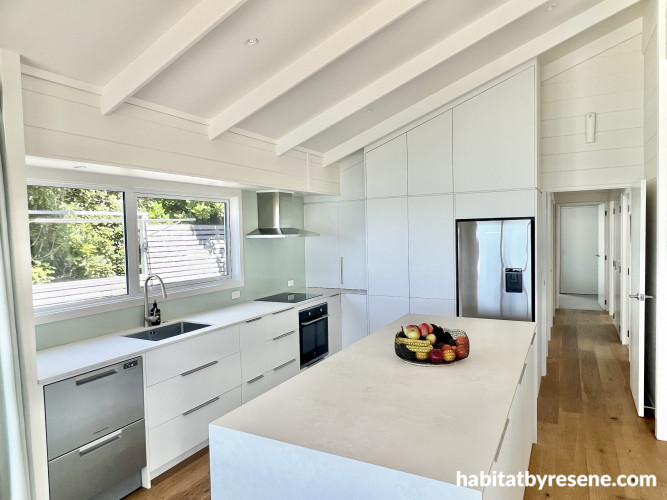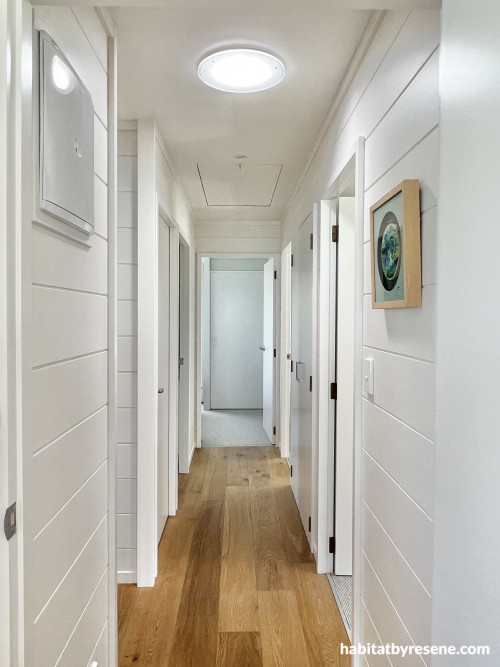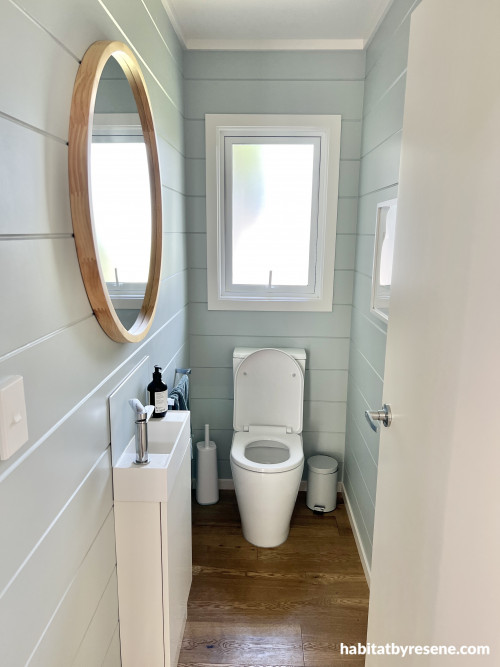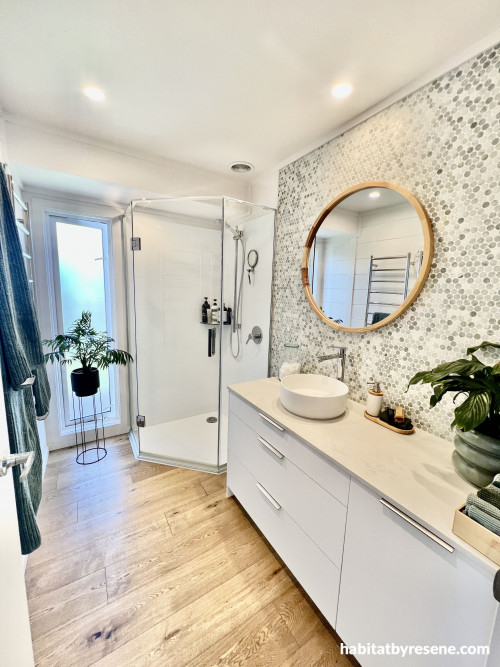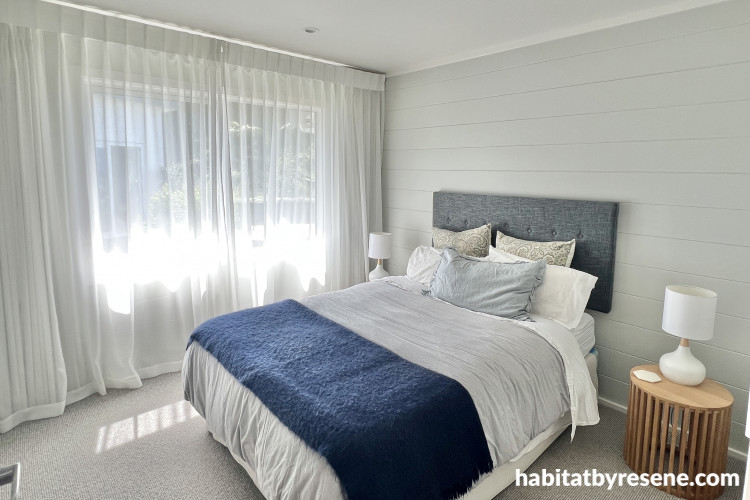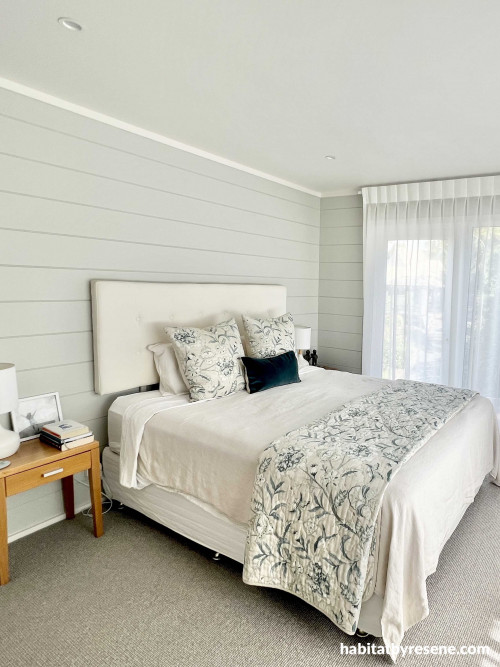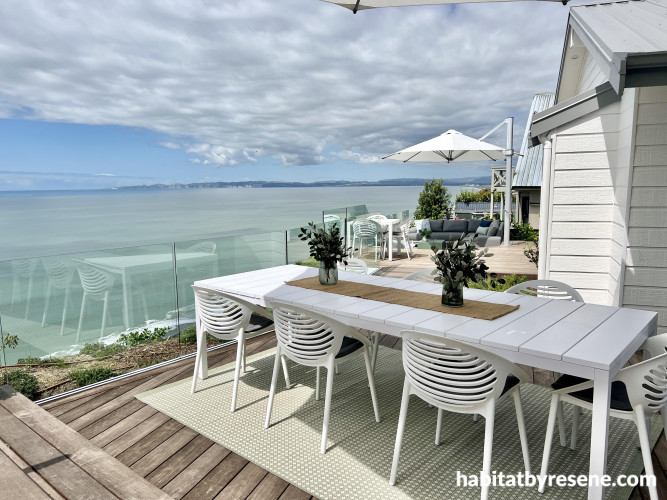 From aging wood to wonderfully bright, this Lockwood home got its style back
Built in 1993 to what was a standard design at the time, this Lockwood home in Napier was in desperate need of a makeover. Owners, Tracey and Kevin Richardson loved their dream clifftop location with 180-degree views over the water, so they turned to Resene paint colours to refresh and modernise their home.
Having opted for early retirement after selling a business in 2019, and with their six children having flown the nest, Tracey and Kevin sold their large family home on a lifestyle block, and searched for something smaller in a special location.
When they found their hilltop home the plan was to rent it out, travel overseas, and begin a renovation on their return. When Covid hit, plans had to change, and the couple opted to renovate while they had time on their hands during lockdown.
"We loved this house from the very first viewing," Tracey says. "Well, we loved the location and view – the house as a Swedish sauna lookalike, not so much."
Having previously done several renovations between them, the couple knew they could take this house from caterpillar to butterfly. Every single surface in the entire property, inside and out, has been restored and upgraded in some way.
The 3-bedroom home had been primarily been a rental property by previous owners. No upgrades had been done, and its design had severely gone out of style. The magical sea view had been hidden behind hugely overgrown pine trees, which also blocked the sun, creating dark shadows resulting in a dark and damp space.
Ripped carpets, rotten decks, mouldy curtains and obstructed views were the consequence of almost 25 years of neglect. Although the restoration took Tracey and Kevin longer than expected, the result is now a modern coastal classic that is bright and tranquil.
The couple describe their style as minimal, uncluttered, relaxed, serene and calm. A chic French white, Resene Quarter Blanc, was used in the kitchen, living and dining room, as well as throughout the house in the hallway and bathroom. This timeless, à la mode shade is the perfect backdrop for their minimalist coastal style, showing off the tall, pitched ceiling that was hidden behind the dark wood.
"We wanted a relaxed, open, minimal feel." Tracey says. "Whilst we took inspiration from magazines and Pinterest, in the end we came back to a colour palette for the decisions on furnishings. We deliberately chose a neutral backdrop for the large surfaces so that we could add colour in cushions and accessories that are easy to change as tastes change.
"The choice of white was hard as we wanted a warm white, not a cream and not stark white with any hints of blue. We wanted something that would complement the sea tones and greenery seen from the windows."
For the bedrooms, Tracey and Kevin chose one of their favourite shades, Resene Eighth Lemon Grass, a colour they love for the way it takes on different hues in different lights. It is a very restful colour for a restful space.
A pale shell blue, crystalline and calm, was used for the entranceway and toilet. Resene Duck Egg Blue is a great choice for coastal and rustic homes, working well against natural materials like wood and woven fabrics.
Resene SpaceCote Low Sheen, tinted to Tracey and Kevin's chosen Resene colours, was used for all of the interior walls, providing toughness and durability to the broadwall areas while still allowing for a low sheen finish.
Renovations are not always easy. The couple did some hard mahi relocating the entrance way to the other side of the house. That freed up the entire concrete driveway and parking area outside the lounge doors to be transformed into a private garden.
All the decks and trellis fences were replaced with new large decks and glass fences to make the best of the sea views, as well as installing new double-glazed windows throughout to not miss a hint of sun.
"What we have learnt is that with patience and practice you can master lots of new skills in a renovation," Tracey says. "We did everything ourselves that we could legally do. We did have a builder help with the windows and other structural things but all the interior decorating I did myself, while Kevin built the exterior decks and did loads of interior reconfiguration.
"The quality of your finished look all comes down to this prep. After that, changing the colour in any room is easy."
Tracey and Kevin are proud of and very happy with the overall look of their home, but their favourite space is the lounge, dinning and kitchen area. With the sea views from every window, amazing sounds from the ocean and cathedral ceiling, you can see why. There is a fabulous sense of space in this quaint home of 100m2, a result of the well thought-out neutral colour palette.
"Although Lockwoods are unique beasts, it was a lot of fun," Tracey says. "Watching the house take shape, making decisions as we went, and working together as a team with our complimentary skill set was a really fabulous experience and project for us to undertake together when we both retired early."
After changing their original travel plans and going through couple of hard years renovating, Tracey and Kevin have now planned their well-deserved trip overseas this year. They can enjoy their time away knowing they'll have a beautiful coastal home waiting for them on their return.
Top tip:
Adding Bug Juice to your Resene paint is a great way to eliminate crawling and flying insects on interior and exterior surfaces. Use Bug Juice only in the topcoat. Bug Juice comes with a handy measuring vessel to get the mixture right every time. It can be applied on most interior and exterior surfaces and will continue to kill insects for up to four years depending on where it is applied. Available to buy from Resene ColorShops or online: https://shop.resene.co.nz/bug-juice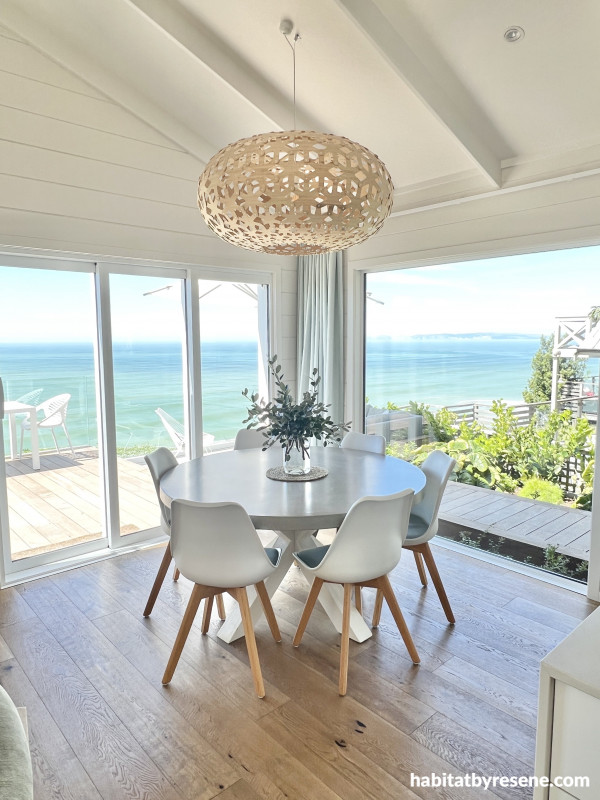 There couldn't be a better spot to sit and enjoy a meal, at any time of the day. The walls, painted in Resene Quarter Blanc, give the view an unmissable quality. The ceiling and trims are painted in Resene Eighth Blanc.
This bright, light-filled living, dining and kitchen area has replaced a dark and damp home. The pitched ceiling painted in Resene Eighth Blanc is now a showpiece of the home. The trims are the same colour as the ceiling with walls painted in Resene Quarter Blanc.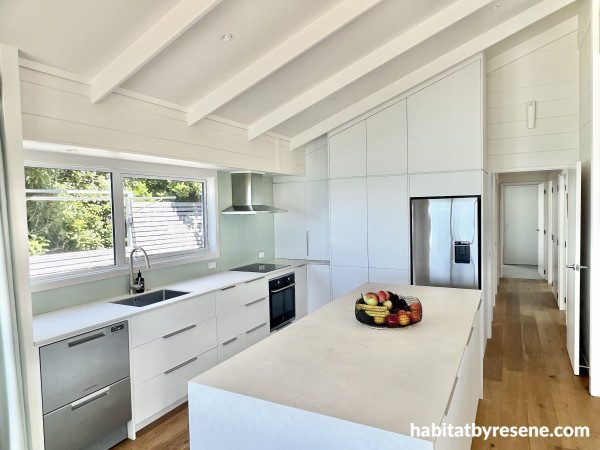 The neutral kitchen painted in Resene Quarter Blanc brightens up a once dark and dingy kitchen. The matt glass splashback is coated in Resene Duck Egg Blue to connect it with colour used in other parts of the house. Ceiling and trims painted in Resene Eighth Blanc.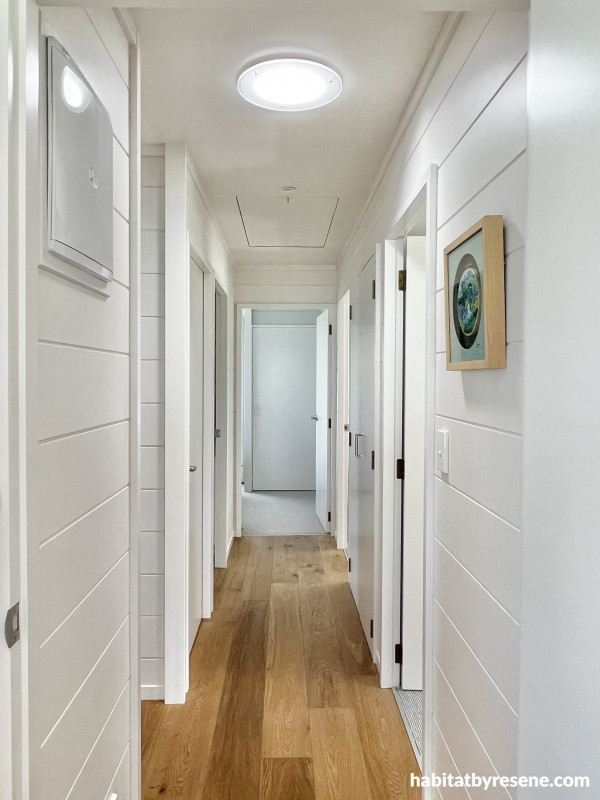 The hallway is now also bright and modern, with walls painted in Resene Quarter Blanc and the ceiling and trims in Resene Eighth Blanc. Stain floorboards with Resene Colorwood Natural to add to the coastal charm.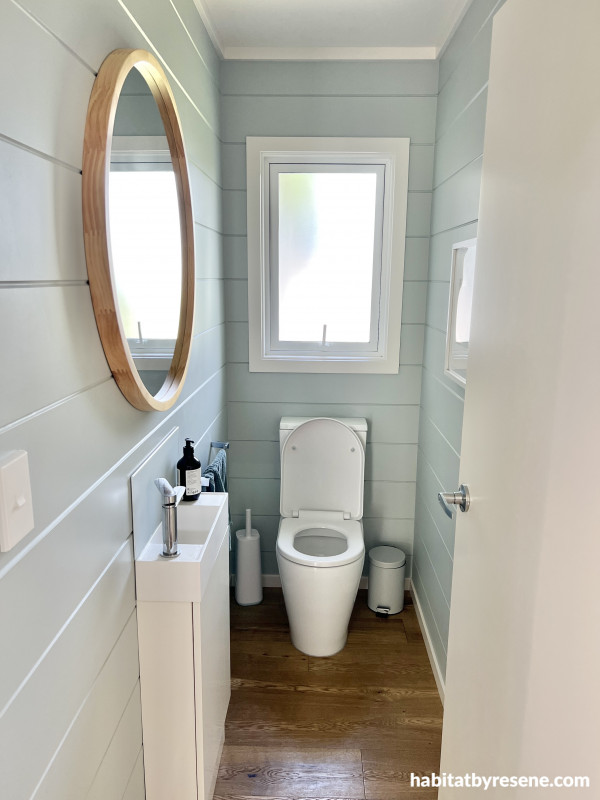 This quaint toilet now feels lighter and more spacious walls painted in Resene Duck Egg Blue, with ceiling and trims in Resene Eighth Blanc.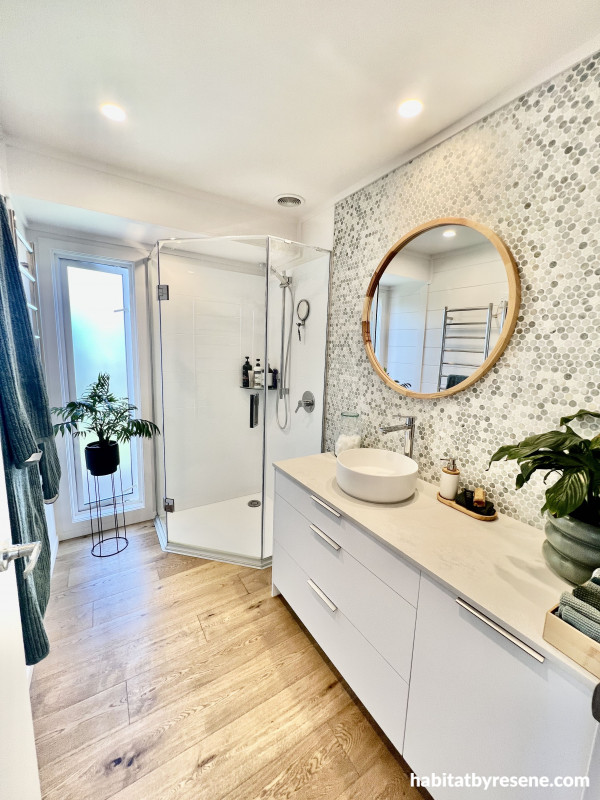 The bathroom had an extreme makeover to become a modern space with wooden flooring, modern tiling and walls painted in Resene Quarter Blanc. Ceiling and trims in Resene Eighth Blanc.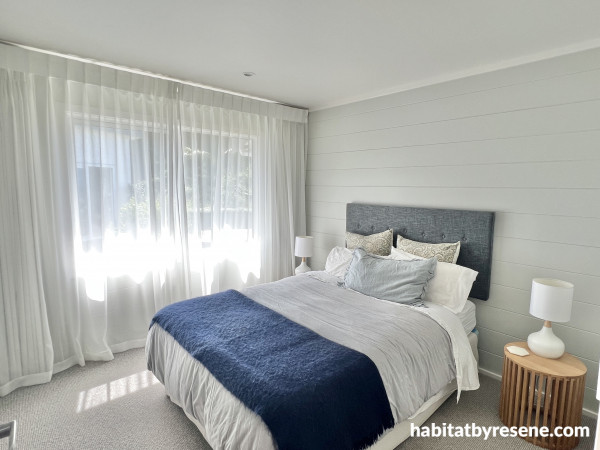 The soft greened neutral shade of Resene Eighth Lemon Grass was used on the bedroom walls, with the ceiling and trims painted in Resene Eighth Blanc, to create a tranquil and calm space.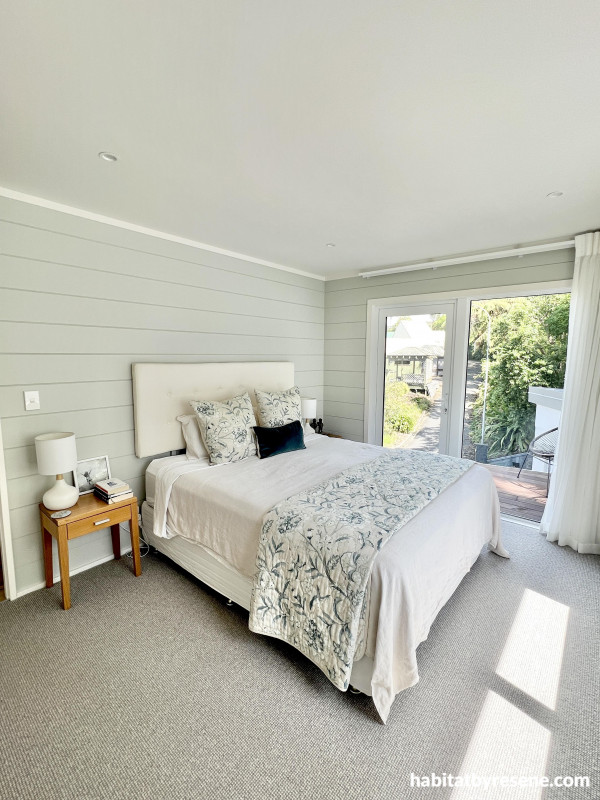 A shade that reflects the serene natural surroundings, Resene Eighth Lemon Grass, was used on the main bedroom walls, with the ceiling and trims painted in Resene Eighth Blanc.
On this open and brilliant exterior, Resene Eighth Blanc was used, creating a nice flow from the indoor shade. Resene Gauntlet was used on the roof and trims.
Before and afters: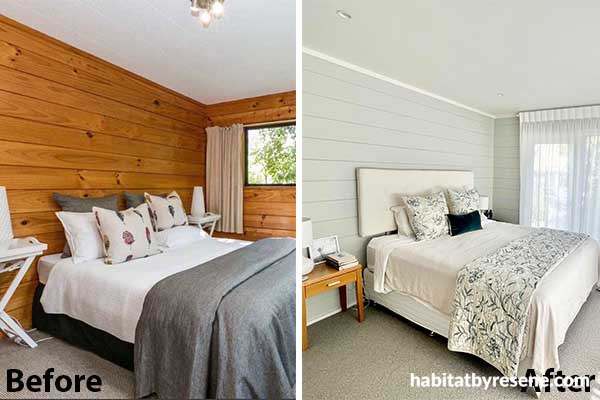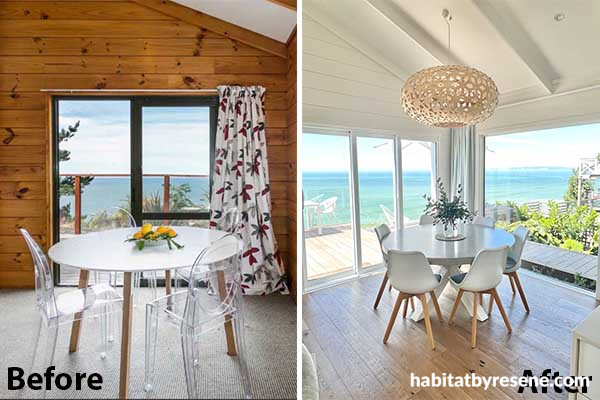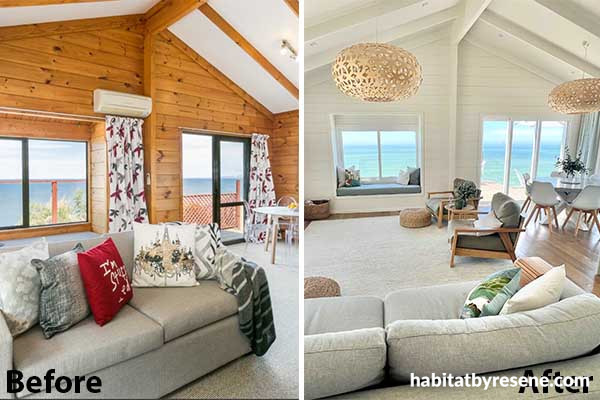 Published: 22 Mar 2023
Do you have a home full of wonderful Resene paint and colour? Send us some snaps by emailing editor@habitatbyresene.co.nz.






Resene Eighth Lemon Grass




the look
If you're stuck on what
colour to use or need colour
advice, try out the Resene
Ask a Colour Expert service.