►
◄
latest
habitat tv
blog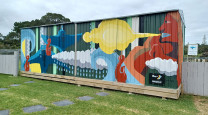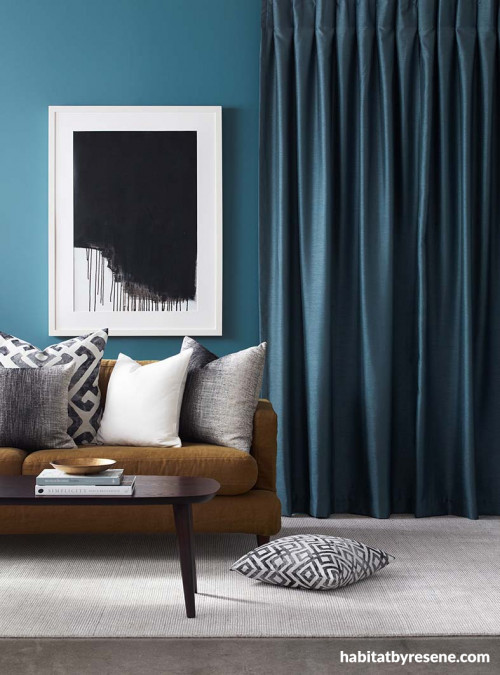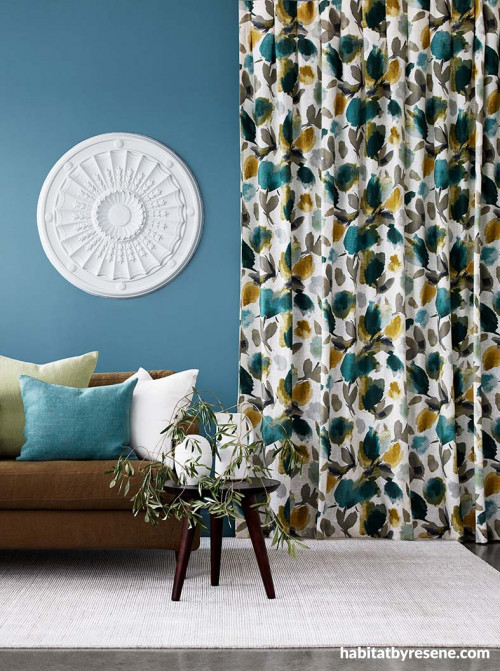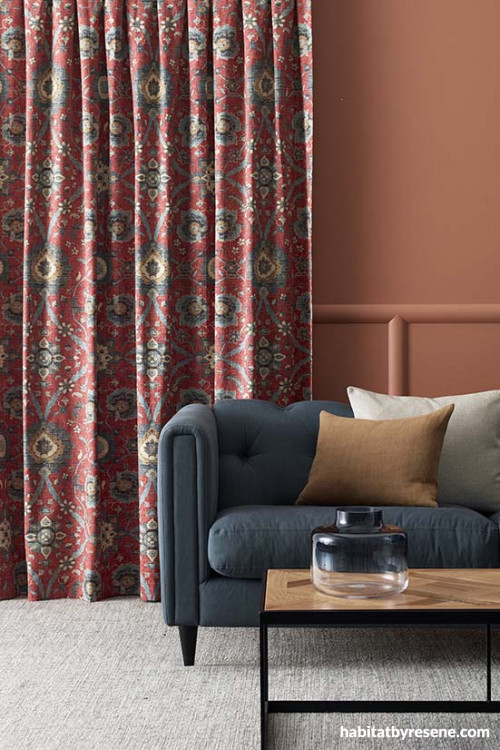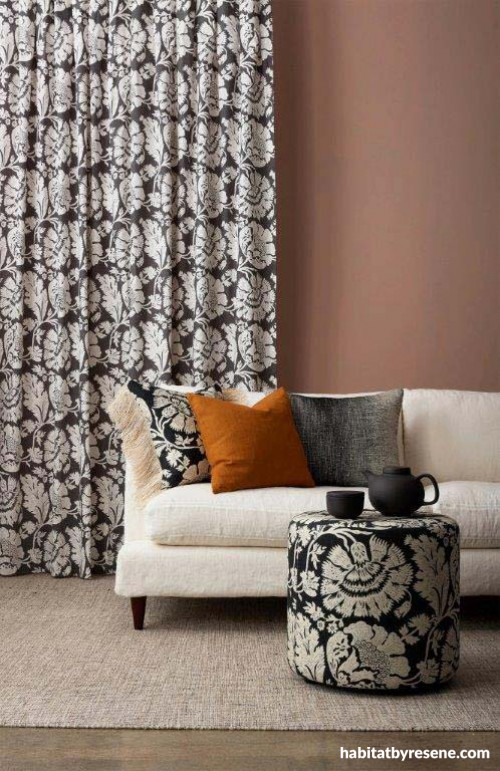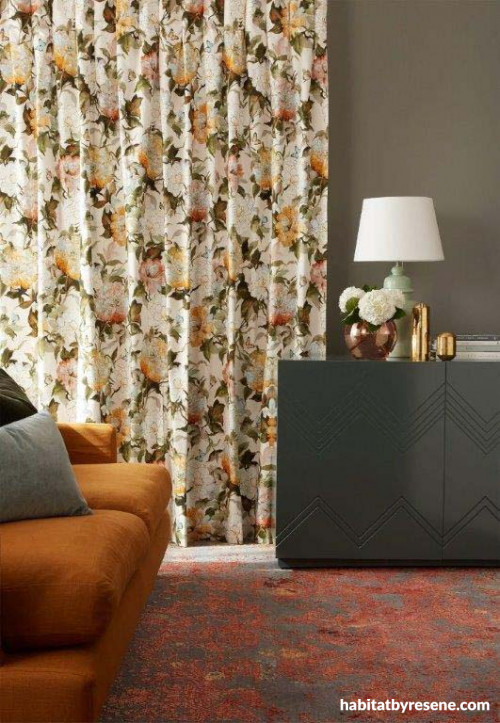 Get the dusky and dreamy look
You've definitely heard of millennial pink and scandi white, but there's another trend that's quietly snuck into interiors of late: dusky hues. And these styled settings, painted in Resene colours, show just how versatile and dreamy they can be.
Colour for all seasons
Home has always been a place for people to retreat to, and today it also provides a place away from the digital chatter of the outside world. To help with that, dusky paint colours provide a modern-day palette for calm and beauty.
To understand how versatile dusky colours are, we'll first explain what we mean by the term. They are based on organic, less saturated tones that you see in the natural world: think olive greens, terracotta browns and weathered blues. Used in the home, they bring both a grown up and timeless feel. They're for homeowners looking to paint their walls in today's colours that will still look modern for years to come. Find a dusky paint colour you like, and it will serve you through many seasons.
Decorating dusky interiors
The beauty of working with dusky colours is that you can either go similar with your home decor or go brighter with accessories – both will work! For a dusky-on-dusky look, complement with organic colours and materials. Add foraged twigs, move in a leather couch, and look out for cushions, rugs and art with lots of texture. With the brighter approach, go tone-on-tone but with more saturated colours, adding complementary colours as you go. This works especially well with green, as it's a colour that's already quite bright in nature (and therefore also has an organic feel to it).
Trending colours
Olive greens are the answer to a grown-up study or living room, a place where you switch off from the outside world and cosy up to a good TV show or book. Try Resene Yucca, Resene Middle Earth and Resene Timber Green. The deeper you go, the less styling you'll need to make it feel like the cosiest place on earth. Go for dark wood furniture and a mustard throw, and decorate with gold or brass look lamps, candle holders and plant pots to complete the look.
Terracotta browns continue to be loved by interior designers the world over, using burnt browns and red on feature walls and furniture. We've written all about using terracotta browns here. In a nutshell: using these colours are a great way to bring warmth and interest to your walls. For a duskier version of terracotta browns, look to Resene Sante Fe, Resene Moroccan Spice and Resene Tuscany. Decorate with olive greens (see above), natural materials (think cane and rattan) and deeper terracotta browns, such as Resene Ayers Rock and Resene Mai Tai.


Weathered blues bring calm to interiors, a reminder of coastal views and skies just before sunset – think Resene Awash, Resene Bali Hai and Resene Blue Moon. Although they have a link to seaside living, weathered blues are actually very sophisticated and suit a sense of luxury when decorating – think tonally matched velvet cushions and gold decor. You could still use these blues for a coastal chic look, by bringing in beige whites, such as Resene Ecru White or Resene Half Parchment, and textured accents, such as a rattan chair, cane light pendant or woven basket.


These settings from James Dunlop Textiles' latest collections show the versatility and beauty of dusky interiors. See more at www.jamesdunloptextiles.com.
Published: 02 Aug 2018
Do you have a home full of wonderful Resene paint and colour? Send us some snaps by emailing editor@habitatbyresene.co.nz.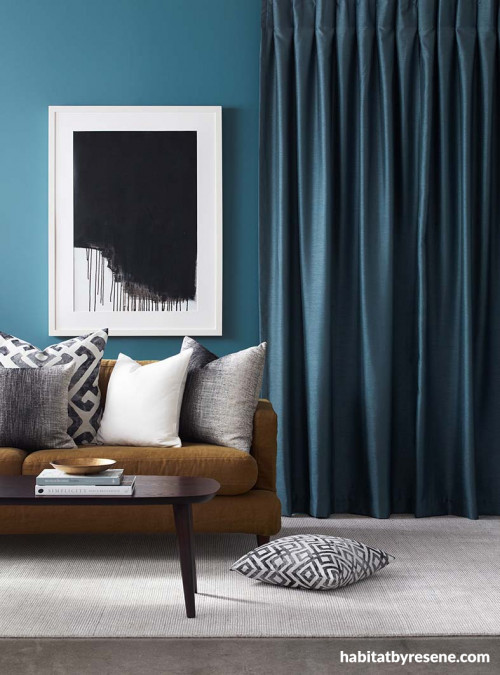 Weathered blues bring a luxurious feel to this living room, painted in Resene Half Smalt Blue from the Karen Walker Paints collection. The curtains are from the James Dunlop Maharaja collection.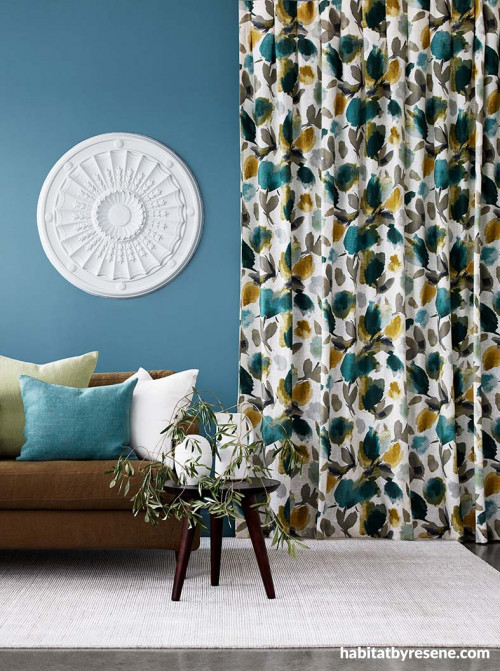 Also painted in Resene Half Smalt Blue, this living room brings in mustard yellows, muted greens and turquoise blues to create a brighter, more graphic look. The curtains are from the James Dunlop Flowerburst collection.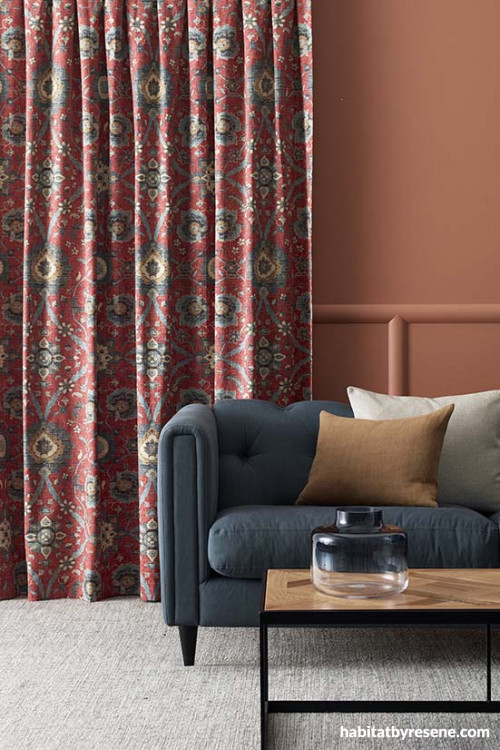 Warm and inviting, this living room is painted in Resene Sante Fe, a muted terracotta brown. The curtains are from the James Dunlop Alexandra collection.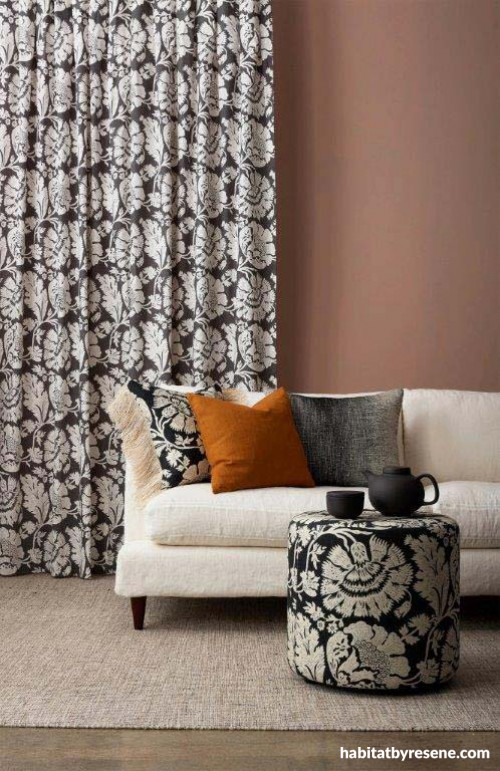 This living room takes on a tribal feel with black-brown printed fabric from the James Dunlop Teahouse collection, with walls painted in dusky red-brown Resene Del Rio.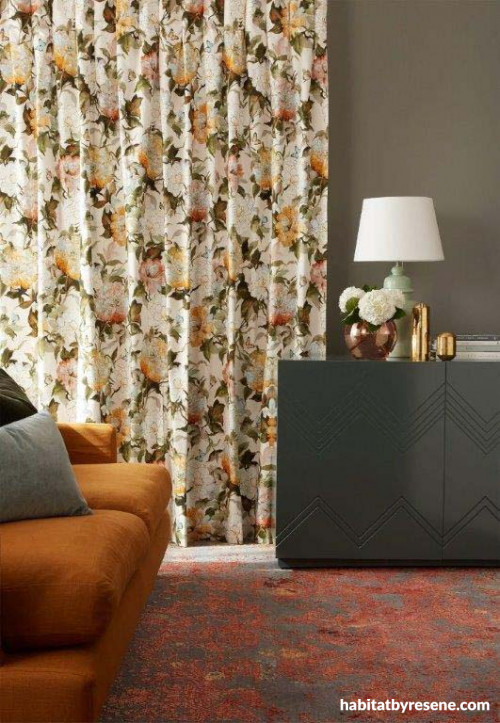 With gold and mustard decor to complement, Resene Montoya creates a cosy setting for this living room. The curtains are from the James Dunlop Teahouse collection.