►
◄
latest
habitat tv
blog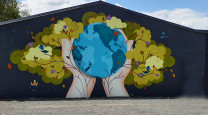 Hours of hard yakka and DIY spirit transform a small 1950s home for a family of six
When Kelly and Travis first put a formal offer in on a damp former rental home in Christchurch, they immediately got cold feet. Renovating the 1952 weatherboard and concrete tile home was a daunting task and they knew it needed hours of hard graft and DIY determination to turn it into a home. The house had an awkward layout and was painted in dated pinks and yellows that seemed to clash with everything else the couple owned. A Resene overhaul was desperately needed.
First things first
Six years after they bought the home, the couple and their four children have made a warm and calm space filled with light and character. They began with the two south-facing bedrooms, which were cold, damp and mouldy. "We stripped everything off, all the lathe and plaster, and straightened everything up," says Travis who was the chief renovator and is a fulltime stay at home dad. He installed insulation and plasterboard and even taught himself plastering from YouTube.
Kelly comes from a family of renovators and applied her DIY skills to the project management and design. Kelly asked a Resene Colour Consultant for help balancing the colours in the dark south-facing rooms. The consultant recommended paints with yellow undertones which led them to choose Resene Rum Swizzle for the window frames in the darker rooms and exterior trims and popular yellow toned white, Resene Pearl Lusta in the lounge and kitchen. The walls in the south facing younger children's room are in Resene Jet Stream, a vibrant pale blue that brings the low-light room to life.
After seeing a friend's house with a dark blue bedroom, the couple chose Resene Coast for their own master bedroom. The dark colour contrasts with the warm wood tones of the built-in wardrobe joinery offering a calming vibe at the end of a long day of work and parenting. Kelly found second-hand 1960s curtains at a curtain shop. "I wanted this room to be really cosy," says Kelly.
Improving flow and efficiency
Next, the couple hired architect Duncan Armfield to help them redesign the home's 90 square metre floor plan. "We wanted to stay within the footprint of the house but reorganise it to achieve maximum efficiency with minimum effort", Kelly says of the brief. "I was really influenced by Gabrielle Stanley Blair's book Design Mom. She specialises in small spaces for large families." Blair's eclectic mixing of colour and genre, recycled and upcycled items, and thoughtful use of storage and hooks provided much needed inspiration for this home.
The east-facing dining room become a third double bedroom for the growing family, and an unused north-facing sunroom was connected to the west-facing living area. This required a massive solid concrete chimney to be removed, a job that required the help of builders and engineers. The result was a sunny living area with north and west aspects.
The living area was under construction only weeks before the couple's fourth child was due. "My dad and brother-in-law came to stay and we painted the living area, a new bedroom that had been made from the dining room and the hallway in just three days," Kelly says.
To maximise the efficiency of those three painting days, the new living room and bedroom were all painted in Resene Half Pearl Lusta with Resene Eighth Pearl Lusta on the ceiling and trims. "I've lived in two houses with Resene Pearl Lusta living areas, so I rang my mother and asked her what strength her current kitchen was, and we pretty much just went out and bought the paint. Resene Pearl Lusta is a pretty forgiving colour and looks great with wooden features." She added pops of colour to the living areas by painting the cavity slider in Resene Just Dance on the living room side to go with the warm wood tones and Resene Summer Green on the kitchen side picking out similar colours in other interior design elements.
Calming green, grey and cream
The older kids' bedroom features a loft bed Travis made from recycled materials. Kelly painted a large built-in wardrobe with mountain scenes using Resene Seachange, Resene Rainee, Resene Sea Nymph, Resene Summer Green, and Resene Orchid White.
Green also features on the outside of the house, with Resene Avocado paired with Rum Swizzle window frames. Resene Avocado was chosen to complement the concrete tile roof for its calming qualities and to complement the flower garden.
Final challenge
The final renovations in 2022 included the bathroom and kitchen. The kitchen was designed around a free granite bench left over from a friend's earthquake renovation.
"We didn't have a lot of money," Travis says, "so we went for really simple galley design that we could install ourselves." Travis did the installation and the tiling himself, including cutting and installing the granite bench using hire equipment. And the cabinetry in Resene Pearl Lusta came from Ezy Kitchen.
Using all their own skills, recycled materials, sales and bargains, the family have managed create a warm and stylish home on a very low budget. Kelly says of the process "I'm the kind of person that wants everything done yesterday, with no mess. But taking the slow approach and incorporating recycled items really can save so much money. For me, it doesn't have to be perfect, just better than before. When the renovations got a bit much, I just spent time in the garden." Their next family project is a move to Palmerston North, where a mostly-still-original 1970s home awaits.
Top tip: Paint doors in Resene Enamacryl gloss or Resene Lustacryl semi-gloss. The durable enamel style finish is not only easy to clean but is ideal for high contact areas that receive a lot of wear and tear.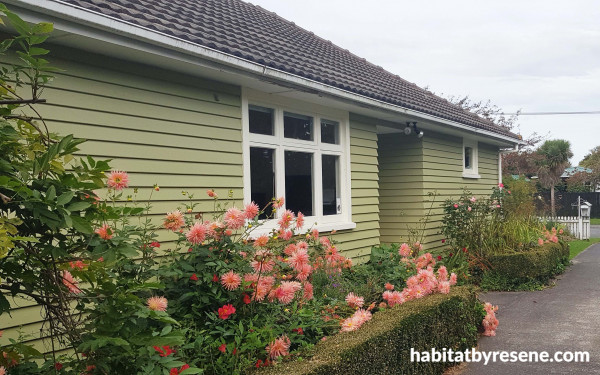 This 1952 weatherboard and concrete tile home sits in a large section with established fruit trees, vegetable and flower gardens. The weatherboards are painted in Resene Avocado and the trims are in Resene Rum Swizzle.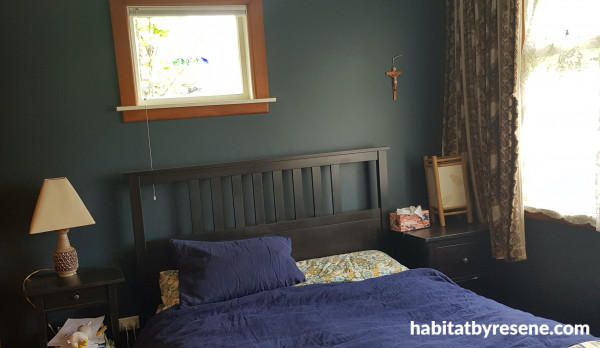 The master bedroom is a cosy retro-inspired retreat. Walls are painted in Resene Coast and window frames in Resene Rum Swizzle.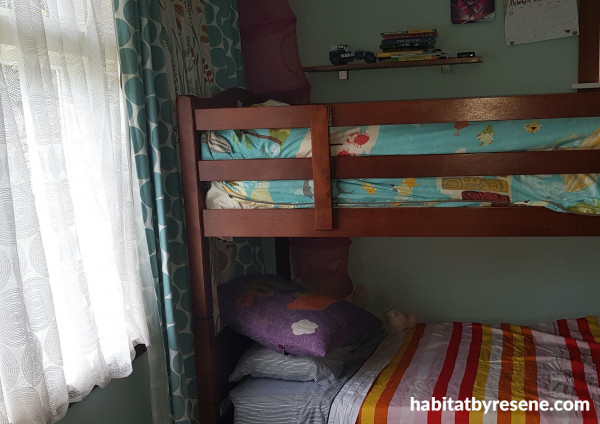 The younger children's bedroom has large south-facing windows, with floor to ceiling curtains for warmth. Walls are painted in Resene Jet Stream and window frames in Resene Rum Swizzle. "Pick the curtain fabric first," advises Kelly, "since it is a huge investment both financially and visually."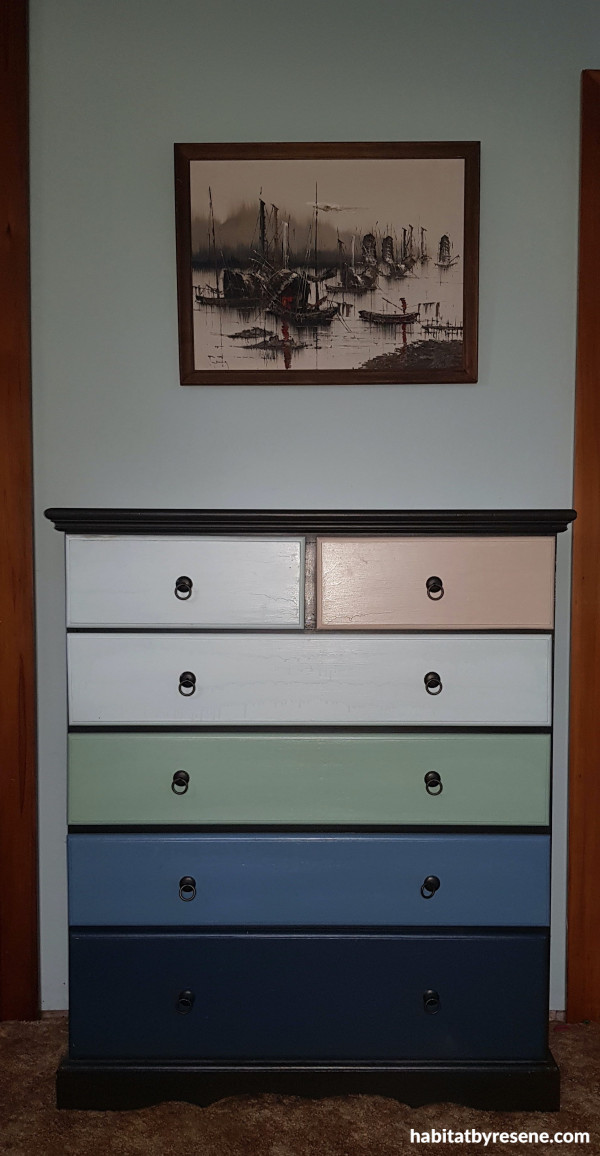 Kelly rejuvenated an old chest of drawers using Resene testpots, including Resene Coast , Resene Jet Stream and Resene Summer Green. The colours help her children remember which drawer their things are supposed to go in! The wall is in Resene Jet Stream.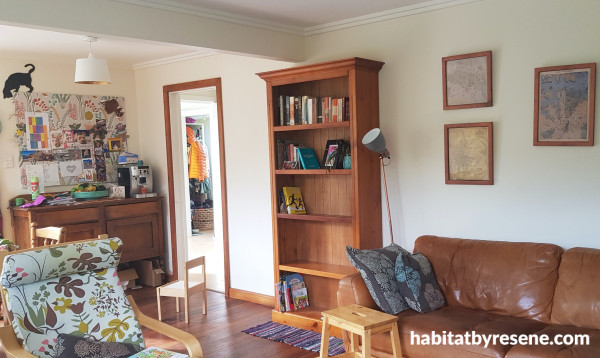 The walls of the living room are painted in Resene Half Pearl Lusta with Resene Eighth Pearl Lustatrims and ceiling. The warm white complements the wooden furniture.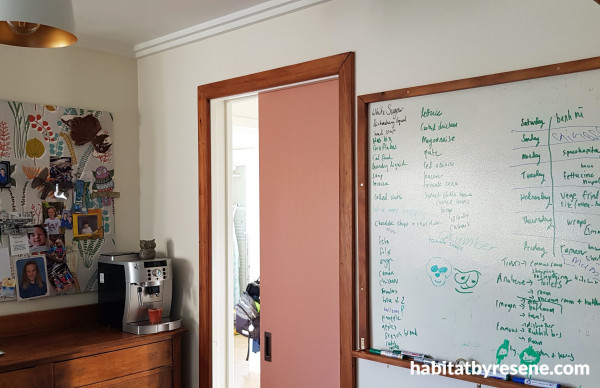 A large pinboard with leftover curtain fabric, and a whiteboard using Resene FX Write-on Wall Paint make a central family organisation area, used for meal planning, notices, maths problems, invitations and shopping lists. The wall is painted in Resene Half Pearl Lusta, the ceiling and trim are Resene Eighth Pearl Lusta and the door is Resene Just Dance.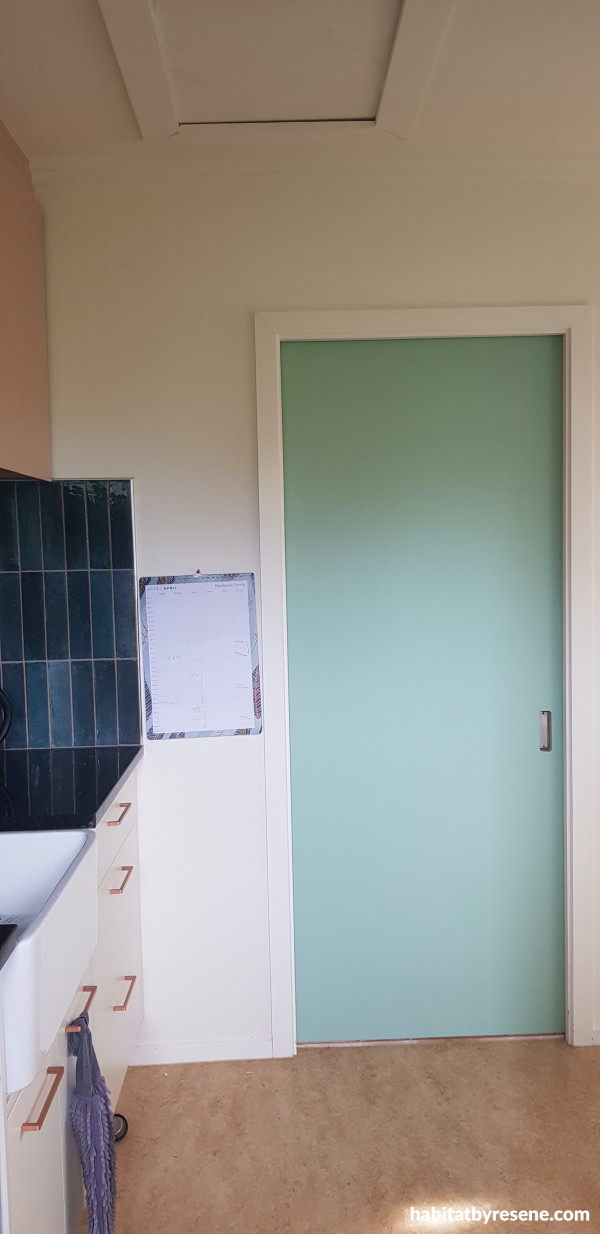 The recycled kitchen benches were cut, polished and installed by Travis. "We used a galley design to save money," he says. The kitchen cabinets from Ezy Kitchen are in Resene Pearl Lusta and the door is in Resene Summer Green.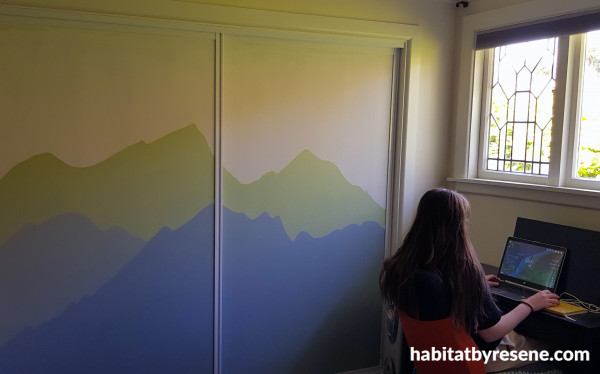 A mural in the older kids' bedroom was painted usingResene Seachange, Resene Rainee, Resene Sea Nymph, Resene Summer Green, and Resene Orchid White.The wall is Resene Half Pearl Lusta and the window trim is Resene Eighth Pearl Lusta.
Published: 27 Oct 2022
Do you have a home full of wonderful Resene paint and colour? Send us some snaps by emailing editor@habitatbyresene.co.nz.
Resene Eighth Pearl Lusta
the look
If you're stuck on what
colour to use or need colour
advice, try out the Resene
Ask a Colour Expert service.