►
◄
latest
habitat tv
blog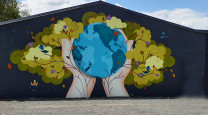 More is more: 5 ways to style the maximalist trend
Have you ever walked into a room and it's felt a little, well, lifeless? While the minimalist white Scandi style has been the 'style du jour' since the noughties, the 'less is more' aesthetic isn't for every person or every room. Bold, colourful interiors that are rich in texture, pattern and personality are having a moment with the maximalist and grandmillennial trends. With the array of Resene paint colours and wallpapers available, you can now create your own space that reflects your personal style, character and eccentricity.
What is maximalism?
Maximalism has appeared and reappeared in interior design for many eras, with the grandmillennial trend being the millennial generation's interpretation of this trend and a retaliation to the minimalist homes of their childhoods.
Both maximalism and grandmillennial are about living life within the walls of our homes to the fullest. Instead of 'less is more', the view of the maximalist is 'more is more', or put in another way, 'less is bore'. It allows a home to become a personal sanctuary filled with vibrant style and favourite treasures.
Colour pays a key part in this style – with bold rich jewel colours like Resene Jalapeno and Resene Aquamarine and Resene Deep Koamaru. Rich traditional English colours such as British racing greens like Resene Gordons Green, Resene Racing Green and Resene Holly and rich maroons like Resene Persian Red similar to the colours seen in the National Gallery of London are key colours in this look.
Why now?
During the pandemic many of us spent long periods of time in our homes. We've come to appreciate that we need to love the walls around us so we can thrive during our time indoors. Millennials and Gen Z who have grown up in the 2000s are driving this grandmillennial trend due to a growing awareness of mental health and the affect of colour on mood. The trend is also deeply imbued with a sense of nostalgia – as often in times of instability trends return to more traditional styles.
Whether you want to dip your toe into this trend with a bedroom that's packed in 'va voom' or you want to dial up the drama in your whole home, here are some ideas to get style to the max with Resene.
Moody and luxurious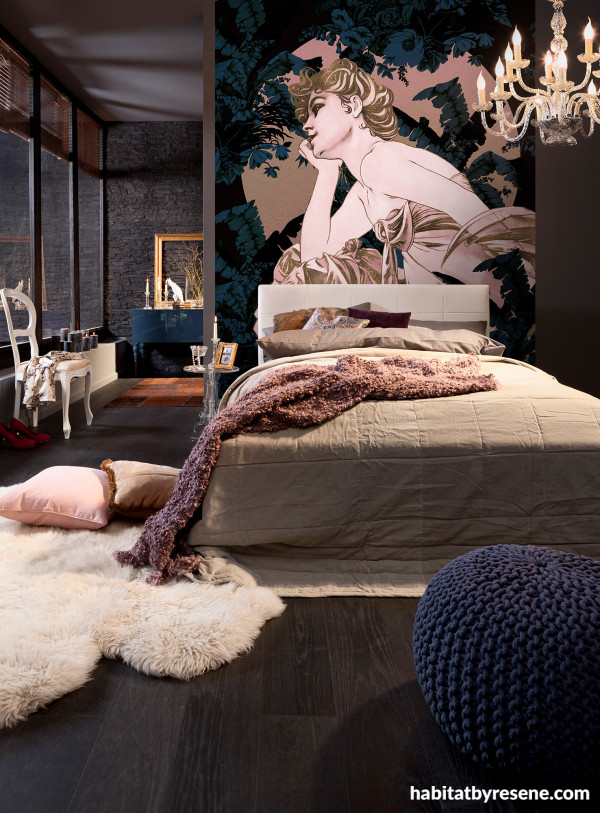 Pair Resene Wallpaper Collection HX4-019 with dark and moody colours to create a luxurious feel. Team a heritage design like this with rich browns like Resene Barista and trims in Resene Half Villa White and finish flooring in Resene Colorwood Bark protected with Resene Aquaclear.
Add some grand European style to a bedroom or living room with a mural or oversized pattern wallpaper design from the Resene Wallpaper Collection. A mural like Resene Wallpaper Collection HX4-019 featuring a design inspired by Art Nouveau artist Franz Much adds drama to a room. Pair a heritage design like this with deep Resene colours like Resene Indian Ink and dark oaky tones like Resene Colorwood Bark wood stain to create a luxuriously moody feel. Add moments of lightness with creamy neutrals like Resene Thorndon Cream.
On second glance minimalist spaces often have moments of calm. If you dial up the drama on a feature wall you will find the contrast can actually help you achieve calm nooks and serene corners to relax and revel in.
Dark and playful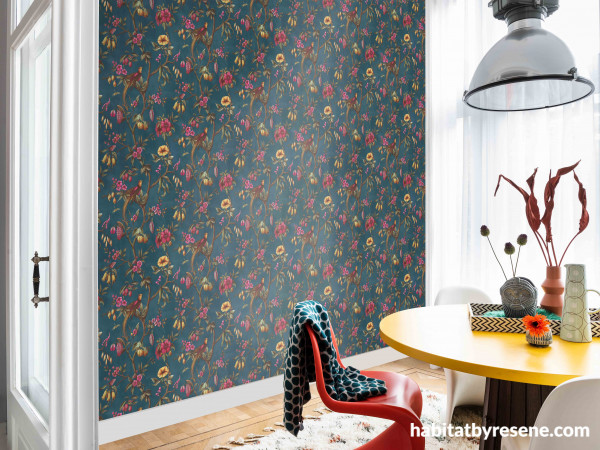 Resene Wallpaper Collection 220443 mixes traditional country style with bold modern colour blocking. Pair with pops of colour such as Resene Energy Yellow and Resene Bright Red.
From dainty daisies to luscious roses, floral wallpapers are a huge part of the maximalism trend. Florals can add a sense of nostalgia and country charm. When choosing a floral, look at the scale of the pattern - are they small dainty flowers or large blooms? Larger designs might work best on a large room with high ceilings, while small flowers can appear quite busy and might work in a room with large pieces of furniture. Look at the colours in the print. A dark floral design such as Resene Wallpaper Collection 220443 appears to recede giving the room a feeling of spaciousness and depth that it may not otherwise have had. This is a delightful example of how to bring in contrast while making the most of a small space in your home. Using patterns also draws the eyes away from details in the room you might prefer to hide.
Creative and bold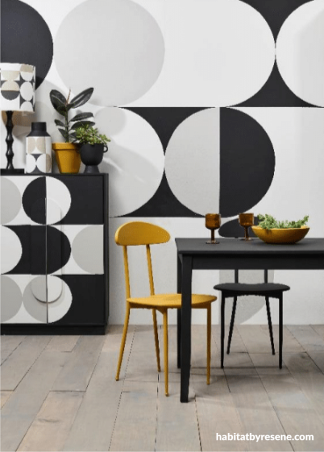 Take black and white colour scheme from the realm of minimalism to the star of a maximalist room with a bold geometric mural. The mid-century inspired wall mural and cabinet pattern are upsized versions of the pattern inspired by Resene Wallpaper Collection 538021 (wrapped around the lamp and the vase). Walls and cabinets painted in Resene Sea Fog, Resene All Black, Resene Grey Friars and flooring finished in Resene Colorwood Mid Greywash. Glasses from H&M Home. Project by Megan Harrison Turner, image by Bryce Carleton.
Combining more than one pattern in the same room is a great way to get the maximalist look. One trick to combining patterns is to play with scale. When choosing patterns make sure there is a big difference in the scale of the patterns. Pair a small detailed flower design with an oversized roses at least three times the size of the small pattern. Why not get creative with wallpaper by painting similar designs in a different scale or in your favourite Resene colours? Creating bold shapes and geometric structures will enliven a simple space and take it from bore to more. Resene offers sample pieces of many wallpapers so you can try a design out in your own home.
Pensive patterns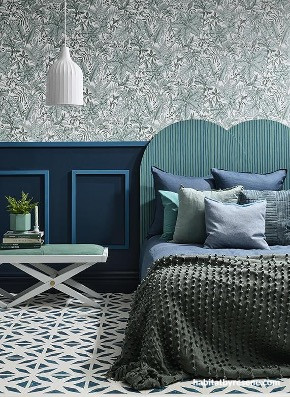 Wall above panelling in Resene Wallpaper Collection 37520-2, panelling painted in Resene Tangaroa and Resene St Kilda, headboard in Resene Stromboli with hand-painted stripes of Resene St Kilda, and floor in Resene Rice Cake with stencil design painted in Resene Tangaroa. White pendant lamp from Freedom, candleholder, candle and checkerboard cushion from Floralcentric, emerald velvet cushion with lines from H&M Home, other cushions, linen and throw from Adairs. Project by Kate Alexander, image by Bryce Carleton.
Another way to use more than one pattern in a room is to choose patterns in the same colour tone. For example, the greeny blue tones of Resene Wallpaper Collection 37520-2 connect with the blue tones of the floor created with Resene Tangaroa stencilled over the top of Resene Rice Cake. The panelled wall in Resene Tangaroa and Resene St Kilda links the two patterns and also creates a visual separation. Further pattern and texture are introduced through the bedding and pompom throw. Busy patterns created in calming colours such as blue help to keep the space restful.
Love and luxury
This panelled headboard painted in deep ruby red Resene Salsa creates an extraordinarily lush backdrop to this elegant room. Wall painted in Resene Bon Jour, small vase in Resene Volcano, timber floor stained in Resene Colorwood Natural and bedside table in Resene Jaguar. Lamp from Freedom Furniture, quilt from H&M Home, rug from The Ivy House. Project by Kate Alexander, image by Bryce Carleton.
Add maximalist drama to your home through blocks of saturated colour. Deep reds such as Resene Salsa and ultramarine blues like Resene Resolution Blue accented with golds like Resene Gold Dust channel Renaissance era luxury in your home.
Red has associations with passion and emotion paired with dramatic bedlinen and gold accessories to dial up the luxe factor. Red can be an energetic colour which makes it difficult to use in restful environments like bedrooms. By placing the red on the headboard this room remains suitable for sleeping while still retaining its sense of drama.
Whether you want go bold with colour, pair patterns with patterns or add Art Nouveau drama with a wallpaper mural – there's many bold Resene decorating options to allow you to dial up the personality in your home.
Published: 23 Nov 2022
Do you have a home full of wonderful Resene paint and colour? Send us some snaps by emailing editor@habitatbyresene.co.nz.