►
◄
latest
habitat tv
blog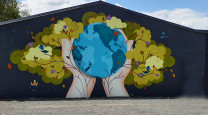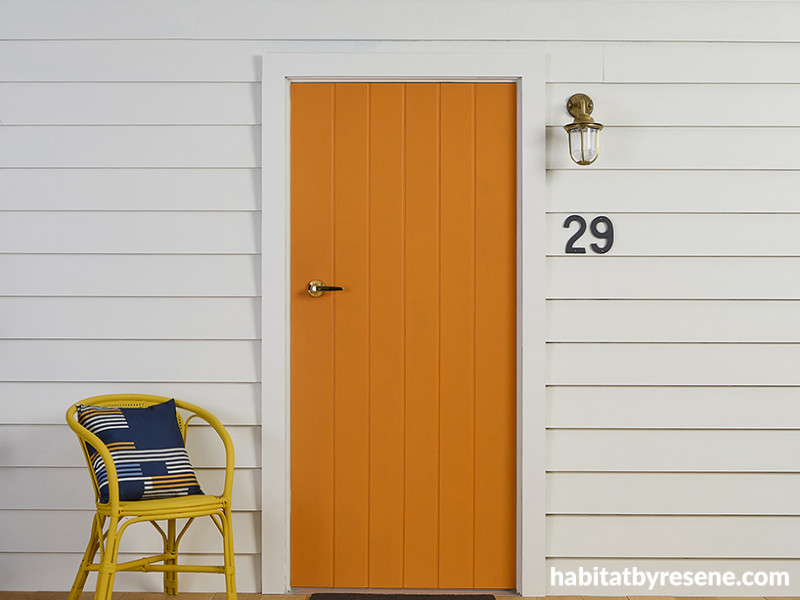 Orange you glad you made a difference? How embracing colour helps raise funds for Arthritis New Zealand.
02 Nov 2022
There's no better time to experiment with colour than now! Buy any Orange Resene testpot (60 mL), and Resene will donate $1 to Arthritis New Zealand. Arthritis impacts over 700,000 New Zealanders, and Resene is proud to help raise funds to support the vital work of Arthritis New Zealand.
Orange is one of the juiciest colours on the spectrum. Here are three fun ways to embrace orange, whether you're starting with just a drop or are diving into the full flavour:
This front door painted in Resene Outrageous and the chair in Resene Galliano provide a cheerful burst of colour against the Resene Merino weatherboards, Resene Woodsman Natural decking and doormat in Resene Felix. Resene Living cushion from Briscoes. Project Sarah Kolver, image Bryce Carleton.
Welcome guests with a burst of orange: What better way to set the mood than with a splash of colour on your front door? Resene has a range of products to help you achieve the perfect result. Resene Quick Dry is a waterborne primer undercoat that will prep your door, allowing you to follow with coats of Resene Enamacryl (a gloss waterborne enamel) tinted in your chosen shade of orange. Go full outrageous with Resene Outrageous, or lean towards Resene Tangerine, an Algerian-inspired red-based orange.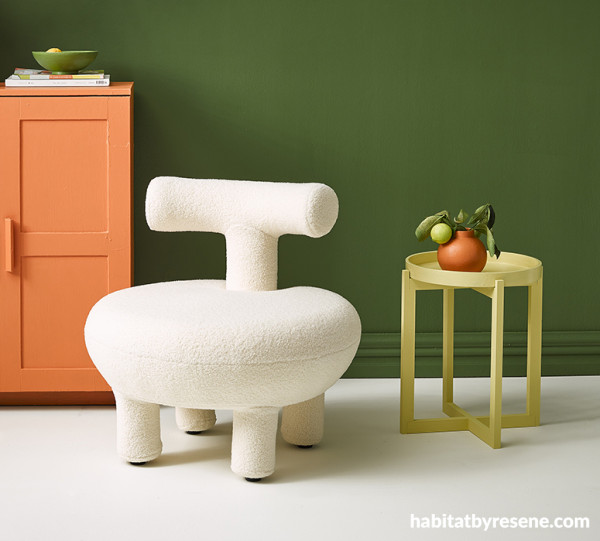 Above: Skylark Cabin's orange accents in Resene Lumbersider tinted to Resene Vesuvius pop against the rough-sawn larch exterior stained with Resene Waterborne Woodsman tinted to Resene Pitch Black. The home, designed by Barry Connor Architectural Design, is exposed to the elements and the Resene Waterborne Woodsman CoolColour formula was chosen to make sure the stain reflects heat and to help protect the timber.
Exterior excellence: Orange doesn't only make an impact on the interior. Elevate your exterior with a dash of colour. Take inspiration from the Skylark Cabin in Twizel, which was the winner of the 2021 Resene Total Colour Residential Exterior Colour Maestro Awards. "The colour (Resene Vesuvius) was a specific client request", says architect Barry Connor, "and was used to emphasise the main structural elements."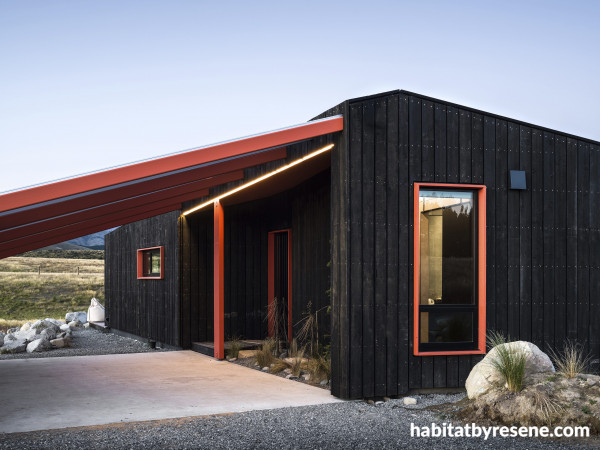 Add a burst of colour with Resene Smoke Tree, an autumnal orange that's ideal as an accent colour with citrus hues and also pairs well with reds like Resene Pohutukawa and deep blues like Resene Midnight Express. Vase and cabinet painted in Resene Smoke Tree, wall in Resene Clover, floor in Resene Rice Cake, side table Resene Chenin and small bowl in Resene Green Leaf. Chair from Danske Møbler. Project Vanessa Carleton, image Wendy Fenwick.
Pot of colour: If you're keen to embrace colour but perhaps prefer to start small, purchase a test pot (or two - it's for a good cause!) and paint some terracotta pots. Complete the job properly using Resene Aquapel & Terracotta Sealer to seal the pots inside and out before you topcoat. If you're feeling particularly creative, why not try creating this Stacked Planter in shades of orange?
(https://www.habitatbyresene.co.nz/tips/make-a-beautiful-stacked-terracotta-pot-vertical-planter/)
Published: 02 Nov 2022