►
◄
latest
habitat tv
blog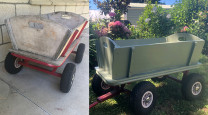 Nordic themed home inspired by the many shades of Wānaka
The ever changing colours of Lake Wānaka and the surrounding mountains inspired architectural and interior designer Priyanka Sareen to design this alpine retreat. Resene had just the colours for her to create a modern take on this gable home with beautiful pitched ceilings.
Designed with an expansive layout and modern feel, this home is truly one of a kind. The ethos of the design is inspired by Nordic architecture, nature, and the surroundings, both in its aesthetics and the use of materials.
Along with the inspirational landscape, Priyanka sat down with homeowners Jo, Ben and their two boys James and Max, to include their style, interests and hobbies. Jo and Ben had complete faith in Priyanka from the start and after hearing her vision come together they couldn't wait to see their dream home come to life.
"As a designer, I design the architecture of the home and the interiors. Typically people specialise in one or the other but I love to do both as it helps me bring my overall vision to life in a very cohesive way," says Priyanka.
"For this home I wanted to create a twist on the popular gable home and chose to be inspired by Nordic architecture and find a key focal point, in this case it was the established walnut tree at the back of the home."
"The two wings of the home were designed to capture the walnut tree in the middle, a gentle reminder of establishing great roots in this home for generations to come."
In the north wing of this alpine retreat Priyanka designed the open plan kitchen, dining and living areas with abundant glazing to capture the view and welcome the sunshine from morning to evening. The open plan home is perfect for entertaining with access to multiple outdoor areas from the one space.
Priyanka chose a custom Resene colour tailormade for this project for the dining area that blends seamlessly with the surrounding walls in the living and kitchen, a gorgeous off-white that befriends the sunshine, Resene Half Merino.
The boys' bedrooms in the north wing have some unique features of their own which include murals representing their interests and hobbies. Priyanka designed a mural in one to represent dirt hills, using colours which would remind them of their early morning and late evening bike rides. She used Resene Indian Ink for the silhouette of the hills, with a comforting pale green surrounding, Resene Aspiring.
The other bedroom has a very clever take on a headboard, adding intrigue to the room. Priyanka chose Resene Indian Ink to paint part of the wall, stretching it onto the ceiling creating a dramatic bedhead. This was also created to allow Jo and Ben's son to express his individuality, using this as an artboard to showcase his passions and interests.
"I would say my style is bold contemporary," Priyanka says. "My advice is don't hold back with your paint scheme, it is underrated how much you can create just using paint."
The south wing of this home is complete with a stunning master bedroom revealing views of the far off mountains. The tall pitched ceilings imitate the mountain tops and natural environment making this an extraordinary space. A deep green grey, Resene Half Mako, was chosen for the feature wall providing a tranquil feel next to the wonders resting beyond the glass.
"My inspiration for the colours was the many shades of Lake Wānaka and how it constantly changes," says Priyanka. "Contemporary and bold colour schemes add to the luxury and appeal. Black, gold, greens and blues bring every space to life in a unique way."
"The magnificence of this home creates unparalleled street appeal while embracing the dramatic landscape and creating spaces for maximum enjoyment and relaxation."
Being an architectural designer as well as an interior designer meant Priyanka could bring her whole vision together into one amazing dream home. Some wonderfully thought out features include the deck area and how this seamlessly connects the two wings, which also have their own entrances. These wings come together into one open plan living space, and throughout the home you are never short on spectacular views of the natural landscape.
"The offset gables with the central courtyard help to create a bespoke design and a feeling of grandeur," says Priyanka. "I know I'm biased but I genuinely love the whole house, it has everything you can dream of."
Priyanka's favourite Resene colour is Resene Aspiring, which she delightfully got to use in one of the boy's bedrooms. "It is a fabulous colour that you can pair with so many other colours to create dramatic or subtle effects, a very versatile paint, I loved using it."
Homeowners Jo, Ben and the boys absolutely love their new home, titling Priyanka and the team with a fun term 'GOAT' (greatest of all times) in designing and building their home.
Priyanka's brief for this home was to create an architectural gable home that serves as an icon of the alpine region, yet has its own unique identity. Her process is always to first find her inspiration, then pick the shades that will help her tell her best design story. With the picturesque and unparallel backdrop, she was not short of inspiration for this home.
Priyanka says the theme of this home was truly brought to life using Resene colours. The different tones used help to evoke different feelings are evident from the second you step in the door.
Check out more of Priyanka's designs at www.homefactor.co.nz
Photos by Sampford Cathie Photography
Top tip:
Modern homes and busy families need paint finishes that can withstand wear and tear. Resene Lustacryl semi-gloss waterborne enamel is designed for kitchens, bathrooms, laundries, trim, joinery and doors and areas traditionally reserved for solventborne enamels. Non-yellowing and fast drying with easy water clean up and Environmental Choice approval. If you prefer a higher gloss, choose Resene Enamacryl gloss waterborne enamel.
Prep: Clean down surfaces thoroughly to remove all dirt, dust and loose material. Ensure surface is free from oil, grease and mould.
Prime: For fibrous plaster or plasterboard use Resene Broadwall waterborne wallboard sealer ensuring new plasterboard is prepared to a level of finish suitable for the specified paint finish, for particle board and timber use Resene Quick Dry, for laminated or varnished surfaces use Resene Waterborne Smooth Surface Sealer and for soft or absorbent surfaces where the surface to be painted is considered too soft to form a stable substrate, a saturation coat of a fully penetrating sealer, such as Resene Sureseal may be required.
Apply: Apply by brush, speed brush, synthetic fibre roller or spray. In hot dry conditions thin with up to 5% Resene Hot Weather Additive. Prepare and prime as above. Apply two coats of Resene Lustacryl in required colour allowing dry time between coats.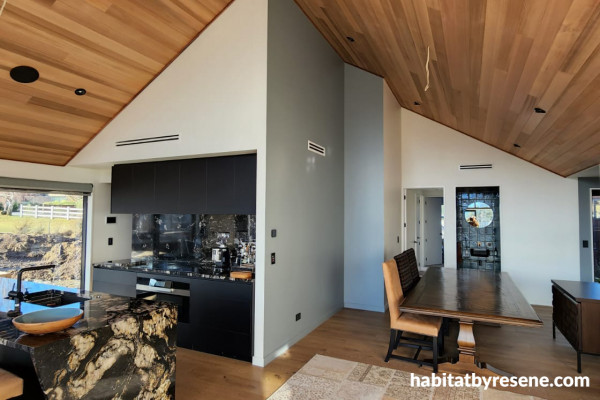 This stunning open plan kitchen is painted in Resene Half Merino along with trims and dining walls painted in a custom Resene colour inspired by Lake Wanaka and the surrounding nature and alpine. For a similar colour, try Resene Quill Grey and timber with Resene Colorwood Natural or clear Resene Aquaclear on timber features.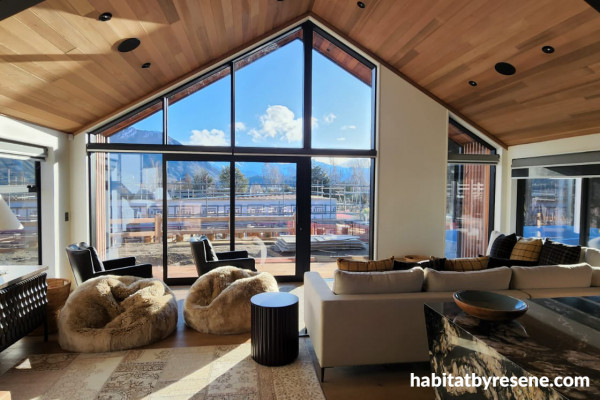 The spacious living room opens up to a beautiful view of the mountains, with complementing walls and trims painted in Resene Half Merino. Team with timber features finished with Resene Colorwood Natural or clear Resene Aquaclear.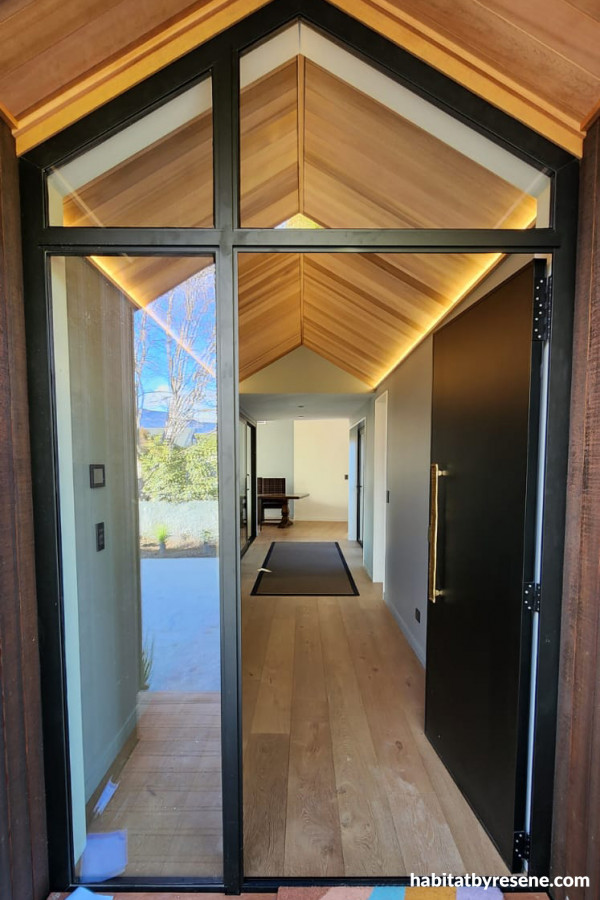 This unique entranceway leading down the hallway invites you in with the custom green grey Resene colour tailormade for this project. Try Resene Quill Grey for a similar look and team with wood finished in Resene Colorwood Natural or Resene Aquaclear waterborne urethane. The front door is painted with Resene Lustacryl tinted to Resene Black.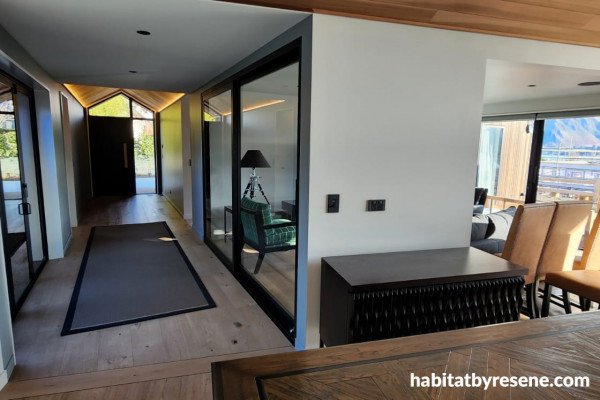 A wonderful view from the dining room showcases the mountains seeping in through the many windows. The walls are painted in a custom colour, try Resene Quill Grey for a similar look. Trims painted in Resene Half Merino and front door in Resene Lustacryl tinted to Resene Black.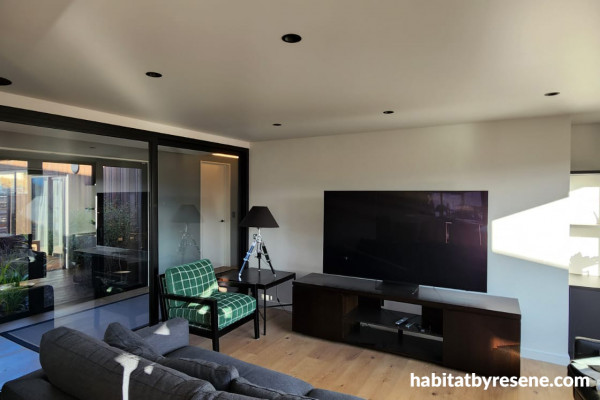 The living room is well placed to let the sun in and bounce off the warm walls painted in Resene Half Merino with the ceiling in Resene Quarter Merino. Keep timber features looking natural with Resene Colorwood Natural or Resene Aquaclear clear urethane.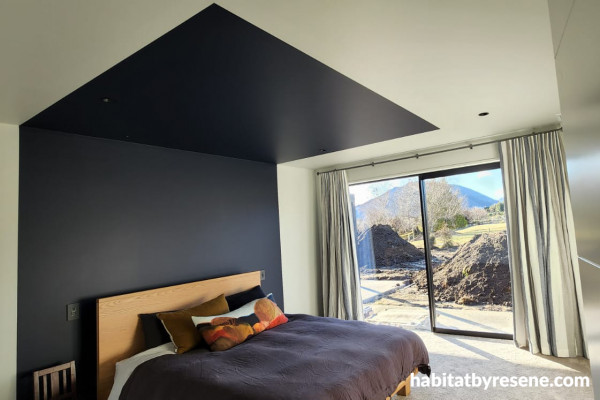 This wonderful play of colour blocking to imitate a headboard is painted with Resene Indian Ink, with surrounding walls and trims in Resene Half Merino and ceiling in Resene Quarter Merino.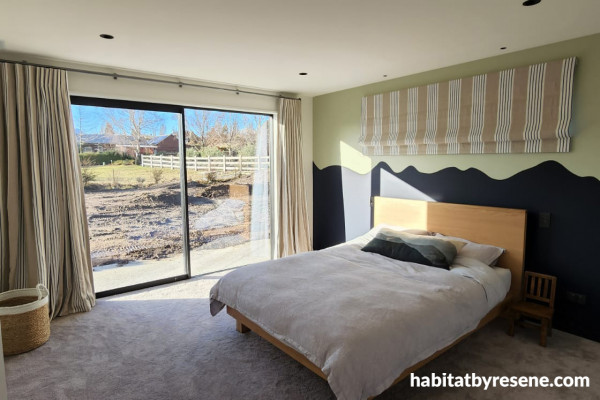 This unique and playful feature wall to represent dirt hills is painted with Resene Indian Ink and Resene Aspiring. Walls and trims in Resene Half Merino and ceiling in Resene Quarter Merino.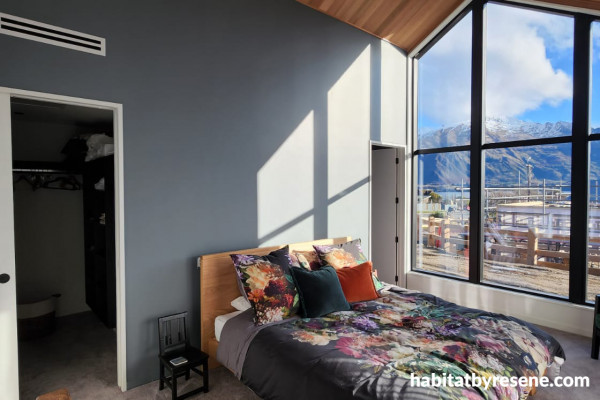 The spacious master bedroom with pitched ceilings and a magnificent view showcases a feature wall painted in Resene Half Mako, with surrounding walls and trims in Resene Half Merino.
Published: 18 Jan 2023
Do you have a home full of wonderful Resene paint and colour? Send us some snaps by emailing editor@habitatbyresene.co.nz.
the look
If you're stuck on what
colour to use or need colour
advice, try out the Resene
Ask a Colour Expert service.