►
◄
latest
habitat tv
blog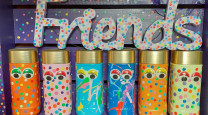 Stephanie's post-quake overhaul honours lush surrounding
Following the devastating Christchurch earthquakes, Stephanie Waterhouse was faced with a major decision: rebuild her beloved but damaged 110-year-old villa or pack up and move. However, her stunning St Albans neighbourhood, surrounded by acres of lush parkland, proved too hard to leave behind. Opting to rebuild, Stephanie enlisted the support of architect Don Jamieson and architectural graduate Joshua Dubbeld, as well as a blend of Resene colours reflective of the region's raw, natural beauty.
The result of their combined efforts is a comfortable, compact and considered build that celebrates the area's prevalent mid-century style while incorporating hints of contemporary design. Stephanie's eye for detail and love of nature was a huge source of inspiration for the rebuild. "I walk everywhere so I get to enjoy all the wonderful colours of nature, all the interesting designs and small details that make neighbourhoods the place they are," she says.
Honest materials, an open layout and northerly-oriented living areas were a priority to allow for enhanced natural lighting and heating. Don and Joshua made use of the available space on the site to create two gables with a covered courtyard in between that's ideal for both at-home entertaining and private relaxation, allowing Stephanie to embrace an indoor/outdoor lifestyle.
As part of her vision of a natural home, Stephanie incorporated plenty of colours that were representative of those found in nature. "Stephanie has a love of colour, which was evident in her existing villa. It was decided early on in the project that colour should be featured in abundance alongside natural, low maintenance materials," Joshua explains.
Stephanie was particularly keen on hues reminiscent of the immediate area, such as the volcanic rock of Port Hills and the harbour. "The colour choices are intended to reference the surrounding environment as the eye moves from the earth to the sky, from the flora inspired green of Resene Norway, to the moody sky blue of Resene Longitude," says Joshua. "Every colour leaves its own distinctive impression, while referencing the natural finishes."
The natural colour palette used on the exterior extends through to the inside of the home, blending seamlessly from the outside in. "We wanted to evoke a strong sense of home and permanence," Joshua says. "I wanted Stephanie to move into the house and immediately feel comfortable, like she had lived there her entire life." Stephanie also reintroduced furniture from her previous villa to bring in a sense of familiarity. She managed to salvage a beloved butcher block and transformed a kauri door into shelving for plants in the kitchen.
Wanting to create a 'honey glow' within her home, Stephanie opted for the type of hues you'd see on the Canterbury Plains during summer when the fields are golden.
These accents run throughout the home, which are emphasised by the use of timber and other natural materials. Deeper into the property, the living spaces deviate from golden and copper tones, boasting lofty vaulted ceilings painted in warm Resene Eighth Spanish White. Light from north-facing vistas pours down through the skylights and plant life is dotted throughout, bringing raw natural elements directly into the space.
Through to the dining room, the walls are painted in the soft blue tones of Resene Longitude, capturing nature further. Each bedroom is painted a different shade of green, with Resene Norway in the master and Resene Secrets and Resene Ashanti in the spare bedrooms.
"The finished result is such a perfect home for me," says Stephanie. "Everything was chosen for a reason, everything has a story and a place, especially in those materials and objects salvaged from the damaged house. And I love how the light changes all the colours depending on the time of day."
Stephanie advises anyone going on a similar journey to be brave, bold and thrifty in the pursuit of creating a happy home. "Do not be afraid to upcycle, use lots of colour, think about how your perfect haven would look and then go for it," she says.
Published: 11 Feb 2020
Do you have a home full of wonderful Resene paint and colour? Send us some snaps by emailing editor@habitatbyresene.co.nz.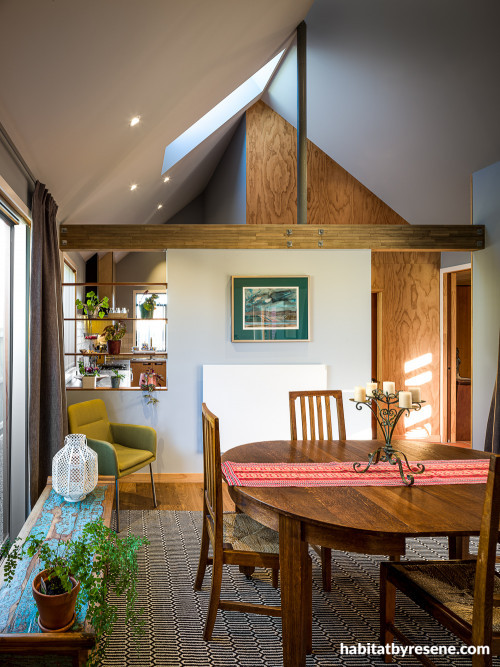 In the dining and living areas, the walls are painted soft blue Resene Longitude below the impressive gabled ceiling, which is in Resene Eighth Spanish White. If your home features timber accents like Stephanie's, ensure they're protected with Resene Aquaclear waterborne urethane – a clear finish that'll keep your wood looking spic and span for years to come.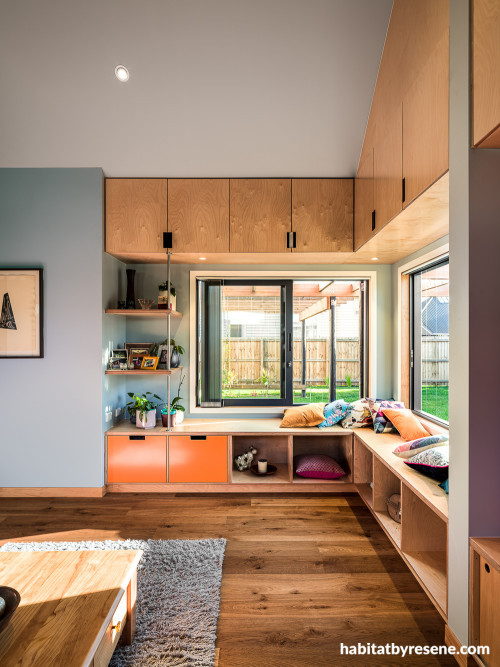 For a pop of colour, some of the door and drawer fronts of the built-in joinery have been painted Resene Energise. The walls are in Resene Longitude while the ceilings and trims are in Resene Eighth Spanish White.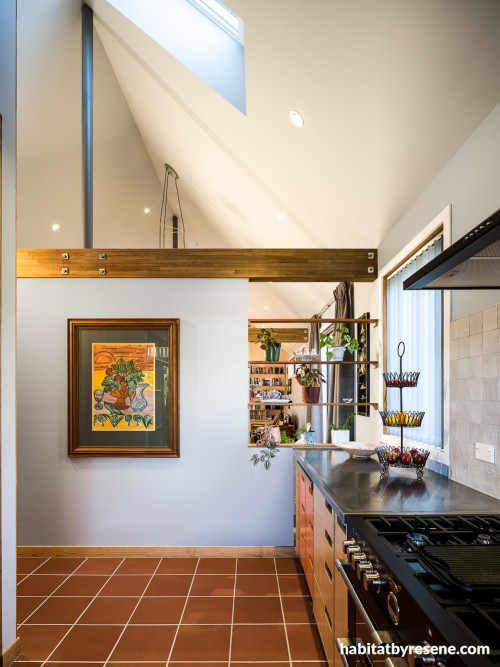 Resene Longitude is carried through from the main living spaces on to the walls of the kitchen – as is Resene Energise, which is used as an accent on selected cabinet door fronts. The ceilings and architraves are in Resene Eighth Spanish White.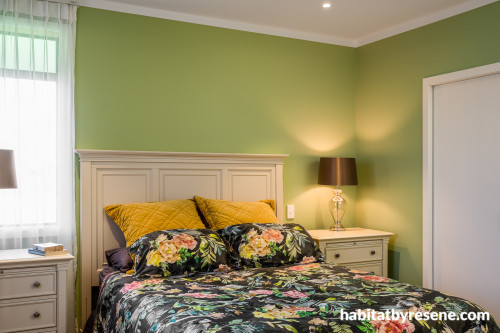 The master bedroom is painted in mild and calming Resene Norway, which is perfect for a space intended for relaxation. A ceiling in Resene Eighth Spanish White helps reflect light back down into the room. The doors and trims are also in Resene Eighth Spanish White.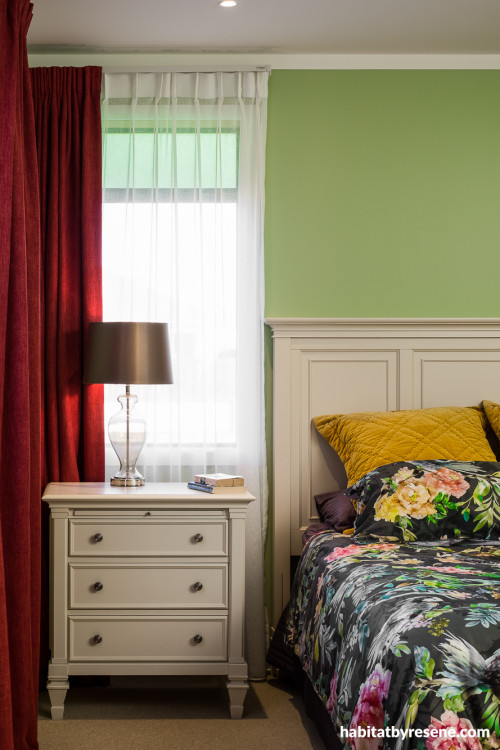 Stephanie's master bedroom has walls painted in Resene Norway and ceiling and trims in Resene Eighth Spanish White. If these accent colours have inspired you to try a fresh lick of paint on your furniture and accessories, try an on trend red like Resene Salsa, a deep smoky grey like Resene Armadillo or a golden yellow like Resene Tulip Tree.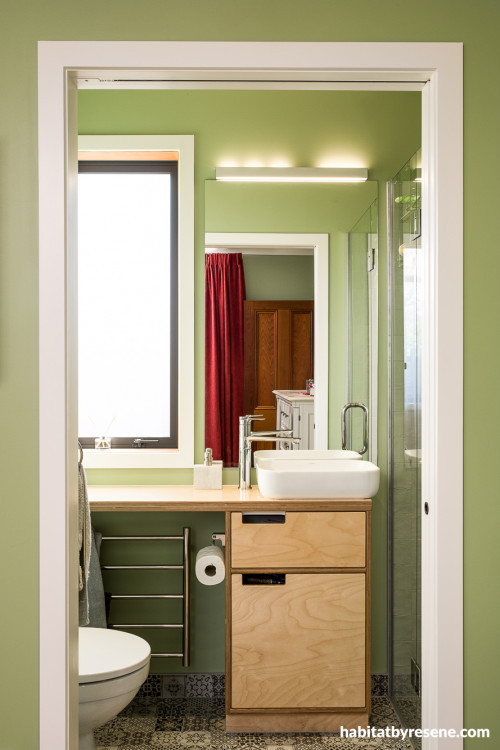 Looking into the ensuite, you can see the difference that lighting makes on Resene Norway, which was used both on the walls of the master bedroom as well as the ensuite. The architraves are painted Resene Eighth Spanish White.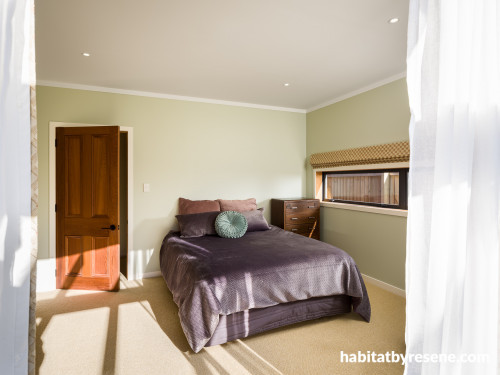 Light floods into the second bedroom from north-facing sliding doors, which open onto a private patio. The walls are painted Resene Secrets with trims and ceiling in Resene Eighth Spanish White.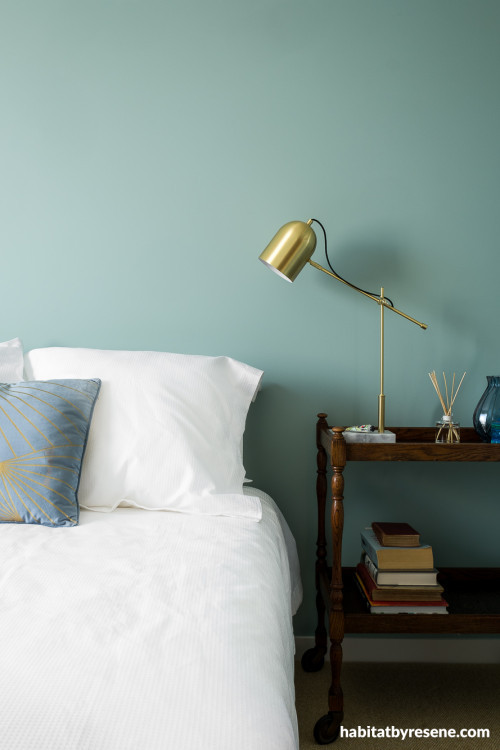 Resene Ashanti was used on the walls of the third bedroom, making for a restful space. The trims are in Resene Eighth Spanish White.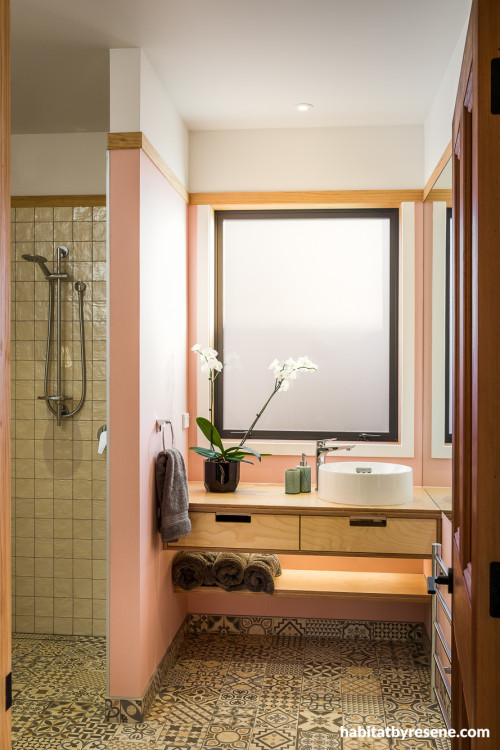 Resene Sakura frames the vanity area of the main bathroom. Above the high trims and shower surround, the ceiling is finished in Resene Eighth Spanish White, which was also used for the window architraves.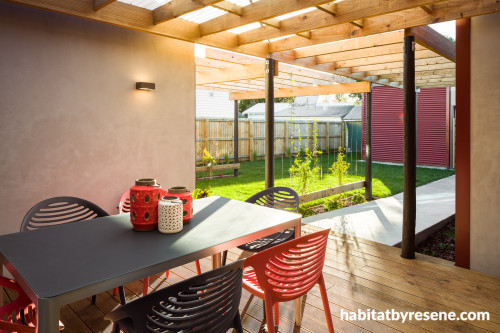 Stephanie's private covered courtyard allows for indoor-outdoor entertaining and relaxation. The corrugated steel roof and accents are painted Resene Scoria and the pergola posts are stained with Resene Woodsman Pitch Black.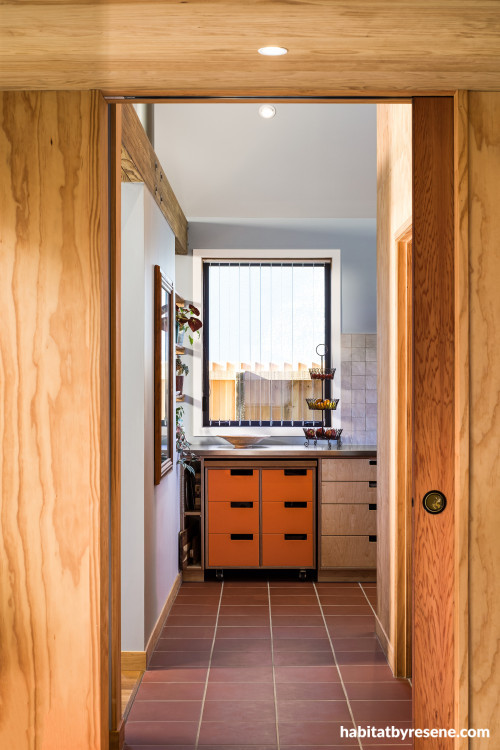 Stephanie wanted the entrance of the home to be a stand-out feature, to welcome guests like a warm hug with walls in Resene Merino. What starts as a small and intimate space consumed with rich, natural fibres, the entrance hallway opens up into vast vertical space with walls in Resene Longitude and ceiling in Resene Eighth Spanish White.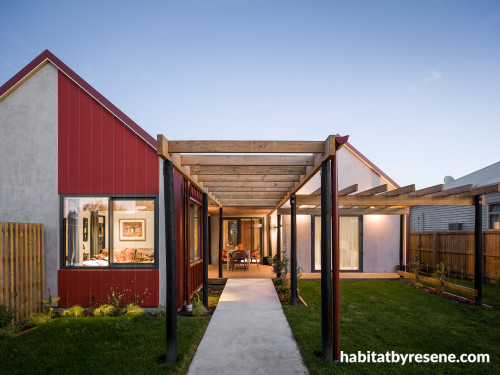 The exterior walls are clad in Integra Lightweight Concrete Facade with a Rockcote Cerano finish. The pergola posts are stained in Resene Waterborne Woodsman Pitch Black. For a different spin on this exterior look, use Resene Lumbsider for a low sheen finish, Resene Sonyx 101 for a semi-gloss finish or Resene Hi-Glo for a high gloss finish on your cladding, tinted to Resene Merino and Resene Lustacryl semi-gloss or Resene Enamacryl gloss in Resene Courage for contrasting accents.
architect Don Jamieson Architecture Ltd www.donjamieson.co.nz
designer Joshua Dubbeld?
images Dennis Radermacher www.lightforge.co.nz




























Resene Eighth Spanish White
the look
If you're stuck on what
colour to use or need colour
advice, try out the Resene
Ask a Colour Expert service.