►
◄
latest
habitat tv
blog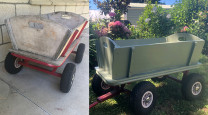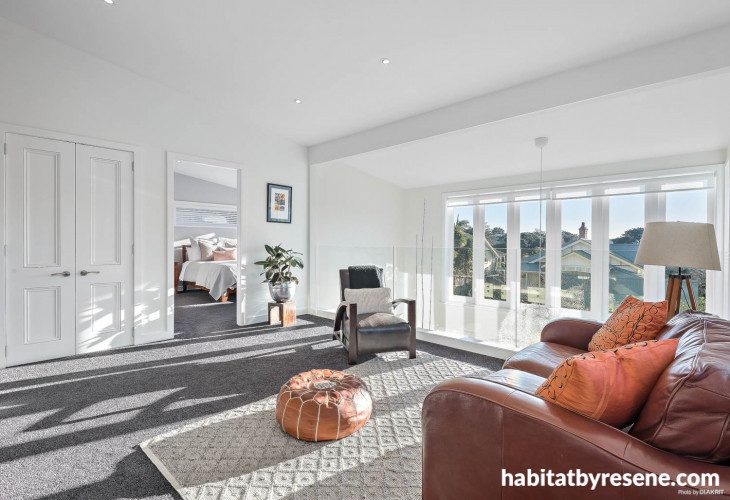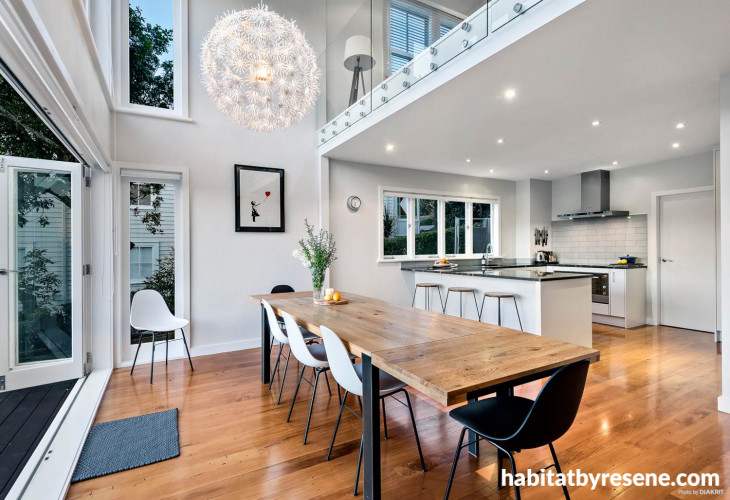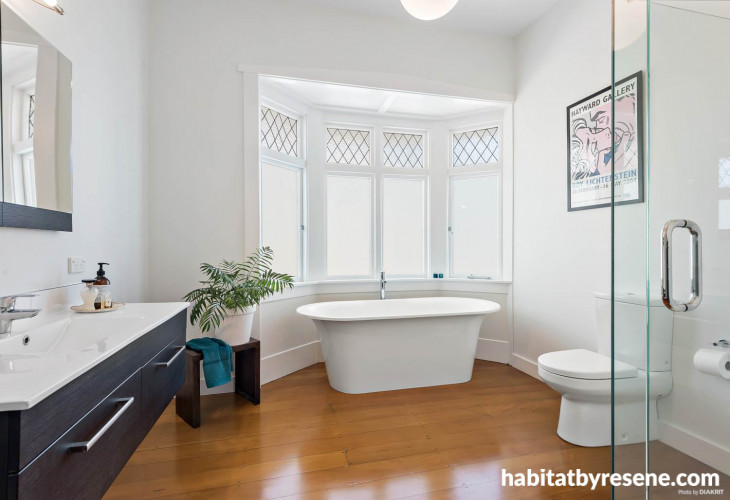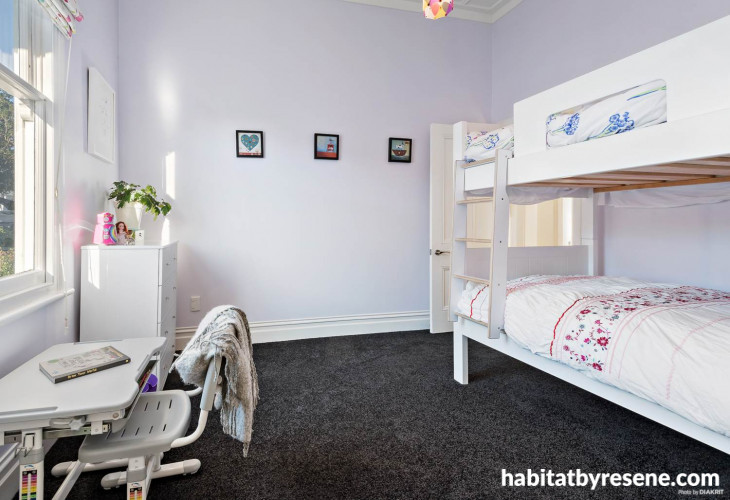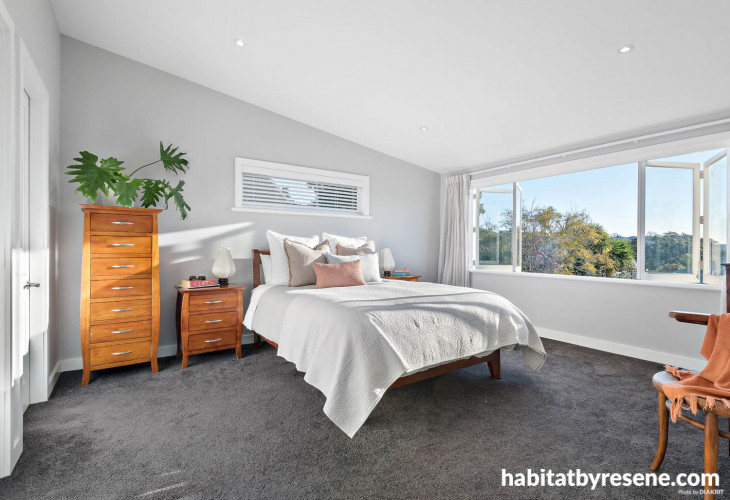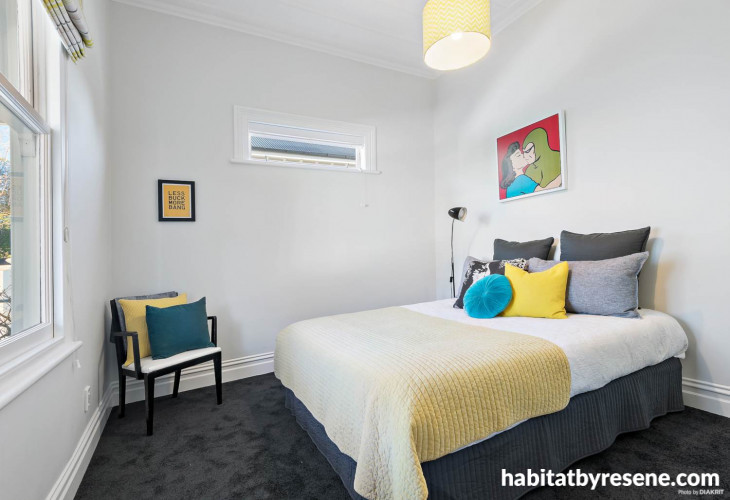 Stuart and Tracey's stunning light-flooded home
When Stuart and Tracey were making over their transitional villa in Devonport, Auckland, they turned to layers of Resene whites and neutrals to preserve the building's character while creating a modern, light and open home that showcased their art collection.
When the couple moved into their home eight years ago with daughters Niamh and Saoirse, it was still in its original cottage form with just two bedrooms and one living area.
The family lived in the house for two years before starting its makeover into a four-bedroom home with two living areas. And while the girls were allowed to choose their own bedroom colours, the rest of the house embraces the couple's love of natural shades which flood the house with light. A particular favourite is Resene Rakaia, a cool and urban shale grey.
Stuart tells us more.
What drew you to this house?
The house is on a sloping northwest site which really appealed to us as it presented lots of potential for expansion. The view northwest is out across Ngataringa Bay to the peninsula beyond, so lots of sea and pohutukawa trees.
How did you approach the renovation?
We wanted to maintain the character upstairs while having a modern feeling and flow downstairs. We chose to have an open mezzanine to maximise the space, light and connection between the levels.
We also wanted to add the benefits of a new-build home with comfortable, thick carpet, lots of light and heat.
What Resene colours did you use?
This interior is not white on white. We used a variety of colours but the overall feel is still one of calm and cohesion.
The master bedroom and the front bedroom are both Resene Half Rakaia and so is the bathroom.
Downstairs we have used Resene Merino and Resene Half Merino with Resene Alabaster trims and then both the girls' rooms have their own colours. Saoirse's is a dreamy "just purple" Resene Half Sonique, while Niamh's is a crisp blue Resene Onahau.
How did you decide on the overall look of the interiors?
We wanted to keep the interior as light as possible. We have quite a lot of art, collected over the years, which is precious to us and we wanted that to have space and a background to be seen and not over-powered.
We introduced features that reflect natural environments, such as the marble bench top with quartz intrusions which looks alive.
The wooden slat screen in the stairwell and wooden floors in the dining/kitchen area are both made from recycled, reclaimed wood from Canterbury.
The windows and doors in the living area were specifically designed to open fully and enable a seamless flow outside, which is great for the all-important entertaining.
Simplicity was also important to us. We have two girls, who are both primary school age so we took safety into consideration in things like, for example, the screened stairwell. And we included plenty of storage to help the spaces stay uncluttered.
Having the upstairs lounge connected, but still separate from the downstairs living provides places for connecting and quiet time.
Top paint tip: Use Resene SpaceCote Low Sheen for a luxurious low sheen finish on walls, Resene SpaceCote Flat for matte ceilings and Resene Lustacryl semi-gloss for easy care trim and joinery. Use clear Resene Aquaclear urethane to protect interior timber.
What part of the house are you most happy with?
The mezzanine. It's a light-filled space that brings warmth and connectedness to our home. Then there's the glass balustrade, which looks out to full-height windows and the view beyond which makes it feel almost like an infinity pool.
What is your advice for someone trying to achieve a similar look?
When putting in a mezzanine there is a trade-off between spaces. To get the connected, infinity feeling the mezzanine creates we had to compromise on actual 'living' space. We could have put another bedroom in instead but it wouldn't have the same feeling it does now.
The mezzanine also has an impact on acoustics, as voices and sound do travel between the levels.
I'd also say that natural products, for example the marble bench, require an on-going commitment to care.
And aiming for a lot of light in a home is great in winter, but it can also bring too much heat in summer so you need to consider blinds or shade creation of some kind.

What was the biggest decorating challenge for this project?
Putting together the dandelion light shade that hangs above the dining table!
Do you have a favourite colour, and if so why is it your favourite?
We love anything natural. My favourite surface is the green marble of the kitchen bench, it's almost like pounamu. And my favourite paint colour is the earthy tones of Resene Rakaia. I'm from the South Island and it reminds me of the rivers.

Did you seek any design advice?
It was a bit of community effort. We chatted to neighbours whose homes have a similar aspect and they passed on what had and hadn't worked for them. We got some great advice from Simon Mrkusic, our neighbour who is also an architect.
This house is currently for sale. Contact Linda Simmons, Barfoot and Thompson on ph 0274 590 957.
This house was dressed for sale by Places & Graces.
Published: 06 Sep 2018
Do you have a home full of wonderful Resene paint and colour? Send us some snaps by emailing editor@habitatbyresene.co.nz.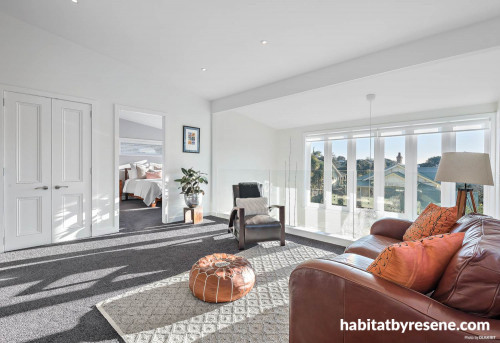 Stuart and Tracey love natural shades and have used Resene Merino on the walls in the sun-soaked mezzanine living area with ceiling in in Resene Half Merino on the ceilings to maximise the natural light. The space has a glass balustrade which Stuart says gives the room the feel of an infinity pool. The carpet links the space with the adjoining master bedroom painted in Resene Rakaia.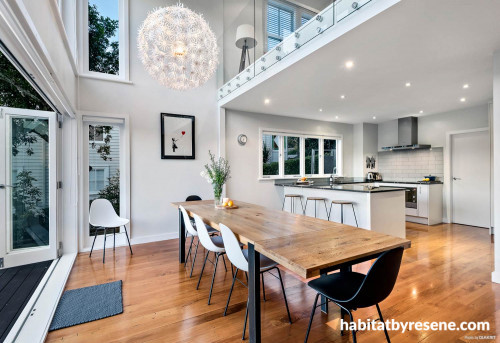 In the downstairs living areas the couple have opted for walls in Resene Merino with trim in Resene Alabaster to help meet their design brief of creating modern, light, open spaces.
The walls of the spacious family bathroom are painted in Stuart's favourite Resene Rakaia and trimmed with Resene Alabaster.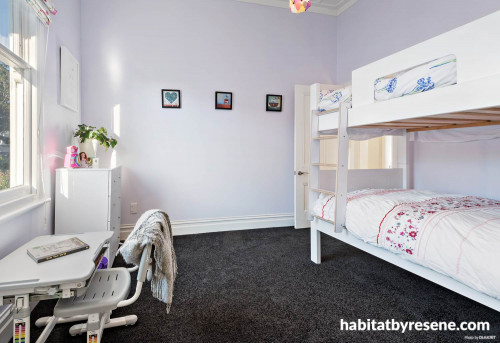 For her bedroom Saoirse chose the dreamy "just purple" Resene Half Sonique.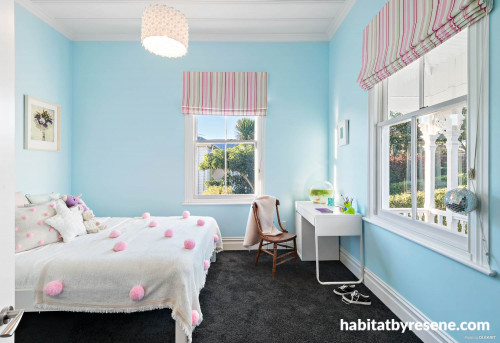 For her bedroom Niamh decided on the crisp blue Resene Onahau trimmed in Resene Alabaster.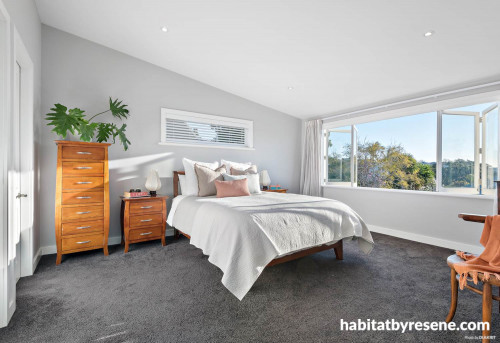 The master bedroom is a light-filled oasis thanks to large bi-fold windows and layers of neutral shades and natural textures against the Resene Rakaia walls trimmed in Resene Alabaster.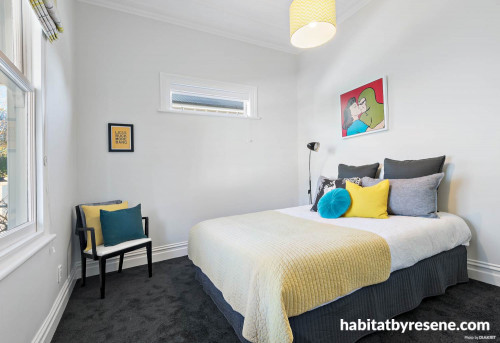 A spare bedroom is given a cool backdrop in Resene Rakaia, perfect for showcasing prized Dick Frizzell art and lending itself nicely to pops of bright colour.
the look
If you're stuck on what
colour to use or need colour
advice, try out the Resene
Ask a Colour Expert service.