►
◄
latest
habitat tv

blog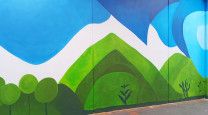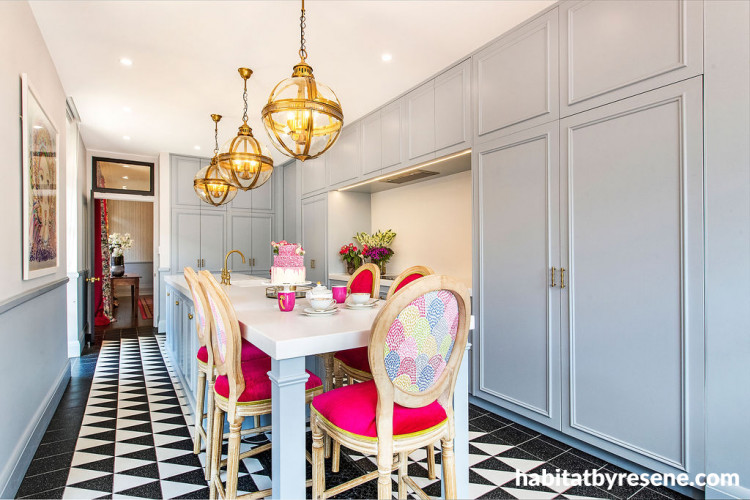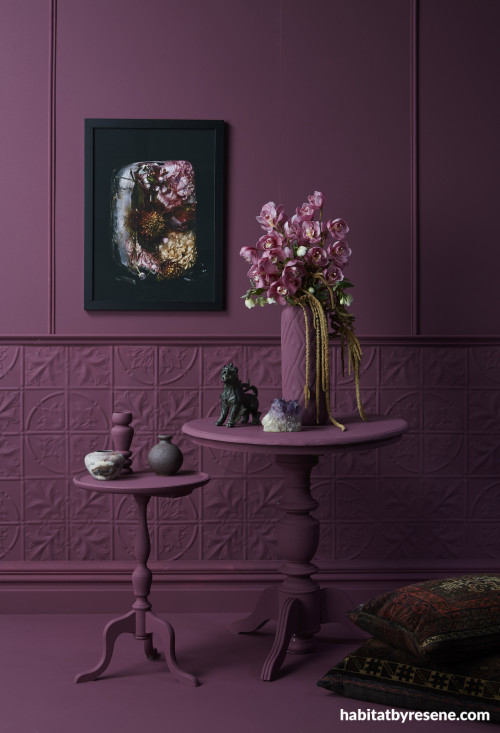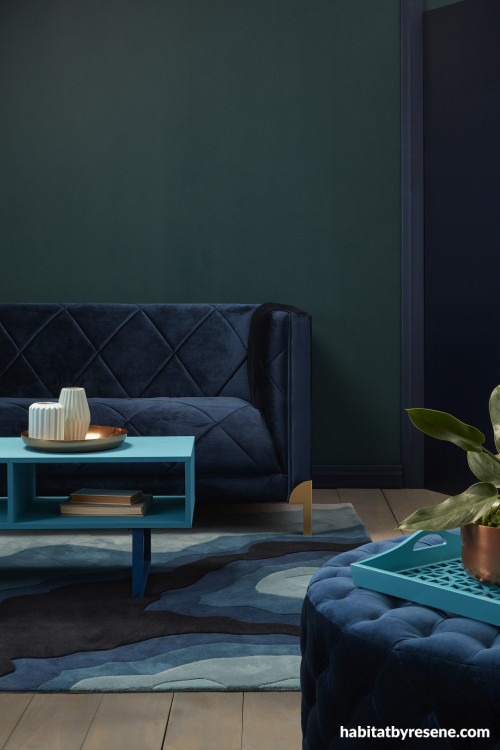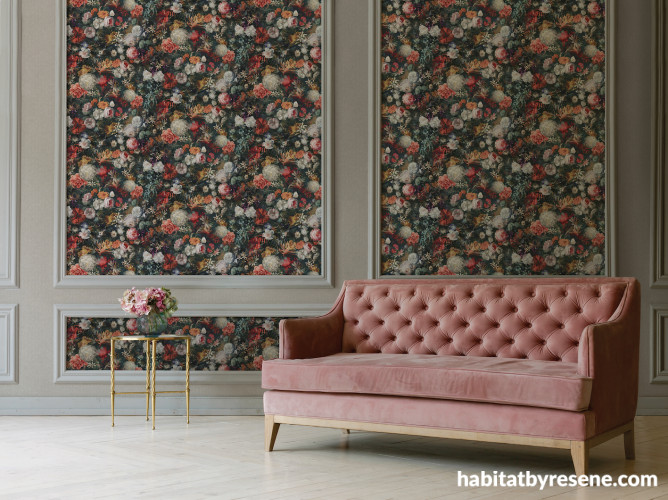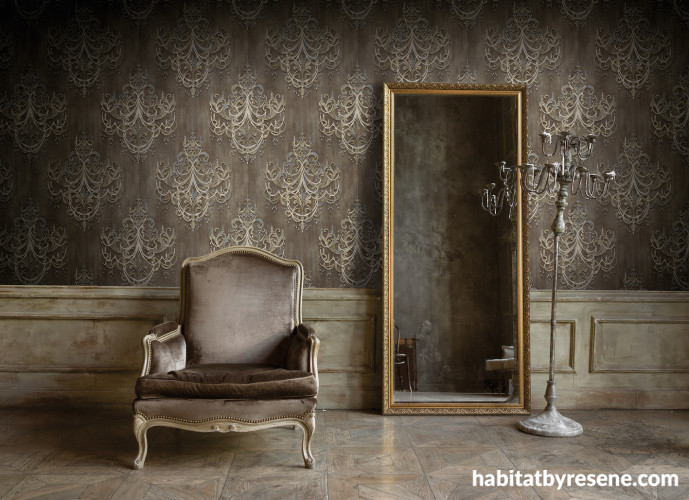 The royal treatment: Luxurious decorating ideas for your home
Leading up to the King's coronation we have put together some royal inspired interior looks to fit the mood. This style is often characterised by its luxurious and ornate features such as rich colours, intricate details and grand-scale furnishings, and with some Resene paint colours and wallpapers you can bring a bit of grandeur and opulence into your own home.
Purple reign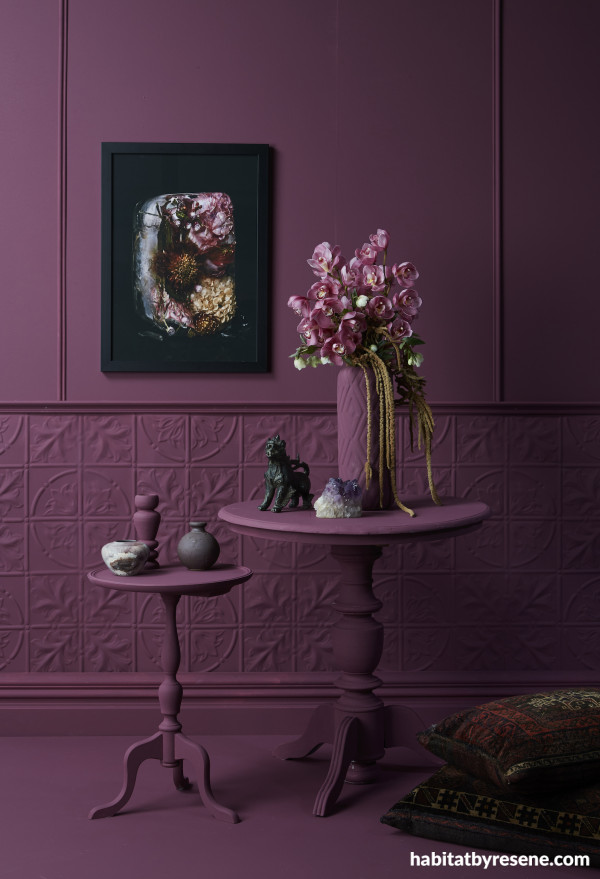 This perfectly purple room uses rich Resene Virtuoso for the tables, wall and floor. Ice Flower XXV artwork by Maegan McDowell from endemic world. Project by Lisa Morton, image by Bryce Carleton.
By incorporating the colour purple into your home décor, you can add a touch of sophistication and refinement. Historically, purple was considered a royal colour due to the creation of Tyrian purple dye, which was made from a rare species of sea snail. As a result, purple fabrics and materials were highly valued and reserved for the wealthy elite. Fortunately, modern times offer greater accessibility to this rich hue, and Resene offers a diverse selection of purple shades to complement your existing decor and wall colours.
If you're not shy with colour, try a hot, heady violet like Resene Blackcurrant or an intense, provocative purple like Resene Plum or Resene Upstage. If you prefer a more gentle, light shade, try a playful mauve like Resene Marionette or the warm and misty Resene Abbey Road.
Royal hue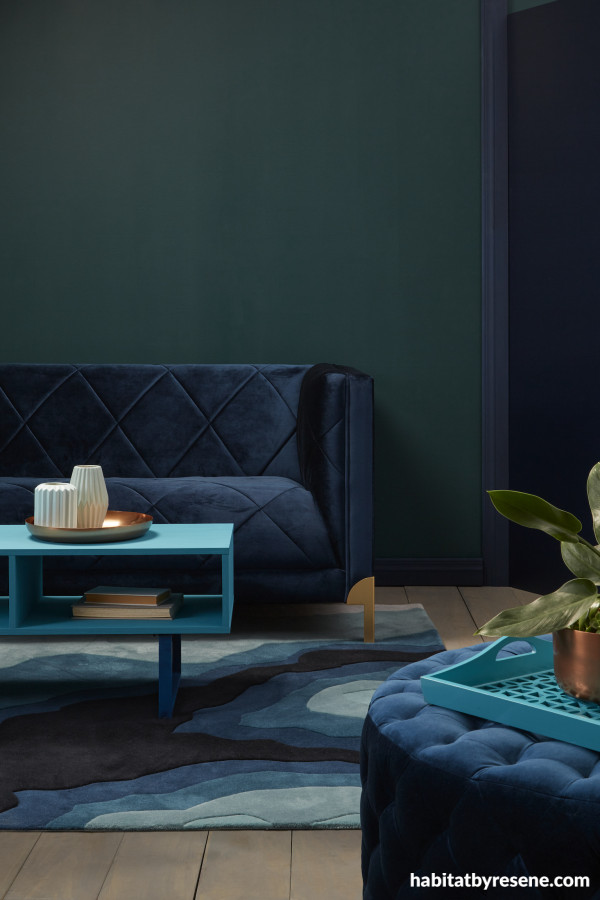 Crisp turquoise touches in Resene Yowza on the tray and Resene She'll Be Right painted on the coffee tabletop give this grand colour scheme a fresh and modern touch. The walls are painted in Resene Atlas with architraves in Resene Indian Ink, floor in Resene Colorwood Mid Greywash, coffee table legs in Resene Wishing Well and vases on the table in Resene Cleopatra. Sofa and ottoman from Contempa, copper vessels from Freedom, rug from Designer Rugs. Project by Megan Harrison-Turner, image by Bryce Carleton.
Colours are an important part of royal-inspired interiors, with jewel tones such as turquoise, emerald, ruby, sapphire, and amethyst. These rich colours paired with gold, copper or silver accents and lush fabrics create a regal and luxurious atmosphere. Blues are always a popular choice, but you can also try bold greens like Resene Kaitoke Green and Resene Deep Teal, or vivid reds like Resene Red Berry and Resene Salsa.
Blue-tiful Marie Antoinette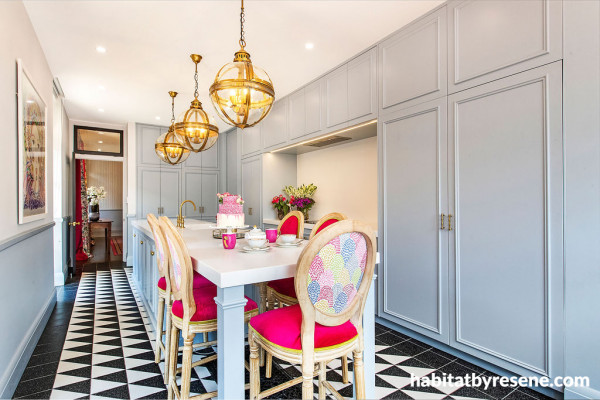 This high-end kitchen oozes elegance and sophistication. The cabinets are painted in Resene Escape from Alcatraz with walls and ceiling in Resene Sea Salt, from the St James Whitting collection. For a similar look try Resene Longitude and Resene Concrete. Suppliers include Corian, Brodware, Franke, Neff, Tile Cloud Tiles and Joinery Gallery. Image by Aaron Busch.
The blue in this kitchen was inspired by the owner's love for Marie Antoinette's Petit Trianon Palace where chalky pastels were frequently favoured. The extravagant taste in fashion and interior design was a significant influence on 18th century style, with interiors often featuring ornate furniture, pastel colours, luxurious fabrics, and intricate decorative details. If you're a lover of these perfect pastels, try shades like Resene Poet, Resene Pale Rose or Resene Half Opal.
"I'm known for my work with colour, so I was never going to do a white kitchen for my own house," says Monique Sartor, founder and interior designer at Sartorial Interiors. "The joinery is hand-painted in Resene paints, so is fairly easily changed if we were to sell or I need a change of colour. I love this blue - I think of it as a Marie Antionette blue - as I think it's timeless and elegant. It also goes beautifully with other pops of colours I love such as Barbie pink, greens and yellows. I love the gold hardware and tapware - I think it looks elegant and timeless. I don't generally find appliances attractive, so they're mostly integrated or hidden behind doors - this includes the fridge, ovens, dishwasher and wine fridge. I think the palette and elements in this kitchen and powder room project hit that happy yet elevated result."
interior designer Sartorial Interiorswww.sartorialinteriors.com.au
Instagram www.instagram.com/sartorialinteriors/
Regal garden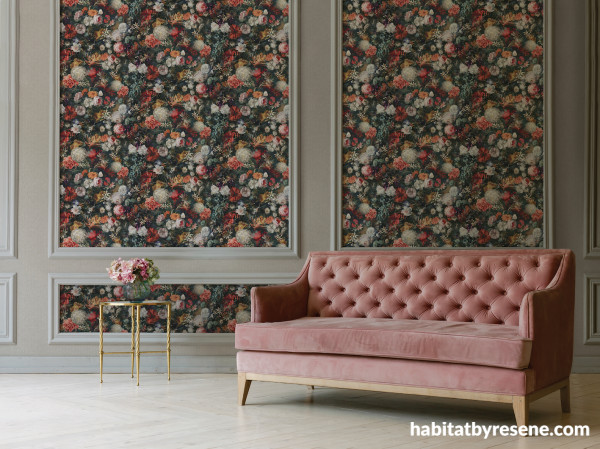 The complex floral pattern in Resene Wallpaper Collection 38095-1 is exquisite and the many colours allow for various paint pairings to suit your palette and style.
One key aspect of a regal interior is the use of high-quality materials, such as silk, velvet, and brocade, and ornate antique furniture. Paired with wallpapers like this intricate floral pattern 38095-1 from the Resene Mata Hari Wallpaper Collection, you can create an opulent and regal feel right in your own home. To make this wallpaper stand out, pair it with neutrals like Resene Triple Merino, Resene Blanc or Resene Quarter Truffle.
Keep in mind the feel you are trying to create when choosing wallpaper patterns. Garden style wallpaper with a small-scale floral print in muted colours can create a subtle and refined atmosphere, while a larger scale, bold floral print in vibrant colours can create a more dramatic and glamorous look.
Noble tapestry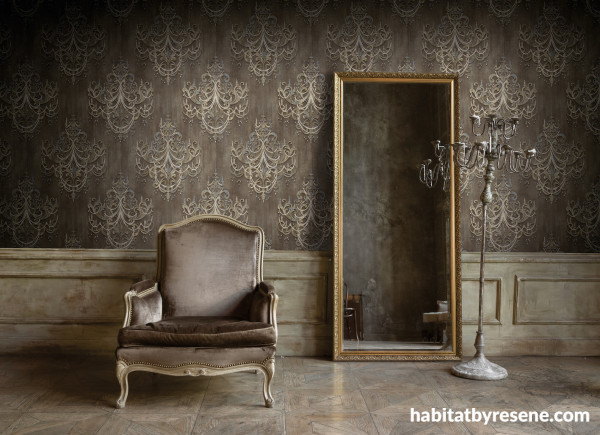 The matured look of Resene Wallpaper Collection 38096-1 gives the sense of rich history, perfect for a royal themed room. Add velvet fabric and gilded mirrors to top off the grandeur look.
Royal-inspired interiors often incorporate ornate chandeliers, gilt-framed mirrors and other decorative accessories that exude grandeur and sophistication. Resene Wallpaper Collection 38096-1 from the Resene Mata Hari Wallpaper Collection has an authentic vintage look, with a hint of intentional distress and fading to give it an aged appearance. This aged look evokes the idea of a long history and a rich, storied past. Pair this wallpaper with brown neutrals like Resene Settlement, Resene Cement or Resene Double Stonehenge.
If you're loving the aged and washed-out effect, try using Resene FX Paint Effects Medium to produce an effect with different tones and textures. The ragrolling technique can replicate the appearance of marble and crushed velvet, creating subtle or rich finishes normally associated with the most expensive wallcoverings. Get more inspiration with the habitat plus – paint effects book – view it online or pick up a free copy at your local Resene ColorShop.
Embrace your inner king or queen and pamper yourself with a room painted in royal colours. Whether you go for big gestures or small touches, Resene has the paints and wallpapers that can create a truly memorable and impressive space.
If you need some advice on paints or wallpapers head to your local Resene ColorShop or Ask a Resene Colour Expert online
Published: 26 Apr 2023
Do you have a home full of wonderful Resene paint and colour? Send us some snaps by emailing editor@habitatbyresene.co.nz.