►
◄
latest
habitat tv
blog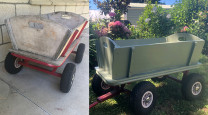 Trending: Natural walls you'll love
Nature always finds a way into our homes. It might be in our increasing love for natural materials such as rattan, linens and bare wood, or huge floor to ceiling windows. It's apparent in the current trend for lining our spaces in neutral greens such as Resene Tana or Resene Linen. And it's very apparent as we fill our homes with plants to create a sense of peace and escape from the chaos outside.
But if you're missing a green thumb and plants are too high maintenance, the other way to create leafy, floral or woody textures in your home is with nature-inspired prints and designs on the walls.
Tips for painting wall murals
For a cohesive design that is unique and interesting, without being jarring tie one or two furniture items in the space back to one of the highlight colours in your image. It will really make your mural feel part of the room, rather than just a backdrop.
Make sure your wall is properly prepped as you would for any painting.
Stencil your design on in pencil first, either by recreating it via a grid, or using a wall projector if you have one.
Use good quality, fine brushes for any curves and edges to avoid feathering
Think about scale. How does your mural design fit with the proportions of your room? Does it dominate too much? Or does it get lost?
Remember to step back and look at the big picture as you paint your design. It's easy to lose the perspective when you're working up close on a large scale.
Do your colours work together? If something jars on your small draft design it will be amplified even more when it's on the wall.
If going freehand is a little intimidating look for nature-themed stencils and design your pattern around them.
Published: 19 Jul 2018
Do you have a home full of wonderful Resene paint and colour? Send us some snaps by emailing editor@habitatbyresene.co.nz.
Be bold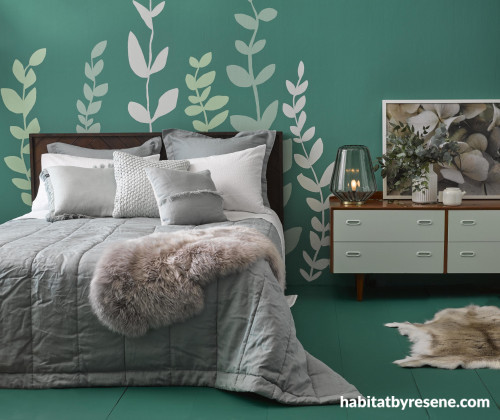 For this stunning nature-inspired feature wall, bold, blue-based greens used on the walls (Resene Leap Year) and floors (Resene Aquamarine) create a dramatic background for the lighter, more neutral tones used in this hand-stencilled vine design. You could also pick up these lighter tones in the colours you paint furnishings, as seen here on the chest of drawers painted in Resene Surf Crest.
The vines are painted in Resene Feijoa, Resene Summer Green and Resene Ottoman.
Accessories: Parque Queen Bed, from Freedom Furniture. Zore Cushion in Arctic Blue from Country Road. Annika Cushion (single fringe) in Seafoam, and Reindeer Hide in Natural (floor), from Shut the Front Door. European Linen Pillowcases in Ocean, Linen Quilt in Ocean, and Pleated Glass Lamp from Thread Design. Azalea (white) pillowcase from Citta. Artwork from Wall Flower Posters.
pictures
Wendy Fenwick, styling by Emily Somerville-Ryan.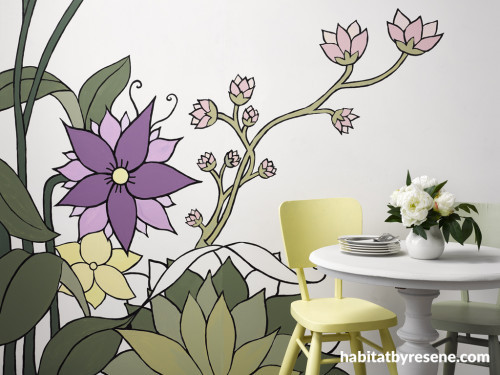 A more fantastical, floral mural, such as this one painted using Resene testpots, is another lovely way to personalise your room with colour. Flip the contrast on its head but using a neutral background as your canvas (this wall is painted in Resene Alabaster), then add layers of tonal colours that suit both your design and your room.
A floral design also lends itself naturally to purples, pinks, oranges and yellows. This mural is painted in Resene Melodic, Resene Mozart, Resene Gelato, Resene Vanilla Ice, Resene Rivergum, Resene Paddock, Resene Organic, Resene Hideaway, Resene Elixir, Resene Moonbeam, Resene Half Moonbeam and Resene Quarter Moonbeam.
pictures
Melanie Jenkins, styling by Megan Harrison-Turner
Express yourself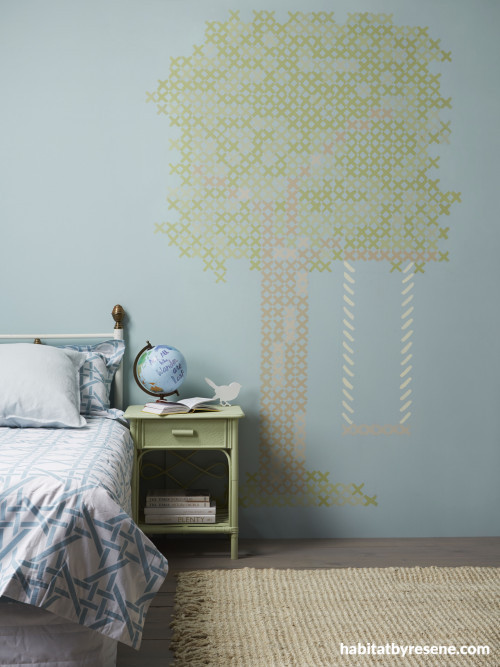 If you don't trust your drawing skills to commit to large free-flowing shapes, try something like this simple, but very effective and unique cross-stitch tree. The trick for any large-format cross stitch pattern like this is to first lightly pencil a grid on the wall and then pencil in your design.
Here we've used different tonal shades of greens and light browns, with a creamier highlight for the swing, all against a sky-toned Resene Half Opal background for a dreamy, impressionist effect. The tree was painted using Resene testpots in Resene Sisal, Resene Parchment, Resene Caper, Resene Pale Leaf, Resene Soft Apple and Resene Moon Glow.
Accessories: Globe from Typo. Annecy duvet cover set from Wallace Cotton. Madras Floor Rug from Freedom Furniture.
pictures
Bryce Carleton, styling by Megan Harrison-Turner
Light and breezy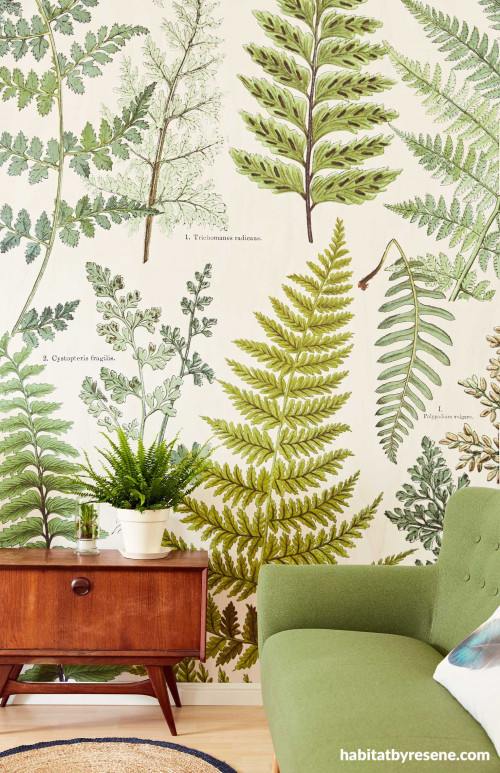 This Resene wallpaper design 366104 from the Resene Wallpaper Collection is an interesting feature in an otherwise simple, clean room. It gives the space the welcoming appeal of a light-filled, greenhouse or conservatory, without leaving it feeling cold.
These kinds of patterns work well with those neutral greens, and the trend toward creamier whites such as Resene Eighth Biscotti or Resene Villa White.
Add some warmth with a textured floor rug and sofa and you've created an inviting, airy oasis.
Nature luxe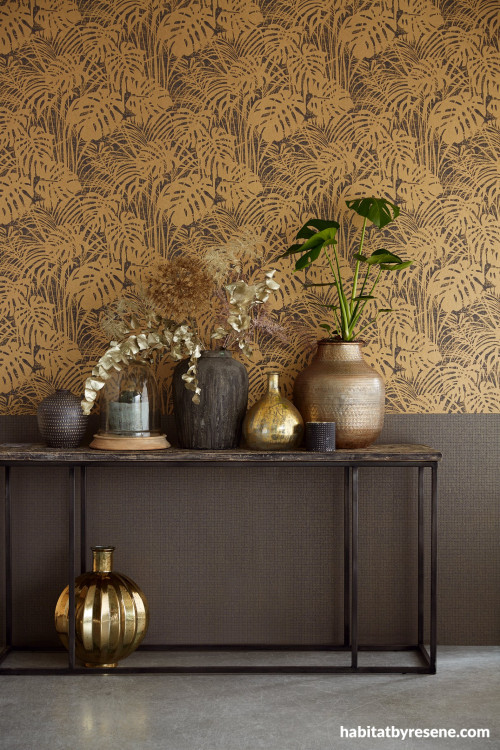 Going for a bold wall covering like this Resene wallpaper design E378048 from the Resene Wallpaper Collection in a metallic leaf design gives a room instant luxe with the feel of a chic and cosy vintage library or study.
Wallpaper is a great option if you want a repeating pattern over a large area in your nature-inspired designs. The warm gold tones on the walls envelope the space for a sense of retreat from the outside, accentuated in the use of brass tones as well as coppers and blacks.
Lush fabrics such as velvets and suede add another layer of luxe to a dramatic wallpaper, as do bold jewel colours. The brassy gold tones of this wallpaper would also work well with deep greens such as Resene Half Forest Green or rich browns such as Resene Milk Chocolate.
Rustic and raw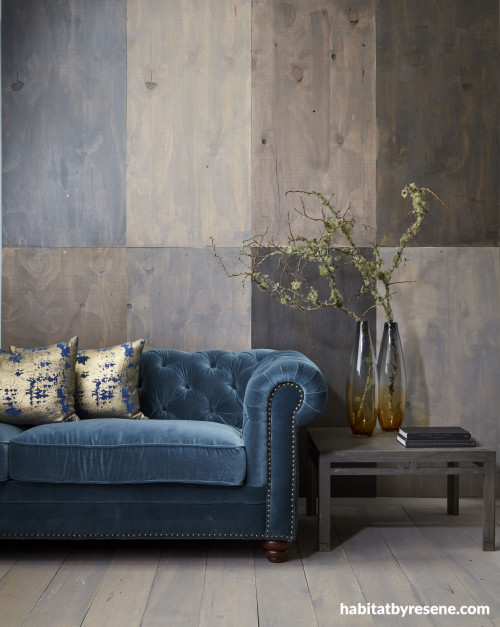 One of the easiest ways to bring a natural look into your home is to let the grain and texture of wood-lined walls speak for themselves. But we're not talking about the 80s trend for masses of orange-stained pine that resembles a ski lodge.
This look is all about the move toward authenticity; accentuating the best features of natural materials. Here different shades of Resene Colorwood used together over the walls and floor create a warm, textured space, where all that visible wood could seem chilly and uninviting.
The plywood panels have been finished in Resene Colorwood stains tinted to Resene Tiri, Resene Limed Ash, Resene Bleached Riverstone, Resene Smokey Ash and Resene Colorwood Greywash.
pictures
Bryce Carleton, styling by Megan Harrison-Turner
the look
If you're stuck on what
colour to use or need colour
advice, try out the Resene
Ask a Colour Expert service.
the look
If you're stuck on what
colour to use or need colour
advice, try out the Resene
Ask a Colour Expert service.