►
◄
latest
habitat tv
blog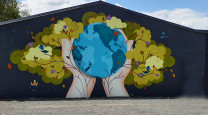 5 spring greens to refresh your home
Much has been written about the versatility of green in interior decorating and design. Its reputation for versatility is well-earned. There's a Resene green to suit to every person, every style and every room, but, if there's one iteration of green that is really having a moment right now it's spring greens - and they're not just for spring.
No matter the season, these shades are simultaneously soothing, stimulating and stylish. They connect us directly to nature, working beautifully with a range of contrasting colours, while working particularly well against a neutral backdrop of natural textures, wood grains and earthy colour schemes.
While these fresh greens work well in biophilic design that is strongly influenced in nature, they can all be dressed up with glamour to be as chic and luxurious as any shade in the colour spectrum.

Herbaceous greens
The muted grey-green of Resene Ravine painted on the front wall of this bedroom immediately takes it to a soothing, beachy place. That feeling is emphasised with the floor finished in Resene Colorwood Whitewash and the rear textured wall and bedside stool in Resene Sandtex tinted to Resene Concrete. The large planter is Resene Half Tasman. The vase is Resene Ravine. Cushions from Warwick Fabrics, lampshade from Città, rug from The Ivy House. Project by Kate Alexander, image by Bryce Carleton.
On-trend muted, less saturated colours immediately lend rooms a calming, relaxed feel. Using these almost smoky colours in flat or low-sheen finishes like Resene SpaceCote Flat or Resene SpaceCote Low Sheen adds to the effect by reflecting less light to create a softer almost suede-like finish to surfaces.
When your muted colour scheme is in herbaceous, almost earthy greens, like Resene Coriander or Resene Field Day and paired with green-toned neutrals like Resene Half Secrets or even blackened whites like Resene Quarter Alabaster your space exudes a zen-like calm and warmth.
Add textured finishes with Resene Sandtex tinted with greyed neutrals like Resene Greige or Resene Barely There and notes of ochre Resene Travis or rusted Resene Ayers Rock for a punch of bolder colour. Furnish your room in natural fibres like wool, linen, jute and bamboo and your finished space will have all the pared-back elegance of a coastal retreat.
Peppered with pinks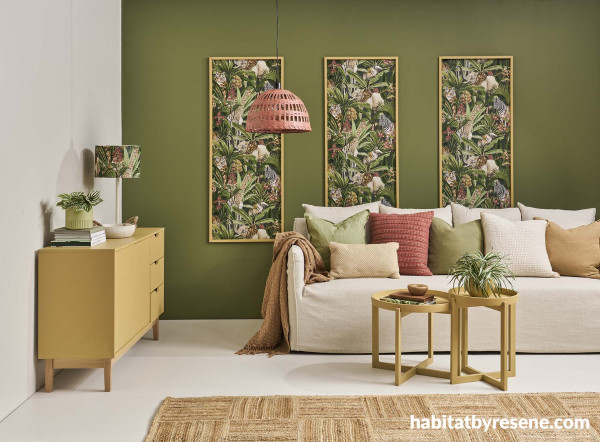 The earthy terracotta pink of a light fitting painted in Resene Crail lifts out the floral details of the wallpapered panels in Resene Wallpaper Collection 91210 and contrasts with the rear wall in lush Resene Woodland to create a fresh botanical living room. Side wall and floor painted in Resene Blanc, sideboard and panel frames in Resene Teak and coffee tables in Resene Papier Mache. On the sideboard, the planter is painted in Resene Avocado, the rope-handled bowl is Resene Colorwood We Speak Beach Be Easy and the lamp base is Resene Tea. On the table, the painted book is Resene Yogi and the tealight holder is Resene Brown Sugar. Bronte sofa from Nood, rug from Mocka, throw from Adairs, cushions from Freedom and Adairs. Project by Vanessa Nouwens, image by Bryce Carleton.
Spring greens are very versatile when it comes to pairing with other colours, but if there's one combination that really screams spring freshness it is green and pink. For every shade of spring green, you can find a shade of pink - ranging from peachy to deep magenta - that will really set it off, just like a burst of floral colour in your garden.
You can also go further around the colour wheel into purples and on-trend lilacs and mauves like Resene Fog, which pairs beautifully with the pastel freshness of Resene Snowy Mint.
For vivid citrus greens like Resene Wellywood, try vibrant fuchsia Resene Lipstick or go more subtle with Resene Sauvignon, a neutral with the merest hint of pale pink.
Pair herbaceous greens like Resene Wabi Sabi with softer dusky rose pinks like Resene Gelato or Resene Boutique.
Anchor bright energetic greens like Resene Boundless or Resene Riptide with moody violet Resene Lip Service.
For complex olive greens like Resene Contour try adding sorbet shades like Resene Glorious or Resene Sakura. These khaki shades also work well with a muted mauve like Resene Abbey Road.
Freshly minted exteriors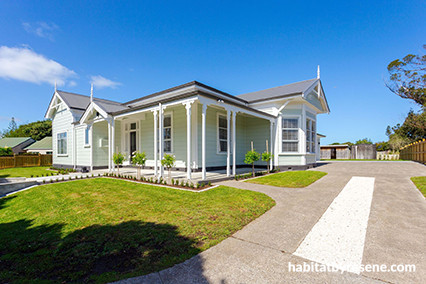 This beautifully renovated villa looks fresh as a daisy with weatherboards painted in the subtle stony green of Resene Pumice trimmed in Resene Sea Fog with Resene Porter on the door and foundations.
Green has always been a popular shade for house exteriors, but it often tends to be in subtle, neutral grey-greens like Resene Secrets or hints of khaki like Resene Epitome, with good reason. These are beautiful neutrals that lend your house subtle elegance.
But there's room to play with spring greens on your home's exterior. Try a bolder smoky olive green like Resene Vantage Point for a more sophisticated exterior that makes a statement. Pair it with icy white trim in Resene Aoraki and consider a dramatic statement front door in toasted brown Resene Trek or burnt orange Resene Thunderbird.
At the other end of the spring green spectrum, try painting your exterior in delicate pastel Resene Transcend with the similarly toned complex neutral Resene White Noise.
If a green exterior isn't for you, consider a neutral Resene Half Tea, trimmed with Resene Alabaster and a burst of grassy green Resene Good To Go on the front door or porch to add personality and colour.
Top tip: If you're repainting an older house Resene's Heritage colour collection contains a range of beautiful spring greens designed specifically to suit the age of your home, like Resene Soft Apple, Resene Amulet and Resene Green House.
Hotel chic at home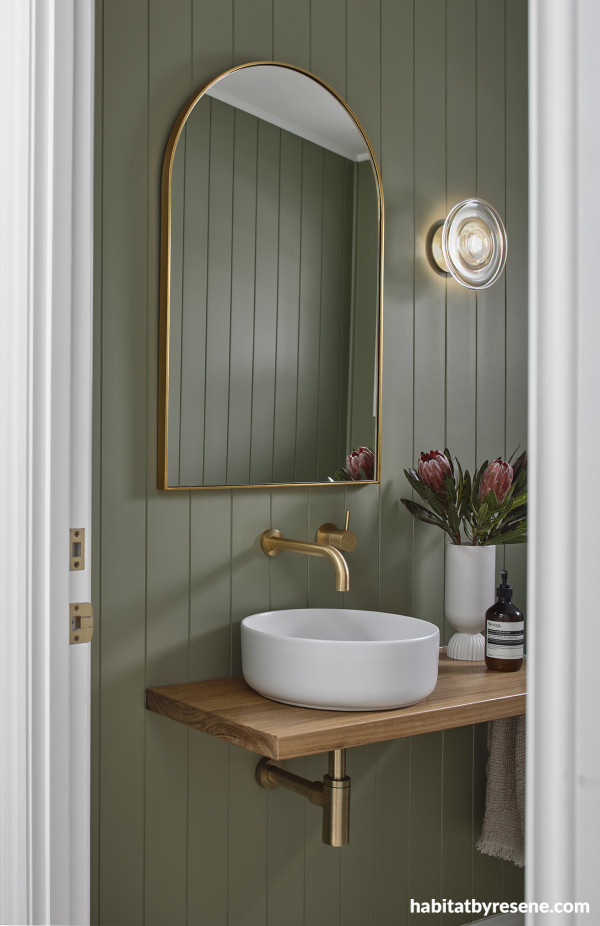 This elegant bathroom by Davey Construction wears touches of brass like jewellery against the warmth of timber accents and walls painted in Resene Flax. Trim areas like the door frame are painted in Resene Half Wan White.
When we think of spring greens we often think of fresh pastels like Resene Springtime or the shades of spring growth in the garden like Resene Aloe Vera and Resene Anise. These shades lend themselves to breezy soothing spaces like beach houses that are relaxed and feel slightly less formal.
By going slightly darker with spring greens into more sophisticated shades of olive green and forest greens, you can add a little sophistication and glamour to a room, while keeping the freshness associated with spring shades.
Resene Permanent Green evokes all the freshness of a forest walk. Pair it with earthy green Resene Hideaway and contrast notes of deep red Resene Trouble for a daring but chic combination.
Try olive Resene Tic Tac Toe with subtle peach Resene Inspire and rich red Resene Very Berry for complex elegance that would be at home in any luxury hotel room.
Olive greens are brought to life with yellow toned-whites like Resene Rice Cake. In bathrooms try them with brass or brushed gold tapware. Bluer forest greens work well with clean whites like Resene Half Alabaster, and if you're using these for a glam hotel-chic bathroom, try them with black or chrome tapware.
A touch of teal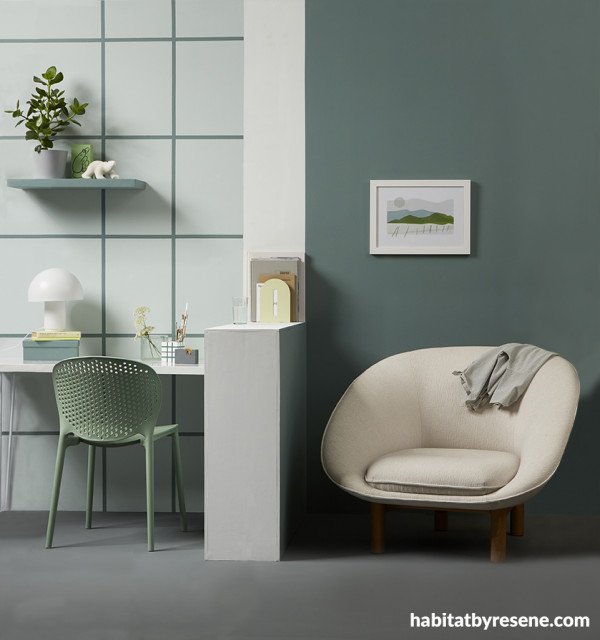 The blue-green tones of Resene Thor painted on the right wall, and the lines of this grid wall are soothing in a busy multi-functional space. The blue-grey Resene Mako painted floor adds additional softness and calm. The base colour of the grid is Resene Paris White with shelf in Resene Thor and the dividing stripe and wall are Resene Saltpan. On the desk the large box is Resene Thor and the grid box is Resene Saltpan with stripes in Resene Mako. The tape dispenser is Resene Mako and the bookend on the dividing wall is Resene Rice Paper. Green chair from Early Settler, armchair from Dawson and Co, State Highway 39 artwork by Sarah Parkinson from endemicworld, polar bear from Flotsam and Jetsam. Project by Kate Alexander, image by Bryce Carleton.
Experimenting with blue-toned greens such as teals and jade greens is a good way to bring some depth and drama to a spring green colour scheme.
Modern blue-greens like Resene Deep Teal lean toward clean ocean shades that bring depth to a colour scheme. Try jewel-toned Resene Aquamarine for a touch of opulence, paired with fresher green layers in sharp Resene Bilbao and off-white Resene White Pointer.
For a lighter, brighter touch, try blue-based jade tones such as Resene Bingo with acidic green Resene Limerick and sunny cream Resene Half Splash, or opt for a more muted palette in Resene Green Acres with dusty Resene Unite and warm off-white Resene Kinship.
The blue undertones of emerald greens like Resene Crusoe are a good way to bring additional richness and luxury to a room. Pair with Resene Black and creamy Resene Oasis for an urbane classic look or go for brighter unexpected pairings in sorbet green Resene Anise, Resene Golden Tainoi and violet Resene Studio.
Spring in this part of the world often means we see four seasons in one day. Luckily, Resene's exterior paints such as Resene Lumbersider and interior paints like Resene SpaceCote Flat are designed for our changeable conditions. Whatever the weather, spring greens provide many versatile options for changing up your exteriors and interiors.
Published: 09 Nov 2022
Do you have a home full of wonderful Resene paint and colour? Send us some snaps by emailing editor@habitatbyresene.co.nz.