►
◄
latest
habitat tv
blog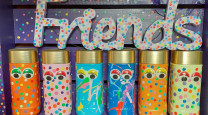 6 tips to get your exterior looking its best – and keep it that way
You only get one chance to make a good first impression, and when it comes to your home's exterior, the same rule applies.
If your exterior is looking a little worse for wear after a long winter and in desperate need of some TLC ahead of summer, there's no time like the present to get stuck in. Try these tips to give your exterior some major curb appeal.
1. Make a statement
A touch of colour goes a long way, and when used carefully to highlight certain features, you won't run the risk of overwhelming the senses. Give your front door a bold red look with Resene Jalapeno or Resene Havoc, or try a vibrant yellow like Resene Turbo or Resene I Dare You for something really eye-catching. Go glossy with Resene Enamacryl to really make your chosen colour pop.
House numbers, mailboxes, pots, planters and patio furniture are other great places to add interesting colours to liven up your exterior. Plus, they're quick and easy projects to do so you can easily give them a fresh coat to change things up whenever the mood strikes.
Published: 12 Nov 2019
Do you have a home full of wonderful Resene paint and colour? Send us some snaps by emailing editor@habitatbyresene.co.nz.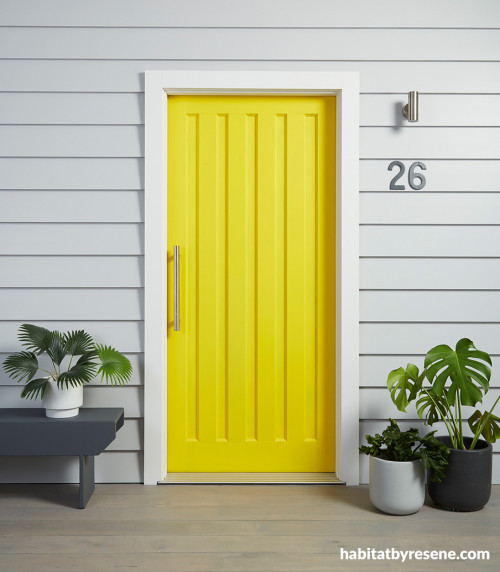 This door in Resene Turbo makes a serious style statement against trims in Resene Black White, cladding in Resene Triple Concrete and decking in Resene Waterborne Woodsman Mid Greywash. For contrast, the bench has been painted Resene Tuna, the house number is in Resene Nocturnal and the plant pots are in (from left to right) Resene Black White, Resene Silver Chalice and Resene Nocturnal.
2. Lock in protection
Natural wood is a stunning material to use for exterior cladding and decking, but to keep it looking spick and span, proper protection is a must. Resene Waterborne Woodsman timber stain is penetrating and can be easily recoated over time. Look to the Resene Exterior woodcare colour chart for the full range of stains to choose from.
For solid colours, Resene Lumbersider low sheen or Resene Sonyx 101 semi-gloss are ideal for a wide range of outdoors projects. Remember that our harsh sunlight tends to wash colours out. Chances are you will need to opt for a shade darker than the one are initially drawn to. Painting an exterior is an investment, so be sure to try before you buy and view your shortlisted colours outside. Pick up a few Resene testpots and paint the entire contents of each in two coats onto A2 sized pieces of cardboard, leaving an unpainted border around the edge, and move them around to different sides of the house at different times of the day and evening until you find the colour that works best for you.
Don't forget that it's proper preparation that will keep your home looking its best the longest. If any of your exterior paint is flaking or blistering, it's going to need a thorough scrape to remove as much paint as practicable to make the stripping stage easier. Use Resene Strip-Off to remove the remainder.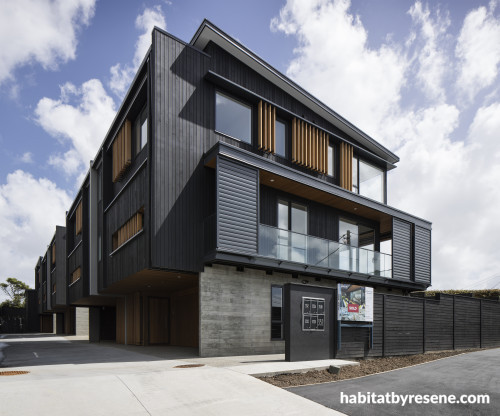 JWA Architects went with Resene Woodsman Pitch Black for the exterior weatherboards and fence on this Mairangi Bay apartment building and Resene Woodsman Natural for the cedar fins and soffits.
3. Weather warning
To maximise the life of timber, protect your home with a waterborne gloss paint. Our top pick is Resene Hi-Glo waterborne gloss exterior paint, which is both easy to apply and offers durability over primed timber. Gloss paints are the easiest paint finishes to clean and are more resistant to chalking than lower sheen paints.
To breathe new life into aged and greying hardwood decks, use a few coats of Resene Kwila Timber Stain or Resene Woodsman Decking Stain. For deeper colours, opt for a Resene CoolColour formula, which reflects more heat than a standard colour—making it more comfortable to walk in barefoot when the summer sun returns.
Top tip: Clear finishes on timber do not provide enough protection from the sun. If you're wanting a 'clear look' finish on your timber exterior, choose a Resene Woodsman stain colour close to the original timber colour. It will give you the look you're after without leaving your wood exposed to the elements.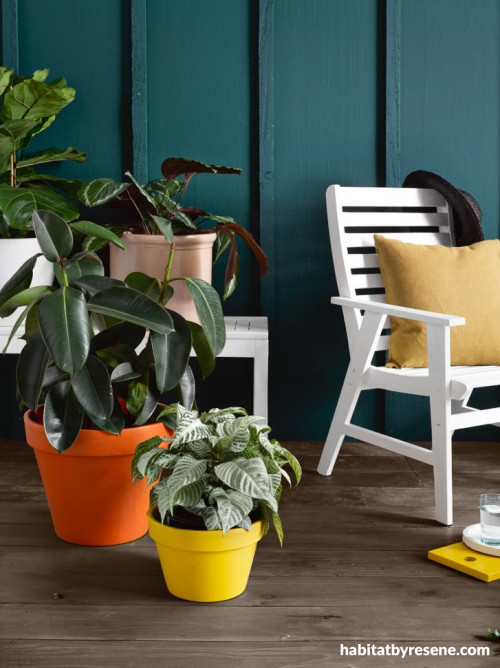 Timber cladding in Resene Atlas beautifully complements a deck in Resene Waterborne Woodsman Iroko while crisp patio furniture contrasts in Resene Alabaster. Paint up plant pots in Resene Sorbet, Resene Jailbreak and Resene Hive for a bold pop of colour.
4. Don't slip!
To ensure paths are safe, especially those on a slope, use Resene Non-Skid Deck & Path. The light gritted texture offers extra grip and slip resistance, reducing the risks of accidents. But just when you thought safety and style couldn't go hand in hand—think again. Resene Non-Skid Deck & Path can also be tinted to match your exterior's current décor.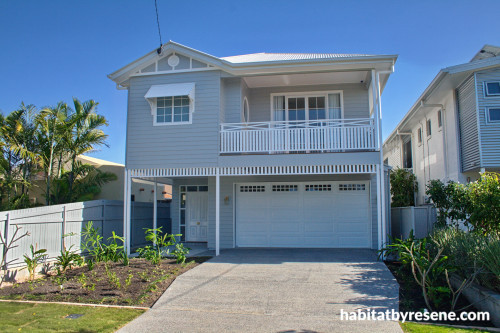 This Queensland home looks lovely with a fresh coat of Resene Half Silver Chalice on the weatherboards accented with soffits, trims and doors in Resene Alabaster and a fence in Resene Stack.
5. Revive your garage door
Mid to deep grey finishes are go-to tones for garage doors and are easily complemented by other exterior colours. Try Resene Grey Chateau, Resene Raven or Resene Baltic Sea. For optimal protection, go with Resene Lustacryl semi-gloss waterborne enamel or Resene Enamacryl gloss waterborne enamel, if you prefer a glossier finish.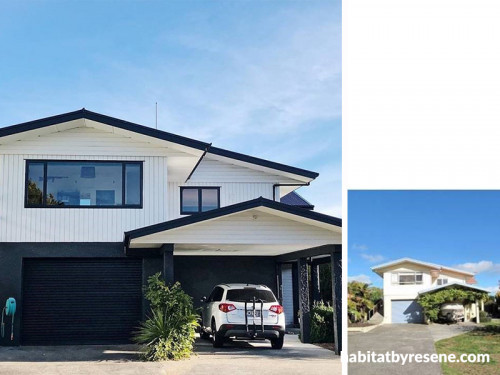 Donna Hydes of Donna Hydes Design helped give this charming 1960s home in Taupo a pick-me-up with upper weatherboards in Resene Concrete, a block base in Resene Double Foundry and a roof, fascia and garage door in Resene All Black. "The weatherboards were in need of a lot of prep work to begin this journey with sanding and primer to return the weatherboards to their original beauty," says Donna.
6. Deep clean your driveway
Paths and driveways can often fall victim to dirt and contaminants—which are certainly not ideal when you're trying to keep your exterior looking fresh and tidy. Keep yours clean and safe by spraying with Resene Deep Clean. Simply spray it on and leave it to work its magic.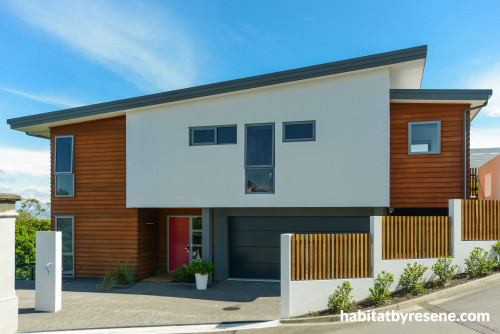 Contrast is key to getting the most out of your exterior scheme. Plaster walls and soffits painted in Resene Double Black White are contrasted by the fascia and painted feature wall surrounding the garage in Resene Thunder Road. Try a front door in Resene Dynamite, a garage door in Resene Quarter Bokara Grey and cedar cladding and fencing in Resene Waterborne Woodsman Meranti to get a similar look.
styling Amber Armitage, Vanessa Nouwens?
images Cameron Bastow, Bryce Carleton, Simon Devitt, Wendy Fenwick, Donna Hydes