►
◄
latest
habitat tv
blog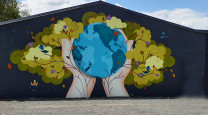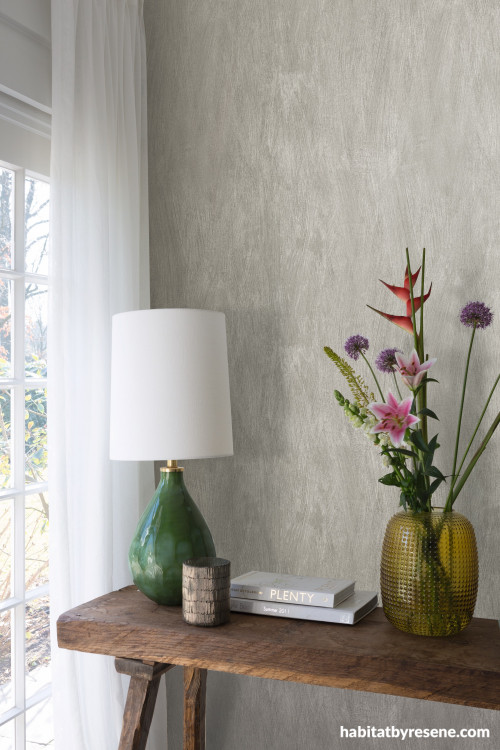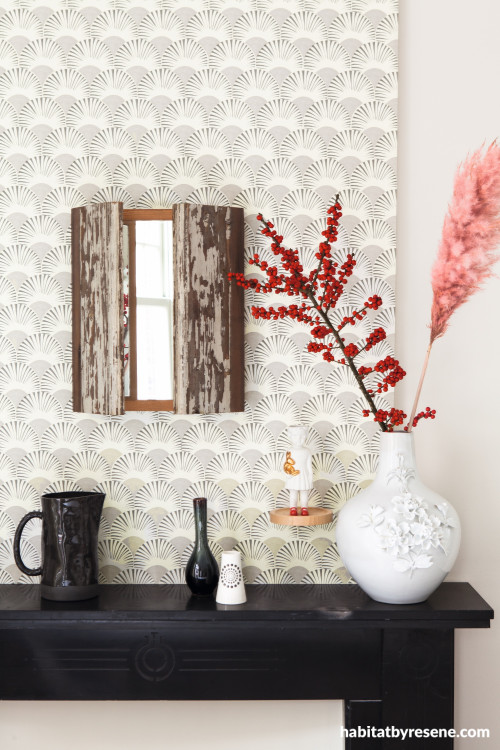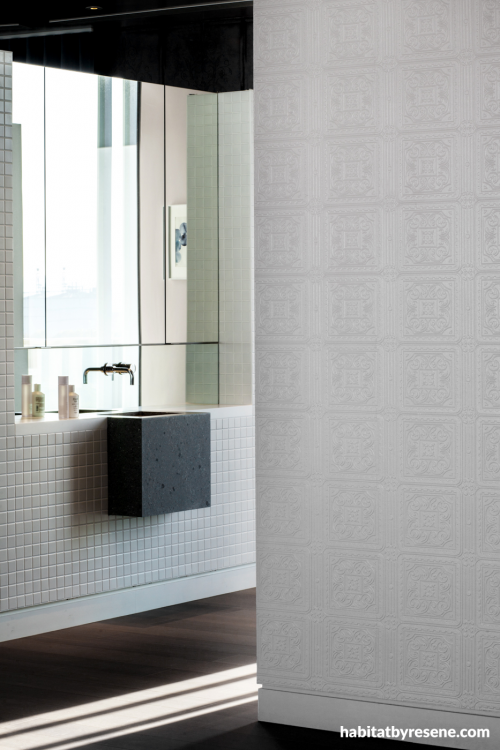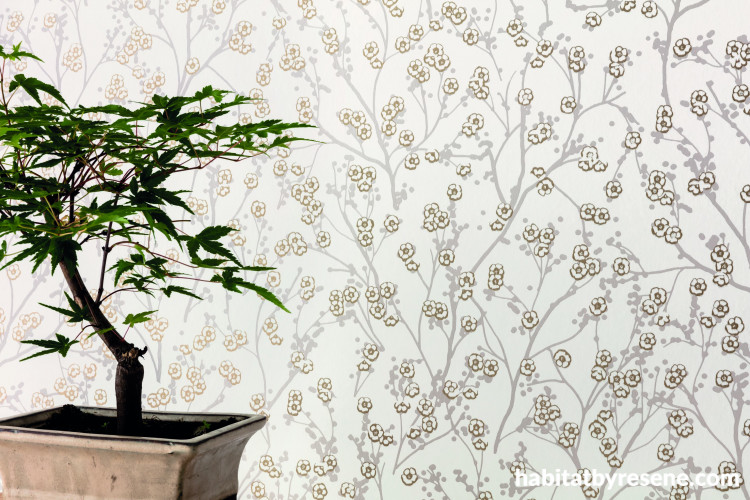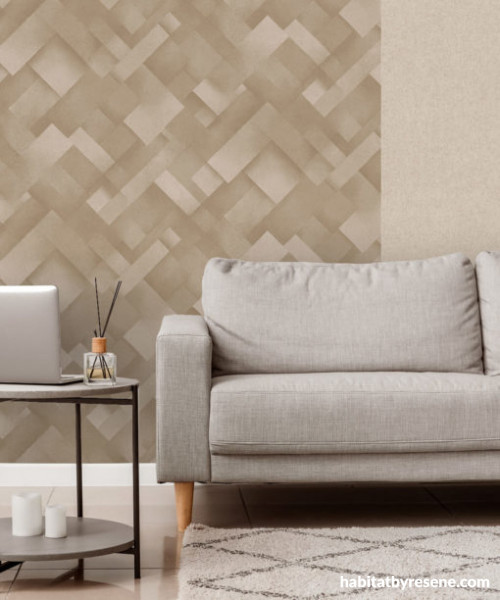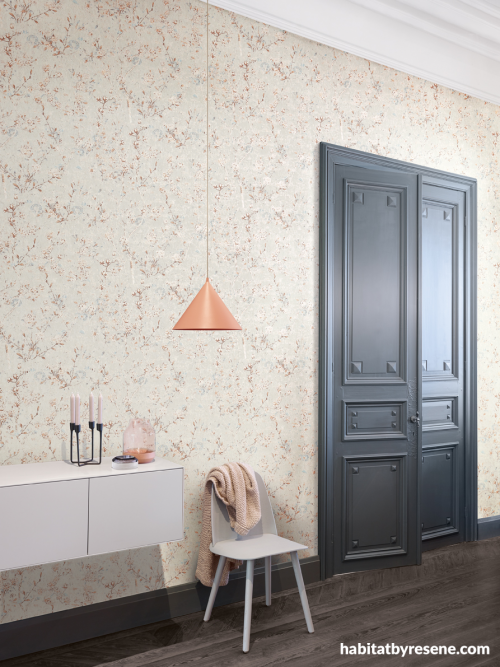 7 cream, white and grey Resene wallpapers that let neutral palettes shine
Opting for neutral tones doesn't need to mean predictable. If your home design features lots of cream, white or grey, selecting a neutral-coloured design from the Resene Wallpaper Collection is a simple way to add texture and interest to your living spaces.
Neutral hues create soft, gentle areas in your home, ideal for relaxing and rejuvenating spaces. Neutrals are also the perfect way to showcase furniture and artwork without clashing. The right wallpaper can enhance the cosy and comforting qualities while adding texture, dimension and depth.
As with paint colours it pays to observe wallpapers in your home at different times of the day in different types of light. Ask your Resene ColorShop for a sample and BluTack this to the wall to observe the tones of the wallpaper. When choosing a paint colour to match use Resene testpots to test how the paint or colours match or complement the wallpaper.
Here are seven wallpaper options that prove neutrals are beautiful, not bland.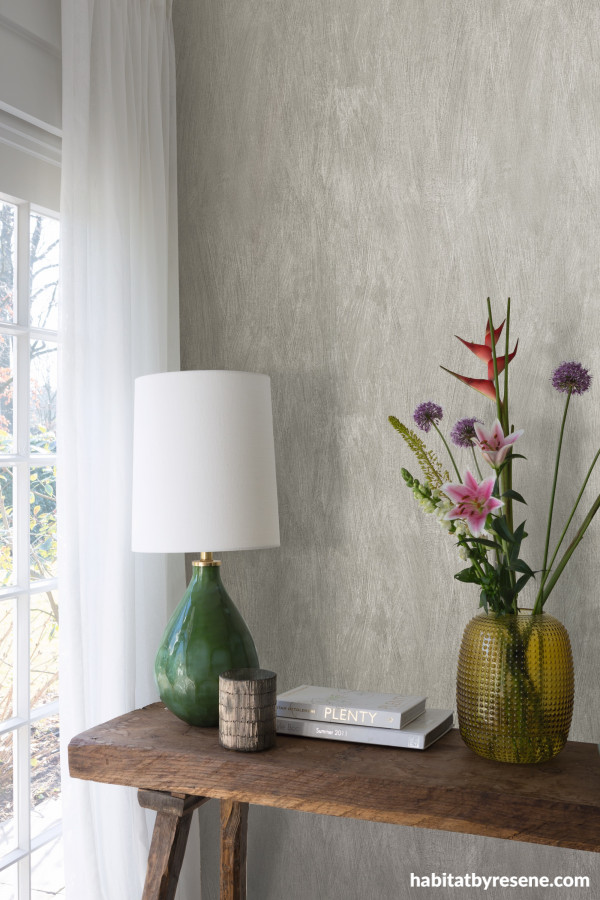 Add a subtle tactile element to a living space with Resene Wallpaper Collection 540833. Adding another texture, such as a wood side table, adds layers of depth and contrast.
What's the wallpaper? Resene Textures V Wallpaper Collection 540833 is a subtle yet striking grey-toned wallpaper with a lightly brushed texture.
How to use it: Using a textured wallpaper is an easy yet effective way of adding interest to a neutral-hued room. Resene Wallpaper Collection 540833's gentle strokes add movement and a brush of authenticity to a room.
Complement it with: If your style leans towards minimal and modern, adding a textured wallpaper can create layers and depth without compromising aesthetics. Combine it with wood accents in Resene Colorwood Teak and a warm grey paint that complements but doesn't compete, like Resene Triple Sea Fog or Resene Half Akaroa.
Top tip: Always buy an additional roll of wallpaper or more if you think you want to use in other areas. Designs tend to be refreshed every 2-4 years and may not be available if you need to do repairs or to decorate other rooms in the future.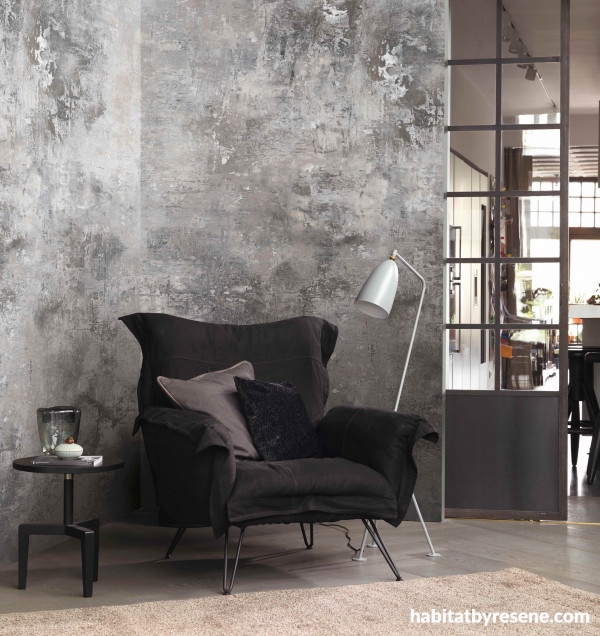 Concrete is always cool and using a faux wallpaper such as Resene Wallpaper Collection 429640 is an easy and cost-effective way of introducing texture into your living space.
What's the wallpaper? Resene Wallpaper Collection 429640 from the Resene Wallpaper Factory Collection is a faux-concrete mural that is bold and realistic.
How to use it: Break down barriers with this exciting wallpaper with a touch of factory grit. Suppose concrete is at the top of your wishlist but blocked by budget, practicality or availability. In that case, Resene Wallpaper Collection 429640 is an easy way to add industrial chic to your home.
Complement it with: Marry bold with brave. Embrace the vibe and look towards a dark, dramatic charcoal like Resene Nocturnal or Resene Foundry. Team this with metal accents in a Resene FX Metallic paint such as Resene Aluminium for added impact.
Top tip: Use leftover wallpaper on the front of drawers to rejuvenate a tired chest of drawers. This is a great way to continue a design theme throughout your home.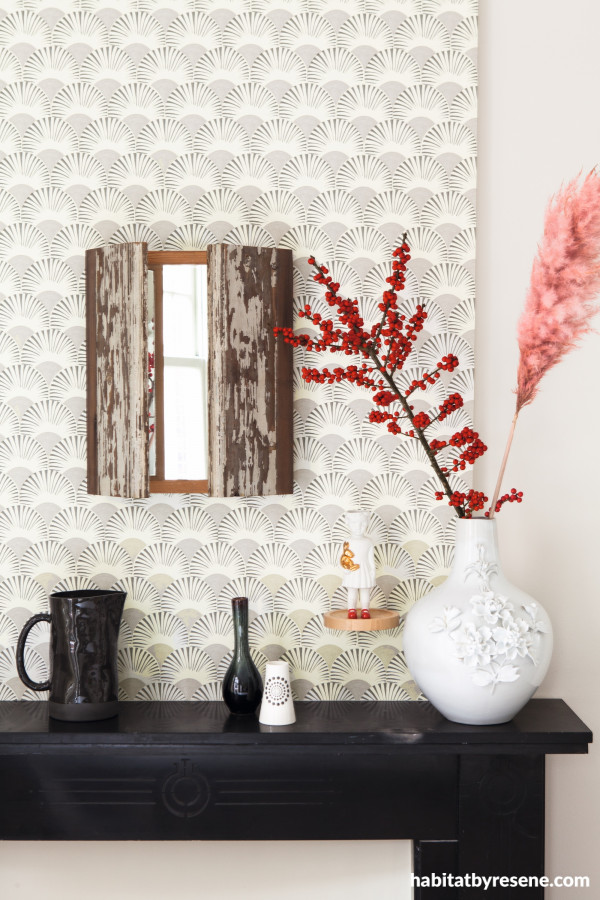 Immerse yourself in an art deco revival with Resene Wallpaper Collection 539301. It creates a sophisticated backdrop to let your personal style shine.
What's the wallpaper? Immerse yourself in art deco opulence with Resene Wallpaper Collection 539301.
How to use it: With a neutral geometric sunburst print, this stunning art deco-inspired wallpaper adds interest and class to your living space. Busy patterns can overwhelm small spaces, but creating a feature wall will add depth and dimension.
Complement it with: Let Resene Wallpaper Collection 539301 shine by pairing it with a cosy cream such as Resene Orchid White. While the wallpaper will capture the eye, continue to draw attention with bright and beautiful accents - add a coral-hued pop with Resene Coral Tree.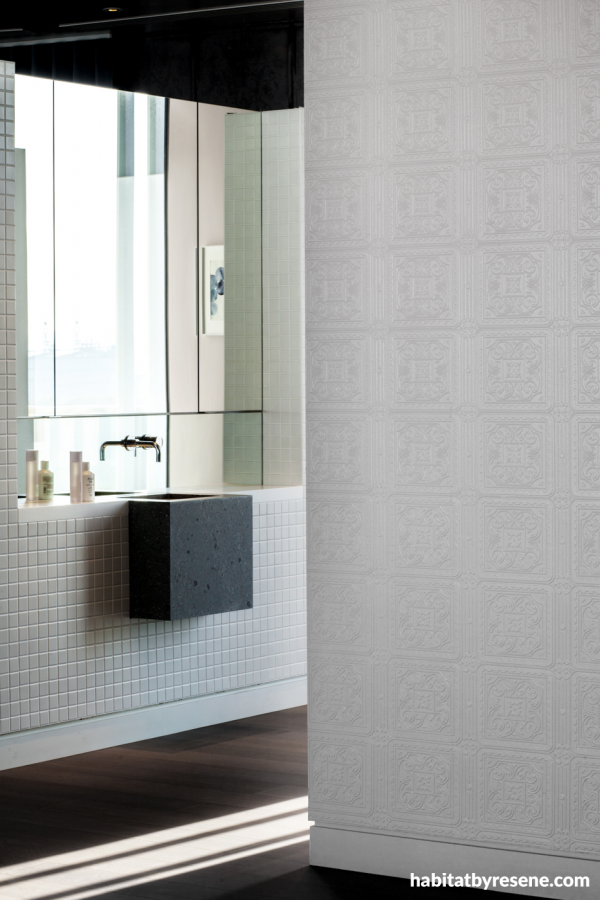 Clean, considered and tactile, Resene Anaglypta Wallpaper Collection RD80000 is a perfect canvas for a range of Resene colours. Keeping a neutral palette will create contrast with furnishings and styling.
What's the wallpaper? Resene Anaglypta Wallpaper Collection RD80000 . Guests won't be able to resist running their fingers along this gently textured wallpaper, which is ideal for powder rooms and living areas.
How to use it: Resene Anaglypta Wallpaper Collection RD80000 is a blank canvas on which to release your creativity. With an embossed texture and just the right neutral paint colour you can create depth that whispers rather than shouts.
Complement it with: There are more choices here than you can shake a colour wheel at. If you're feeling classic and modern, look towards the ever-popular Resene Black White (particularly in rooms with plentiful natural light). If you're looking for a neutral warm white, reach for Resene Spanish White.
Top tip: If you're using a wallpaper on one half of a wall above the dado line, consider using Resene Lustacryl semi-gloss on any paneling below the dado line. This will create a classic English interior look and add visual texture. Resene Lustacryl is easy to clean, making it ideal for skirting and wainscotting which is prone to kick marks and scuffs. For a lower sheen finish use Resene SpaceCote Low Sheen or the matte finish of Resene SpaceCote Flat.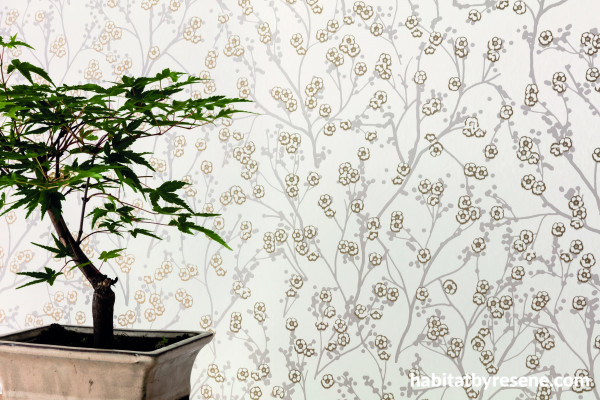 Resene Wallpaper Collection HAN100341717 is a classy yet joyful print that nods to Japandi design style.
What's the wallpaper? Resene Hanami Wallpaper Collection HAN100341717 has a gentle floral pattern in grey and gold tones, reminiscent of the famous Japanese cherry blossom.
How to use it: Here's a tongue twister for you - Japandi (Japanese + Scandi) design combines the Japanese philosophy of wabi-sabi with the Scandinavian concept of hygge. What does that mean? Neutral materials, neutral colours, clean lines and simple shapes. Resene Wallpaper Collection HAN100341717 adds a touch of a pattern without distracting from the staples of the style.
Complement it with: Japandi style begs for natural neutral tones with wood, rattan or bamboo accents. Pair your patterned wallpaper with a warm or green based white such as Resene Rice Cake or Resene Cararra, rather than cool tones. Add greenery with plants for a dash of colour – try painting a plant pot in Resene Smoky Green from the Karen Walker Paints collection.
Top tip: Screens are popular in Japanese inspired designs. Use leftover wallpaper to wallpaper a screen to create a changing area or relaxing zone within your space.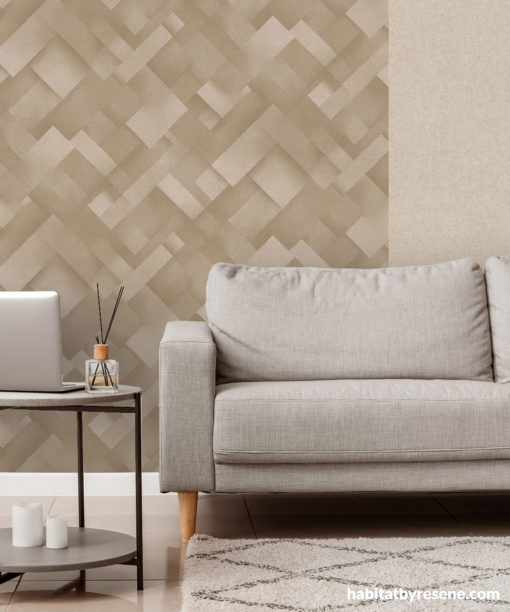 Geometric style goes for gold with Resene Onyx Wallpaper Collection M35807. This bold wallpaper adds a touch of luxury to a neutral palette.
What's the wallpaper? Resene Wallpaper Collection M35807 is a striking geometric wallpaper in an almost-metallic gold tone.
How to use it: Add a touch of geometric glam to your living space with Resene Wallpaper Collection M35807. The funky and futuristic 3D motif creates spatial interest while pairing perfectly with the Resene neutral range. Using it on walls as a backdrop to sleek, modern furniture pieces will have the pattern pop without competing for attention.
Complement it with: With a busy print, it's essential to create balance and harmony. Sophisticated warm whites complement the gold and tan tones of Resene Onyx Wallpaper Collection M35807. Try Resene Half Tea, Resene Biscotti and Resene Merino.
Top tip: Oversized patterns look great in room with high ceilings. Use a wallpaper as a feature wall to create a focal point in a large room.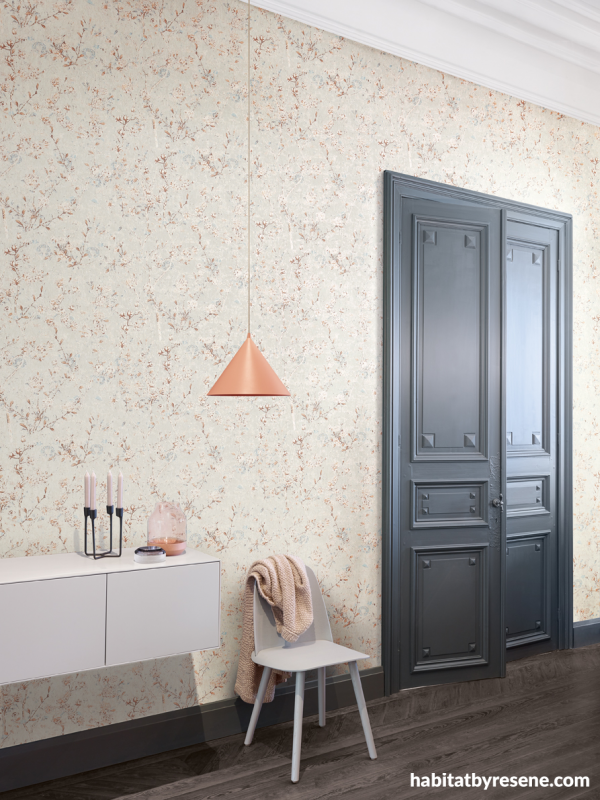 Resene Wallpaper Collection GLA803 is a sweet and subtle floral that bestows a 'feminine' touch without overwhelming.
What's the wallpaper? Resene Wallpaper Collection GLA803 captures the essence of the cottagecore country-inspired home trend.
How to use it: Have you ever removed old wallpaper to discover a hidden vintage treasure? Resene Wallpaper Collection GLA803 is an evocative soft floral pattern with touches of Victorian whimsy. Use it in rooms with feminine tones to envelop yourself in warmth and style.
Match it with: This wallpaper begs for a touch of romance, so pink or grey-hued creams will bring the pattern to life and place it centre stage. With luxurious styling, Resene Wallpaper Collection GLA803 will completely transform your space into a relaxing haven. Pair it with a green based white like Resene Rice Cake, or consider a nearly neutral colour such as Resene Barely There, Resene First Light or Resene Soothe
Top tip: If you're trying to find just the right colour to coordinate with your wallpaper, try the Resene Colour Match online tool. Simply upload a photo of your wallpaper and use the mouse to select the colour you are trying to match on the image, www.resene.com/colourmatchonline.
Neutral coloured walls are on the 'must-have' list for many home decorator and interior designers as they create soft, comforting spaces that work with many types of furniture and décor. For your next renovation, consider a white, cream or grey-coloured Resene wallpaper to create additional texture, softness and dimension in your designs while maintaining the same decorating flexibility, then team with your favourite Resene paint colours on trims, ceilings, flooring and painted walls.
Published: 27 Oct 2022
Do you have a home full of wonderful Resene paint and colour? Send us some snaps by emailing editor@habitatbyresene.co.nz.
the look
If you're stuck on what
colour to use or need colour
advice, try out the Resene
Ask a Colour Expert service.