►
◄
latest
habitat tv

blog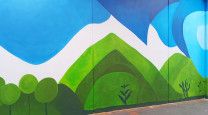 70s home makeover with an earthy colour scheme
When Lisa and Toby Morse purchased their home, the back of two 1970s units in Merivale several years ago, it was dated, tired and overgrown. With the help of some wonderful Resene greens and interior designer Jennifer Howell, this home pays homage to the decade known for its earthy tones, reddish brown mahogany and unique armchairs.
As keen renovators with multiple projects and builds under their belts, Lisa and Toby knew their house had great bones for a major makeover. The pair had just started the renovation when New Zealand's second lockdown created a major delay.
"It was hard-going for a while and the design momentum was well and truly lost," says interior designer, Jennifer. "However, once the builders could get back to it, we picked up where we left off; albeit with having to make a few changes because of product delays. After a lot of hard work and patience, it finally came together in early 2022."
When it came time for the interior colour scheme, designer Jennifer wanted to start with a clean slate. She met with Lisa and Toby, to talk through their ideas, creating a brief and a list of their likes and dislikes.
"It's my job to tap into their personality and figure out how to marry all of this together through their interiors," says Jennifer. "Usually I'll find a starting point, like a piece of furniture or a feature colour to work around, and then all the other aspects start to fall into place, a bit like a big puzzle."
One of Lisa's key notes for Jennifer was to avoid using white. Lisa also had some timber cabinetry she had found from a 1970s original kitchen that was being demolished that she hoped could be repurposed and incorporated into her new kitchen. Being in a family of makers who love crafting, creating, repurposing and redesigning items, Lisa and Toby find new ideas all around them.
The finished kitchen was inspired by a terrazzo style bench that perfectly incorporated the rich timber tones with greens, terracotta and golds. Although that particular bench was never used in the home, those colours were a major influence on the final palette.
In the open plan kitchen, living and dining area, Lisa wanted to create a modern environment with colour and character, but with a nod to the mid-century charm of the home's era. A lover of all things retro, Lisa had the repurposed kitchen cupboard fronts beautifully refinished in a rich mahogany tone.
Layering loads of different textures and earthy colours, the Resene Colorwood Whitewash cork flooring, marble, stainless steel benches and smoky glass mirrors, were paired with shades of mossy greens, like Resene Mangrove and Resene Triple Lemon Grass.
"We laughingly coined the style as shagadelic chic, kitsch and eclectic, but classy," says Jennifer. "Think Mad Men meets Austin Powers."
Along with hints of old gold in the room's light fixtures, soft creamy neutrals like Resene Half Merino and Resene Double Truffle were used on the ceiling and trims to lighten up the room and put extra emphasis on those 70s earthy green tones used.
The plasterboard walls and ceiling throughout the home were painted in Resene SpaceCote Low Sheen, for durability, washability, and ease of painting in an open plan area that incorporates a kitchen with a pitched ceiling. Resene Lusta-Glo was also used on the architraves for a high sheen semi-gloss finish providing more durability and ease of cleaning.
"The open plan space is such a lovely space to walk into, and every time I do I notice different textures or the way the light hits colours or surfaces at different times," Jennifer says. "I love the overall feel of that space, and how beautifully it all came together. It is warm and welcoming, calm, elegant, modern and so interesting."
"I am so proud of the way we incorporated everything into the home without making it cluttered or garish. It really goes to show that you can use colour and texture without being over the top, and you don't need to be bright to be bold."
Lisa also cleverly furnished the spaces with existing pieces while adding in some newly sourced retro furniture and beautiful art to match the décor.
The three bedrooms were all chosen to reflect personal style. Resene Yucca was paired with a blue shade in the funky fishy curtain fabric for Toby's bedroom feature wall. Lisa's bedroom had an existing flamingo wallpaper so this was paired with Resene Merino for a softer backdrop, and the spare bedroom on the colder side of the house, also used as Lisa's home office and hobby room, got a warmer, slightly more feminine colour, Resene Martini.
"Being involved in the Morse's renovation has been a highlight of my career to date," says Jennifer. "Lisa loves colour and mixing interesting textures, as do I, so we really gelled and the interior scheme evolved as we went along."
Jennifer describes her own style as eclectic, with a love for multiple colours and textures, layered to create an interesting, quirky space. Being drawn to certain eras in design, she is always changing accents according to her tastes.
"I love the geometric features and general decadence of the art deco era, the cute quirky prints and more streamlined designs of the 1950s, and flowing on from there the beautifully crafted furniture and bolder colours from the mid-century era."
As an interior designer, Jennifer has access to all the colours and sees all the passing trends, and as a lover of colour she finds it hard to pinpoint just one she loves.
"It really depends on the area and the day, but if I had to choose, I think I'm more into earthy greens and terracotta at the moment, with splashes of brighter oranges and greeny-blues to liven things up."
"The end results of Lisa and Toby's home are comfortably stunning. It's warm and welcoming, but stylish and full of personality. I couldn't be prouder of our results!"
See more of Jennifer's work at www.instagram.com/TheOrangeDoor_InteriorDesign
images Paul Willetts at Four Walls Photography
Top tip: For a seamless finish in all rooms in your home use Resene SpaceCote Low Sheen for walls and Resene SpaceCote Flat for the ceiling. The Resene SpaceCote range of paints is made with waterborne enamel technology which means they have a durable finish like an enamel with low odour and Environmental Choice approval. Plus, you can use them in most areas, from wet areas like bathrooms through to your lounge.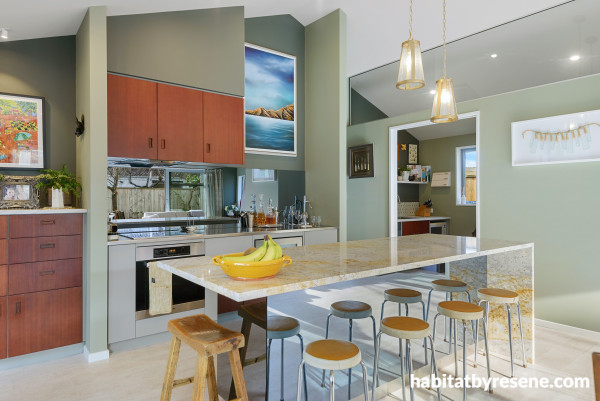 This grounded, earthy kitchen is painted in Resene Triple Lemon Grass, with Resene Mangrove on the feature back wall, Resene Double Truffle on the ceiling and trims in Resene Half Merino. The floor is finished in Resene Colorwood Whitewash.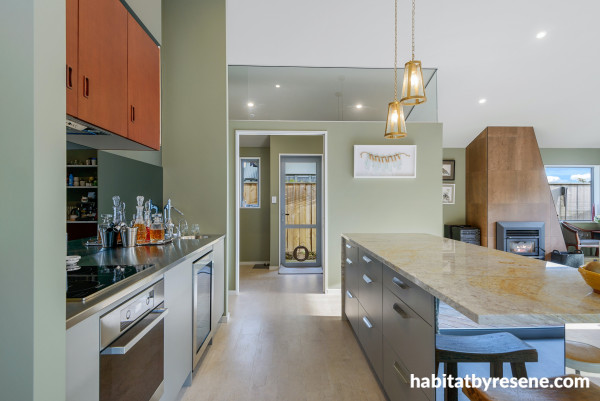 The muted green of Resene Triple Lemon Grass pairs so well with the wooden and brown- toned furnishings. The ceiling is painted in Resene Double Truffle and trims in Resene Half Merino. The floor is finished in Resene Colorwood Whitewash.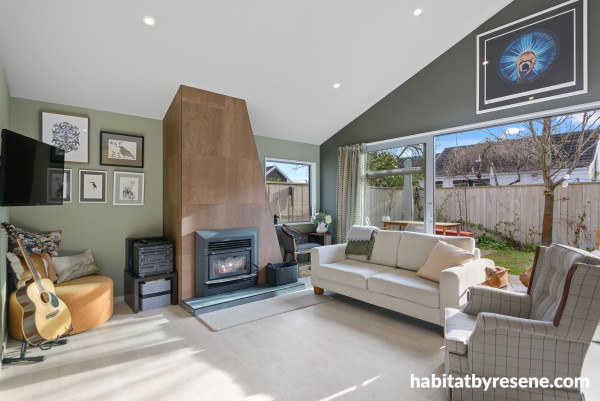 The darker Resene Mangrove feature wall at the end of the living room is darker and perfectly frames the view of the garden. The side wall is painted in Resene Triple Lemon Grass, ceiling in Resene Double Truffle and trims in Resene Half Merino. The floor is finished in Resene Colorwood Whitewash.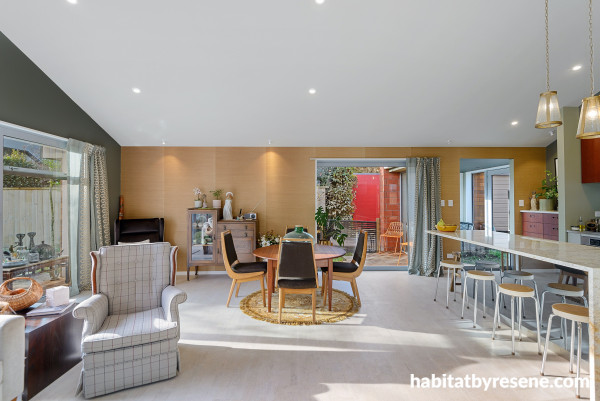 The earthy greens in the Resene Mangrove feature wall and Resene Triple Lemon Grass kitchen sit perfectly against the wooden wall. Ceiling is painted in Resene Double Truffle and trims in Resene Half Merino. The floor is finished in Resene Colorwood Whitewash.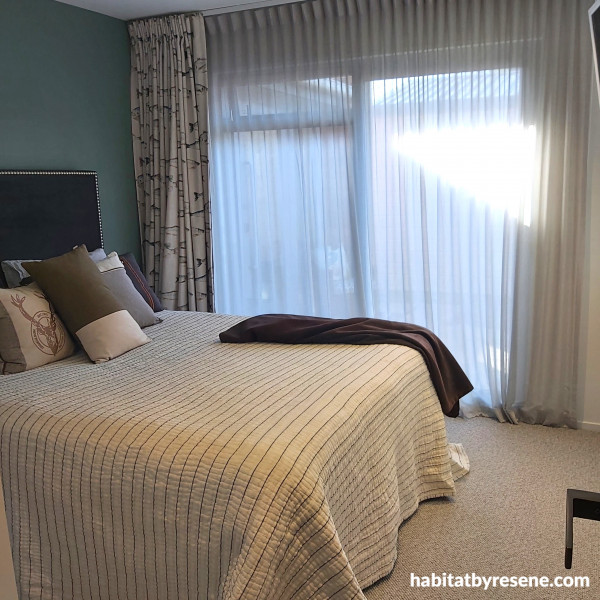 Resene Yucca was used as a feature wall in this bedroom for added depth.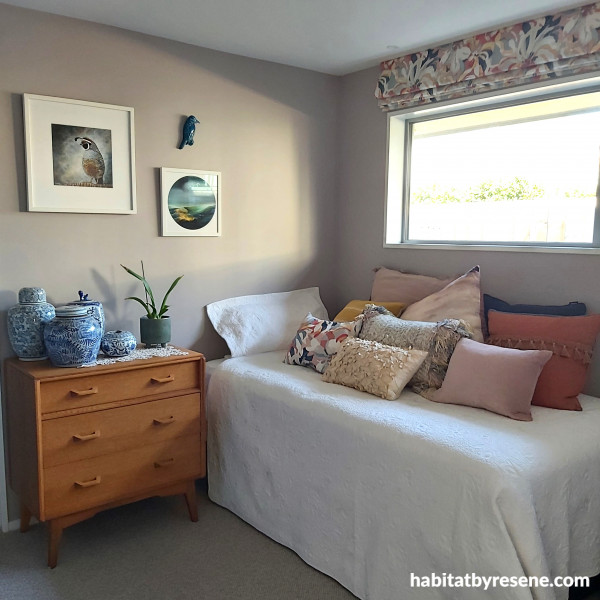 The spare bedroom, which doubes as Lisa's office, is painted in warm Resene Martini, with the ceiling painted in Resene Double Truffle and trims in Resene Half Merino.
Do you have a home full of wonderful Resene paint and colour? Send us some snaps by emailing editor@habitatbyresene.co.nz.
Published: 02 Feb 2023
Do you have a home full of wonderful Resene paint and colour? Send us some snaps by emailing editor@habitatbyresene.co.nz.






Resene Triple Lemon Grass






the look
If you're stuck on what
colour to use or need colour
advice, try out the Resene
Ask a Colour Expert service.