►
◄
latest
habitat tv

blog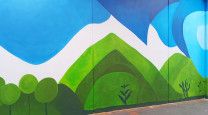 A modern twist on a 1930s bungalow: Mid-century meets Hollywood glam
In this home revisited, we saw a couple who had moved back from San Francisco where they lived in a very colourful home. Homeowners Mel and Joe wanted to ensure their new home would have the same character and charm they love so much. With the help of interior designer Clare Kitching, they found the perfect Resene paint colours to make their dream home shine.
The house was purchased by the couple from Joe's dad as they wanted to ensure it stayed in the family for years to come. The 1930s bungalow is situated on a large north facing site, and although it was well maintained, Mel and Joe wanted to brighten it up and modernise the house for their family needs.
With the help of architect, Warwick Lee, the home was extended to create spaces for better sun penetration and light - especially in the hallway. Once the changes were made, Clare Kitching stepped in to assist with designing the interiors, creating different feelings and moods within each room, while also making sure they sat well with one another.
"When I met with Mel and Joe to discuss the interiors, they said they were passionate about mid-century furniture and the Hollywood glam vibe," Clare says.
"The colour scheme was then created to set the mood for how they wanted to live, interact and entertain within their home. It was inspired by their design preferences as well as their professions."
Mel ensured Clare knew she didn't want an all-white house, but one that exuded Hollywood glam, while interspersed with mid-century modern furniture that sat well within the bungalow framework. Joe is a sailor, so drawing on nature, the ocean and a varying backdrop of blue and grey skies was a great place to start when choosing colours.
"We drew on the colour palette of the ocean by using blues and neutrals to create a near neutral palette while still infusing colour and life into the home," Clare says. "For the colour scheme to work well we looked at each room as a separate entity and created a particular mood for that room."
Room colours range from light to darker shades which contrast with the use of bolder colours. By using a range of neutrals and colours that sit well with each other, Clare created a calm yet modern interior that sets the scene where the clients' art, textiles and accessories can shine.
The long central hallway is painted in the neutral shade of Resene Quarter Rice Cake, brightening the walls and drawing you down into the gallery-like space where the artwork stands out against the light wall colour. This shade worked well with the blues and neutrals radiating from the rooms that come off the hallway.
Arguably one of the most stunning rooms in the home, the powder room, was given a dark and elegant feel. The deep slate blue with moody undertones of green, Resene Fast Forward, was painted on the walls, pairing perfectly with the glossy peacock coloured finger tiles and brushed brass tapware and shelf.
The timeless grey blue of Resene Raven was chosen for the children's bathroom. This shade ensured it would be a space they wouldn't grow out of, yet holds on to its beauty over time. This gentle Cape Cod inspired colour coordinates well with the marble finger tiles and slate grey shower for an ultimately classic and timeless look.
"By using various tones from the blue and neutrals palette across all rooms, we created a colour story that emanates calmness and tranquillity within their home," Clare says.
Resene Duck Egg Blue was chosen for the laundry to create a light, calm space, while reflecting the other blue shades within the home. This pale, meditative and gentleshade was a great pairing for the marble finger tiles and timber cabinetry.
The master bedroom displays a unique and stunning walnut feature wall behind the bed, with matching battens and a French polished finish for extra shine and glam. This stands out delightfully next to the light neutral walls and raked ceiling in Resene Quarter Rice Cake.
"For the formal dining room, we wanted to create an elevated space that reflected the western light for afternoon sun, perfect for evening drinks and meals," Clare says. "We chose to paint the panelling in Resene Rakaia for its cool shale grey shade that bounces light around the room, while also using Resene Quarter Rice Cake on the ceiling and upper walls to link the room back through to the hallway."
Mel and Joe had chosen a statement marble and walnut finish for the kitchen, so to bring some colour to the cabinetry, Resene Tuna was chosen for its deep distinguished grey with undertones of blue, working particularly well with the marble veining. This bold shade pairs well with Resene Raven, used in the living room to create cosiness and interest in the space. These two blue-grey shades, along with neutral walls and ceiling, create a cohesive feel throughout the home while still working to separate areas.
Being that the house is a 1930s bungalow there were interesting details that Mel and Joe wanted to retain and have included in their new home. Heritage details such as lead light windows, coffered ceilings and brass handles were considered and included in the overall modernisation of the home and were retained and highlighted through the use of colour.
Mel and Joe's house has now been transformed into their perfect dream home, ideal for their family, professions and entertaining. The old-world structure and details now shine through with fresh new colours, creating a modern mid-century feel, with that touch of Hollywood glam they were after.
interior designer Clare Kitching www.instagram.com/peachhausdesign
images Jackie Meiring www.jackiemeiring.co
Top tip: Wanting to use black in your home but wary of going too dark? Look at deep greys and charcoals such as Resene Gravel, Resene Double Stack, Resene Tuna and Resene Charcoal. These colours provide a cool, urban edginess. For a hint of blue, these colours are steely and stormy, adding mystery and moodiness: Resene New Denim Blue, Resene Coast and Resene Raven. Use Resene SpaceCote Flat to accentuate moodiness in dark colours.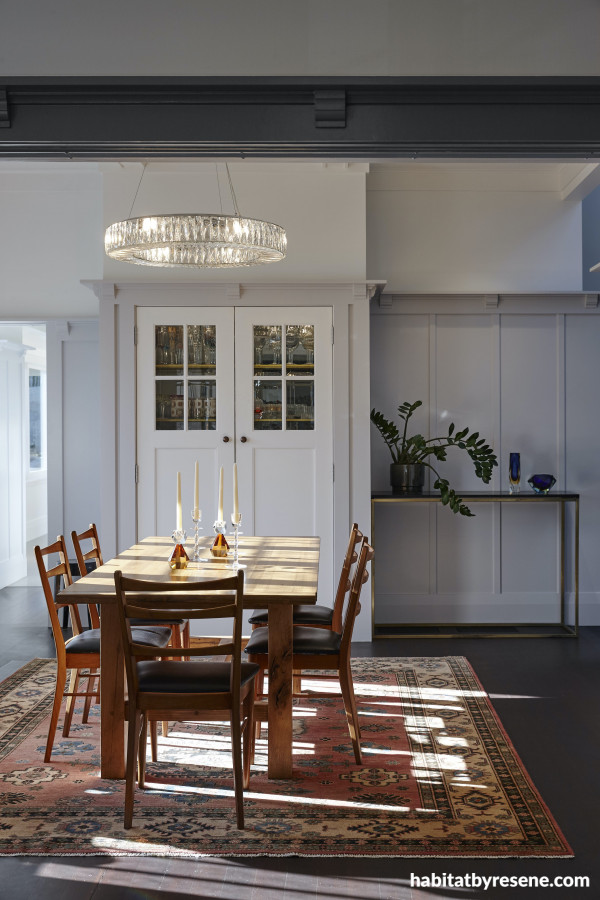 These neutral walls are the perfect backdrop for this room, glammed up with the sparkling pendant light, crystal candleholders and luxurious rug. The panelled walls are painted in Resene Rakaia, with upper walls, ceiling and trims painted in Resene Quarter Rice Cake and Resene Raven featuring along the top beam.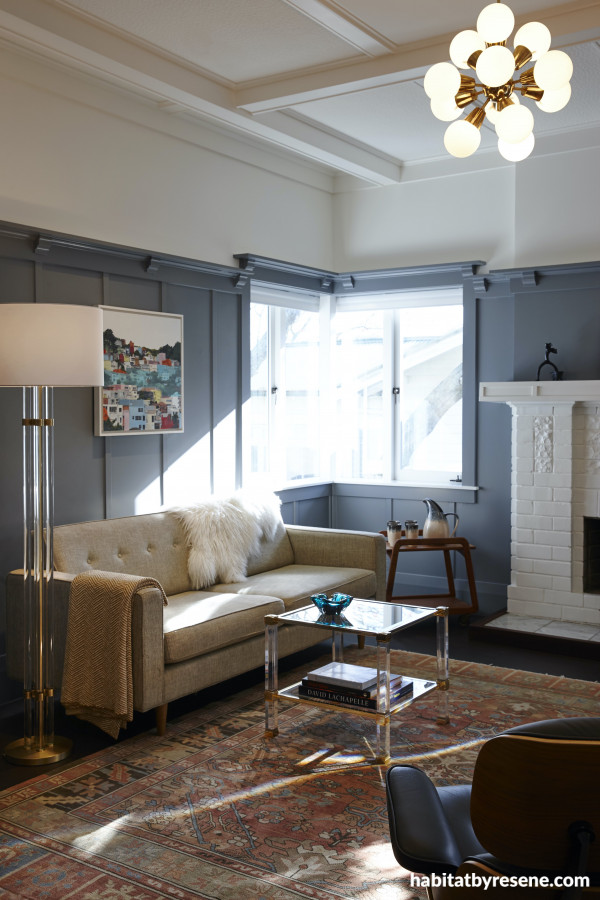 This living room décor screams Hollywood glam mixed with mid-century furniture. The lower panelled walls painted in Resene Raven create drama while the original ceiling details are beautifully painted in Resene Quarter Rice Cake. Trims and fireplace also painted in Resene Quarter Rice Cake.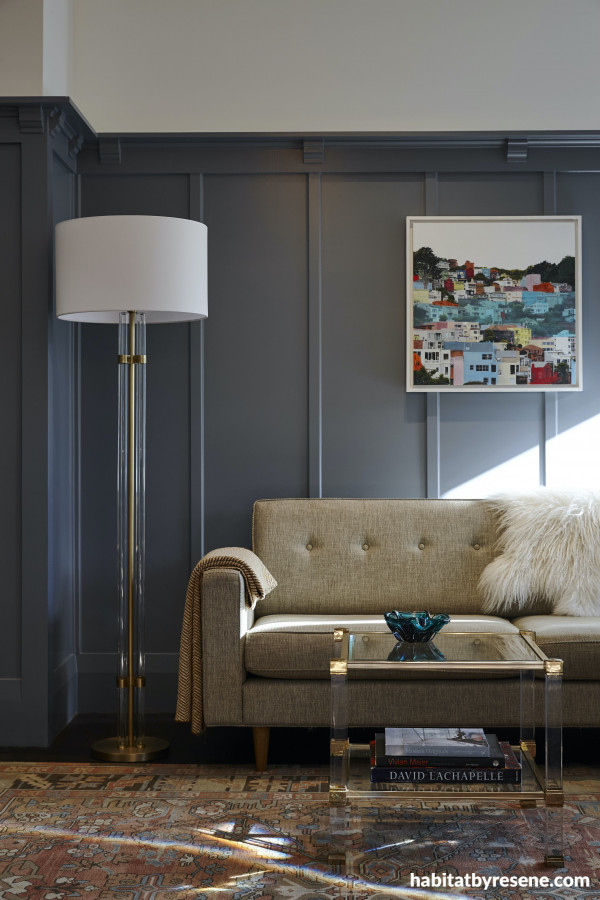 The neutral shades of this living room allow artwork and other décor like this detailed rug to pop through as main features. The lower panelled walls are painted in Resene Raven, with upper walls and trims painted in Resene Quarter Rice Cake.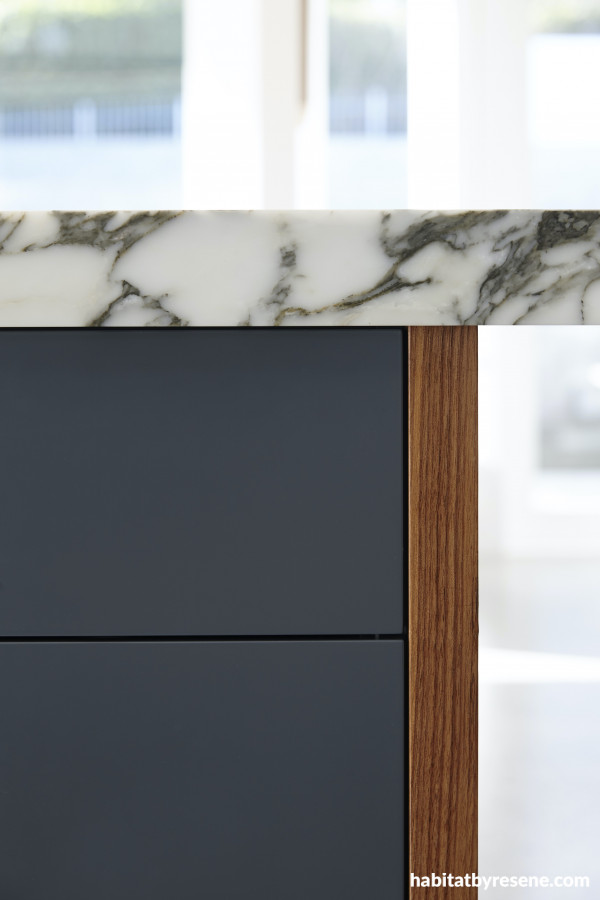 The deep shade of Resene Tuna, used on the kitchen cabinetry, is striking against the walnut and marble detailing of the countertop.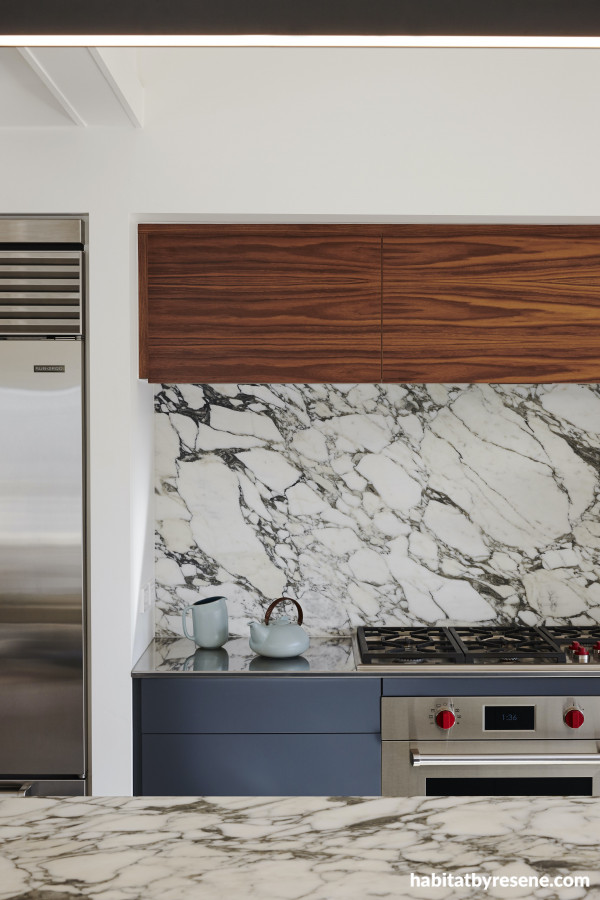 The dark veining in the marble pairs well with the bold and moody shade of Resene Tuna on the cabinetry. The walls and ceiling are painted in Resene Quarter Rice Cake.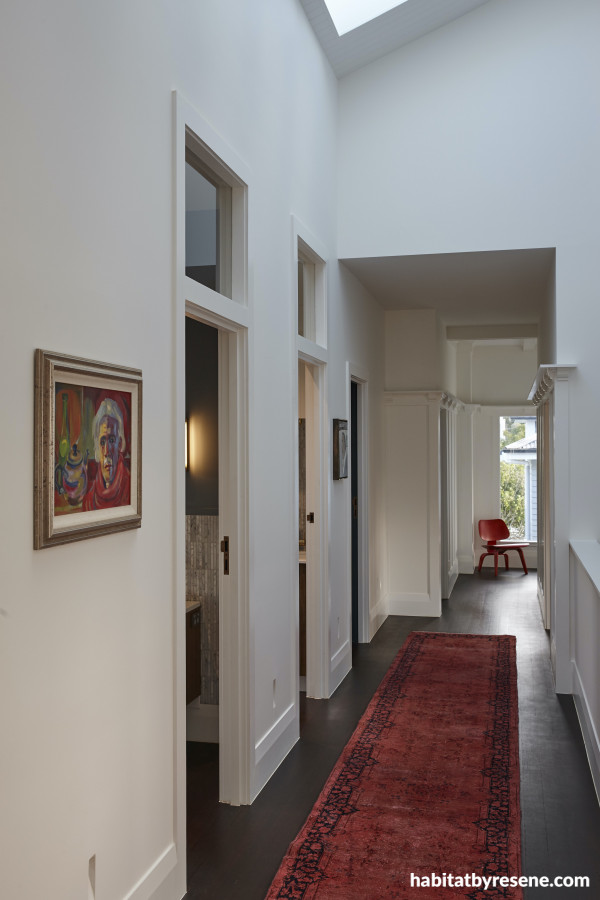 This gallery-like hallway, painted in Resene Quarter Rice Cake, draws you down to the rooms which are each painted in a different Resene colour. The artwork and red rug line the hallway and are a great contrast against the white walls.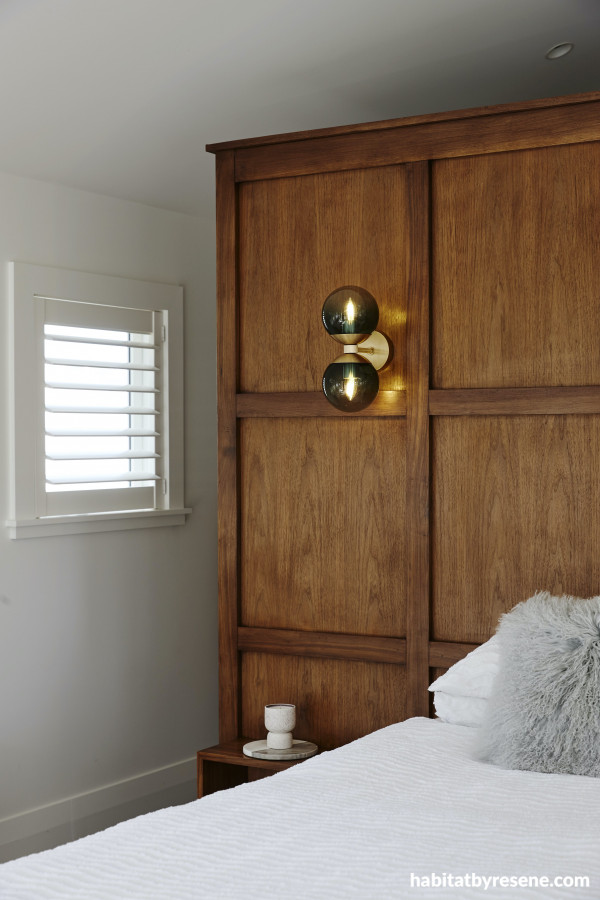 This stunning timber feature wall in the master bedroom is design using real walnut, delightfully complementing the neutral walls, trims and ceiling in Resene Quarter Rice Cake. The gold lamp provides that extra touch of glam.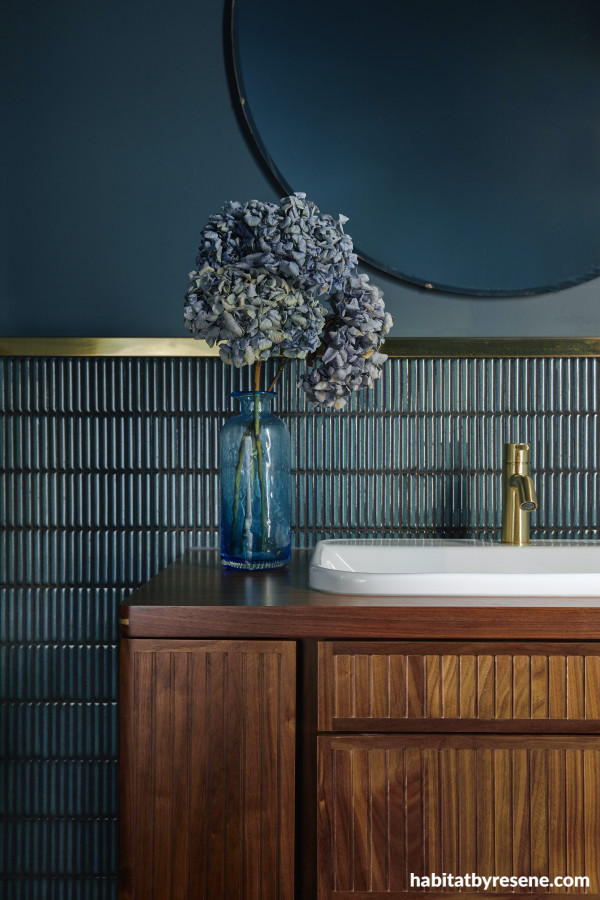 A spectacular array of colours greet you in this powder room. The rich colour of the walnut, brass finishes and peacock-coloured tiles are a dream against the walls painted in Resene Fast Forward.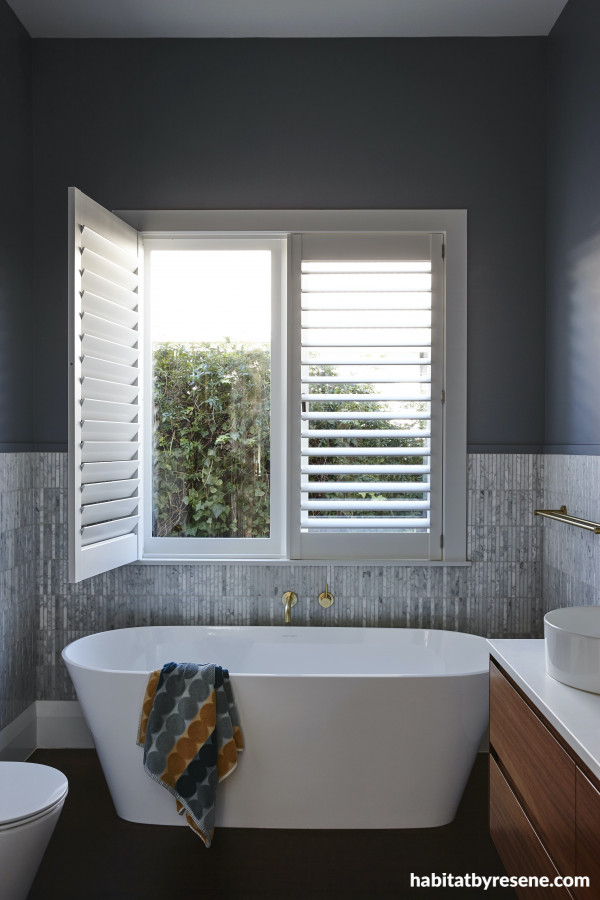 This children's bathroom is a timeless space, with walls painted in Resene Raven and trims and ceiling in Resene Quarter Rice Cake. The shimmering grey tiles, wooden features and brass finishes are an elegant touch.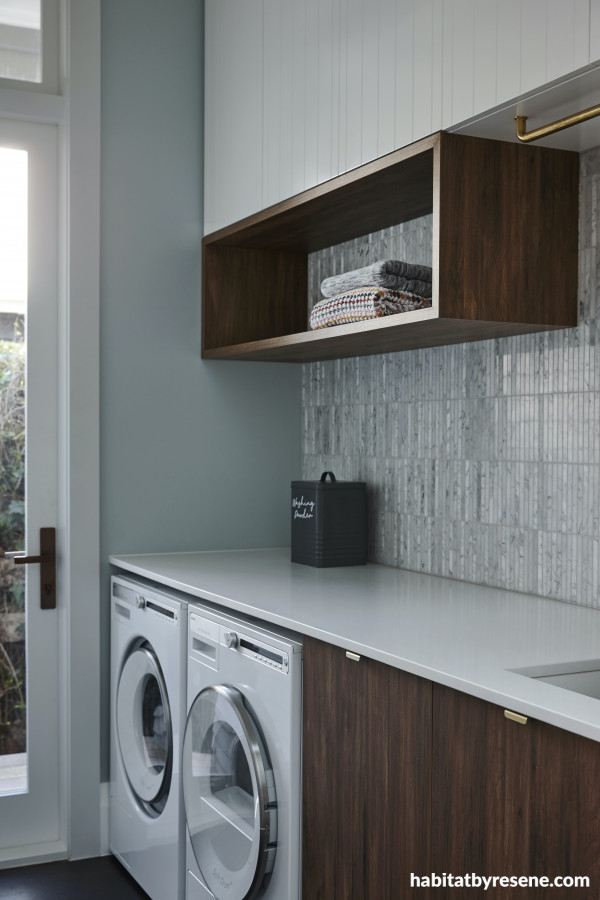 This refreshing laundry room is made bright and cool through the Resene Duck Egg Blue painted walls, a popular choice for laundries and bathrooms. Upper cabinetry and trims painted in Resene Quarter Rice Cake.
Published: 04 Apr 2023
Do you have a home full of wonderful Resene paint and colour? Send us some snaps by emailing editor@habitatbyresene.co.nz.




















the look
If you're stuck on what
colour to use or need colour
advice, try out the Resene
Ask a Colour Expert service.