►
◄
latest
habitat tv
blog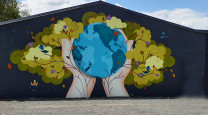 Beach house style: Coastal colour schemes to embrace at home or the bach
In New Zealand and Australia, no matter where you are, you've never very far from the beach. Many of us have grown up in or around the water, so why not embrace the nostalgia by adopting a coastal colour scheme for your home or beach house? This style encourages light and freshness by creating a sanctuary that will remind you of salt and sun-filled days.
You could channel a little American spirit with a classic, paired-back Hampton's style or go down a more quintessential bach path to create a lived-in, rustic haven.
Whatever style you choose, the Resene range including the Resene's Colorwood We Speak Beach range of colourwash stains, has the perfect shades to create the ultimate coastal vibe. This gives an instant sanctuary to facilitate an escape from the everyday hustle and bustle of city life, in your own home. Whether you choose to revamp your everyday home or your bach, here are some different colour schemes to adapt.
Hamptons beach house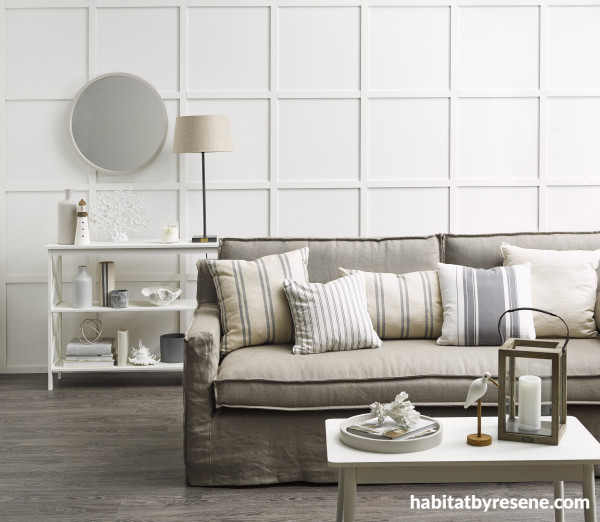 Add instant dimension to your living room with a simple DIY panelled wall design by simply gluing battens of painted timber to the wall to form square shapes, and then painting the walls and battens in Resene Black White. Add additional visual texture by using Resene Lustacryl semi-gloss waterborne enamel on the battens contrasted with the wall in matte paint like Resene SpaceCote Flat. The two tables are painted in Resene Merino. Mirror, tray and tall bottle vase painted in Resene Cloudy, textured vase and seashell box in Resene Silver Chalice, coral in Resene Black Whiteand plant pot in Resene Half Tuna. Sofa from Johnson Imports, tray table and rug from Freedom, lantern and lamp from Johnson Imports, seagull and lighthouse decoration from Bed Bath & Beyond, cushions from Johnson Imports, Bed Bath & Beyond and The French Villa. Project by Vanessa Nouwens, image by Wendy Fenwick.
The Hamptons style is instantly recognisable, with its fresh, relaxed approach to colour and texture. It cultivates a breezy, spacious area with abundant natural light and brings to mind the wealth and glamour of the American East Coast. Sophisticated but laidback, it is a look that is particularly appropriate for a beachfront home.
Some key characteristics of the Hamptons style include panelled walls, natural timber and warm neutrals that help maximise light and space. For low-key elegance in your home opt for a strong base in Resene Sea Fog or Resene Black White teamed with the blue-based Resene Gull Grey, which embodies luxury and modernity in a coastal setting. Once you have the backdrop, an option is to begin introducing blue tones, another cornerstone to the Hamptons style. Accent blues such as subtle Resene Biscay and Resene Coast are perfect to use in your palette. Next step is to play with colour in decorations by using crisp linen, striped patterns and coastal accessories. These simple touches will bring the ocean indoors and create an instant haven from everyday urban life. Finish wooden surfaces in Resene Colorwood Greywash to enhance the natural timber texture.
Out at sea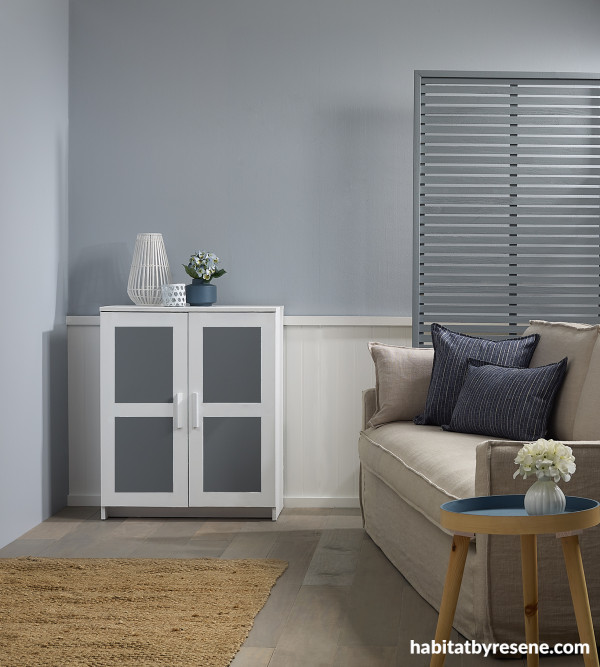 Create seaside sophistication with a nautical theme with subtle blues and creams as wall colours, going bolder instead in your accessories and furnishings by incorporating stripes and natural elements. Walls painted in Resene Forecast, tongue-and-groove panelling in Resene Sea Fog, floor in Resene Colorwood Mid Greywash, screen in Resene Regent Grey and cabinet in Resene Sea Fog with inset panels in Resene Regent Grey. Sofa from Johnson Imports, cushions from Johnson Imports and Nood. Project by Megan Harrison-Turner, image by Bryce Carleton.
Another popular style is the nautical theme, inspired by ships and sailors. Take a twist on the classic white and navy colour combination, opting instead for a calming modest grey-toned blue such as Resene Forecast used on this living room wall, which pairs nicely with milky Resene Half Merino. Go bold but classic by playing with the iconic sailor stripes for a statement wall. Complement the striped feature by employing statement accessories in industrial textures such as metal and brass. If stripes aren't your idea of elegance, keep it simple instead with block wall colours contrasted with wooden furnishings. Breathe life back into old furniture such as a coffee table by painting it in the same hue as the wall, adding a rustic element to the tranquil tones. Natural materials like driftwood, ropes and seashells are perfect as coffee table ornaments to embody the beachside feel that are easy to source and budget-friendly.
Embrace the natural beauty of wood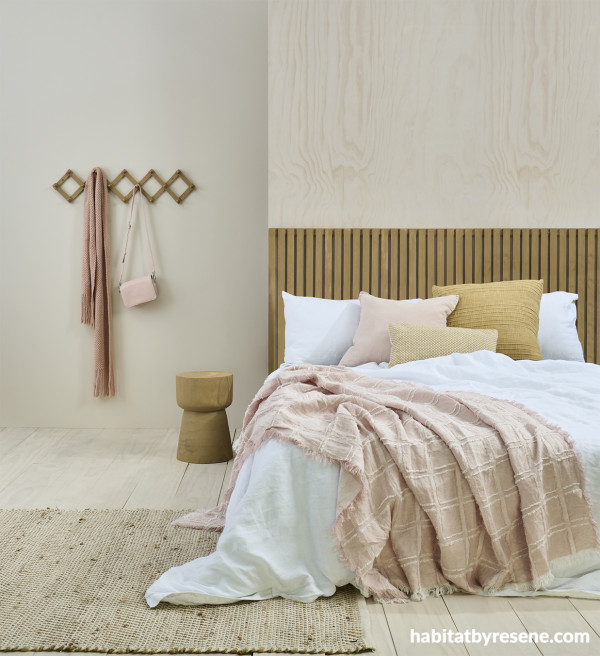 Create a DIY trellis headboard by nailing together narrow strips of stained natural timber for a natural beachy haven in your bedroom. Complement with light sandy tones for a soft relaxing space. Back wall painted in Resene Half Biscotti, floor in Resene Colorwood Breathe Easy, ply wall behind bed in Resene Colorwood Becalm, trellis headboard in Resene Colorwood Bask and table stump in Resene Colorwood Bask. Linen bedding from Foxtrot Home, cushions from Adairs. Project by Vanessa Nouwens, image by Bryce Carleton.
Move away from the water and onto the sandy, shelly beaches for a more feminine, soft look with earthy blush tones enhanced with natural wood. Tones like these bring to life visions of sitting on a sandy beach, looking to the horizon as the sun sets on a balmy summer evening, and perfectly cultivate a homely, warm feeling for a bedroom. Combine natural timber with rustic tones in bedding and accessories to blend with the natural scenery. The Resene Colorwood 'We Speak Beach' range has the perfect colour washes to achieve this vibe, allowing for the natural grain and texture of wood to shine through a touch of light colour. These washes are different to a typical timber stain, as they sit more on the surface which creates a soft relaxing feeling. The six hues in this range are borrowed straight from the beach, with light to mid sandy tones Resene Colorwood Breathe Easy, Resene Colorwood Becalm and Resene Colorwood Bask to rolling waves in Resene Colorwood Shore Thing and Resene Colorwood Rising Tide and rocky pebbles in Resene Colorwood Shade. Employ these washes in your interior decorating for the perfect embodiment of a coastal vibe.
Serene blues and greens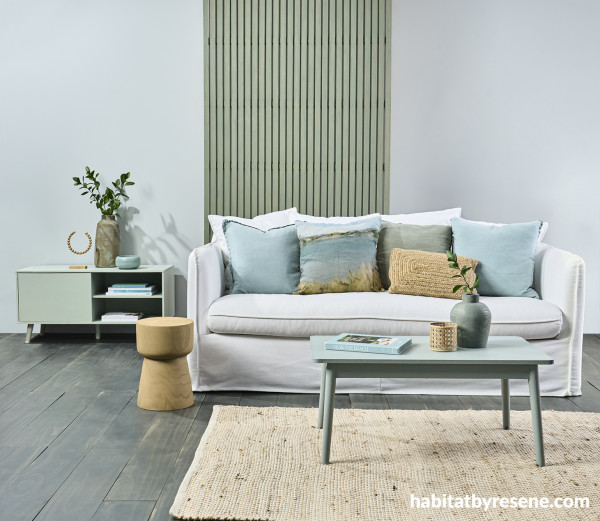 Feel the serenity with soothing blues and greens that might just make you want to hop on a plane to a tropical destination. Using different strengths of shades within the same colour family gives a casual, breezy look, creating a relaxing but stimulating space. Wall painted in Resene Duck Egg Blue, trellis feature wall in Resene Colorwood Shore Thing and floor in Resene Colorwood Shade. Cabinet painted in Resene Green Spring, coffee table in Resene Inside Back, wooden side table in Resene Colorwood Bask, vase in Resene Colorwood Shore Thing, beaded deco in Resene Colorwood Bask and bowl in Resene Duck Egg Blue. Sofa and tealight holder from Freedom, cushions from Adairs, Mocka, The Warehouse and Leopard Hall, ceramic dish from Hunter Furniture. Project by Vanessa Nouwens, image by Bryce Carleton.
Take inspiration from the natural world around you, by pairing subtle blues and greens together in your home. It may seem like a bold combination, but if you looked out your window you would notice that nature mimics art – and is showing us what colours pair best. Next time you're out in nature and something beautiful catches your eye, take a picture, and study all the different colours you see working together in perfect harmony. Then you will see there is no such thing as clashing! You could take a leaf out of nature's book and mimic the complementary tones from your favourite natural spot in your own home, but paring them back, like with relaxed blues and greens in this living room. Resene Colorwood Shore Thing is the perfect natural green to perfect this look and paired with the dark depths of Resene Colorwood Shade on flooring you will have a tropical paradise.
Stormy seas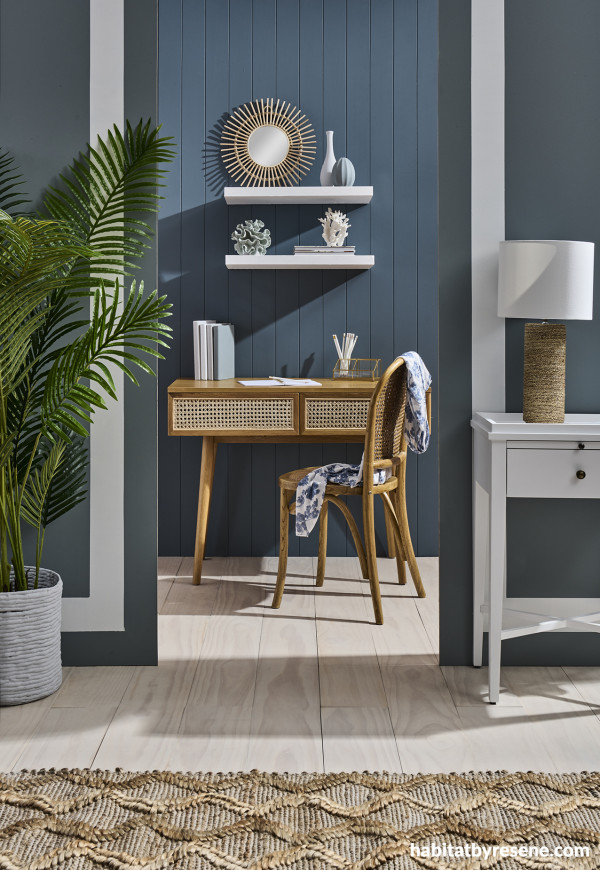 Baches are an opportunity to try something a little different to your everyday home. Create a deep, moody atmosphere by using a darker colour in a small room. Tongue-and-groove back wall painted in Resene Watermark, front walls in Resene Baring Head, borders in Resene Alabaster and floor in Resene Colorwood Breathe Easy. Shelves painted in Resene Double Alabaster, vases in Resene Aoraki and Resene Ted. Desk and chair from Danske Møbler, side table from French Country Collections, plant and rug from Adairs, lamp from Mitre 10, mirror from H&M Home. Project by Melle van Sambeek, image by Bryce Carleton.
Embrace a variation of the coastal look with a dramatic, mid to dark toned blue reminiscent of the sea on a stormy day. Although we tend to shy away from darker colours in fear of making a space feel smaller, they play with your sense of depth perception, actually adding depth to your space. Interior designers refer to this concept as dark colours 'receding'. Darker tones can also make a draughty house feel cosier and more comforting, which could make it the perfect option for an old bach. A shade like Resene Watermark can be perfect for an internal room such as an office or a bedroom, and when complemented with white furniture the colour will be further enhanced. Balance the depth with light flooring and lush foliage.
Published: 02 Nov 2022
Do you have a home full of wonderful Resene paint and colour? Send us some snaps by emailing editor@habitatbyresene.co.nz.