►
◄
latest
habitat tv

blog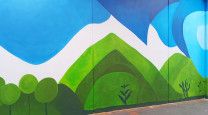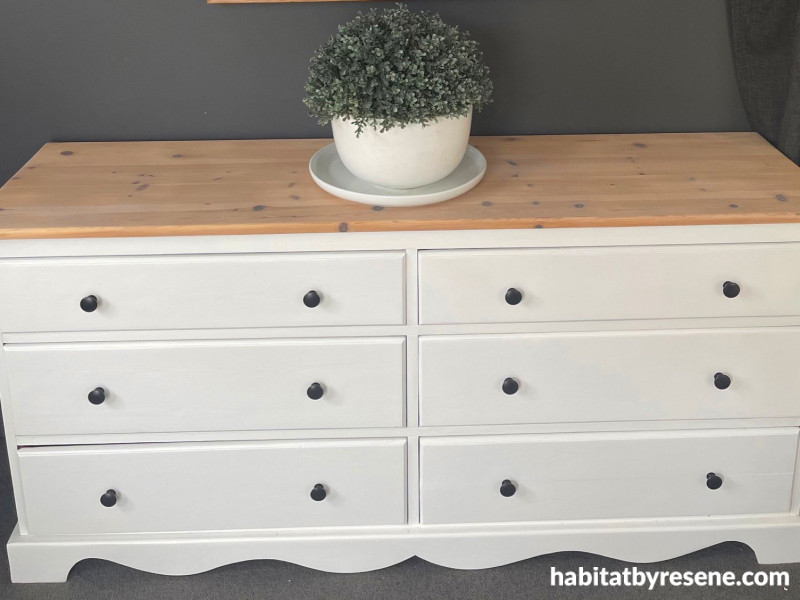 Angela's refurbished furniture is 'drawer-ing' attention
25 Jan 2023
Angela Fell is quick on the 'drawer' to spot a good second-hand item that has the bones for something great. With a bit of love and help from Resene paints and products, these drawers go from old to new, even finding their way into brand new homes. If you're thinking of doing some upcycling of your own, these pieces are sure to get you inspired.
"I love the process of finding unwanted furniture and bringing it back to life through paint and wallpaper, and I love how changing hardware can transform a piece of furniture," Angela says.
Angela's journey with refurbishing furniture began with a lockdown project of painting her bedroom furniture. She was tired of the dark drab look of what she had and really wanted to freshen and brighten the space. She soon fell in love with the idea of turning a great solid piece of furniture that could end up in the landfill into a new piece to be enjoyed.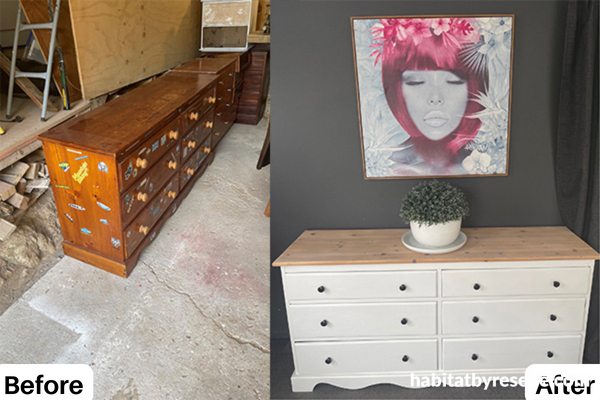 Saved by Angela, these drawers had an extreme makeover and now look brand new. The top has been coated in Resene Colorwood Whitewash and the drawers are painted with Resene Lustacryl tinted to Resene Double Alabaster.
Angela has created an Instagram page devoted to her work, called Diamond in the Rough, to share her ideas in hope she would inspire others to do the same.
"The three principles I work from are restore, renew and re-love. By restoring old furniture, we renew it to make it re-loved for many generations to come."
"For me, this has become much more than just updating furniture, this has become something that gives me much personal pleasure as I enjoy the whole process, from sanding and priming, to painting and finishing, it really is so rewarding."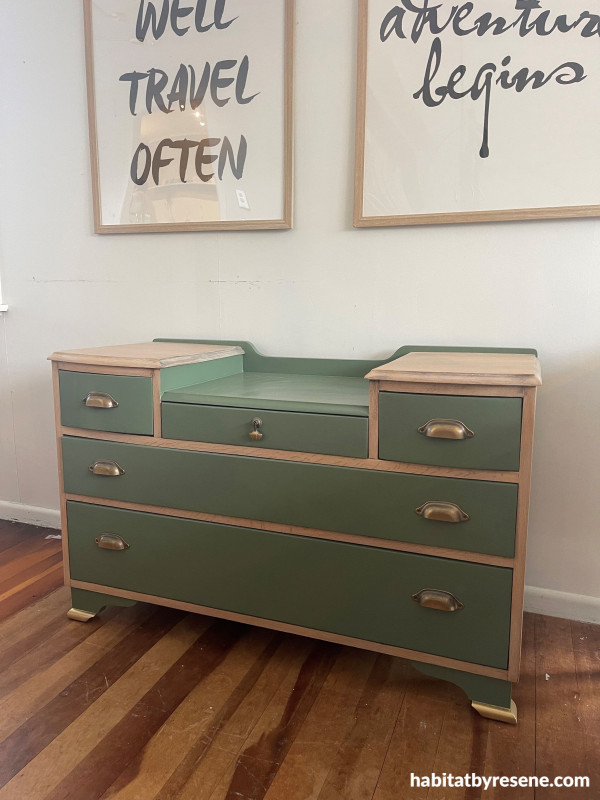 Angela chose a stunning colour for these oak drawers, Resene Rivergum, with the frame coated in Resene Colorwood Whitewash. The beautiful brass handles give these drawers a whole new look and co-ordinate perfectly with the natural colours.
With her healing hands, Angela has a love for rescuing pieces of the past. As a Resene Colour Consultant, she uses Resene paint she uses Resene paints on her projects because she trusts the systems and knows they work. From colours like Resene Rivergum, Resene Alabaster and Resene Blackjack, to using Resene Colorwood Greywash, Angela makes full use of Resene's colour range to bring these forgotten pieces back to life.
"I love repurposing something that may have otherwise been discarded and thrown away," says Angela. "It is something I am very passionate about. I feel a sense of responsibility to ensure that the furniture is finished to the best standard to make sure it brings joy for many decades to come."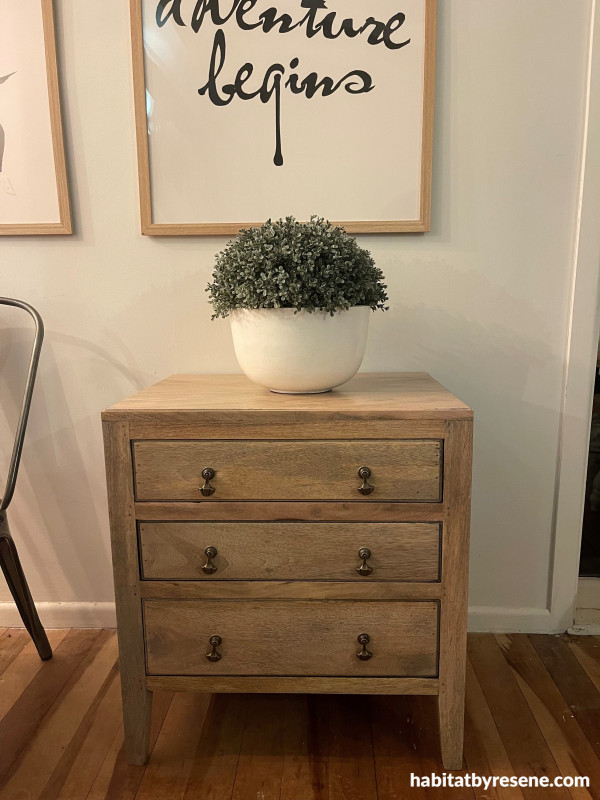 These old drawers have been turned into a Scandi modern delight, sanded and coated with Resene Colorwood Greywash.
When Angela opts for an all-natural look, she uses Resene Colorwood wood stains, opting for Resene Colorwood Greywash to give one set of wooden drawers a more muted and greywashed finish. Angela likes the variation and finish that wood stain offers when used on different timbers, giving her the option to experiment until she gets her desired level of darkness and depth.
"I see each piece as a piece of art. There are so many mediums available through Resene to bring each one together, from wallpapering sides of dressers with Resene Anaglypta wallpaper to using other Resene wallpapers for the inside of drawers to give them a really lush look," Angela says.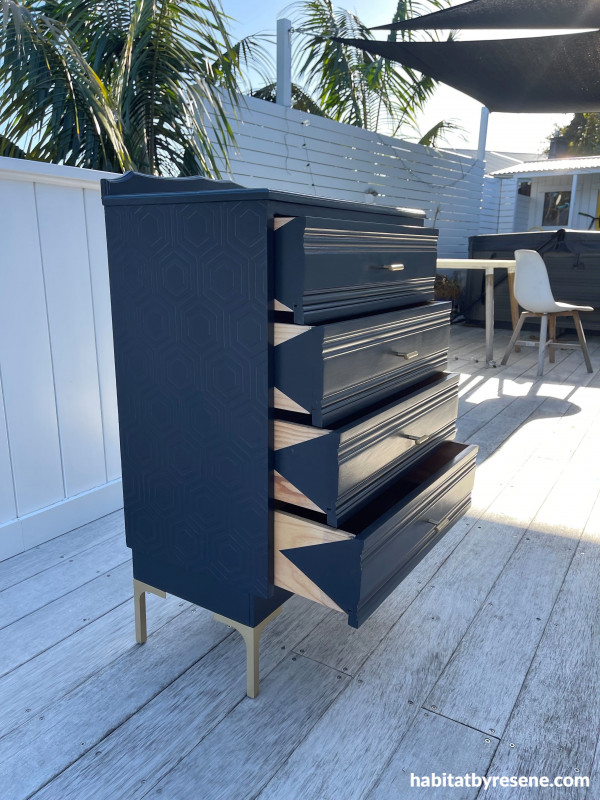 These bold and dramatic drawers feature Resene Anaglypta Wallpaper Collection RD5671 down the sides to add texture, and are painted in Resene Blackjack.
Important note: Have you spotted some treasures at your local second-hand store? It's good practice to carry out a lead-based test before you begin so you know what you are working with. If lead is present there will be some safety precautions you need to follow to ensure you don't inhale or touch it, and that you dispose of the lead paint correctly.
Angela's top tips:
Test for lead. A lead-based kit can be purchased at your nearest Resene ColorShop or if you can take in a drawer the staff will be happy to test it for you.
Always clean your furniture before sanding with Resene Interior Paintwork Cleaner to avoid embedding any dirt and grime further into the furniture.
Sand using the correct sanding tools, I use an orbital sander and usually start with 80 grit then 120 grit, followed by a 300 grit sandpaper for the top as this will be felt and appreciated for its smoother finish. Make sure you wipe off all sanding dust.
To prevent any bleed-through of painted topcoats, I recommend using Resene Wood Primer first as this is brilliant for blocking purposes. There is nothing worse than painting a piece and seeing yellow staining come through.
"If you have not refurbished anything before the best piece of advice is just start small," Angela says. If you can finish that first project, it will give you confidence to begin another and your own furniture journey will begin."
There is a huge range of furniture and treasures at your local Salvation Army store or thrift shop that you can upcycle and refresh with the help of Resene paint and products. With thousands of Resene colours to choose from there really are no limits. Have fun and get creative!
Get more inspiration from Angela's Instagram: https://www.instagram.com/diamond_in_the_rough123/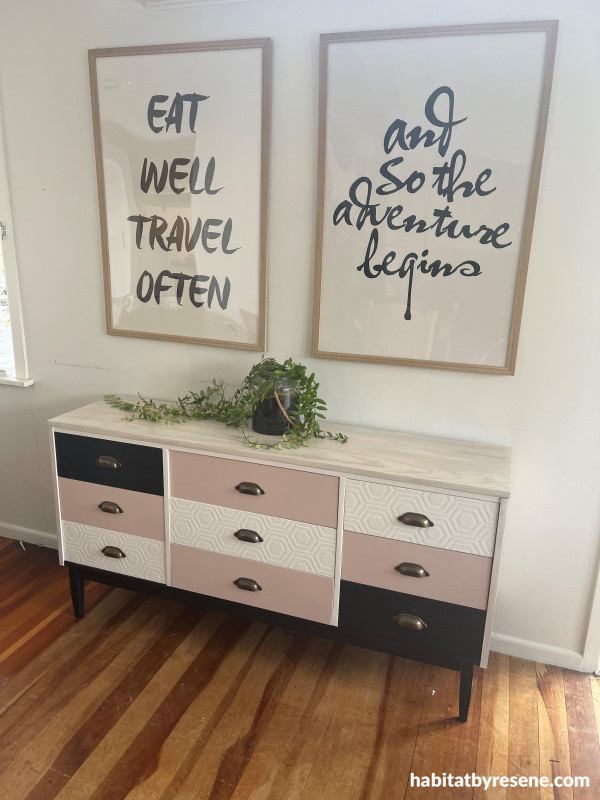 Choose colours to suit your home and palette like Angela has done with these pine drawers, painted with Resene Blackjack, Resene Blanched Pink and Resene Alabaster. The frame is coated in Resene Colorwood Whitewash.
Check out other upcycling projects you can try at https://www.resene.co.nz/upcycling-for-good/
Are you an upcycling wizard? We would love to see your work! Send us some snaps by emailing editor@habitatbyresene.co.nz
Published: 25 Jan 2023