►
◄
latest
habitat tv

blog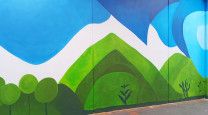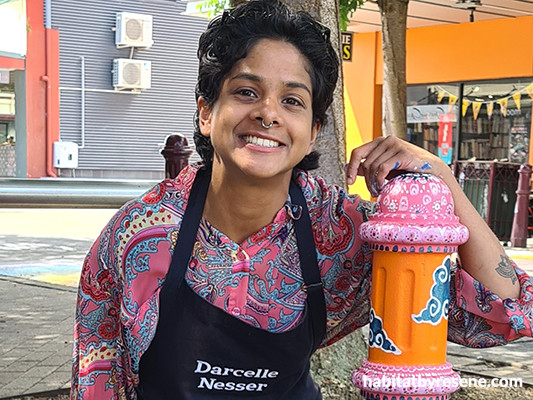 Darcelle Nesser's urban canvas
02 Mar 2023
The many bollards that line the streets in Palmerston North are now decorated with bright, vivid colours, telling stories of time, places and sentiments of life. Full-time radiation therapist, and part-time artist, Darcelle Nesser, uses Resene paints to bring colour to her local community.
"The most important aspect of my street art style is to make it visually striking," says Darcelle. "I want my street art to be bold and diverse, to give people variety to look at.""Even if it distracts someone for just half a second, I would be glad to have made that small impact to brighten up a moment in someone's day."
Darcelle enjoys painting out in the open, where she can brighten people's day. She says the Palmerston North City Council has been extremely supportive of her having creative freedom through public art.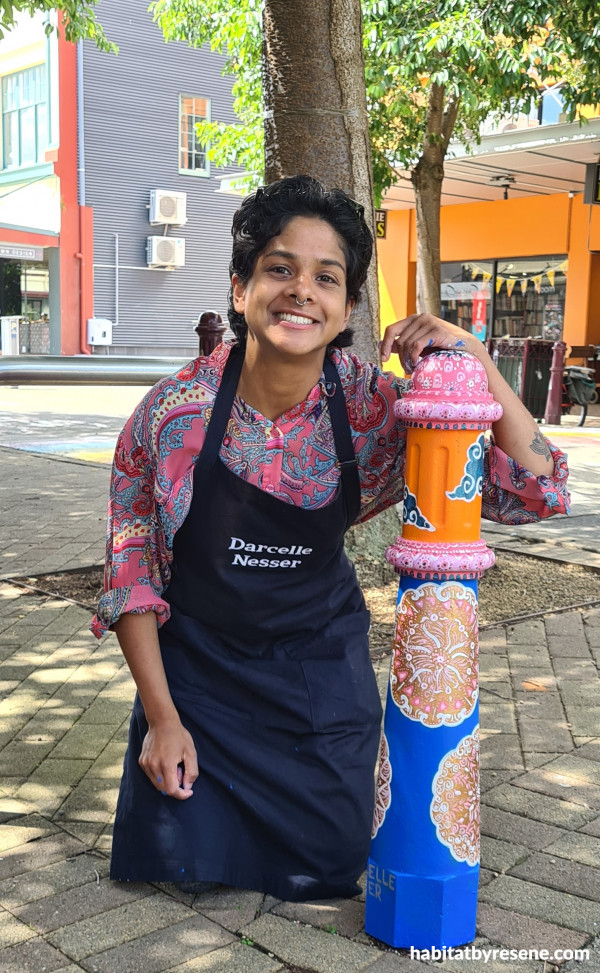 The talented Darcelle with her street art, painted in Resene Half Resolution Blue, Resene Outrageous, Resene Ballerina, Resene Bullion, Resene Slipstream, Resene Lucifer and Resene Cabaret.
Darcelle's street art is her donation back to the community. It all started on George Street last summer at the 'Sundays on George Street' fair.
"I really enjoyed integrating myself into the community, talking to the people and seeing how my art made them feel," says Darcelle.
"It is a different type of art that pushes me outside my comfort zone every day, being flexible creatively and adapting to the conditions of the environment. Art was always a very personal thing for me, but street art taught me how to become open to the idea of creative permanence, public perception, and limitations of time, weather, and being myself in such an open atmosphere."
Darcelle has spent time studying how different early civilisations used textile patterns to share stories with their community, noting that the colours, shapes and symbols are all things our ancestors have once used. Her inspiration and drive is to be able to give another person the opportunity to look at a collection of patterns and see if they can find a part of their own story in them.
"Each person has the power to define their own meaning of these colours, shapes, and concepts, using them as a visual expression of identity."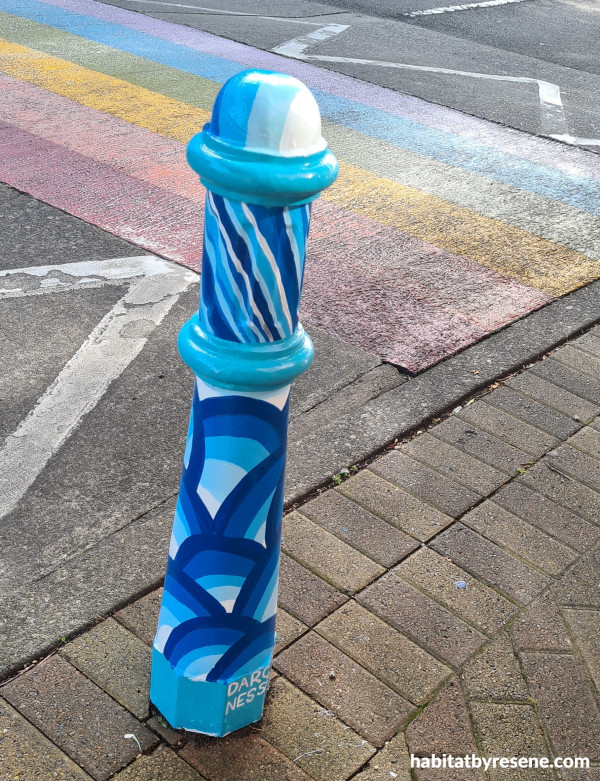 A stunning blue bollard painted in Resene Anakiwa, Resene White, Resene Picton Blue, Resene Endeavour, Resene Half Resolution Blue and Resene Bondi Blue.
Darcelle's love of Resene colours really began when visiting her local Resene Colour shop near where she was planning on painting in George St. What was originally a short trip to buy some paintbrushes and topcoats, soon saw her falling in love with the walls of countless Resene testpots, and the colour swatches.
Resene testpots were the perfect size for the small bollards lining the street, and, Darcelle had an abundance of options, saying that the colours popped out on the bollards as vibrantly she hoped.
"I kept going back for more," Darcelle says. "I developed a whole routine around the paint store each weekend when I was out doing street art. Each morning I would go to the Resene ColorShop, stare at the paint swatches wall, then find the colours that feel right for the day."
Darcelle makes up her designs as she goes, sometimes taking a coffee break to draft up some new ideas and designs for the rest of the day. Each of the designs has its own unique story and is significant to her in some way.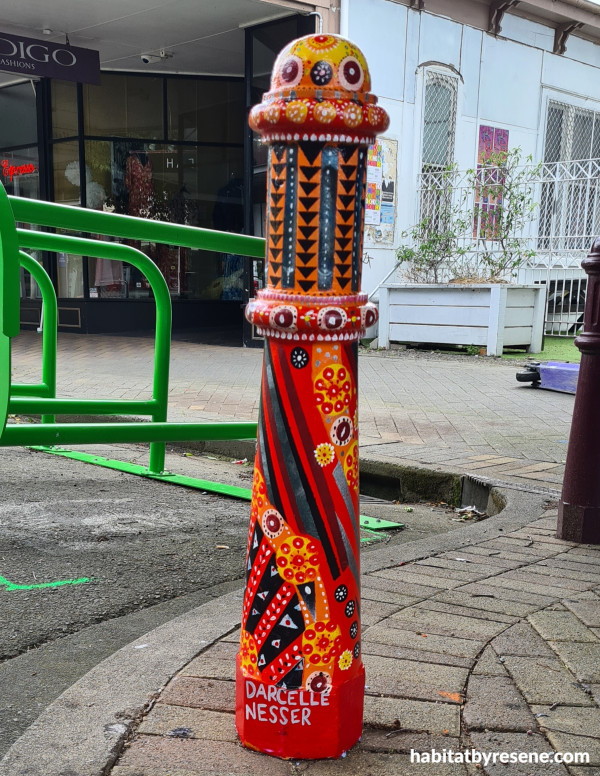 A favourite of Darcelle's, painted in Resene Havoc, Resene Nero, Resene Chilean Fire, Resene Turbo, Resene Lonestar, Resene Slipstream and Resene Pioneer.
One of her favourites is the red, yellow and black bollard, with infinite detailing. She put so much effort into this and enjoys that it makes people wonder about its many patterns and shapes.
Another of the artist's favourites is another red bollard, which unbeknown to many, has a hidden layer of gold – Resene Gold Dust – underneath.
"No one knows about the gold except for the people who saw me paint it, and the people who just found out now," says Darcelle.
"I share this now, because I want to remind everyone that the stories we hear and share, the history we understand of the world, and what is beneath the ground, is almost always invisible. And always, always, there is more to something than what we perceive of it.
"In fact, my favourite part of this street art project is that I make everything up on the spot. There have been times where I have repainted over my designs on the same day. Only the people that were there in that specific moment to witness it, are the only people to know about the changes that have been made."
"It is a rare moment to witness street art as it is happening. Those who stopped to ask got to find out more. Rare moments like these are what make street art a lot more fun. Everyone is so excited to be a part of the process and I love that."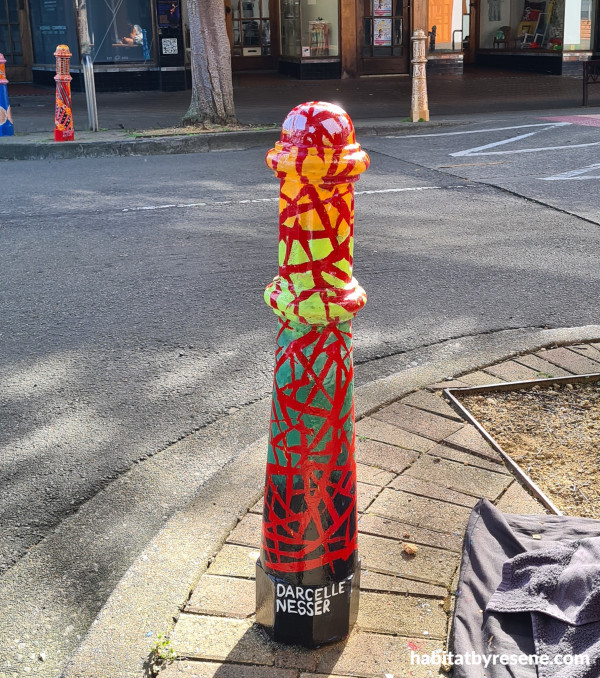 The artist's street art featuring her bollard with hidden gold within. Painted in her favourite Resene colour, Resene Jalapeno, along with Resene Wellywood, Resene Outrageous, Resene Green Pea, Resene Nero, Resene Perfume and the hidden layer of Resene Gold Dust metallic.
Darcelle can confidently say that her favourite Resene colour is Resene Jalapeno. She remembers her first stroke of the brush seeing this densely vivid shade and thinking how spectacular it was.
"It was as if I had stepped inside the very flame of a burning red pepper and then plucked out and plunged into a deep crimson lake of red velvety chocolate," she exclaims. "There are a lot of great colours from Resene, but Resene Jalapeno definitely elicited a strong feeling of great pleasure for me."
Darcelle says that her creative streak started a long time ago when she settled in Palmerston North. She began to write her own autobiography about her childhood in 2019, and because she did not remember much about it, she decided to paint what she could remember to be able to write about it better. That was when she realised she loves painting.
Darcelle hopes to start creating more income from her art so she can spend more time and resources making larger scale art pieces - both on the street and private commissions. Her current mediums include sculpting, oil painting, charcoal and acrylic painting with interests in ancient history, death, astrophysics, oceans, fruit and sunrises.
See Darcelle's current pieces: www.darcellen.com
Check out her Instagram: @riseofthepigeon
Published: 02 Mar 2023