►
◄
latest
habitat tv

blog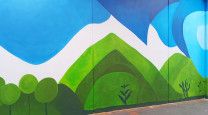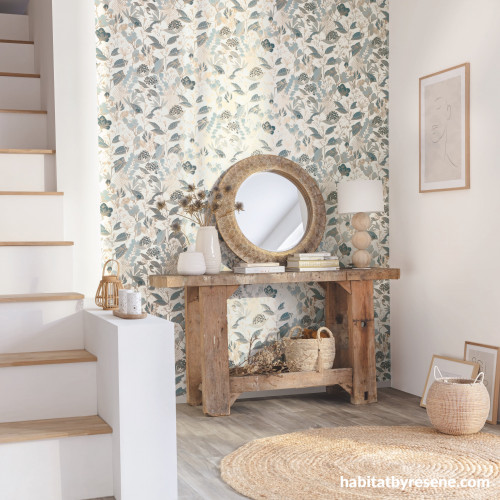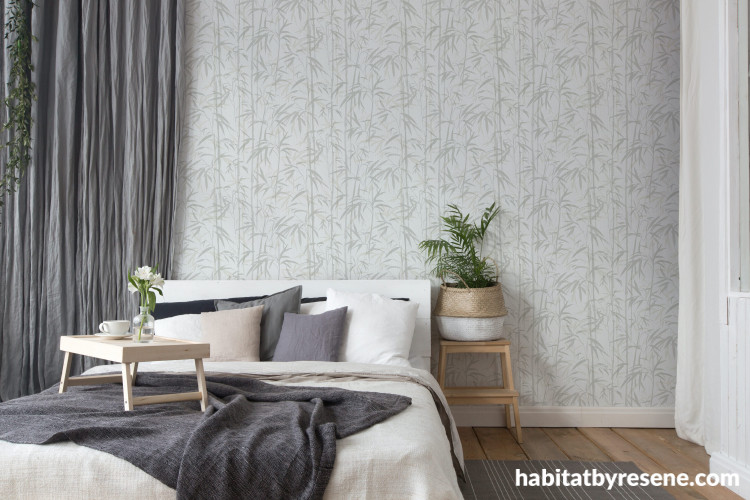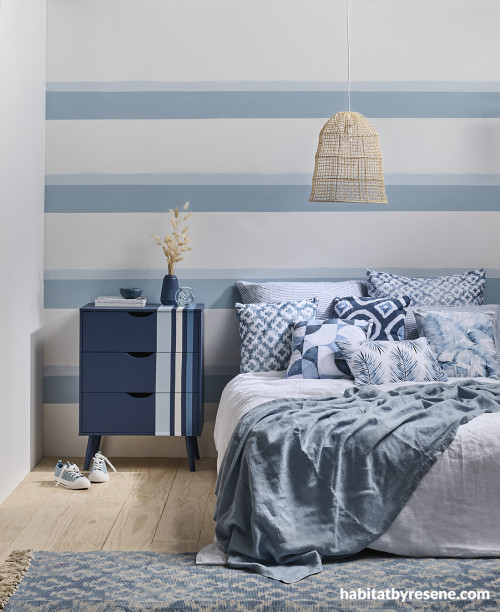 From bland to grand: Transform your space with a feature wall
Are the rooms in your home looking a little flat? Or maybe you're tired of seeing the same old colour on each wall? A feature wall might be just what your living room or bedroom needs for a quick, cost-effective refresh. Feature walls can add visual interest and depth to a space, creating a focal point and enhancing the overall style of any room. With thousands of Resene paint colours and a large Resene wallpaper collection to choose from, feature walls can also be a great way to express your creativity.
Cosy and sophisticated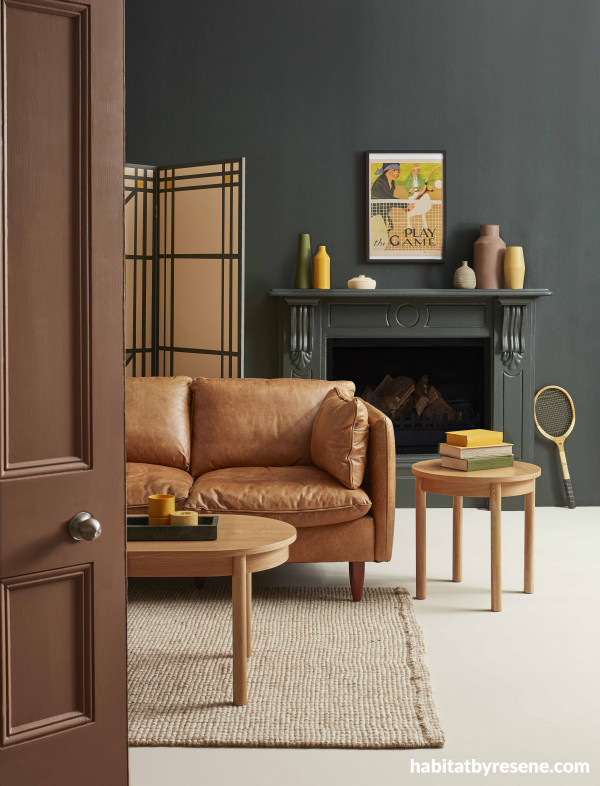 This warm wall and fireplace in Resene Midnight Moss is the perfect way to anchor a wintry colour palette. A light floor in Resene Half Fossil works well with accents and vases in Resene Black Forest, Resene Leather, Resene Rob Roy, Resene Clover, Resene Sushi, Resene Lightning Yellow and Resene Bandicoot. The elegant folding screen is in Resene Tequila with main accents in Resene Midnight Moss and faux stained glass in Resene Bandicoot, Resene Rob Roy and Resene Lightning Yellow adds extra visual interest. Sofa, rug, tables from Freedom, marble tray from H&M Home, 'Play the Game' poster from Pictorem, tennis racket from Junk & Disorderly. Project by Laura Lynn Johnston, image by Wendy Fenwick.
The right feature wall can be striking from the moment you enter the room. The rich shade of Resene Midnight Moss draws you in to its sophisticated and cosy edge. In the light of dusk with the fireplace lit and soft tan leather couches to sink into, this shade is perfect for those chilly winter nights indoors. Try this shade with neutrals like Resene Half Merino, a slight off-white, Resene Half Fossil, a warmer beige, or an Earl Grey-toned neutral like Resene Quarter Tea.
Gentle and serene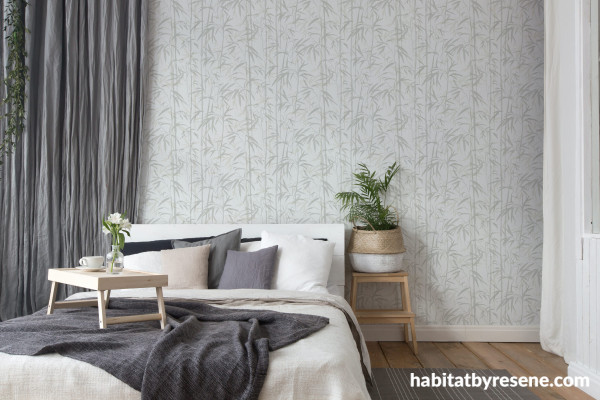 Escape into bliss with the gentle, soothing design of Resene Wallpaper Collection 379892, perfect for a bedroom or next to a bath where you can unwind from a busy day.
A feature wall doesn't have to be overwhelming or intensely colour saturated. The first thing you notice in this room is the soft, natural texture of the bamboo wallpaper. Subtle, with thin, vertical lines of bamboo stems and leaves running throughout the creamy grey background, giving the room a warm, inviting feel. Pattern inspired by the natural environment can create a serene and tranquil space, perfect for bedrooms and bathrooms where you need to relax after a busy day.
Try pairing this wallpaper with light greys like Resene Quarter Truffle or Resene Quarter Linen, or pale blues like Resene Breeze or Resene Quarter Frozen. Natural light plays beautifully with these soft colour tones, creating a peaceful ambience.
Beachy blues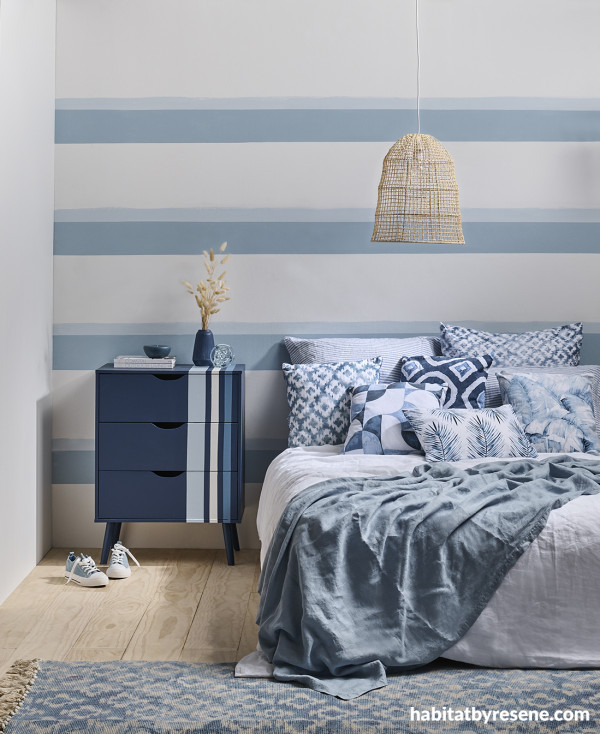 The shades of the seaside will help soothe you into a good night's sleep. This bedroom's rear wall is painted in Resene Alabaster with thick hand-painted stripes in Resene Frozen and narrow hand-painted stripes in Resene Quarter Frozen. The flooring is stained in Resene Colorwood Natural and the side table is Resene Kashmir Blue. Project by Vanessa Nouwens, image by Bryce Carleton.
The soothing sound of waves gently caressing the shore is one of the most tranquil and peaceful sounds to help you doze off. If relocating to the coast isn't an option, you can still recreate a calming beach vibe in your bedroom by incorporating relaxed lines, sand-toned wood finishes, and plenty of breezy blues – the colour that possesses inherent soothing properties.
The stripes here also work well with other clashing patterns in the soft furnishings, by keeping to a similar colour palette which keeps the look cohesive.
Soft grey blues like Resene Duck Egg Blue evoke a sense of freshness and calmness, whereas darker, stormier blues like Resene Navigate offer a cosier and comforting feel. If you're after a nautical theme, add pops of red, like Resene Pohutukawa and Resene Red Berry, and a subtle beige like Resene Ecru White.
To fully achieve the beachy aesthetic, consider incorporating weathered timber finishes stained with Resene Colorwood Whitewash or Resene Colorwood Natural, and embrace the laid-back relaxation of a bach holiday.
Golden hour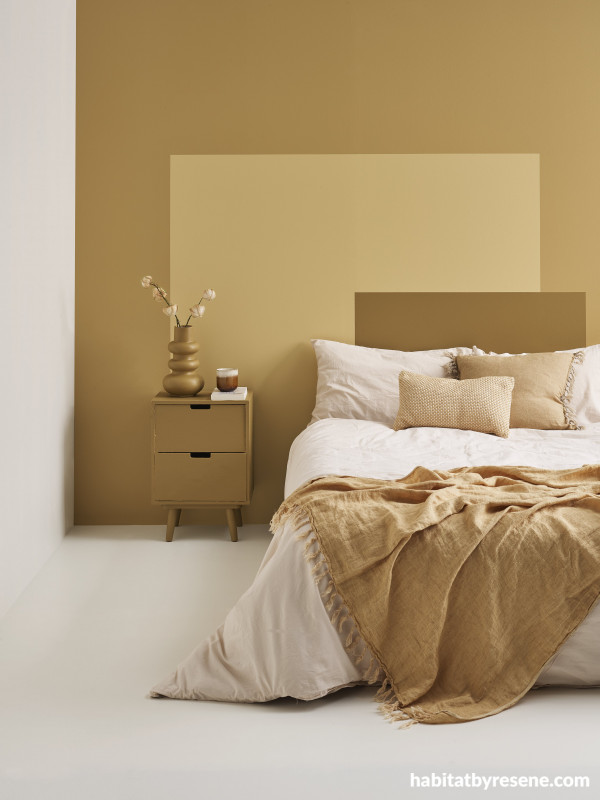 A lush display of golds and caramel, this feature wall is painted in Resene Papier Mache, Resene Putty and Resene Bullwhip. The floor and side wall are painted in Resene Rice Cake, bedside table and vase in Resene Bullwhip. Duvet, pillowcases, throw and fringed cushion from Adairs. All other items stylist's own. Project by Vanessa Nouwens, image by Wendy Fenwick.
Who needs a headboard when you can have a tonal block colour pattern on your wall. This three-tiered square design uses three different Resene colours which are then carried through to the bedding and décor for a cohesive look. The use of multiple shades of golden browns, ranging from light to dark, can add depth and dimension to the space. Incorporating whites and neutrals, such as such as Resene Thorndon Cream or Resene Quarter Spanish White, can balance out the richness of the browns and prevent the room from feeling too dark or overpowering.
Coastal calm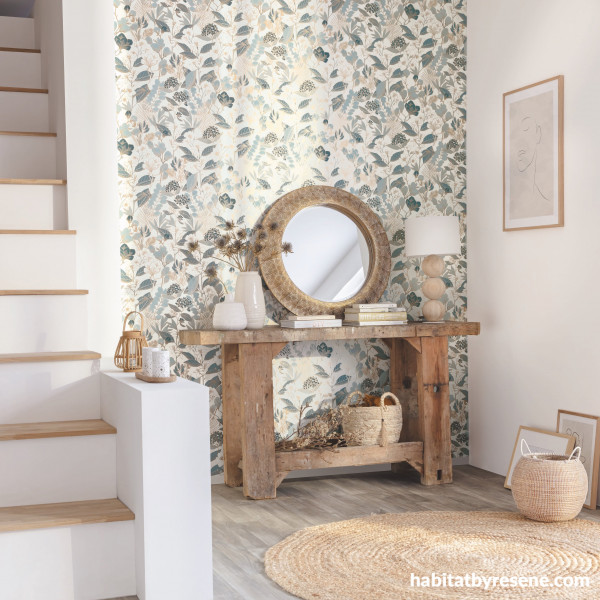 The serene shades in Resene Wallpaper Collection 102656260 are like a calm morning walk on the beach, pairing well with the neutral walls and wooden flooring and décor.
You don't have to live on the dunes to have a coastal home. Your interior style can be whatever you want, and a beachy atmosphere that blends the natural beauty of the outdoors with the comforts of indoor living, is an achievable look. This home entrance is so inviting, setting the scene for the rest of the home interior. The rawness of the wood and natural materials, with simple neutral paint colours and floral wallpaper, creates an effortless welcoming appeal. Pair it with timeless neutrals like Resene Merino, Resene Half Villa White and Resene Alabaster, paired with gorgeous wood stains like Resene Colorwood Whitewash or Resene Colorwood Breathe Easy.
When creating a feature wall, it's important to consider the overall style of the room and what you're trying to achieve. Then choose design features that complement it. Remember, the feature wall should enhance the room, not overwhelm it.
If you need some advice on paints or wallpapers head to your local Resene ColorShop or Ask a Resene Colour Expert online today!
Published: 22 Mar 2023
Do you have a home full of wonderful Resene paint and colour? Send us some snaps by emailing editor@habitatbyresene.co.nz.