►
◄
latest
habitat tv

blog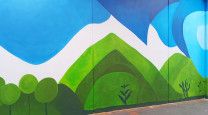 'Home sweet organised home' - Tips for decluttering in style
Having an organised home can do wonders for your mental and emotional well-being. You can still enjoy a peaceful and harmonious home without forsaking your favourite shades. With a bit of love, tips and colour from Resene, your previously cluttered spaces can become both tasteful and functional.
Smart spaces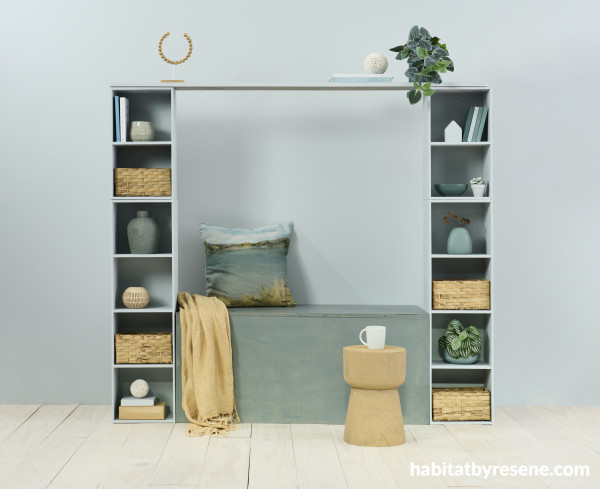 This once hectic corner is now calm and serene with walls and shelves painted in Resene Duck Egg Blue, flooring in ReseneColorwoodBreathe Easy, stool in ReseneColorwood Bask, bench seat in ReseneColorwood Rising Tide, books painted inResene Gold Coast, Resene Concrete,Resene Thor, Resene Conch, Resene Green Meets Blue and Resene Juniper, vases in Resene Thor and ReseneColorwood Rising Tide, bowl in Resene Green Meets Blue and beaded decoration in ReseneColorwood Bask. Shell ball and tealight holder from Indie Home Collective, cushion from Leopard Hall, throw from Adairs, mug from Sunday Homestore. Project by Vanessa Nouwens, image by Bryce Carleton.
When you have an oddly shaped or sized space and you can't find quite the right furniture to fit, or even if you just want your furniture to visually fit more seamlessly into your interior, custom joinery, like built-in banquets and bookshelves, is a superb option. Not only will these fit your room in a literal sense, but you can also ask for them to be painted or stained in a Resene colour to perfectly coordinate with your wall, floor, ceiling and decor hues.
This restful reading nook with walls and shelves painted in Resene Duck Egg Blue has layers of accent colours in soothing green-blue hues, making it the perfect place to curl up with a cuppa and a favourite read. Other colours that would fit seamlessly with this scheme are Resene Eau De Nil, a tranquil pale sea green, or for something darker, try Resene Inside Back.
This funky, functional entryway has space for everything. The walls are painted in Resene Alabaster, flooring in ReseneColorwood Mid Greywash, chest lid in Resene Desperado with base in Resene Putty, pegboard in Resene Neutral Bay, plant pot in Resene Pewter and vases in Resene Cleopatra and Resene Pewter. Pegboard from George & Willy, yellow handbag from H&M, cushion from Bolt of Cloth, scarf from Shut the Front Door. Project by Vanessa Nouwens, image by Bryce Carleton.
A tidy and organised entryway can make a great first impression on guests and can also help keep your home clean and clutter-free. Instead of the family coming inside and dumping shoes, jackets, keys and bags on the floor or that one pesky table, you can have a chest and shelves that are fit for each purpose. Your local second-hand store is likely to have some old shelves or chests, and with some Resene paint you can freshen them up and give them a new life.
Resene Neutral Bay is a lovely, serene shade, a great colour for when you arrive home from a busy day, or when welcoming in your guests. Try pairing this with a grey neutral like Resene Sea Fog, a muted green like Resene Spring Green, or a darker grey like Resene Rhino.
Bedroom solutions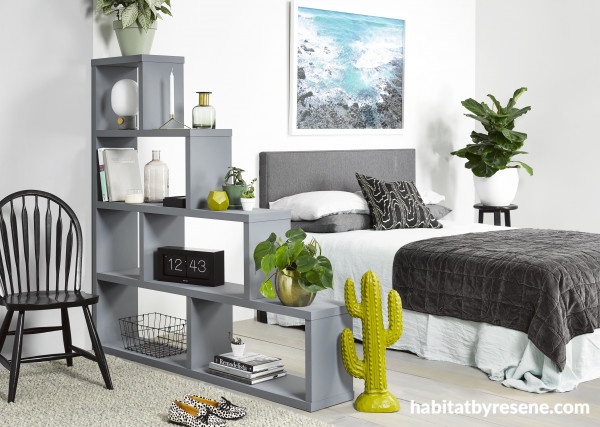 This well organised studio space is light and bright with walls painted in Resene Sea Fog and Resene Half Grey Chateau, shelving unit in Resene Steam Roller, floorboards in ReseneColorwoodGreywash, chair and plant stand in Resene Nero, top pot in Resene Organic, cactus and vase in Resene Grass Hopper. Bedlinen from Nest, bed and bedhead from Freedom, artwork by Amber Armitage, clock, smoky green vase, moccasins, quilt and cushion from Father Rabbit, lamp and black tray from Tim Webber. Project by Amber Armitage, image by Wendy Fenwick
Having a tidy space can reduce stress, increase productivity and create a sense of calm and order in our daily lives. When it comes to the bedroom, a clutter-free environment is especially important as it's where we relax and unwind at the end of a long day. When you have a small space, like a one bedroom or studio apartment, try using a shelving unit to divide the bedroom and living areas. Not only does it give you extra storage space, it will help you divide one large area into two smaller ones, making it easy to maintain a clutter-free space.
Paint your shelving divider the same colour as your wall so it blends seamlessly into the room, or use a darker colour to really enforce the division between the two spaces. If you have white walls, try a darker shade like Resene Rhino or Resene Nero, or if you're feeling creative and want some colour, try a gentle green like Resene Half Spanish Green or Resene Emerge.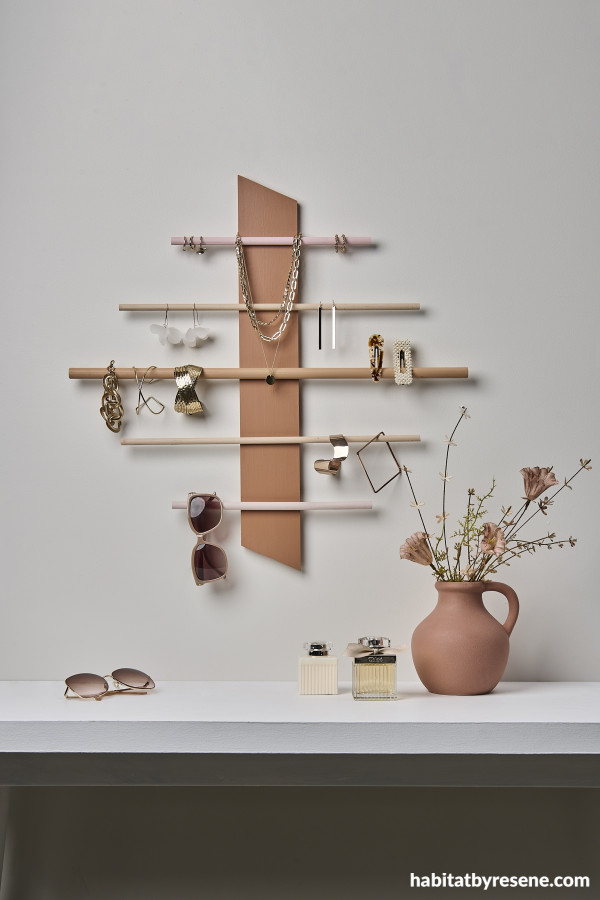 This jewellery hanger is chic and sophisticated, painted in Resene Kalgoorie Sands, Resene Cashmere, Resene Paper Doll, Resene Sante Fe and Resene Wafer. Wall in Resene Merino and console table in Resene Alabaster. Project by Vanessa Nouwens, image by Bryce Carleton.
If you often use the top of your dresser as a dumping ground for jewellery, sunglasses and keys, then this DIY jewellery hanger is the perfect solution. Not only will it tidy your dresser, you'll also never tangle a necklace again or misplace any precious pieces. Try burnt or terracotta colours like Resene Kalgoorie Sands andResene Tuscany, or choose gorgeous mellow blues like Resene Alaska or Resene Breathless.
Check out these easy steps to make it yourself: DIY jewellery hanger
Toy-tastic tidiness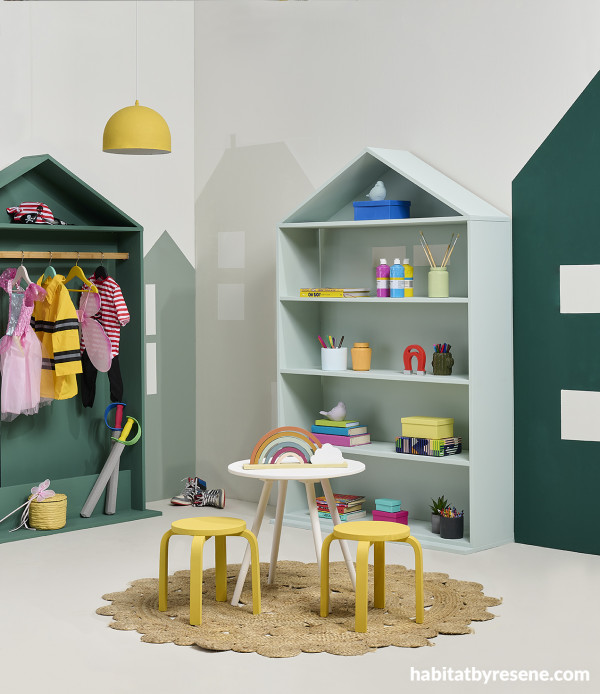 Imagination lives within this playroom with walls and flooring painted in Resene Merino with house shapes and house shelves in Resene Deep Teal, Resene Stromboli, Resene Triple Merino, Resene Blue Smoke and Resene Jet Stream. Table in Resene Merino, stools and lamp in Resene Galliano, boxes in Resene Scrumptious, Resene Java, Resene Tory Blue and Resene Gorse. Books in Resene Smitten, Resene Blue Lagoon and Resene Feijoa, basket in Resene Apache, jars in Resene Summer Green and Resene Sunshade. Pencil cup in Resene Opal, birds in Resene Abbey Road and Resene Opal, rainbow in Resene Tuscany, Resene Pendragon, Resene Rainee, Resene Juniper, Resene Mulberry and Resene Gelato, cloud in Resene Merino. House-shaped furniture and stools from Mocka. Project by Annick Larkin, image by Bryce Carleton.
Providing your kids with a special place to have fun, create and maybe even get a bit messy is one way to try and control the chaos as you slowly reclaim shared use of your main living areas. If you don't have a separate room, a corner will do. At its core, this play space has been simply furnished – which shows that you don't need to spend a lot of money to make an awesome space. The joy and whimsy of this space comes from creativity and colourful use of Resene paint, where an all-white, 'blank slate' room with walls in Resene Merino and a floor in Resene Triple Merino has been transformed in a charming cityscape.
Ask your children what colours they would like, if they have helped with the decision they are more likely to take ownership over the space and make it their own, putting things back where they belong. If your children are too young to choose, you could tie the colours to the theme of your home or try different combos like pinks and purples – Resene Biloba Flower and Resene Smitten – or blues – Resene Frozen or Resene Captain Cook or mix and match to suit.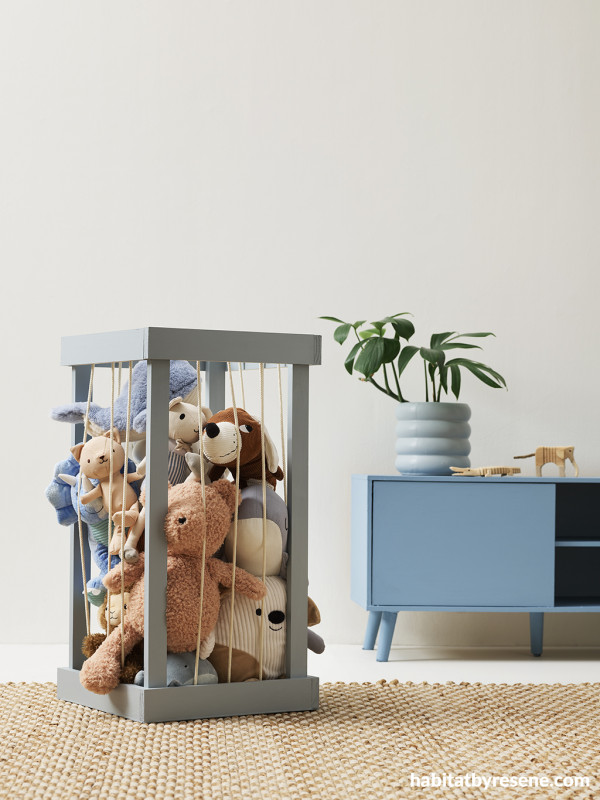 This practical and fun toy zoo is the perfect solution to keep those teddies safe and in one place. Try painting yours in Resene Half Silver Chalice, cabinet in Resene Blue Moon, plant pot in Resene Half Halcyon, walls and floor in Resene Triple Sea Fog. Project by Vanessa Nouwens, image by Bryce Carleton.
Ever notice your floor is a sea of soft toys? This toy zoo is a great way to give them a home, and they are still visible for your children to see! You can easily make your own at home, getting the kids involved to choose the colour and paint it and themselves. They could even paint some patterns or polka dots on there.
Many of us struggle with maintaining an organised home due to busy schedules, lack of motivation or simply not knowing where to start. Use these tips to get creative and colourful with clutter. For more advice on paint choices and projects, head to your local Resene ColorShop or Ask a Resene Colour Expert online.
Published: 04 Apr 2023
Do you have a home full of wonderful Resene paint and colour? Send us some snaps by emailing editor@habitatbyresene.co.nz.