►
◄
latest
habitat tv
blog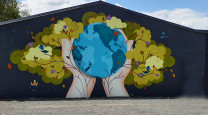 Jurassic world: This gorgeous home featuring four lush Resene greens was transformed in just six weeks
Vanessa's obsession with Resene colours started with an unlikely dinosaur green, transforming her stark white Christchurch home into an enigmatic, opulent space, a project showing first-hand the beauty that can come from trusting your imagination.
Rebuilt post-earthquakes in 2015, Vanessa was lucky enough to snap the house up in 2018 for her and her 11-year-old son, Alex, before house prices went on the rise in the Eastern suburbs of Christchurch. The original design featured white walls with white vinyl flooring, providing her with a literal blank canvas to personalise with her love for sumptuous Resene greens and golds.
Vanessa says she wanted to create an inviting space that also evokes comfort and warmth. She began by picking pieces of décor she liked before making big decorating decisions. "I spent time collecting décor such as pictures, cushions, throws, rugs and mirrors to create a theme, while I waited for the time, funds and to make decisions around wallpaper and paint choices for the entire house," she says.
Vanessa's first big interior choice, informing the colour palette, was what she refers to as the 'unapologetic' wallpaper for the master bedroom. She purchased Resene Wallpaper Collection 8-980 from the Resene Komar collection – starting a botanical green theme which would be continued throughout the home. The wallpaper rolls hid under the bed for three years before she was ready to settle on colour choices for the rest of her home!
A DIY disaster struck in early 2022 when an internal flood in the kitchen resulted in over 1000 litres of boiling water engulfing the majority of the house. The water luckily didn't reach the master bed and bathroom, which meant Vanessa could stay living at home, "even with nine industrial blowers going 24 hours per day for seven days to dry out the flooded areas," she quips.
A date for Vanessa's spinal reconstruction surgery created a deadline for the renovations and it quickly became 'go time' for the insurance company to replace the kitchen, flooring, and repaint all internal walls within a six-week window. After three years of 'umming and ahhing' over colours Vanessa had to make her decorating decisions at lightning speed.
Vanessa got to work. Taking inspiration from the cover of habitat by Resene 2022 Autumn/winter edition, Vanessa was drawn to Resene Jurassic. She decided to use it as the feature colour in the north-facing kitchen, dining room and lounge. "Resene Jurassic is deep and dusty, slightly muddy and evokes a feeling of a long-forgotten Jurassic landscape many million years ago when the dinosaurs roamed," Vanessa says. Coupled with new dark flooring, the kitchen was transformed into a space with a 'whiskey den' vibe. She ended up loving the sultry shade so much she also used it in the two bathrooms.
After the easy decision of using Resene Jurassic as the 'anchor', Vanessa searched for a base colour within the grey/green family to complement it. She was after a colour which wasn't too cold and dark, especially for the areas in the house that are low in natural light. Seeking advice from her local Resene ColorShop team, and going through multiple testpots and swatches, she ended up settling on Resene Half Secrets. "It's such an unusual colour, changing in different lights, you are left unsure what colour it really is – that is its mystery." This was used for the remaining walls in the house, including the master bedroom for a perfect complement against the wallpaper which Vanessa describes as "bold and contemporary yet romantic, dark and moody with huge dusky pink roses and sage green succulents bursting through a veil gold lace".
Continuing the feature wall theme and looking for colours that stay within the natural landscape family, moody grey-green Resene Half Innocence was the choice for Alex's bedroom. For the guest bedroom Vanessa opted for a dewy green, found in the aptly named Resene Haven. Like many renovators, Vanessa found once she'd started painting it was difficult to stop, so she used the leftover Resene Half Innocence to paint the furniture in both bedrooms, tying together the look.
Vanessa says she also fell in love with another colour spotted in a different issue of habitat magazine, Resene Indian Ink. It was the perfect dark hue to add depth to the lounge against the feature wall and antique furniture that she had recently purchased including an antique gold chaise lounge purchased from a local artisan business, Belish Boutique. Employing the midnight blue as an accent colour, Vanessa painted various items of lounge and dining room furniture including her grandmother's 1950s sewing table.
Vanessa, the Park and Finance Manager for Ferrymead Heritage Park, loves to mix antique and modern furniture, using eclectic items of décor such as busy prints, feathers and foliage to pay homage to the Victorian and Art Deco Great Gatsby styles she admires. "I gravitate to a mix of tactile and soothing textures, and the feeling of comfort and warmth a myriad of throws and pillows can provide, in complementary colours of gold, blues and greens," she says. Vanessa's biggest lesson is to "keep faith in your own imaginings and trust your meandering daydreaming, decisions and choices, regardless of if they do not fit the 'norm'."
Luckily, the painting was all completed in the nick of time before Vanessa went into surgery.
The result has transformed this home into a comforting space that she completely loves and now in recovery, is enjoying first-hand what she has created. "I could not be happier in such a unique and enveloping space, and I have to thank Resene for the inspiration and tools to be bold and create something individual that I love," says Vanessa.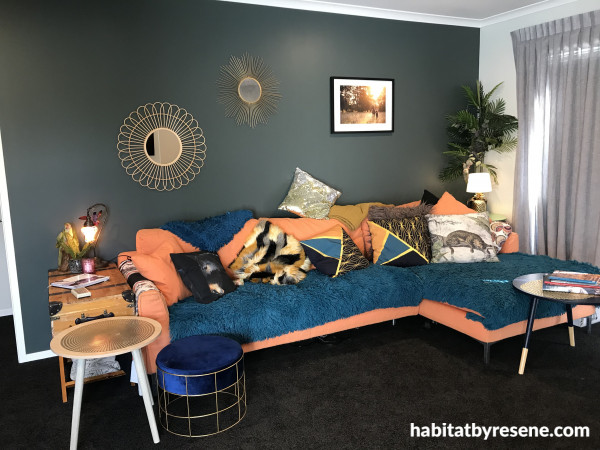 Resene Jurassic is the winning colour of the home, reminiscent of prehistoric times when combined with thoughtful textures and prints. Resene Alabaster is used on the trims and ceiling.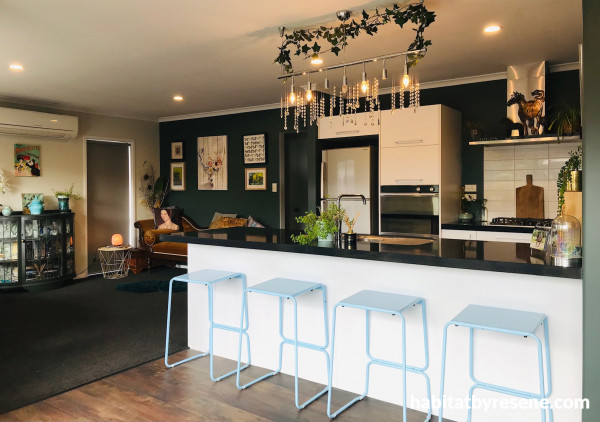 From stark white to sophisticated and moody, the kitchen and dining area has been transformed with Resene Jurassic on the walls, Resene Half Secrets on the left wall and Resene Alabaster on the ceilings and trims.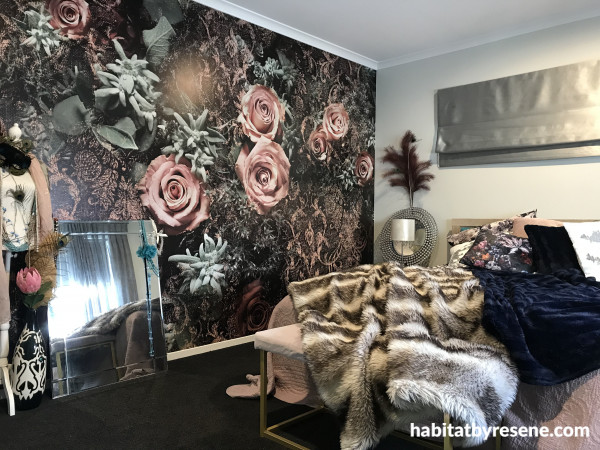 "Bold, sumptuous, moody and completely enveloping," Vanessa says about her favourite room of the house. The master bedroom features Resene Wallpaper Collection 8-980 as the feature, Resene Half Secrets on the remaining walls and Resene Alabaster on the trims and ceiling.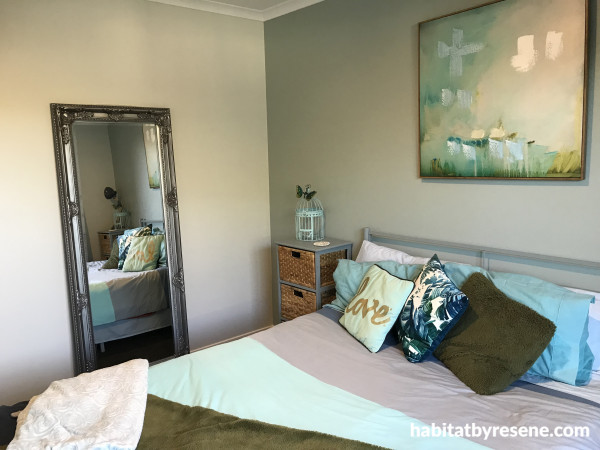 The guest room is inviting with subtle sage tones of Resene Haven painted on the walls and furniture painted in Resene Half Innocence. Ceiling and trims in Resene Alabaster.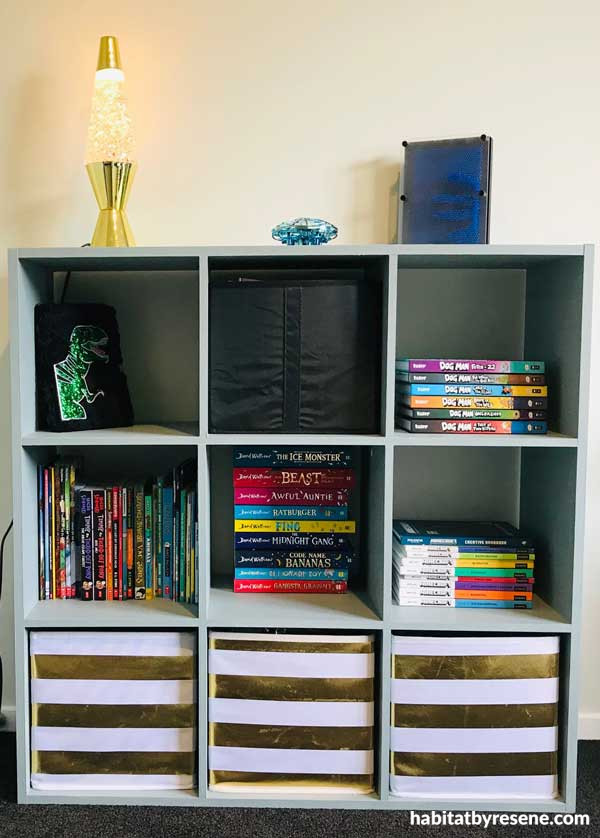 Vanessa revamped the white furniture in son Alex's bedroom with Resene Half Innocence. The wall is painted in Resene Half Secrets.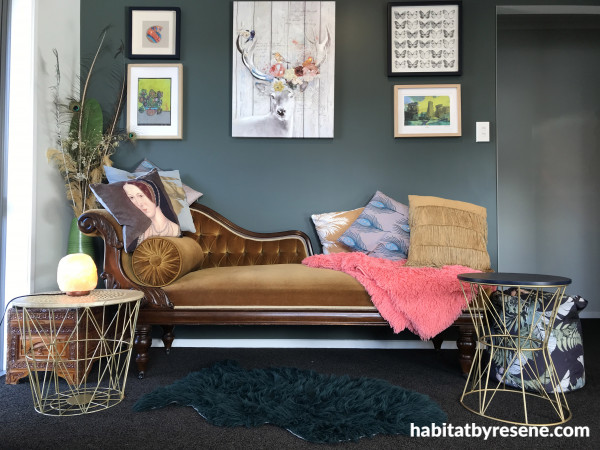 "Be bold, be brave, don't be afraid to create something that is completely your own to tell your story," says Vanessa. The antique chaise lounge is striking against a backdrop of Resene Jurassic, with right side table and top photo frames painted in Resene Indian Ink.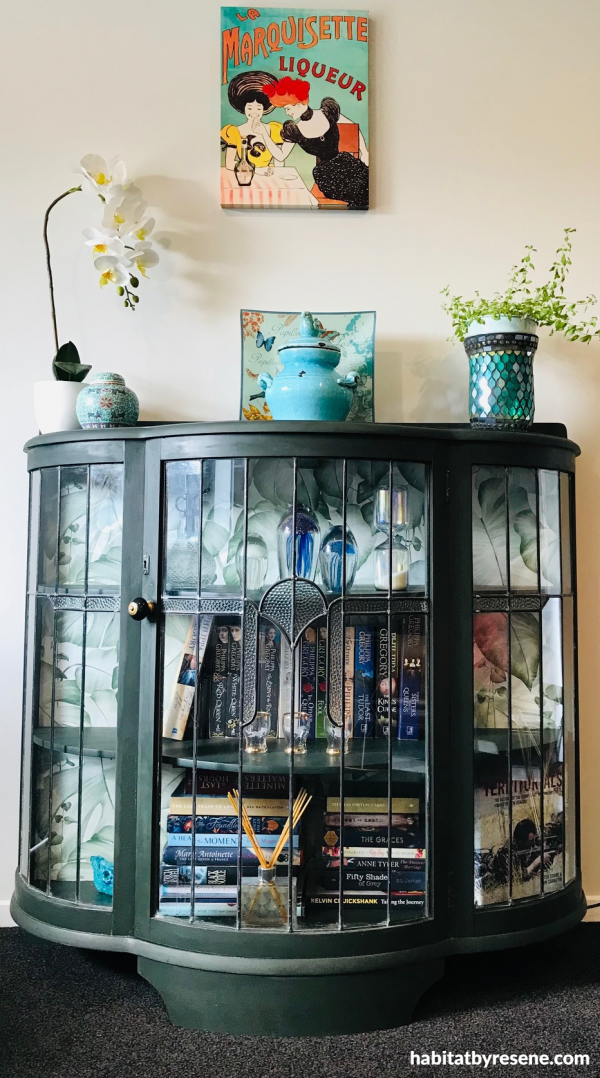 Vanessa found a bespoke glass china cabinet in a colour very similar to Resene Jurassic, placed against the backdrop of the wall painted in Resene Half Secrets, a shade described perfectly - "a whisper of the palest green and gold, enigmatically translucent in hue."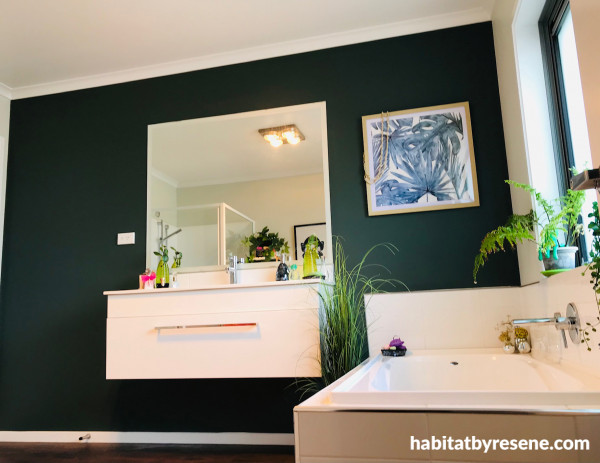 The main bathroom is a lush green paradise with the main wall painted in Resene Jurassic, remaining walls in Resene Half Secrets and ceiling and trims in Resene Alabaster
Published: 19 Oct 2022
Do you have a home full of wonderful Resene paint and colour? Send us some snaps by emailing editor@habitatbyresene.co.nz.
the look
If you're stuck on what
colour to use or need colour
advice, try out the Resene
Ask a Colour Expert service.