►
◄
latest
habitat tv
blog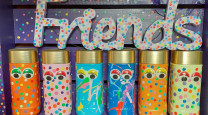 Kate and Nick's Meadowbank home is a vision of light and movement
As the owner of Williams Road, a furniture company that creates beautiful commercial fit-outs, homeowner Kate definitely has a strong sense of style – one that set the vision for the extensive renovation of her and husband Nick's beautiful Meadowbank home. With the help of a classic Resene colour, their new open plan layout is a light-bathed haven that facilitates flow for everyday living and entertaining a crowd.
At the helm of the overall redesign was Kate Shanahan of Kate Shanahan Interiors. She brought in Kristen Basra, award-winning Creative Director of Spatial Studio, to focus specifically on the kitchen area. The duo helped the homeowners turn their vision into a reality, injecting new life into the space and flexing their technical and space planning prowess to completely restructure the layout. The project took just over a year to complete, and the result of their collaborative efforts and thoughtful attention to detail is a home that works seamlessly for the couple and their three busy children.
Published: 22 Jan 2020
Do you have a home full of wonderful Resene paint and colour? Send us some snaps by emailing editor@habitatbyresene.co.nz.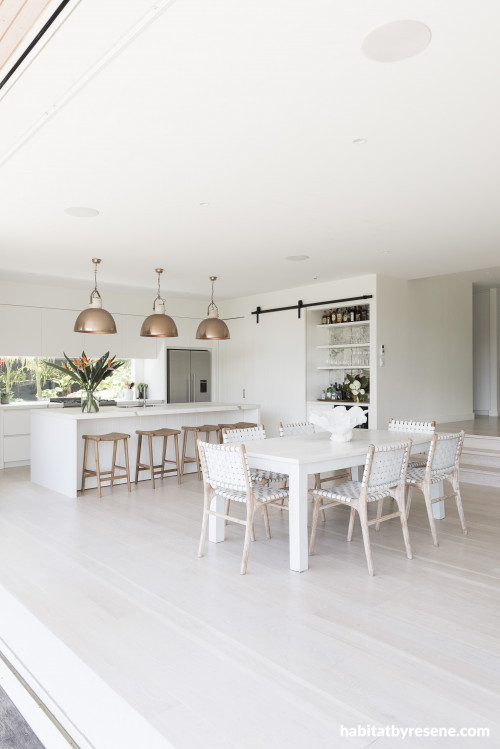 During the cooler months, wall-length glass doors in Kate and Nick's home provide a sweeping view of the backyard. But when it's warm out, the doors can be opened fully to allow for a seamless indoor-outdoor living space. The kitchen and dining space are painted Resene Eighth Rice Cake, a warm and inviting white, from top to bottom.
Kate knew going into the project that her client was very design-focused and had a clearly defined concept for what she wanted her home to become. "She wanted a tropical/palm beach feel with a touch of glam." They opted for Resene Eighth Rice Cake throughout the home, a warm and inviting white which sets the scene for what is now a sleek, contemporary beachy aesthetic.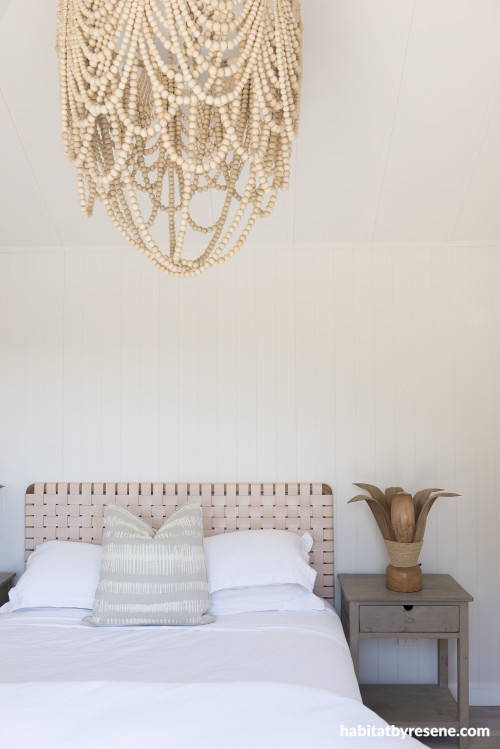 Natural light floods throughout Kate and Nick's home, with this bedroom looking angelic with walls, trims and ceiling in Resene Eighth Rice Cake. The woven leather headboard is very on trend, it's nude hue balancing well with the grey washed wooden bedside table and flooring. To get a similar look, try staining your timber furniture and flooring in Resene Colorwood Mid Greywash.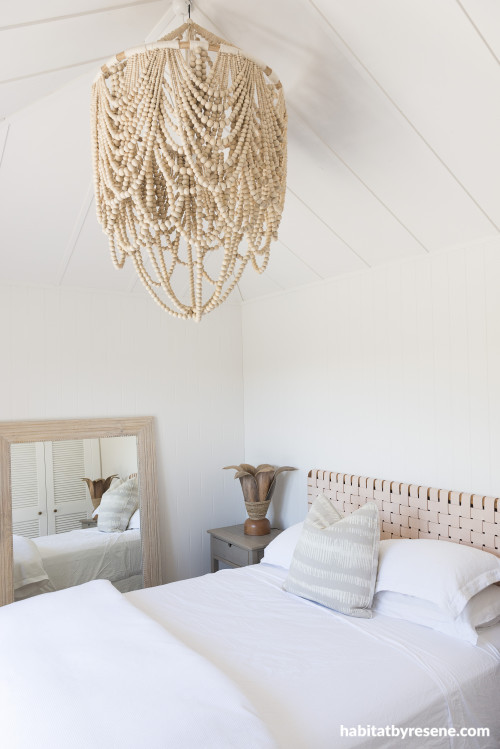 Whites are eternally charming options for bedrooms, but you can also create a warmer neutral look with soft sandy tones. Try walls in Resene Sidecar or Resene Astra, with beachy-coloured accessories in Resene Foam and Resene Onahau. Or, try Resene Eighth Rice Cake, which was used for the walls and ceilings of this bedroom.
Of all the home's elegant design features, Kate is particularly impressed with the open plan living, dining and kitchen area, which was given the golden touch by Kristen. "You cannot beat light, and this room feels lovely and tropical with the indoor outdoor flow. Kristen's work in the kitchen tied in seamlessly with my design," she says.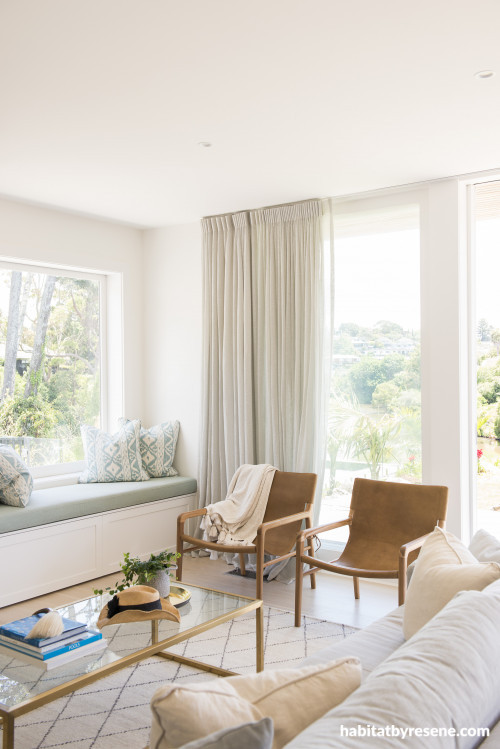 Resene Eighth Rice Cake, seen here on the walls, ceiling and trims, is the perfect neutral white, allowing the natural light to really shine through. This living space has been lovingly filled with an art deco glass coffee table, a built-in window seat and warm touches of caramel through the two chic chairs. Try pairing Resene Eighth Rice Cake walls with timber flooring in Resene Colorwood Natural wood stain, accents in a sea glass shade such as Resene Jet Stream and chairs in Resene Leather for a similar look.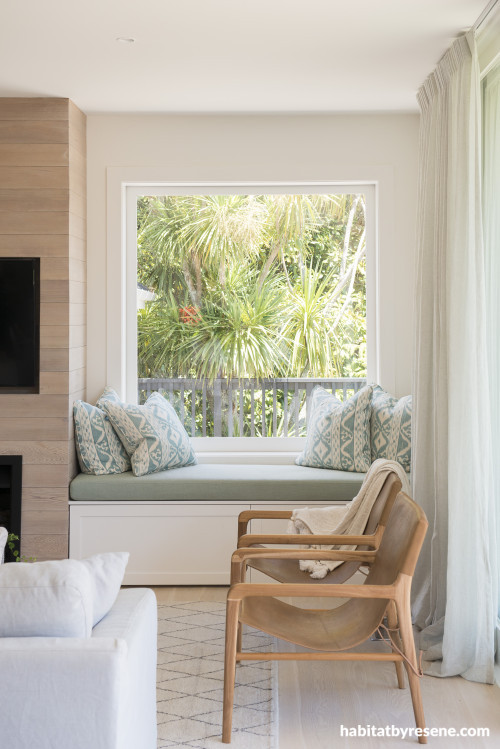 The decision to use Resene Eighth Rice Cake ended up being right on the money. The beautiful, rich nature outside really shines through the large glass doors and windows, and is met without resistance by the neutral colour scheme. Try staining a timber fireplace surround in Resene Colorwood Mid Greywash and bring in cushions and other accents in Resene Jet Stream for a similar look.
It's easy to see why the open plan living space is a favourite in the home, with Kristen's light, fresh and atmospheric design glowing from every viewpoint. "My task was to refine and create Kate's vision. Clever use of space with maximising storage and fit for night entertaining as well as busy mornings with the children," says Kristen.
It's clear just how much love and attention the open plan space was given, with many aspects requiring special effort, such as the style of the v-groove doors. The spacing between the grooves needed to look similar from cabinet to cabinet, regardless of differences in widths, and proportion was crucial in order to maintain the feeling of spaciousness.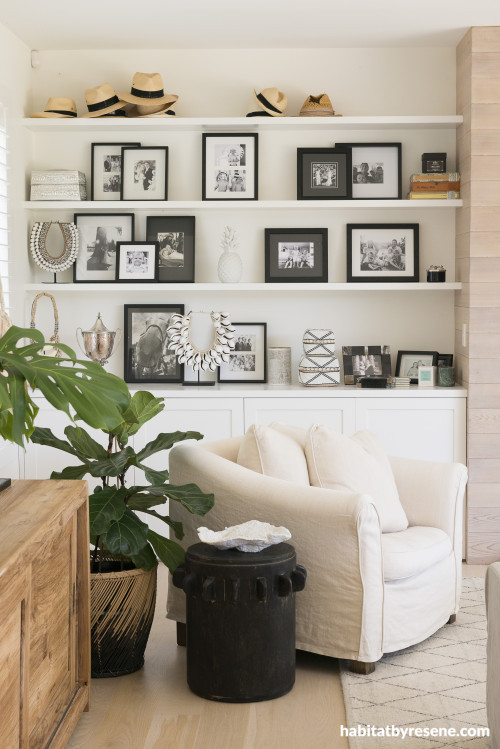 The walls and shelves in Kate and Nick's open plan living area are painted Resene Eighth Rice Cake, an extremely versatile warm white. To get a similar look to this refreshing, classic room, go with a feature wall, trims and attached shelving and cabinetry in other crisp whites like Resene Umber White, Resene Island Spice or Resene China Ivory. Give surrounding walls a deeper flourish in Resene Sandbar or Resene Chamois. For flooring, go with Resene Colorwood Matai. Bring in some bold contrasts with stools, side tables and planters in Resene Jaguar or Resene Blackjack, or try a warm, dark brown like Resene Sepia.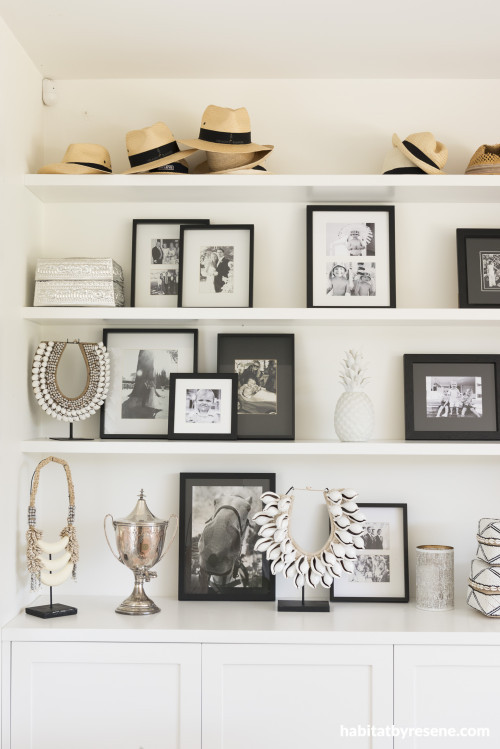 Kate and Nick's stylish shelving is painted in Resene Eighth Rice Cake, blending in with the rest of the space, including the ceiling and the walls behind it, which are painted the same hue. Alternatively, to make shelving in your home pop against a neutral backdrop, go with contrasting tones like Resene Bastille or Resene Foundry, before introducing accessories in lighter tones like Resene Snow Drift or Resene Half Milk Punch.
A lot of time was spent planning the layout of the kitchen to find a solution that best suited Kate and Nick's lifestyle. "Larger cutlery and crockery drawers were more important to them than the position of the bins and dishwasher, which resulted in a highly customised layout that was unique to the homeowner's needs," says Kristen.
"In the bar area, I suggested an antique mirror to break up the white-on-white and lend an aged, lived in feel to the space. It also helped soften the heavy barn door by balancing it with something else that was noticeable and of a larger scale."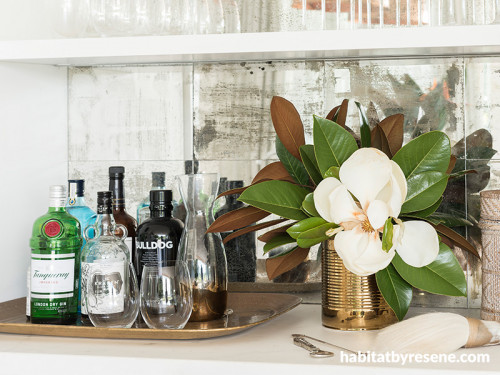 Kristen recommended the inclusion of an antique mirror behind the built-in kitchen bar to break up the whiteness of the space by reflecting the backyard greenery and give the room more of a lived in look. The feature was also designed so that it can be hidden away behind sliding barn doors. The shelves, cabinetry and surrounding walls are all painted Resene Eighth Rice Cake.
Top to toe in Resene Eighth Rice Cake, the finished space feels warm and has a touch of glamour, thanks to the eye-catching rose gold dome pendant lamps.
For those looking to achieve a similar look with an all-white kitchen, Kristen stresses the importance of proportionality and balance with other surrounding textures. "Lines draw the eyes in visually, so having too many lines on the cabinet doors would have made the v-groove detail into a distraction. And the larger the span of cabinetry, the better the continuity."
designers Kate Shanahan, Kate Shanahan Interiors; Kristen Basra, Spatial Studio
imagesHelen Bankers