►
◄
latest
habitat tv
blog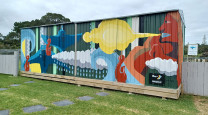 The most overlooked element in nearly every home renovation
Lighting has a drastic effect on your paint colour choices – to the point that you really should be considering your lighting before, or at the latest, when you pick your colour palette.
Unfortunately, lighting is often approached as an after-thought when people are decorating their own spaces. The big trouble in waiting until the end to decide on lighting is that, when the bulk of the design work has been done and homeowners finally start picking their light fixtures, it can be considerably more expensive to have to back track to get things right.
"It's a really critical interior consideration to make sure your lighting is correct, and it needs to respond to how you and your family live within each area – whether that be task lighting over a kitchen, highlighting a favourite piece of art or whether it eliminates hazards by operating on a sensor," says interior designer Anna Major of Haus of Design.
"It's often that most people don't understand the amount of technology, wiring and time it takes to install a light, and how impossible it can be to just "hang a pendant over the kitchen" when the wiring hasn't previously been put in. Most interior designers know that the real magic happens behind the plasterboard, so planning and position is critical.
Lighting is also something that can feel like an unwanted expense when renovating or building a new home. "It all feels so expensive," she says, "and as the end of the project nears, and the bills all start to add up, you feel like lighting is something that can be sacrificed. Trust me – you shouldn't."
"Since lighting is a major sensory factor, you'll need to think about it carefully as you'll likely want your home to feel inviting and liveable. Little splurges here or there will save expensive wiring add-ins later on down the line and, in the meantime, will make you feel so much more comfortable."
Published: 02 May 2019
Do you have a home full of wonderful Resene paint and colour? Send us some snaps by emailing editor@habitatbyresene.co.nz.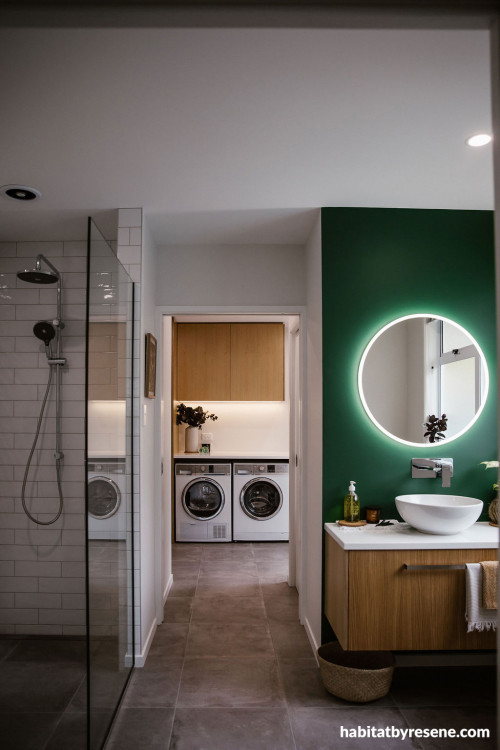 Interior designer Anna Major of Haus of Design is a big advocate of properly lit interiors and considers it a critical component of her design. In this client's bathroom, this LED-edged mirror provides additional lighting for grooming while the under-cabinet lights in the laundry illuminate the folding counter. The accent wall is painted Resene Kaitoke Green, the rest of the walls are in Resene Merino and all the doors, trims and ceiling are in Resene Alabaster.
When it comes to making decisions about paint colours, Anna says that you need to take into account the way that electric lighting can change colour as well of the effects of direct natural sunlight. She recommends visiting your local lighting shop and ask to the see the difference in lighting temperatures and bulb types.
"LEDs are the most commonly used these days, and are the recommended choice, so the lighting temperature you need to look at will be 3000k for a warm white, 4000k for a day/natural white or 6000k for a cool white. The other huge factor here is the lumens, which is the strength of light output. Most people believe that the warm white is duller than cool white, when in actual fact so long as both lights are equal value in terms of lumens, then they should be the same strength of light."
While it may seem like a lot of small details to take into account, it's important to understand that they can make a huge impact on your paint colour choices and the way your home feels.
"If you choose a warm, cream-toned wall colour – such as Resene Villa White – and also have warm white lighting, the warm tones in the paint will be amplified to the point where your walls will look buttery." To avoid that effect, she suggests that homeowners balance warmer paint tones with cooler lighting so that you end up with a fairly neutral paint tone from day to night. "Of course, the opposite is also true – if you want to have warmer lighting in a living area, choose a cooler toned colour for the walls, such as Resene Sea Fog, so that they will blend well together."
The simplest method of doing this is to trial your sample colours in their actual setting at different times of the day and night. Using the entire contents of a Resene testpot, paint an A2-sized piece of cardboard in two coats, leaving an unpainted border around the outside. Each time you enter the room, move it to a new spot so that you can get a sense of what the colour looks like as the light changes. Be sure to look at it with the lights turned both on and off as well before coming to a decision.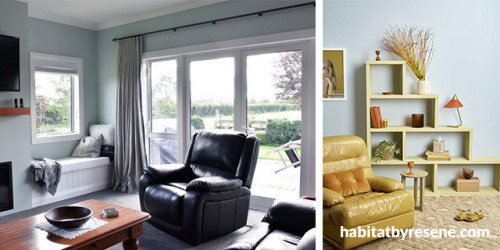 In this Waikato lounge (left), perenially popular Resene Half Duck Egg Blue looks entirely different in natural ambient lighting than it does in the lounge on the right, which is electrically lit. The other colours in the palette also affect the way the colour looks.
It's important to keep in mind, too, that there are three different types of lighting that need to be considered – ambient, task and accent. You'll need to pick the right mix of fixtures to ensure the needs of the room are met and the lighting is effective for all the activities that will be taking place there.
Ambient lighting is the even, overall light within a room such as recessed lights or a chandelier. Anna says it's a smart idea to choose dimmer switches for these lights so that you can easily adjust the lighting level based on the time of day or mood you'd like to create.
"The lighting you select in a space really needs to be appropriate for the design. For example, in a residential home, the option to have dimmable lighting in the bedroom will have a big impact on your ability to wind down and relax, versus having full brightness LED task lighting on all night until you turn it off."
For even more control, you can even have a professional install multiple circuits in a room so you can dim some lights while keeping others brighter.
Task lighting is important when performing specific tasks, such as reading, doing homework, cooking or getting ready in the bathroom. Table and floor lamps are perfect for this purpose in living areas and bedrooms. In the kitchen, you could add pendant lamps and under cabinet lighting to illuminate cooking and food prep areas. In a work or study area, try a task lamp with a manoeuvrable arm that can be directed on to what you're reading and away from computer screens.
Accent lighting highlights specific areas, objects or architectural focal points within a room to bring attention to it. Classic track lighting and picture lights are often used to provide accent lighting.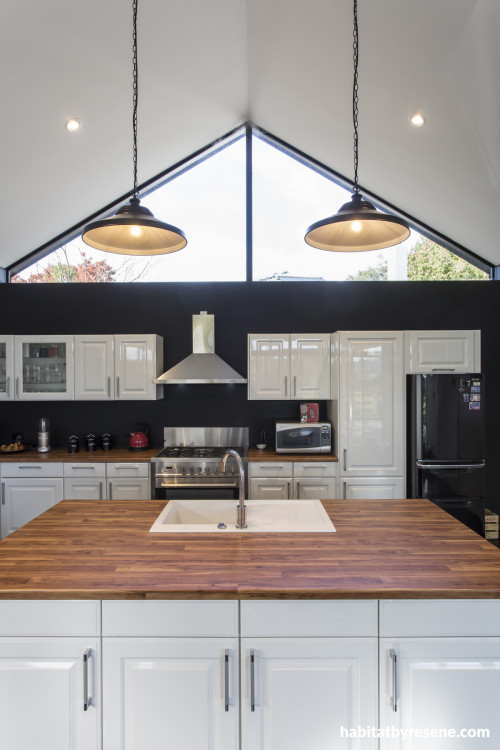 Skylights and clerestory windows, like in this house designed by Warnock Architecture, can provide additional ambient lighting and have a substantial effect on the mood and colour of this kitchen, which is painted Resene Nero and Resene Half White Pointer. The recessed lights are another example of ambient lighting, whereas the pendant lamps serve primarily as task lighting.
Another significant issue that can arise when lighting isn't considered at the forefront of your design planning is that you'll need a dedicated portion of your budget set aside to do it properly to avoid overspending.
When budgeting for lighting as part of your décor spending, Anna estimates that it's reasonable to budget for:
$250-$350 per pendant lamp*;
$30-$50 per down light*;
$150-$250 per wall light or sconce*; and
$200 per table or floor lamp.
*Plus electrical labour/install costs, which vary greatly depending on your needs and whether you are renovation, retrofitting or building new.
She says that these figures are based on market medians and can vary a lot depending on personal taste, but that beautifully lit interiors are achievable at these price points.
Another consideration that is frequently omitted during home design is details like switch plates as they often go seemingly unnoticed in the overall decor. Despite this, these small accents can help define the overall feel of a room and bring a sense of consistency throughout the home.
Luckily, there is a wide variety of styles and setups to choose, from traditional to minimal, so that you can decide how much ornamentation or simplicity you want from your plates.
To help get you started, PDL by Schneider Electric has put together a few mood boards that match some of their most popular switch plates to on-trend Resene colours.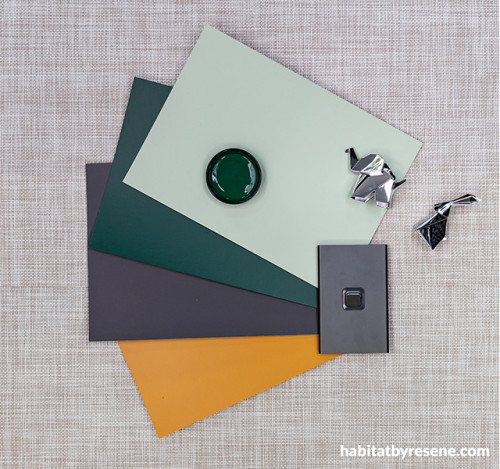 With LED push-buttons, Saturn Zen™ makes it easier to locate switches in the dark. It's shown here in Matt Black along with A4 drawdown paint swatches (from top to bottom) in Resene Secrets, Resene Family Tree, Resene Porter and Resene Thumbs Up.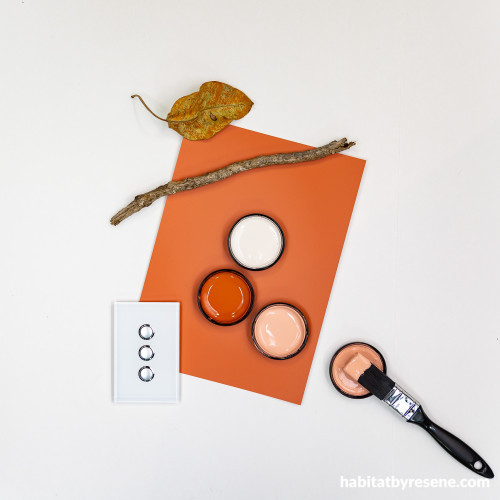 With micro controller-based technology, the Saturn OneTouch™ dimmer is perfect for dimming and switching LED lights from up to three different locations. Here, it's shown in Pure White with A4 drawdown paint swatches in Resene Sunbaked and Resene testpots (from top to bottom) in Resene Alabaster,Resene Despacito and Resene Soulful.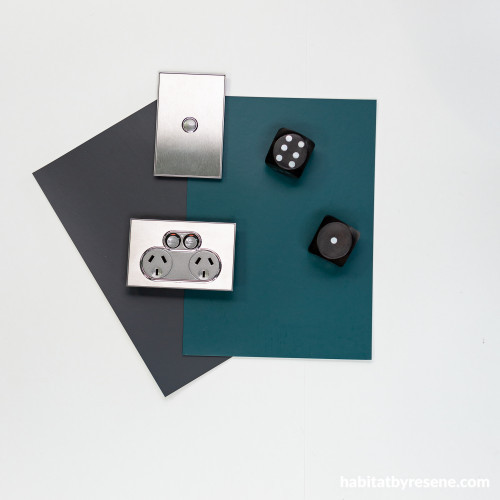 The Saturn Horizon™ range has a popular textural metallic finish and a flat, square edge design that will complement just about any modern interior. It's shown here in Horizon Silver along with A4 drawdown paint swatches in Resene Porter (left) and Resene Fast Forward (right).
If you're challenged to find the right ones, you can try PDL's Find Your Style tool and, as an added bonus, be in to win a wonderful facelift for your home – including a $500 Resene paint voucher. Learn more here.
imagesAnna Major, Bryce Carleton, Warnock Architecture, Jessica Judge, PDL by Schneider Electric