►
◄
latest
habitat tv

blog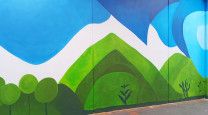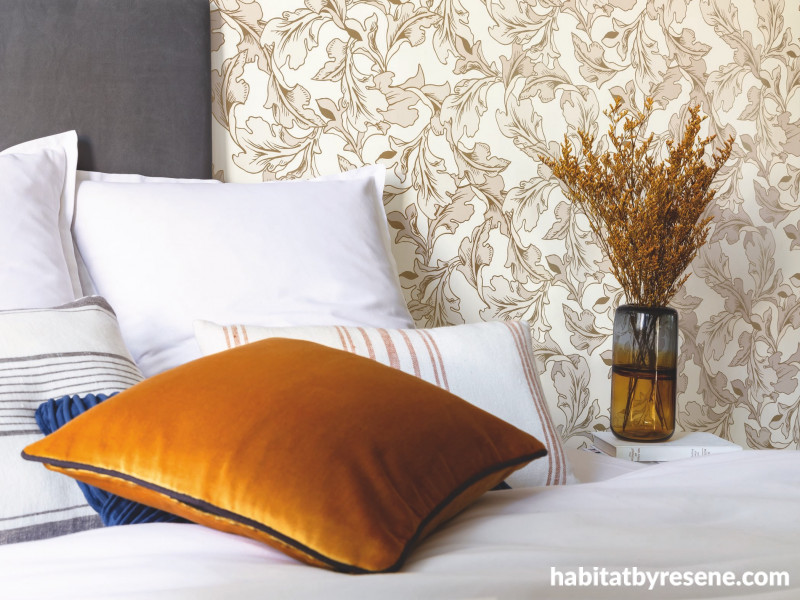 Create your own garden oasis inside with Resene's new wallpaper collection
22 Feb 2023
Add a touch of whimsy to your interior walls with the new Resene Dream Garden Wallpaper Collection. Whether it's a simple floral pattern with neutral tones, or a full-blown vibrant garden scene, this wallpaper collection will bring spring sophistication to any room in your home.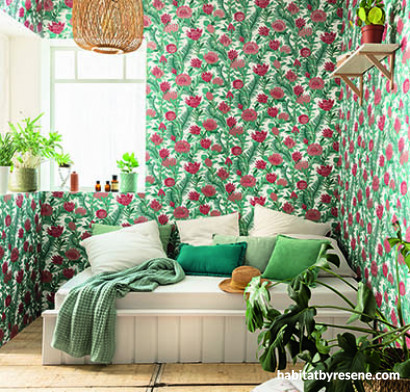 The bright pops of green and reds in Resene Wallpaper Collection DGN102247169 bring joy and happiness, like a summer or spring day in the countryside.
If you're going for a contemporary, modern vibe, opt for a bold, graphic floral design in bright colours. Once the wallpaper is up, you can start decorating the rest of the room to match. Consider adding accented pillows in shades of greens, yellows and reds, or add real greenery and florals in colourful plant pots painted with rich reds like Resene Pohutukawa or Resene Shiraz. You can also play with textures and colours to create a cohesive look, such as adding similar tones on trims and surrounding walls using a light misty green like Resene Pale Leaf or an uplifting green like Resene Rice Paper.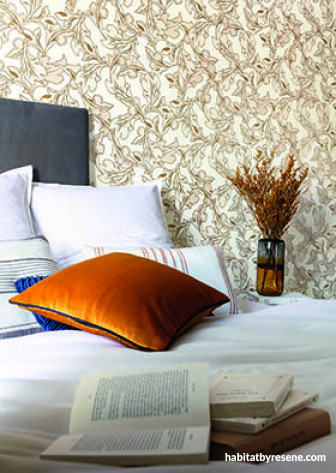 The neutral tones in Resene Wallpaper Collection DGN102281010 make this a very relaxing space.
This classic and chic wallpaper - Resene Wallpaper Collection DGN102281010 - is a great addition to any room, subtle and not too overpowering. Brown shades can create a warm, inviting and relaxing atmosphere, great for a bedroom or living room. Try pairing surrounding walls or décor with a gentle beige like Resene Half Sisal or a light creamy neutral like Resene Quarter Spanish White.
Whether you prefer a classic, romantic look or a bold, modern design, Resene has the dreamy garden wallpaper to suit your style. The best part is, there'll be no weeding involved, once it's up, you can sit back and enjoy.
When it comes to applying your wallpaper, it's important to choose a quality product. To view this new collection or get handy wallpapering advice, visit your local Resene ColorShop
Published: 22 Feb 2023