►
◄
latest
habitat tv

blog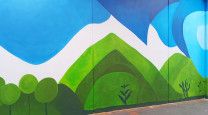 Retro chic: Designing your home with a '60s and '70s flair
Two groovy decades that saw a significant shift in interior design, the '60s and '70s saw a move towards more relaxed and informal interior styles. From bold colours to pop art and psychedelic prints, we've got the Resene paints and products you'll need to bring some of these funky eras into your home.
Pops and patterns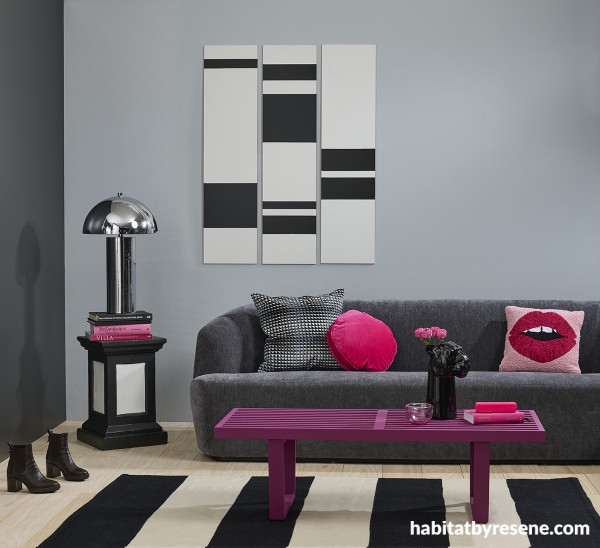 You can't go wrong with popular neutrals like these walls painted in Resene Half Gull Grey
and Resene Element, but adding pops of vibrant colours, like this bench painted in Resene Pompadour, takes it to a whole new level. Plinth table and artwork painted in Resene Eighth Black White and Resene Element and floor in Resene Colorwood Whitewash. Sofa from Dawson & Co, lip cushion from Kip & Co. Project by Kate Alexander, image by Bryce Carleton.
If you want hints of the retro era without too much colour, try using your favourite neutral shades while adding pops of colour and funky accessories. These pink accented pillows, books and table are enough to stand out and add some jazz to an otherwise monochrome room. This table is painted in Resene Pompadour, but you could also try a mustard yellow – a popular colour seen in the '60s – like Resene Funk, or a vibrant violet like Resene Boogie Wonderland. If your colour palette is limited, play around with patterns like stripes and circles on rugs, artwork and cushions to add drama while sticking with your favourite shades.
Retro rock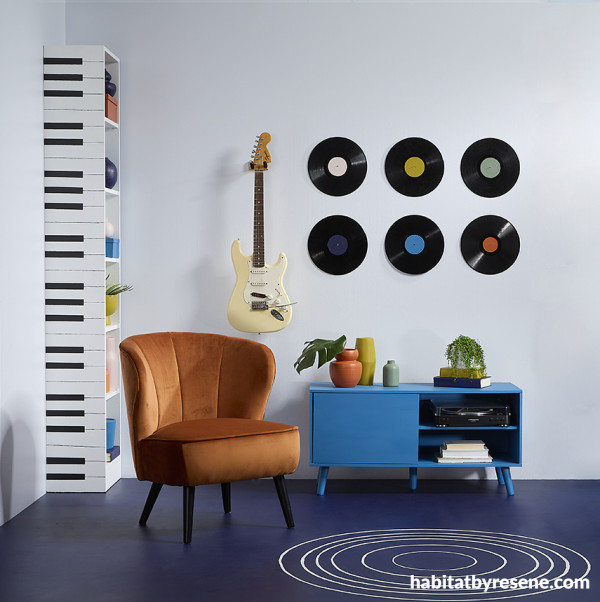 This modern living room has the perfect colourful touches of the '60s era, with walls painted in Resene Zircon, floor in Resene Bullitt with a 'sound wave' design in Resene Alabaster, sideboard in Resene Matisse and piano shelf in Resene Alabaster with keys in Resene All Black. The record artwork, boxes and books on the shelf and vases are painted in Resene Dust Storm, Resene Lemon Ginger, Resene Half Rivergum, Resene Bullitt, Resene Matisse and Resene Vesuvius. Armchair from Contempa, guitar hanger from KBB Music. Project by Laura Lynn Johnston, image by Bryce Carleton.
Adding a touch of creativity to a shared space can turn it into a fun area dedicated to music or your chosen craft, even in a small home. Resene Zircon, a crystalline blue painted on the walls, provides a flexible base that works almost like a neutral to be paired with bold accent hues such as Resene Dust Storm, Resene Lemon Ginger, Resene Half Rivergum, Resene Bullitt, Resene Matisse and Resene Vesuvius. To add a playful nod to the timeless music of these eras, try turning old vinyl records into artwork and paint over the labels using Resene testpots, or paint a piano design over an old bookshelf.
Psychedelic hues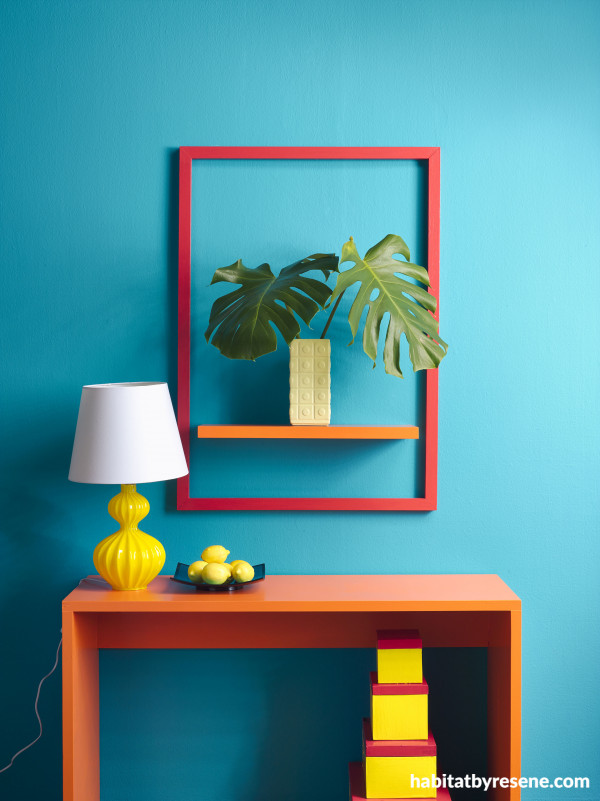 This 1960s psychedelic hallway is sure to be a showstopper for friends and family who visit. The walls are painted in a bright aqua blue-green, Resene Hullabaloo, frame in Resene Candy Floss, shelf and hall table in Resene Trinidad and boxes in Resene Supernova with Resene Candy Floss lids. Project by Megan Harrison-Turner, image by Melanie Jenkins.
If you're a colour lover, then a bright and flamboyant hallway or entranceway offers the chance to share that love with your guests. With thousands of Resene paint colours, you can choose your favourite nostalgic shade from the retro era and show off your inner groove. Try oranges like Resene Flashback, yellows like Resene Wild Thing or bright greens like Resene Dizzy Lizzy. You also can pick up odd shaped lamps and vases from your local op shop and paint them in accented shades using Resene testpots.
Vivid vibes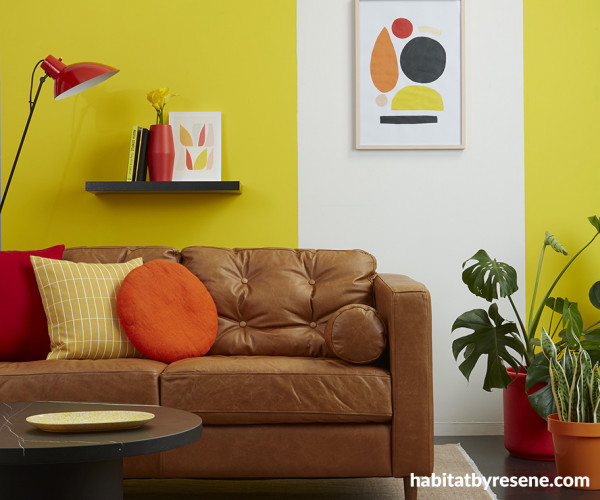 If you're not afraid to use colour, this look is for you. Mixing old and new, this modern mid-century space has walls painted in Resene Black White with colour blocks in Resene Turbo, floor and shelf in Resene Noir, picture frame in Resene Sorbet, plant pots in Resene Havoc and Resene Party Zone, vases in Resene Havoc, Resene Roadster and Resene Sorbet and DIY artwork in Resene Noir, Resene Roadster, Resene Turbo, Resene Party Zone and Resene Sorbet. Sofa from Cintesi, coffee table from Soren Liv, rug from The Ivy House, Morning Sun artwork from Endemicworld, lamp from Mr Bigglesworthy, cushions from Bolt of Cloth.
This year sees bold colours being brought back into the home through statement paint choices such as yellows, reds and burnt oranges. Mixed in with some neutral shades and contemporary furniture, these colours can create a sophisticated, but funky, modern mid-century space that feels warm and inviting.
Try adding wall art or wainscotting to the lower or upper part of the wall to add texture and character to your room. Retro colours that look great with yellows like Resene Turbo are dark shades like Resene Nero, reds like Resene Rock N Roll and browns like Resene Digeridoo.
'70s whisky room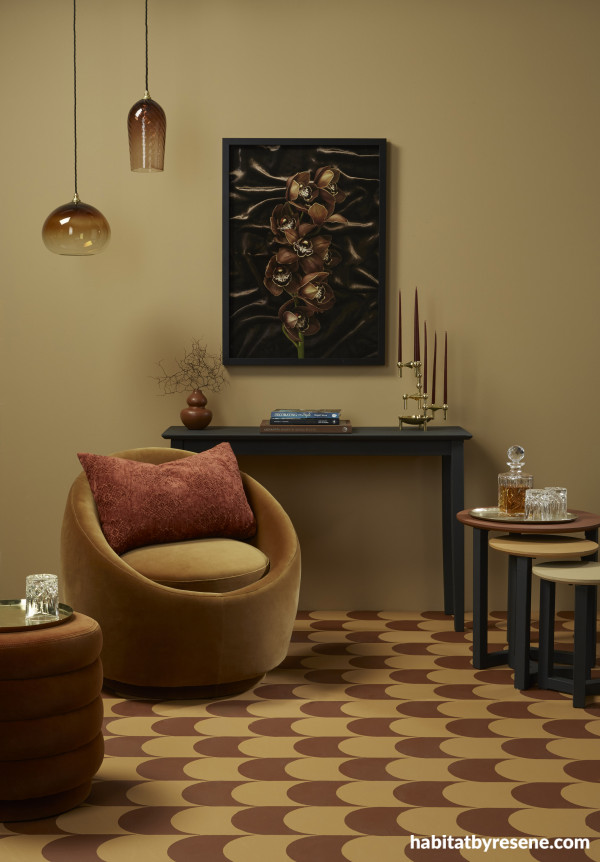 Browns have always been a calm and grounding colour that work well in rooms where you want to relax. This '70s whisky inspired room is painted in Resene Gold Coast with the floor painted in Resene Pendragon and Resene Hairy Heath. The hall table is painted in Resene Noir, nesting tables in Resene Hairy Heath, Resene Pendragon and Resene Gold Coast with legs in Resene Noir, vase in Resene Hairy Heath and candlesticks in Resene Noir. Chair and ottoman from Soren Liv, cushion from Adairs, candelabra and candles from Good Form, artwork by Helen Bankers, lamps from Monmouth Glass Studio.Project by Melle Van Sambeek, image by Bryce Carleton.
The 1970s design aesthetic is making a comeback with colours like mellow mustards, bitter oranges, toasted terracotta and spicy browns being popular interior choices. Resene Gold Coast, Resene Noosa and Resene Hairy Heath are some of the most desirable shades for a trend-forward interior. Try a scalloped or chequered floor pattern using a stencil and finishing touches like velvet furniture in saffron shades. This whiskey room shows how different Resene shades in the same palette can be used together to create a tonal and cohesive room.
'60s and '70s interior trends were a bold and exciting departure from the more conservative styles that preceded it, and we continue to see these styles inspire and influence modern design. A time of innovation and creativity, where designers and homeowners were unafraid to push boundaries and take risks, the retro aesthetic has a large and electrifying impact on the design world.
If you need help getting started on your home's new look, or just some quick advice on paints, colours or wallpapers, head to your local Resene ColorShop or Ask a Resene Colour Expert online today!
Published: 28 Mar 2023
Do you have a home full of wonderful Resene paint and colour? Send us some snaps by emailing editor@habitatbyresene.co.nz.