►
◄
latest
habitat tv

blog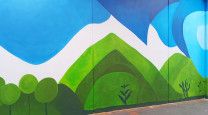 See the colours that made this ex-rental a bright and brilliant home
With the housing market booming, the cost to buy new was above Krystal and Michael Brown's price range, so they thought outside the box and found an ex-rental property to do up instead. As with most ex-rentals, the house needed a lot of TLC, but it was nothing some bright and colourful Resene paints and a bit of hard work couldn't fix.
Before choosing an interior palette, the couple completely gutted the property, adding new insulation, plasterboard, ceiling, doors and electrical - the lot. Renovations were new to both Krystal and Michael, but they took on the challenge and agreed it was the right house to buy when they realised it was a few houses away from where Krystal grew up.
"Tearing down all the old plasterboard and interior was a mess, but a lot of fun," Krystal says.
After learning a lot through this, their first renovation, and putting in tonnes of hard yakka while also looking after their, at the time, 5-year-old daughter Amelia and 9-month-old son Max, they could finally get to the creative part and decide on their home's colour palette.
"Overall, we wanted colours and interiors that wouldn't date, that would withstand a busy young family," Krystal says. "We needed something low maintenance, that would be easy to change with us as we grew or as our furniture and décor changed."
"The interior painting took a total of three weeks, with the bulk of it in one weekend. We had my uncle's paint spray gun which was amazing and also influenced our choice of using the same white shade throughout the house. We planned ahead and gave ourselves timelines to finish, which were tight, but doable, all while having two kids, being on maternity leave, living out of town, and having Mike work full time."
The living room is now painted in Resene Tiki Tour, a complex spruce green of native travels, deep and traditional. Krystal had always loved the depth and shade of Resene Tiki Tour and knew she wanted it in her living room, so this was the first colour chosen and the house had to work around it. Darker colours like this are great for living rooms and media rooms, creating a cosy cinematic vibe.
Another Resene green was chosen for her son Max's room. Deciding to do a feature wall, Krystal chose Resene Half Rivergum, a water green, softly shadowed with depth. This stunning shade, next to walls in Resene House White, allowed them to add fun and playful décor to Max's room, such as animal prints and gorgeous shades of ochre which complement the green.
"We chose this shade for Max's room because it was a good practical colour, and also one that he wouldn't outgrow," Krystal says.
A graceful touch of shell rose pink, Resene Pale Rose, was chosen for the master bedroom. The couple wanted something calming, but that also had colour, and with pink emanating feelings of warmth, happiness and relaxation, this was the perfect choice for their room.
Throughout the house, on walls, ceiling, trims and doors, Resene House White was used. This versatile off-white complements many other shades, which worked well with the various colours the pair had chosen. All the white walls are painted in Resene Lustacryl, a semi-gloss paint, tinted to their chosen white, giving them a shiny, sleek appearance while offering a great durability and resistance to moisture.
"The white was the hardest colour to pick as I didn't want a white that was too harsh against the other colours," Krystal says. "I also didn't want my white sheer curtains to look yellow and needed a white that could be used and balanced through the whole house."
"Our favourite rooms are the living and dining rooms as they work so well together. We love how the Resene House White painted shiplap in the dining area brings the room together with Resene Tiki Tour, it's a bold colour that works well, Krystal says. "We were worried about it being too bold against a white wall, so were relieved the Resene House White worked so well with it."
Krystal and Michael describe their interior style as a mix of mid-century modern with boho elements. We can see their free-spirited aesthetic, mixing different colours, fabrics and decor into an eclectic style with an emphasis on organic elements and nature. A truly stunning mix of colours chosen for a purpose in each room.
Once the interior was done, the couple chose to refresh their home's exterior, choosing Resene Nero, a striking black with inky blue undertones. This dark shade gives a modern feel to the home and works well against the green landscape beyond. As this was a dark colour, Resene CoolColour was used to reflect more of the sun's UV rays than the standard version of the colour – this is especially useful when opting for a dark shade like Resene Nero.
Top tip: Modern homes and busy families need paint finishes that can withstand wear and tear. Resene Lustacryl semi-gloss waterborne enamel is designed for kitchens, bathrooms, laundries, trim, joinery, doors and areas traditionally reserved for solventborne enamels. Non-yellowing and fast drying with easy water clean-up and Environmental Choice approval. If you prefer a higher gloss, choose Resene Enamacryl gloss waterborne enamel.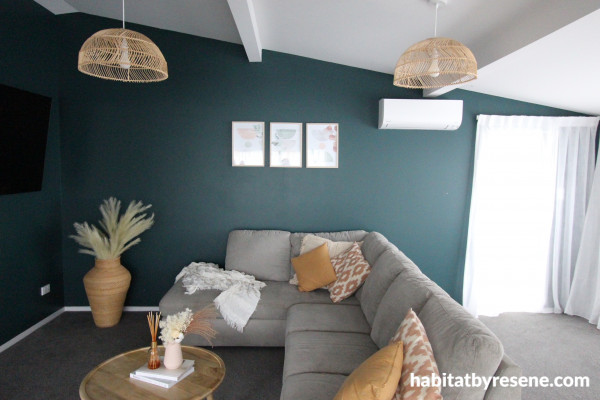 The living room, painted in Krystal's favourite shade, Resene Tiki Tour, is striking against the Resene House White ceiling and trims. The touches of brown and ochre give the room a natural colour palette, a great choice for a relaxing space.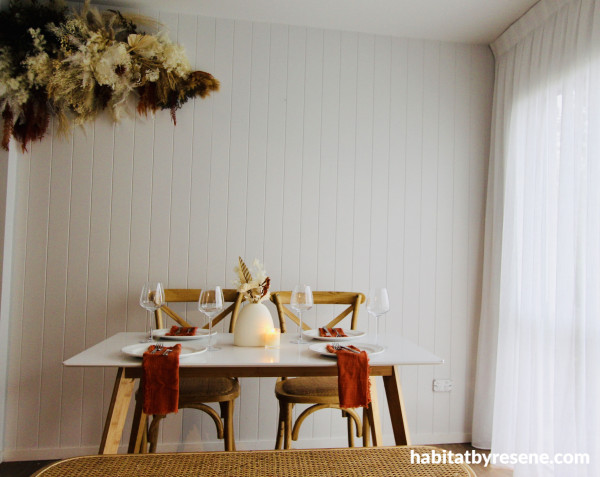 This elegant dining room shows how whites like Resene House White can be impeccably paired with accented décor to suit any style or colour palette.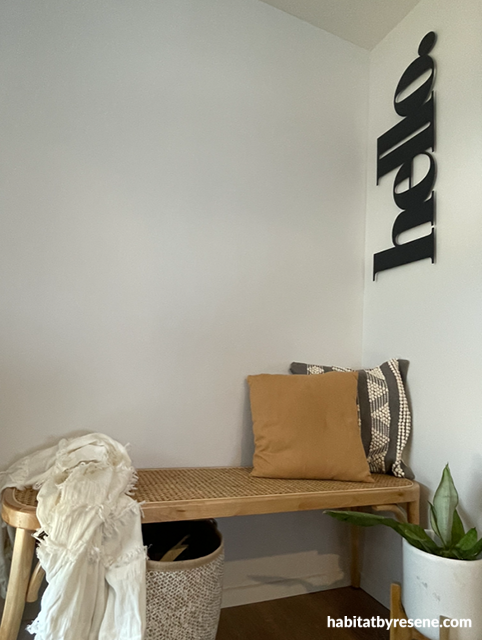 This boho-style, fun entryway is painted in Resene House White, working well with the gorgeous ochre and patterned pillows and wooden bench. A great mix of style.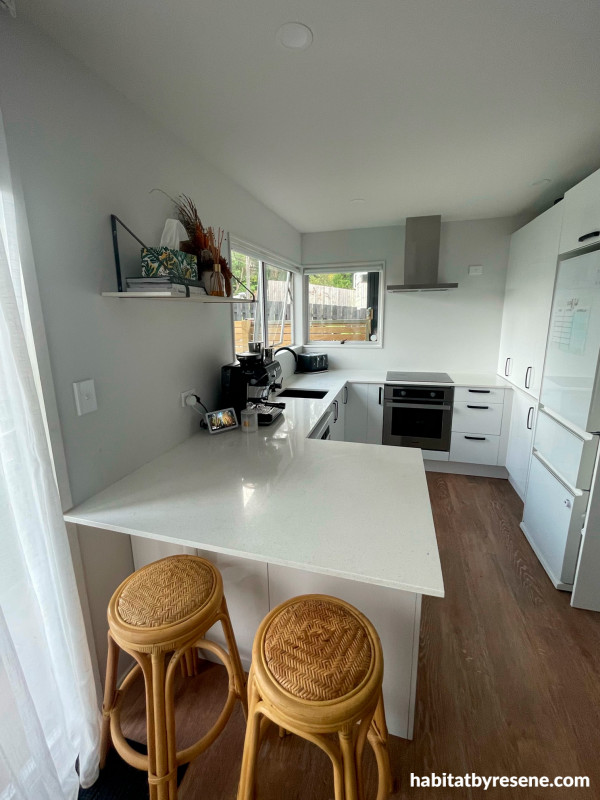 This neutral kitchen is modern and timeless, with walls, ceiling and trims painted in Resene House White. Whites and neutrals are a great option when choosing décor as they can be paired with a wide range of colour choices, giving you multiple options to choose from.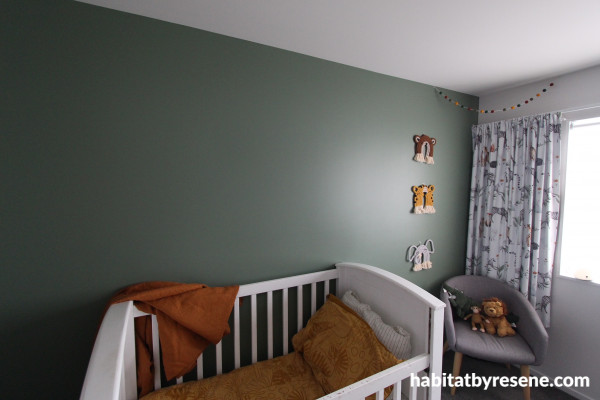 The pastoral green shade of Resene Half Rivergum was the perfect choice for little Max's nursery, pairing well with the animal theme and accented colours chosen for the décor. The surrounding walls and ceiling are painted in Resene House White.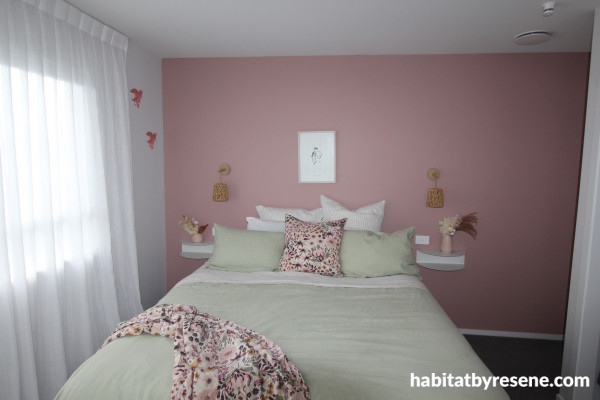 A calming pink shade was used for the master bedroom, Resene Pale Rose, creating a calm and relaxing atmosphere for a place of rest. The pink looks lovely against the gentle green bedding. The ceiling is painted in Resene House White.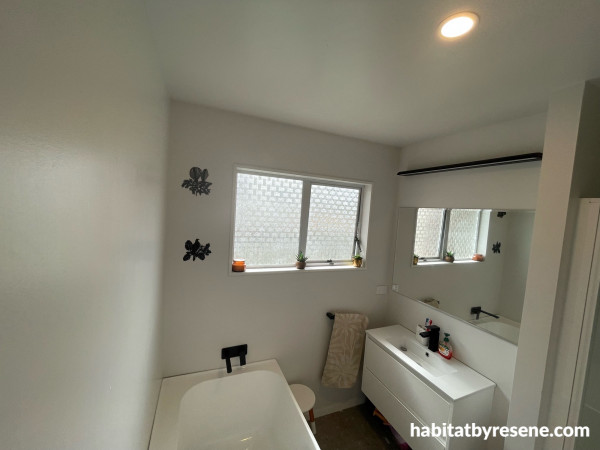 You can't go wrong with a clean white bathroom. The walls, ceilings and trims are painted in a versatile off-white, Resene House White.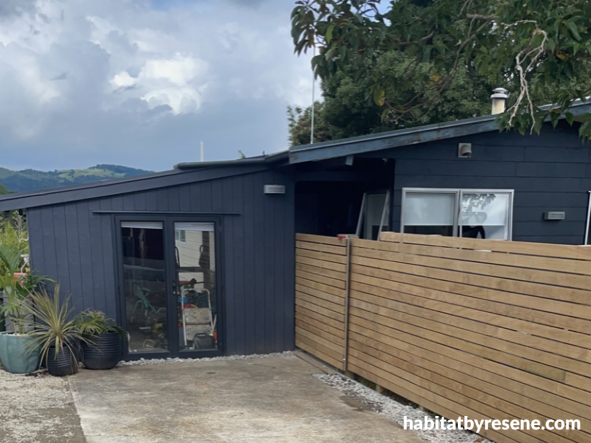 The newly refreshed exterior is now painted in Resene Nero, using Resene CoolColour technology to protect the paint from heat damage. It's a striking colour against the green landscape and surrounding trees.
Published: 26 Apr 2023
Do you have a home full of wonderful Resene paint and colour? Send us some snaps by emailing editor@habitatbyresene.co.nz.










the look
If you're stuck on what
colour to use or need colour
advice, try out the Resene
Ask a Colour Expert service.