►
◄
latest
habitat tv

blog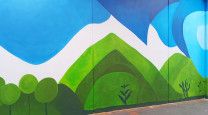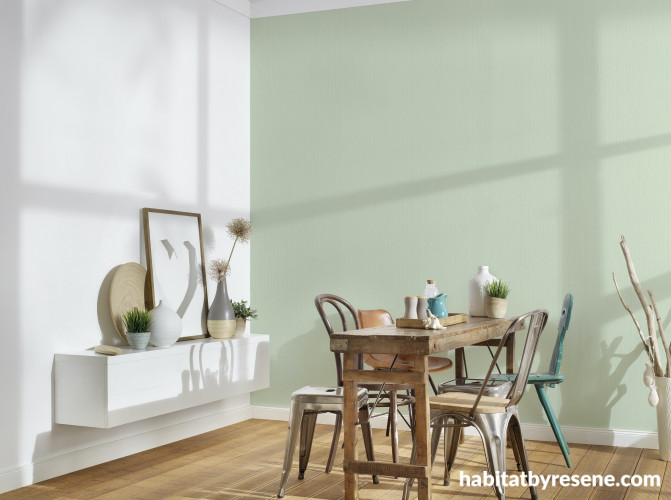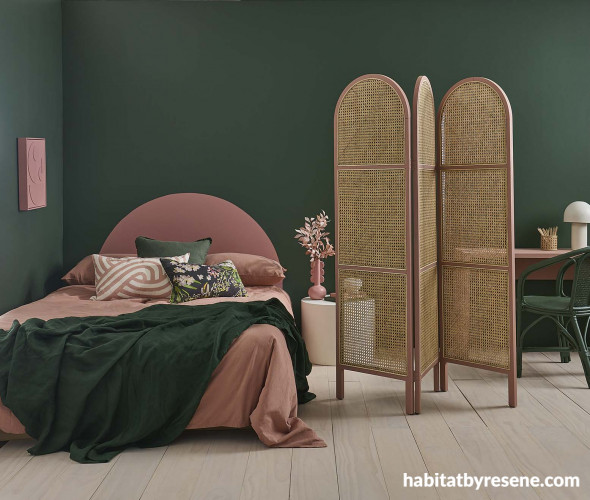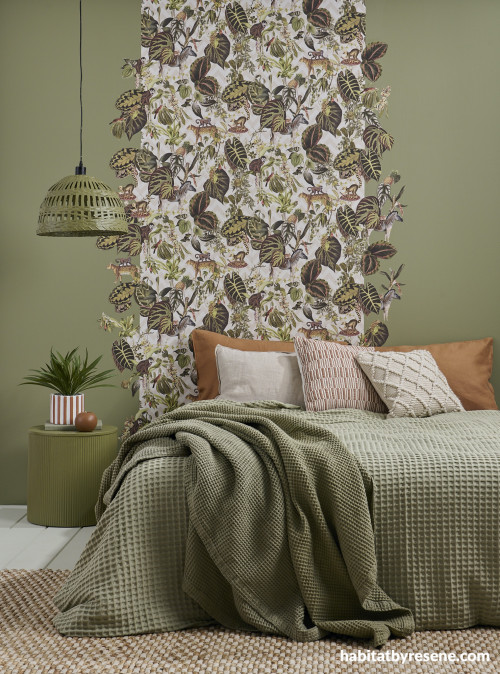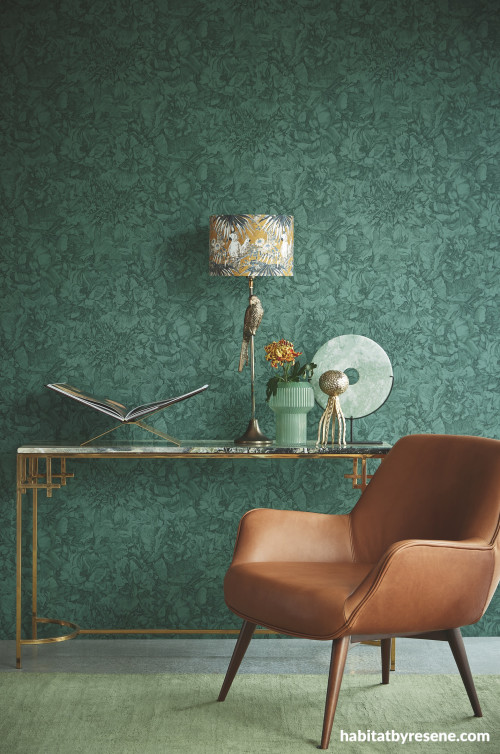 The power of green: How to use this serene hue in your home interiors
Green is a colour that is often associated with tranquillity, balance and harmony, making it a popular choice for creating a calming and inviting atmosphere. From soft sage to vibrant emerald, green can be used in a variety of ways to bring life and freshness to any interior. Whether you prefer a minimalist or maximalist style, Resene has the paints and wallpapers to help you incorporate this refreshing colour into your own living space.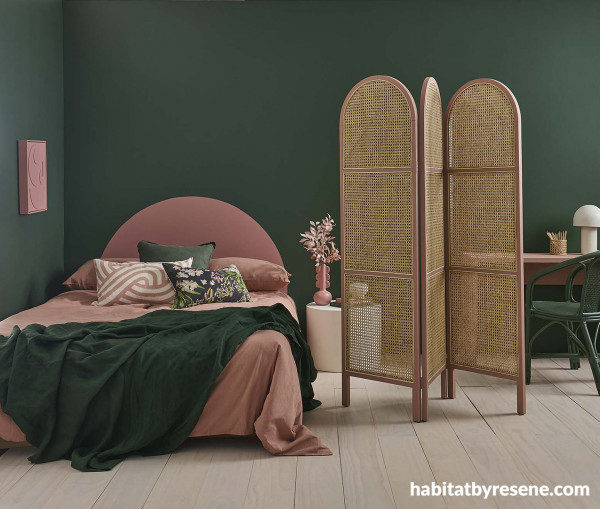 The pink tones, arches and rounded shapes in this multifunctional space make it feel cohesive. Wall painted in Resene Forest Green, arch headboard and reading area side table in Resene Coral Tree. The edge of the Mocka rattan screen is painted in Resene Summer Rose, flooring in Resene Colorwood Breathe Easy, bedside table in Resene Meringue and DIY artwork, vases and other accessories in Resene Coral Tree and Resene Meringue. Bedlinen from Adairs, throw from H&M Home, cushions from Mocka, Adairs and H&M Home. Project by Vanessa Nouwens, image by Bryce Carleton.
Adding pops of other colours through accented fabrics, décor or furniture, can help to break through a monochromatic space. Colours that work well with darker greens like Resene Forest Green, are dusky reds like Resene Coral Tree, terracotta like Resene Sante Fe or a purple pastel like Resene Poet. If you want to keep the green theme going, try green toned beiges like Resene Chino, Resene Clay Creek and Resene Fawn Green.
If you're using a dark shade on the walls, keeping the floor light can help to brighten the room and ground the space. Try Resene Colorwood Breathe Easy or Resene Colorwood Whitewash.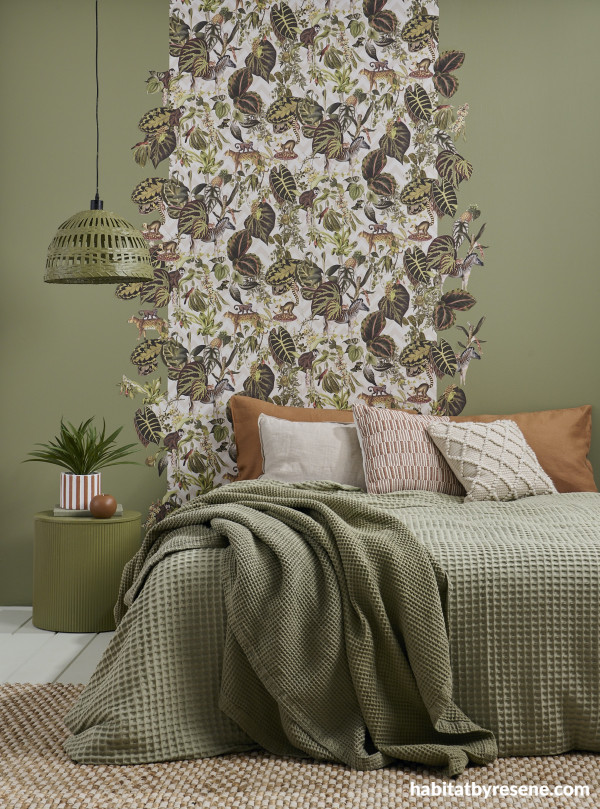 In this nature inspired room, the wall is painted in Resene Bitter, floor in Resene Moon Mist, feature in Resene Wallpaper Collection 37990-3, bedside table and rattan pendant in Resene Hemlock andtealight holder in Resene Cape Palliser. Rug from Mocka, duvet set from Bed Bath & Beyond, linen cushion cover and throw from H&M Home, plant pot from Home Republic.Project by Vanessa Nouwens, image by Bryce Carleton.
We're comfortable living around green due to its prevalence in the natural environment, making it a great go-to colour to use anywhere indoors. A cascading wallpaper waterfall of tropical leaves is not only a nod to biophilic design but makes for the ultimate statement in a master bedroom. To achieve this floating wallpaper look, apply a wide, central piece of your chosen Resene wallpaper behind the bed, then cut out additional pieces of the pattern and apply them next to the wallpaper, creating the illusion that the wallpaper has floating edges.
Resene Wallpaper Collection 37990-3 from the Resene Change Is Good Wallpaper Collection is whimsical yet sophisticated, the kind of pattern that offers something new each time you look at it. Pair this with other natural shades like Resene Bitter, a soft olive green, Resene Miso, a fresh soya bean shade or Resene Coriander, a gentle herbal green.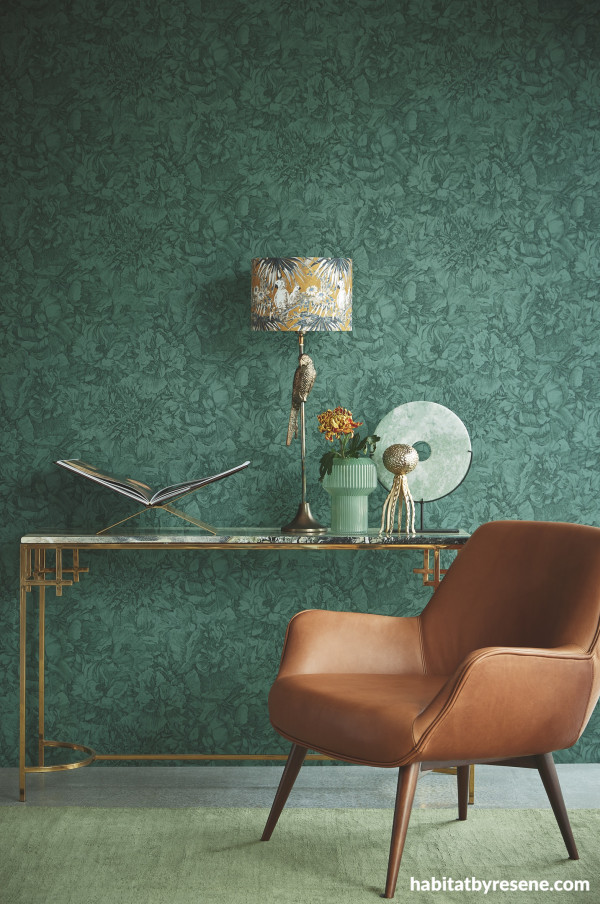 The jewel toned shades of Resene Wallpaper Collection E307345 pair well with tanned leather and metallic décor, making this a refined and classy choice for offices, moody bathrooms or bedroom feature walls.
Emerald green is a rich and vibrant shade of green that conveys a sense of luxury and sophistication. These tones mixed with the floral patterns, in Resene Wallpaper Collection E307345, will bring a touch of natural beauty and elegance to any room. This stunning wallpaper from the Resene Museum Wallpaper Collection, pairs well with neutral colours like Resene Black White, Resene Eighth Drought and Resene Linen, as well as with other jewel tones like the rich blue of Resene Decadence or the deep purple of Resene Christalle.
The subtle and calming shade of Resene Wallpaper Collection 379874_5 works well in any room, especially those with exposure to natural sunlight, showing off the tranquil hues.
The minty, pastel shade of Resene Wallpaper Collection 379874_5 from the Resene Change Is Good Wallpaper Collection pairs well with natural materials such as wood, rattan and woven fabrics to create a relaxed, rustic and organic vibe. Keep in mind the source of light you have in your chosen 'green space'. Natural light can bring out the freshness of the green hue during the day, while warm artificial lighting can create a cosy and inviting ambiance in the evenings.
Pair this beautifully textured wallpaper with whites like Resene Alabaster and Resene Quarter Merino or complementary accented colours like Resene Half Moonbeam, a floral yellow, Resene Pale Rose, a perfect pink pastel or Resene Fog, a delicate lilac.
A green interior can be a fantastic way to bring nature and tranquillity into your home, and with so many Resene green paints and wallpapers to choose from, there's something for everyone. So why not consider adding a touch of green to your next interior design project and enjoy the many benefits that this colour has to offer?
For more advice on paints, colours and wallpapers head to your local Resene ColorShop or Ask a Resene Colour Expert online
Published: 10 May 2023
Do you have a home full of wonderful Resene paint and colour? Send us some snaps by emailing editor@habitatbyresene.co.nz.