►
◄
latest
habitat tv

blog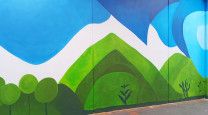 Tiny tots, big designs: Interior ideas for kids' rooms
When it comes to designing a child's bedroom, there are endless possibilities to create a fun and functional space that both you and your little one will love. Whether you're starting from scratch or looking to refresh your child's existing bedroom, we've got the tools and inspiration to help you create a space that your child will cherish for years to come.
Spot-on style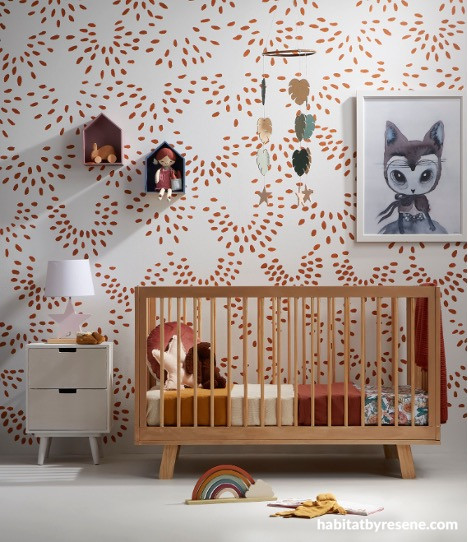 This nature inspired room is both gentle and engaging. The walls are painted in Resene Double Alabaster with scalloped dots in Resene Chelsea Gem. The floor is painted in Resene Merino, cot in Resene Rose Gold metallic, bedside drawers in Resene Merino with drawers in Resene Quarter Bison Hide, rainbow in Resene Sunbaked, Resene Swiss Caramel, Resene Peace, Resene Artemis, Resene Love Me Do and Resene Soulful with base in Resene Yuma and cloud in Resene Despacito, monstera leaves in Resene Mother Nature, Resene Peace and Resene Yuma, stars in Resene Soulful, star lamp in Resene Half Pale Rose and house shelves in Resene Vintage and Resene Time After Time. Blankets, slippers and toy bunny from Nature Baby, doll and sheets from Little Whimsy, artwork from MrsMighetto. Project by Annick Larkin, image by Bryce Carleton
A nursery with rhyme and reason. As an expectant parent you'll most likely have put a lot of thought and effort into creating a beautiful nursery for your new arrival. But considering that babies rarely have strong opinions on interiors and you'll be spending a lot of, mostly sleep-deprived, time in the space as well, it's important that the space is comforting for you too. This scalloped dot decoration is a whimsical, gender-neutral way to decorate a restful and soothing nursery. The nature inspired palette in this room can be easily changed to suit your taste. Try other neutrals like Resene Cloudy, a dusty beige, Resene Double Lemon Grass, a woodland stone green, or Resene Bronco, a sweet pinecone brown.
Tip: Varying the size and having an imperfect placement of dots gives the pattern an organic feel and creates playful movement within the decoration. There's no right or wrong way to arrange the shapes, have fun and let your imagination run wild. However, if you'd prefer the shapes to be more uniform – and save a little bit of time in the process – make a stencil for your pattern, repeating it in regular spacings across the wall.
Cloud nine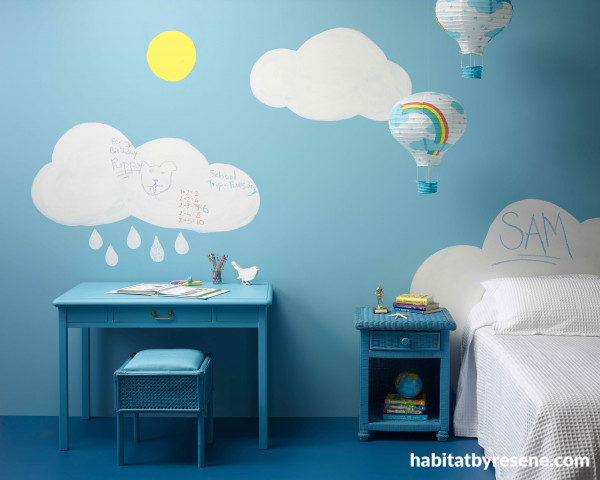 The walls in this dream-like space are painted in Resene Seagull, with clouds painted in Resene Quarter Alabaster. The headboard is painted in Resene Alabaster, sun in Resene Gorse, floor in Resene Spinnaker, desk in Resene Shakespeare and stool and bedside table in Resene Jelly Bean.Duvet from Wallace Cotton, paper hot air balloons from the local $2 shop.Project by Megan Harrison-Turner, image by Melanie Jenkins.
This whimsical room creates a peaceful and imaginative space for a young one to play and rest. The soothing blue colour of the walls is reminiscent of the clear sky on a sunny day, while the white clouds painted on them give a feeling of whimsy and fantasy. The clouds seem to be drifting across the walls and help to break up the solid blue colour of the room, making it feel more spacious and less overwhelming. Try Resene Azure for a darker sky-blue, Resene Mariner for an ocean shade or Resene Breeze for a light gentler touch. You could also paint a rainbow amongst the sky and clouds if you're feeling brave and creative!
Mushroom manor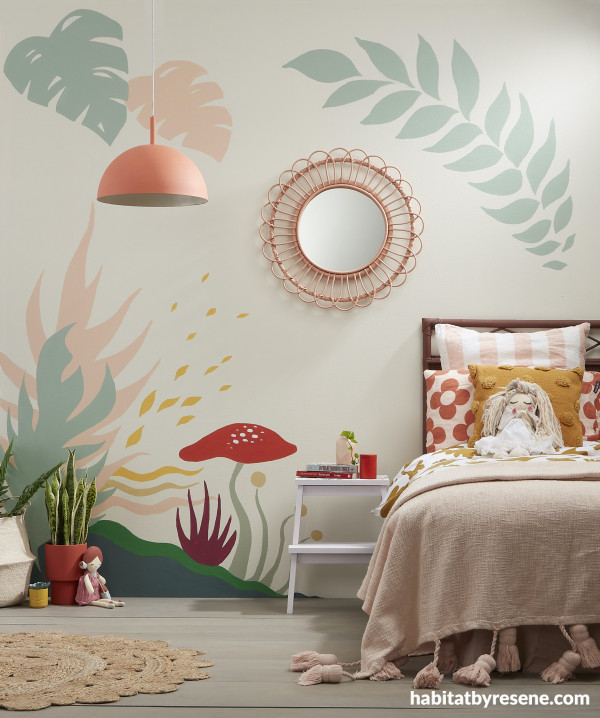 This fairy-tale room is painted in Resene Half Spanish White, with mural colours in Resene Soulful, Resene Tulip Tree, Resene Whizz Bang, Resene Love Me Do, Resene Green Pea, Resene Kandinsky, Resene Envy and Resene Green Meets Blue. The floor is in Resene Colorwood tinted to the shade Resene Mid Greywash, pendant lamp in Resene Sunglo, mirror in Resene Just Dance, side table base in Resene Sauvignon and headboard in Resene Redwood. Duvet and pillowcase from Castle & Things, striped pillowcase from Society of Wanderers, throw from Kip & Co. Project byAnnick Larkin, image by Bryce Carleton.
What child wouldn't love the magic of an enchanted woodland themed room? This storybook theme is modern, fun and full of texture, perfect for kids who love to engage with their surroundings through sensory play and enjoy things that stimulate their creativity. The low maintenance snake plant, in a planter matching the scheme, pulls the shapes off the walls and brings them to life! The peachy pinks lifted from the mural match the pendant light and mirror, but you could also draw from the greens and paint décor in shades like Resene Summer Green, Resene Soft Apple or Resene Paradise.
Top tip:To create a similar wall mural, use Resene testpot paintbrushes or Resene artist brushes, found at your local Resene ColorShop for those fiddlier aspects. The intricate nature of the leaves, stems and the mushroom require a delicate hand, so take your time – it'll be well worth it. If you're not feeling confident painting straight onto your wall with no guidelines, lightly draw your shapes in white chalk beforehand. If you make a mistake with the chalk, you can simply wipe it off and try again.
Blue-red brigade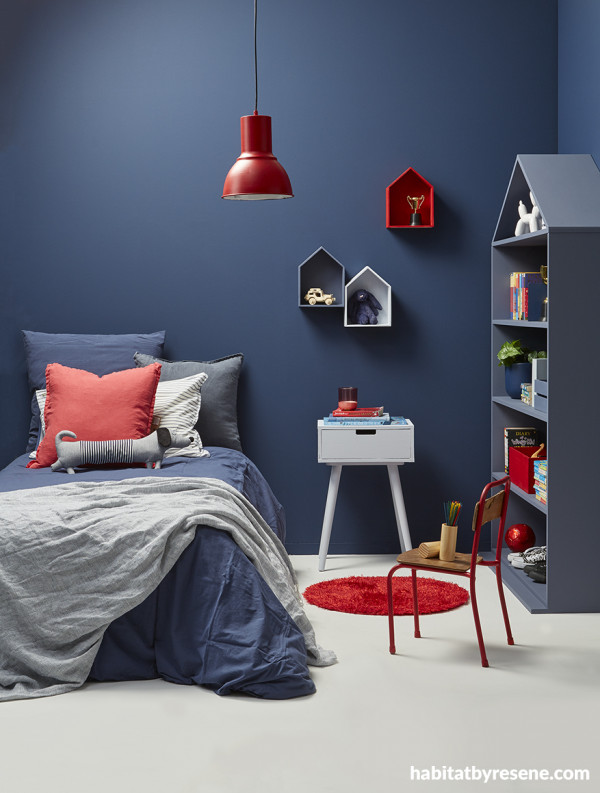 This trendy room suits a child that loves blue and red. The walls are painted in Resene Bunting, floor in Resene Sea Fog, bookshelf in Resene Hammerhead, house boxes painted in Resene Breathless, Resene Jalapeno and Resene Hammerhead, pendant light in Resene Jalapeno, crates on bookshelf in Resene Breathless, Resene Bunting, Resene Hammerhead and Resene Jalapeno, plant pot in Resene Bunting, bedside cabinet in Resene Breathless. Bookshelf from Mocka, rug from Mitre 10, quilt, pillowcases, cushions, throw and sausage dog from Adairs, bunny from Allium.Project by Vanessa Nouwens, image by Bryce Carleton.
Repetition is one of the key tenets of interior design, a principle that can be followed by professionals and laypeople alike and helps to ensure all the results of your hard work will look great. The house shape in this room is repeated on the bookcase and wall shelves, as well as the repetition of three key colours - navy, red and grey. When your child has outgrown this particular theme, it's easy to imagine them as a young teen re-accessorising these same Resene Bunting walls and Resene Sea Fog floor for a more mature theme.
Resene Bunting works well with red and white, so if your child is interested in the ocean or a nautical theme these colours would work well. However, this deep school blazer blue also looks great with bright happy oranges like Resene Golden Tainoi or fun fluoro greens like Resene Wellywood.
Sweet serenity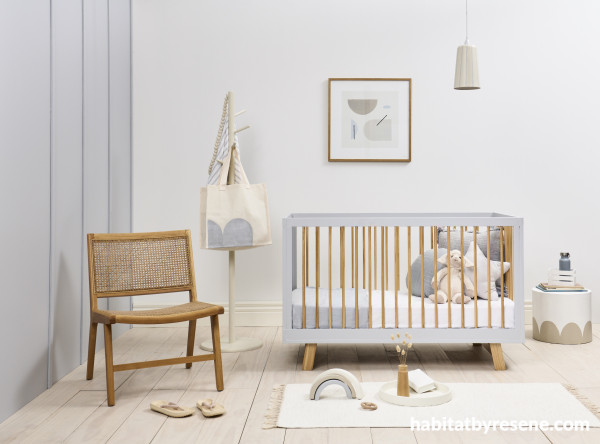 This gentle room, like the sky on a summer morning, is painted in Resene Eighth Pearl Lusta, with feature painted in Resene Ted. The light floor is in Resene Colorwood tinted to Resene Breathe Easy, trims and coat rack in Resene Pearl Lusta, vases in Resene Ted and Resene Vantage Point, cot in Resene Ted, plinth in Resene Eighth Pearl Lusta and Resene Tua Tua, rainbow in Resene Ted, Resene Tua Tua, Resene Eighth Pearl Lusta, lamp in Resene Creme De La Creme and painted feature on bag in Resene Ted. Artwork by Samantha Totty from Endemicworld. Project by Kate Alexander, image by Bryce Carleton.
By incorporating soft blues and neutrals, you can create a kid's room that is both calming and stylish. Soft shades of blue – baby blues or sky blues – like Resene Ted, Resene Quarter Frozen and Resene Comfort Zone, can work on all four walls or as a feature wall paired with neutral shades like Resene Eighth Pearl Lusta, Resene Half Merino or Resene Barely There. Using natural materials like wood, cotton, or linen can add warmth and texture to the room. Wooden toys, woven baskets or a soft cotton rug can make the room feel cosy and inviting. This floor, finished in Resene Colorwood tinted to the colour Resene Breathe Easy, adds a soft touch to the other gentle tones.
From choosing the right colour scheme and furniture to incorporating storage solutions and playful accents, there are many factors to consider when creating a space that fosters creativity, relaxation, and restful sleep for young children. With a little inspiration from Resene, you can design a space that meets your child's unique needs and personality and will last for years to come.
Published: 04 May 2023
Do you have a home full of wonderful Resene paint and colour? Send us some snaps by emailing editor@habitatbyresene.co.nz.