►
◄
latest
habitat tv
blog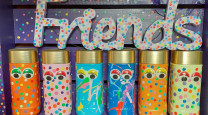 7 favourite exteriors from 2019
Summer has turned our attention to the great outdoors and has had us meditating on all the innovative and colourful ways to refresh a home's exterior. For inspiration, we've been looking back on the many beautiful home exteriors we shared last year, and the unique way each owner used Resene colours to achieve their dream look.
Take a trip down memory lane with us as we highlight seven favourite exteriors from 2019 – in no particular order.
Jen and Dan's Waikanae hill wonder
Published: 15 Jan 2020
Do you have a home full of wonderful Resene paint and colour? Send us some snaps by emailing editor@habitatbyresene.co.nz.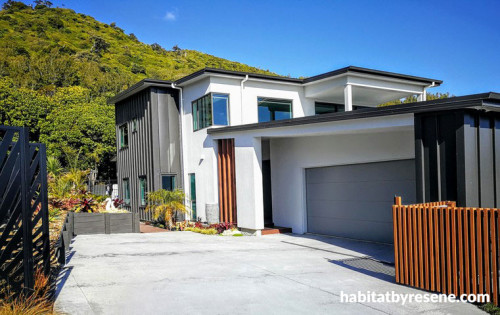 We're still in awe of Jen and Dan's house on Waikanae hill – particularly how they've cleverly used colour to easily blend into the natural setting. The timber elements really warm up the exterior in Resene Kwila Timber Stain without taking too much attention away from the gorgeous view behind. Find out how they achieved this dream look here.
Sian gives her Lyttelton villa the magic touch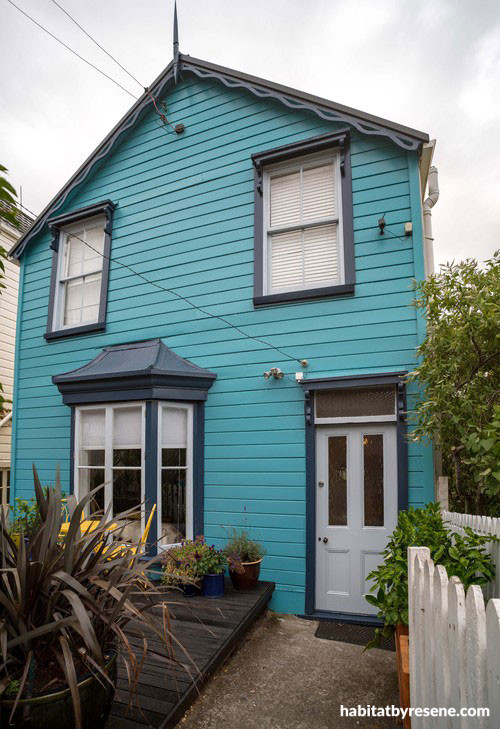 This gorgeous home boasts one of the most bold and exciting exteriors we've seen thanks to the cladding in Resene Hippie Blue, window frames in Resene Oxygen and accents in Resene Licorice. The playful exterior tone sets the scene for a welcoming and thoughtful space inside. Find out how designer Sian and husband Herman achieved this incredible look here.
This curious cottage that transformed into a contemporary haven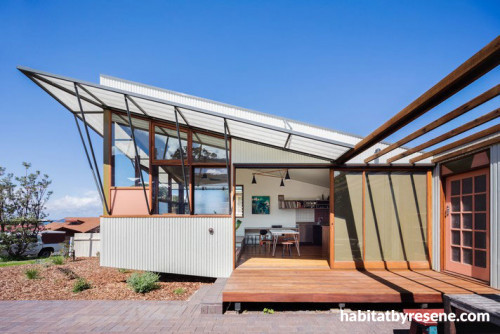 A quirky New South Wales cottage was given a thoughtful facelift with the help of Illawarra-based designers Morgen Figgis and Mignon Steele. As a result of their efforts, this exterior was transformed and painted in a soft yet creative palette of Resene colours that work beautifully with the surrounding vistas. Find out how this contemporary yet natural look was achieved here.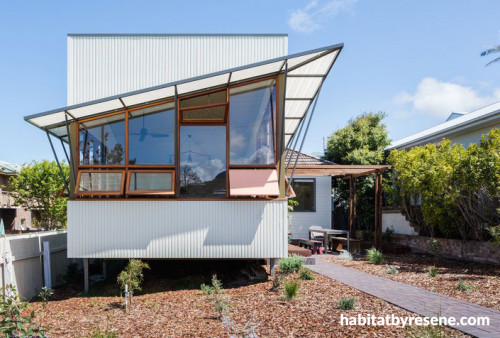 The shape and angle of the protruding sunshade truly set this property apart. The exterior cladding is painted in Resene Ecru White with window trims in Resene West Coast and window flaps in Resene Florentine Pink.
Lizzie's cute cottage glows like a jewel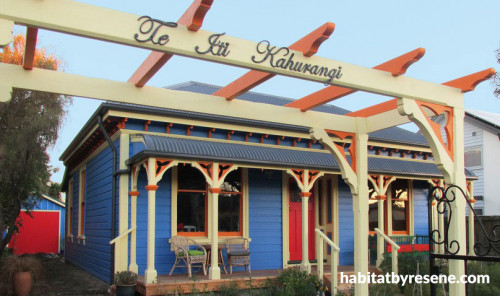 Homeowner Lizzie's inspiring villa has gorgeous touches throughout, but the exterior is truly a sight to behold. Sparkling in Resene Mariner, Resene Drover and details in Resene Gold Drop, the cheerful colour scheme makes this home one of the stand outs of 2019. Explore this incredible cottage here and the beautiful colour choices.
Flint and Celia's subtropical outdoor living space in Hawke's Bay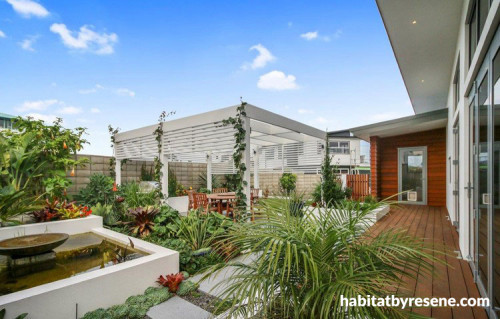 This lush garden space was uplifted through the use of a neutral palette, and looks all more inviting as a result. Flint and Celia's outdoor space is truly a sight to behold, with a striking pergola painted in Resene Double Black White and a gorgeous deck stained with Resene Woodsman decking oil stain. Find out more about Flint and Celia's renovation journey.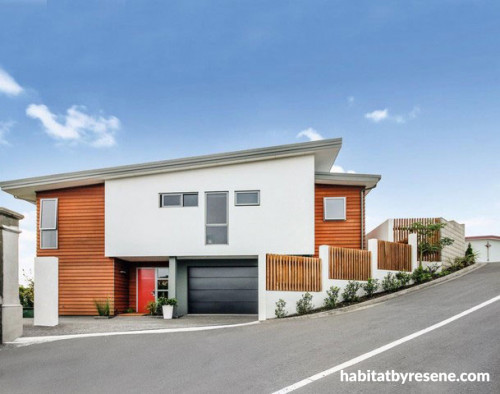 The view from the street shows off the unique topography of the lot. The cedar cladding and fence have been stained and protected with Wood-X Traverse, available from Resene ColorShops, the plaster walls have been painted Resene Double Black White and the soffits and fascia are coated in Resene Sonyx 101 waterborne semi-gloss in Resene Double Black White and Resene Thunder Road.
Emma and Henry's Pt. Chev bungalow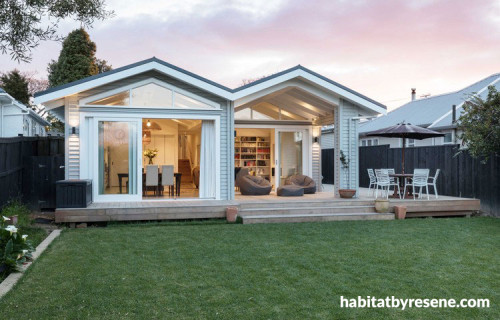 Working with architect Michael Cooper, Emma and Henry created seamless indoor-outdoor flow in their Point Chevalier bungalow. We adore the large double-glazed extension added at the rear of the house, which meets the lawn for an inviting summer look. Discover how the look was created and get inspired to rethink your own outdoor living spaces.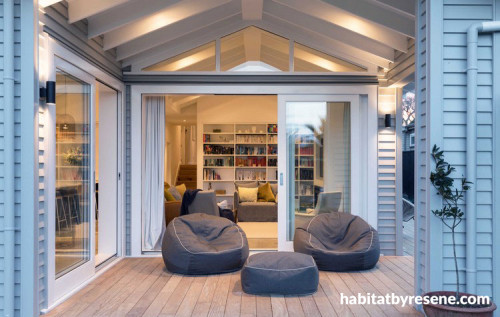 The living room side of the double-gable roofline extends to this outdoor room, which is Emma's favourite part of the finished home. The exterior is painted in Resene Foggy Grey with Resene Half Alabaster trim and the interior is in Resene Half Bianca.
Deborah and Stuart's remarkable rebuild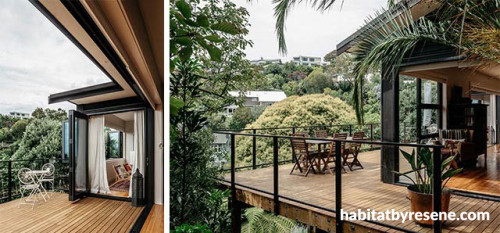 This couple's stunning home is a winner in every sense but the exterior really caught our eye for its sprawling deck that looks out onto The Cut in Nelson Harbour. The home could easily be mistaken for a grown up's treehouse and looks both natural and modern with the bi-fold windows and sliding doors. Learn more about this Nelson haven here.
From the harbour, you can catch a glimpse of the home between the trees. The timber cladding is stained Resene Waterborne Woodsman Pitch Black.