►
◄
latest
habitat tv

blog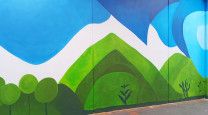 Inside the home of stylist extraordinaire Shelley Ferguson: A budget-friendly transformation
You may know Shelley Ferguson for many things, including her appearance on TV shows like TV3's The Block NZ, her skills as an award-winning stylist and even her role as an editor for some incredible interior and fashion magazines. But when Shelley told us she designed and styled her own home in Resene paints and products, we had to take a look - and of course, share it with you!
Shelley, Principal Designer at Shelley Ferguson Studio, husband Steven, previous athlete and logistical mastermind of Shelly Ferguson Studio, and their two boys Flynn and Jett, bought the large, modern rectangular home two years ago.
You might be surprised to hear it is a leaky home, but don't worry, it was a deliberate choice! With future plans to reclad, when planning, cost and chaos allows, they decided in the meantime to do what Shelley calls a 'sanity makeover' – a quick freshen up on a budget to make the home feel more like their own until they can afford their dream reno.
Built in 2000, the home features plasterboard cladding, no eaves or tall windows, giving it an Italian villa vibe. With the main aim being a freshen up, Shelley chose to go with a mix of whites and neutrals from the Resene paint range, creating a timeless and elegant feel throughout.
"Usually when planning design and renovation jobs I spend lots of time choosing a palette and I like to bring in colour, even if it's with the use of tonal neutrals," Shelley says. "But the aim of this paint job was to give the exterior and interior a freshen up to make it look spacious, fresh and clean for a few years until we can renovate.
"I was actually quite excited to go full white – it's liberating choosing so quickly and knowing you can change it in a few years if you need a change! The house has two palm groves in the garden and that Mediterranean inspired style so I liked the holiday feel that all white would give it."
Although the paints Shelley chose are all very light and similar, she achieved subtle variations by mixing up the sheens, tints and shades. She will often use eighth, half, full or double strengths of the same Resene colour to make subtle changes but keep with a unified look, as well as using the same white on the ceiling as on the walls.
Resene SpaceCote Low Sheen, tinted to Resene Alabaster, was used on the interior walls of the living, dining, kitchen and entranceway. Shelley used the same shade on the ceiling but used Resene Ceiling Paint waterborne flat, which has less reflection. A shinier product was then used on the trims, Resene Lustacryl semi-gloss, tinted to Resene Double Alabaster. The subtle difference in sheens provides a splendid contrast between the areas, even though they are the same colour, and it means the high contact areas like the trims are easy to wipe clean.
"I didn't want to buy any new furniture or spend anything on renovating – this was a paint only project," Shelley says. "I chose white because it's so versatile and goes with everything. I have a lot of tonal neutral furniture and like sculptural and interesting furniture and objects, and white is a great backdrop for different shapes and textures to stand out against.
"While this interior style isn't exactly me, I like the light, open and airy feel softened with curves, texture and tonal neutrals. My usual interior style I'd call easy elegance – I like layered and tailored interiors, muted colour palettes and beautiful but comfortable pieces for everyday living."
For the kitchen, Resene Waterborne Smooth Surface Sealer was used on cabinetry, topcoated with Resene Lustacryl semi-gloss, tinted to Resene Half Sea Fog, a classic 'barely there' white with a slight blackened edge. The use of elegant gold handles and neutral-coloured tiles makes this heart of the home a timeless and delightful space.
"The kitchen was quite small so I didn't expect much change, but painting it lighter made the kitchen more spacious, the cabinetry looks newer and it also highlights the grooves better," Shelley says.
Resene Quarter Truffle, a unique touch of taupe, genteel and easy on the eye, was used for the master bedroom walls. This slightly darker neutral, compared to the rest of the home, gives this space a cosy and slightly more cocooning feel - the perfect choice for a place of relaxation and rest when you still want light colours.
"I've always believed in the power of paint and embrace that every day in my client's projects," Shelley says. "This project was a good reminder of just how much you can achieve on a budget using paint only.
"I've always known there's a great range of Resene paints but actually using so many of them to transform literally everything - the kitchen cabinetry, pavers, decks, along with the interior and exterior, was a good reminder of the extent you can achieve and the problems you can solve with paint."
The exterior has been wonderfully transformed, giving the home maximum street appeal, compared to before when it could have been lost in the crowd of neighbouring homes. Resene AquaShield mineral effect finish, tinted to Resene Alabaster, was the best option for Shelley's leaky home. This product is great for porous building materials to give them water shedding properties and also gives a matt or plaster 'Mediterranean' look, making the green palms look spectacular set against the house.
The downstairs patio area used to have a brown deck, red/brown window frames and pink walls, and has now been completely transformed with paint, becoming Shelley's favourite part of the renovation. Shelley created two zones using an outdoor living furniture set and dining set, so the family can now use this beautiful space for reading, hanging out and barbecuing.
"We decided to transform this patio into a social BBQ area with a new coat of paint both to freshen up the look but also to protect the existing cladding," Shelley says. "We used Resene Alabaster on the walls and Resene Blanc on the deck - the deck was in pretty average condition so rather than stain it we chose Resene Walk-on Paving paint to cover the discolouration.
"There's a beautiful big grapevine that trails down the stair balustrade and it looks so gorgeous against the new white walls."

As an interior designer, Shelley would find it hard to pick just one when it comes to favourite colours. "I have so many it's difficult to choose. At the moment I'm loving Resene Half Blanc and Resene Eighth Blanc. It's a soft, warm white that's a bit more natural and welcoming than a crisp white. I recently did a whole house in it including cabinetry for a client that wanted a minimalist, sanctuary feel.
"I'm just thinking to myself that's not very colourful, so I'm going to add Resene Smoky Green from the Karen Walker Paints collection."
All renovations come with challenges, and sometimes that challenge is in the prep work, especially when you're choosing white, a colour that shows everything. Shelley's advice is to always put your effort in to prepare everything for painting to ensure you don't have moss, mould and discolouration showing through. She took her own advice and did a lot of work cleaning surfaces before starting, including using Resene Moss & Mould Killer to treat moss and mould, Resene Paint & Prep Housewash for her home's exterior and Resene Timber & Deck Wash on timber. On the interiors, this included prepping all the cabinetry, cleaning, sanding, gap filling, and priming or sealing before painting.
"The sheer transformation really surprised me," Shelley says. "I knew it would feel fresher and more uplifting but it has ended up looking much newer and more upmarket."
See more of Shelley's home, and her other stunning design projects: www.sfstudio.co.nz/design-journal/my-house-sanity-makeover
interior design Shelley Ferguson Studio
images Helen Bankers
Top tip: Resene AquaShield is a high mineral content, super hydrophobic, water repellent coating with excellent coverage. It combines the water repellent properties of silicones with a special surface micro-structure, which considerably reduces the contact area for water and dirt. The result – dirt particles adhere lightly and are more easily carried away by rain. Although it has excellent weather resistance, as with most waterborne finishes it allows the building to 'breathe' so that water vapours from inside are able to pass through the paint film to the exterior.
Resene AquaShield is an attractive flat mineral effect finish, a classic aged look, particularly suited to heritage, art deco, Santa Fe and Mediterranean style homes and buildings.
Resene AquaShield is suitable for brush, roller, or spray application. It's available in a wide range of Resene Colour Total Colour System colours, most custom colours up to mid tone hues can be made on request.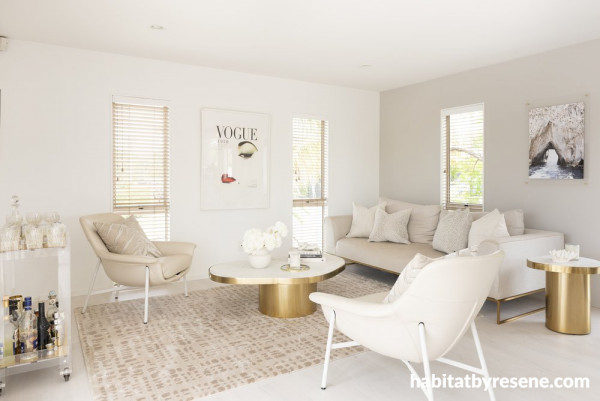 Shelley's chic white living room, painted in Resene Alabaster on walls and ceiling and Resene Double Alabaster on trims. The touches of gold and modern neutral furniture give this space a timeless and elegant feel.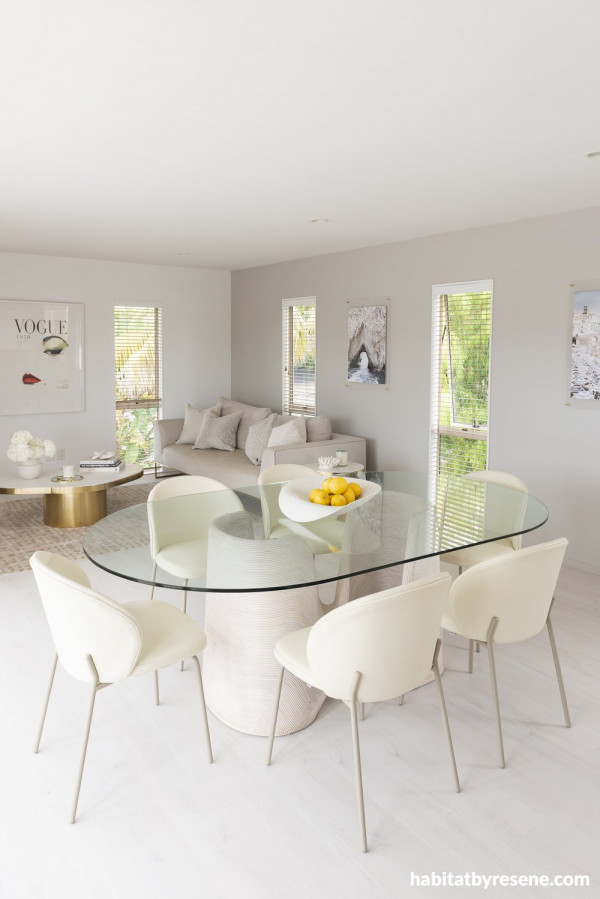 The minimalistic dining and living space are made bright and open by the white and neutral paint and decor. Resene Alabaster was painted on the walls and ceiling and Resene Double Alabaster on trims.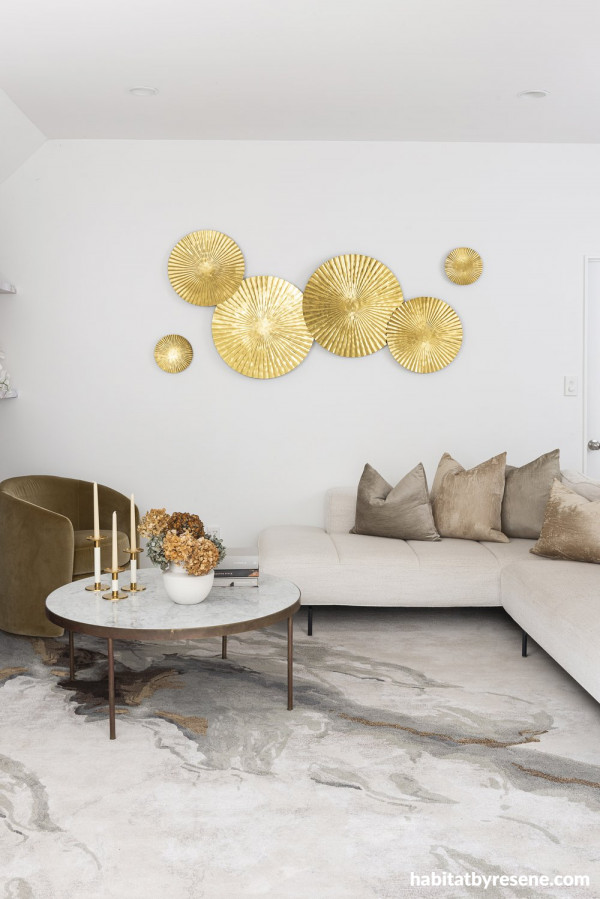 The family living room has accented colours of green and gold to break up the white, along with stunning orange toned shelves and marble vinyl. The walls and ceiling are painted in Resene Alabaster and the trims are painted in Resene Double Alabaster.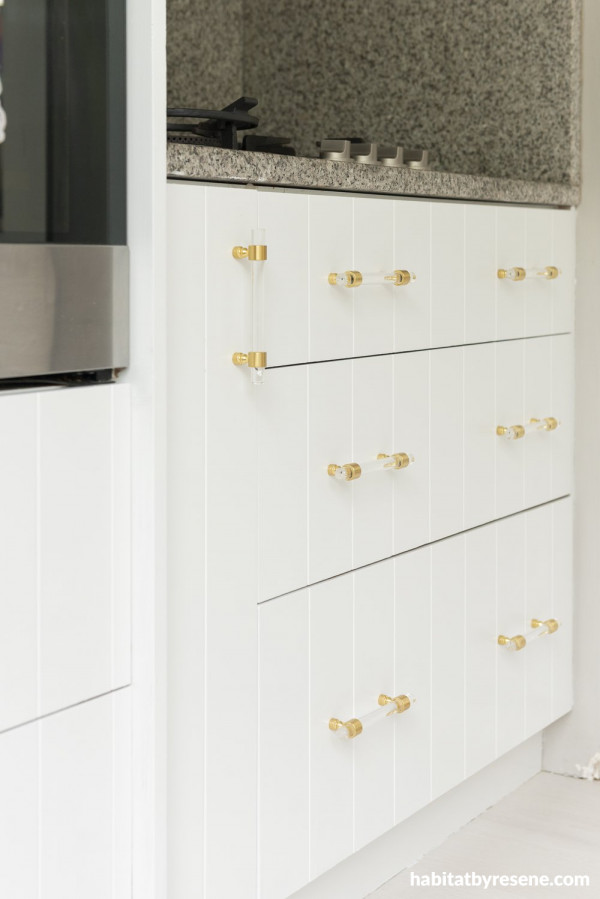 The kitchen is made timeless and chic with gold finishes and neutral tiling. The cabinetry has been refreshed with paint using Resene Half Sea Fog, a classic white with a blackened edge.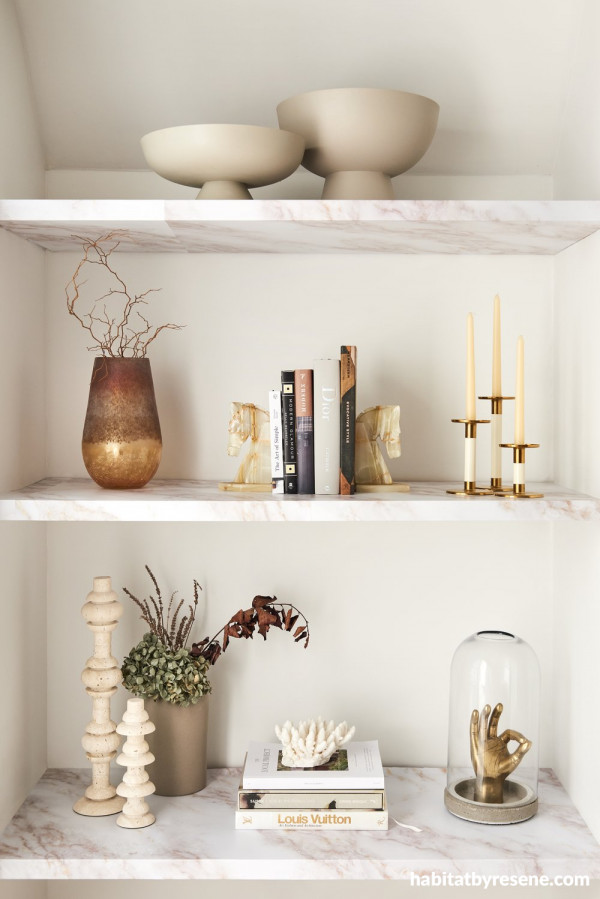 Whites and neutrals are a great choice if you're displaying your chic and stylish décor that will catch the eye of anyone walking past. Resene Alabaster was the perfect neutral for this home's walls, and the stunning marbled shelves give a touch of class and sophistication.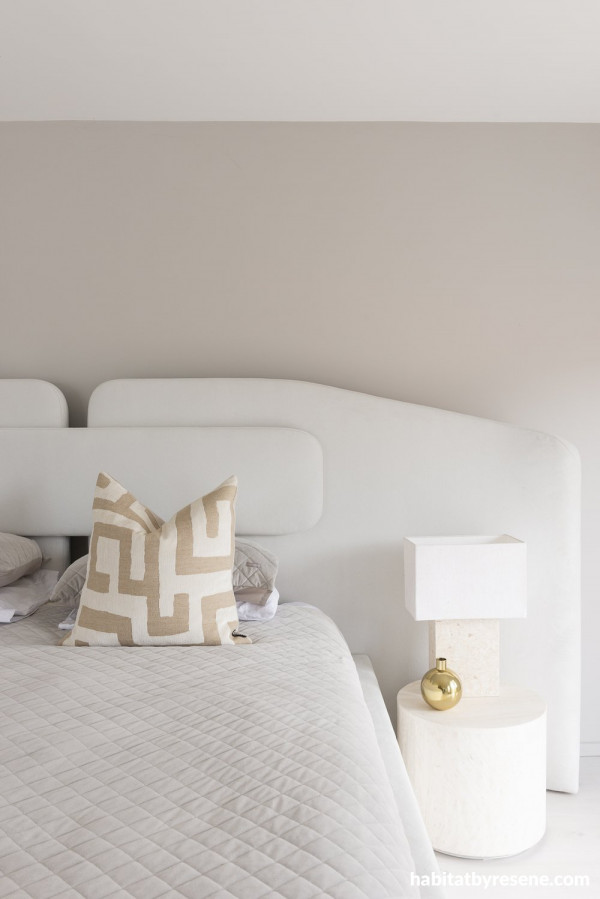 The master bedroom deserved nothing less than exquisite. Resene Quarter Truffle, a unique and genteel touch of taupe, was used on the walls giving a cosy and inviting feel. The ceiling is painted in Resene Alabaster.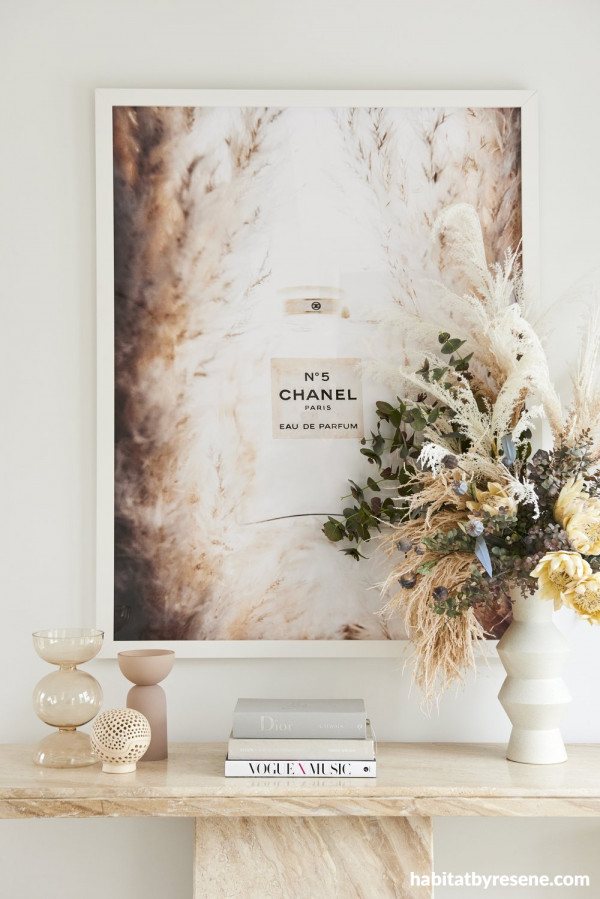 A vintage travertine console styled with a selection of chic objects and a piece of art above fills a blank wall in the entranceway and is also a handy spot to place keys. The wall is painted in Resene Alabaster.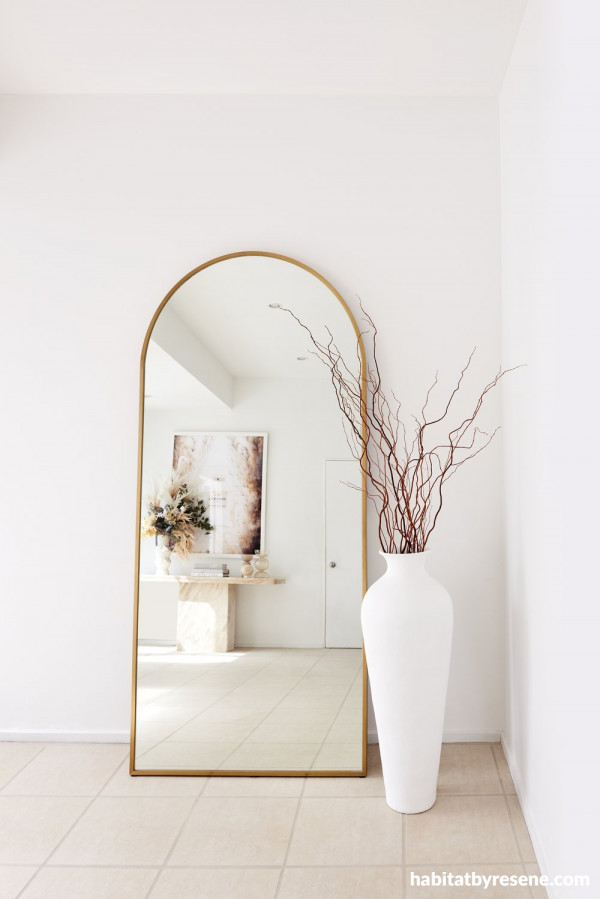 The arched mirror in the entranceway fills some of the vertical space and bounces light around, reflecting it to make the space more visually interesting. The walls and ceiling are painted in Resene Alabaster with Resene Double Alabaster on trims.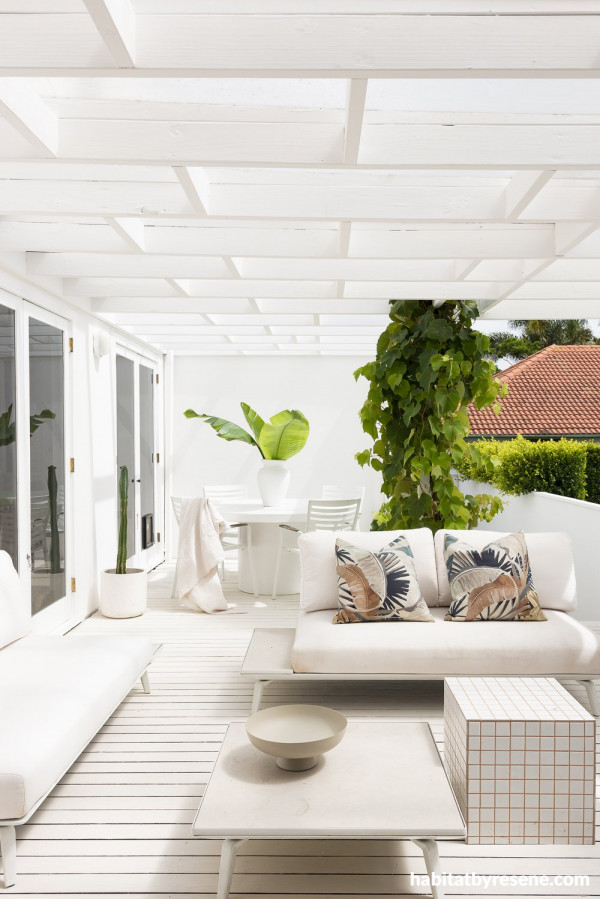 A beautiful grapevine trails down the stair balustrade and looks striking against the white walls painted in Resene Alabaster. Resene Walk-on flooring and paving paint was painted onto the deck tinted to Resene Blanc. This space is refreshed and ready for relaxing or entertaining.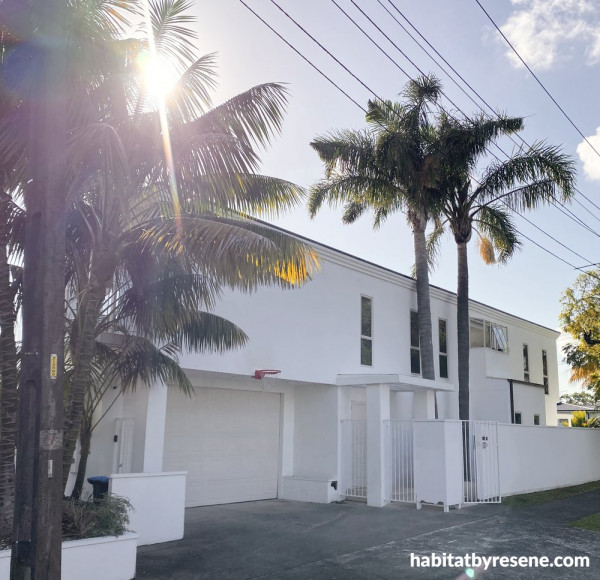 This home now has maximum street appeal, looking like a European delight with the green palms resting aside. Resene Half Blanc was painted on the front door and garage door, while Resene AquaShield mineral effect finish tinted to Resene Alabaster was used on the exterior, giving this home a lush Mediterranean look.
Published: 23 May 2023
Do you have a home full of wonderful Resene paint and colour? Send us some snaps by emailing editor@habitatbyresene.co.nz.












the look
If you're stuck on what
colour to use or need colour
advice, try out the Resene
Ask a Colour Expert service.