►
◄
latest
habitat tv

blog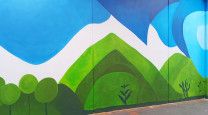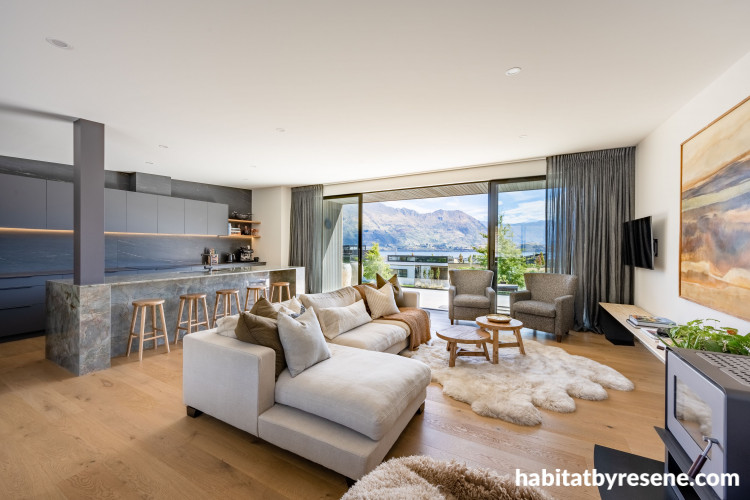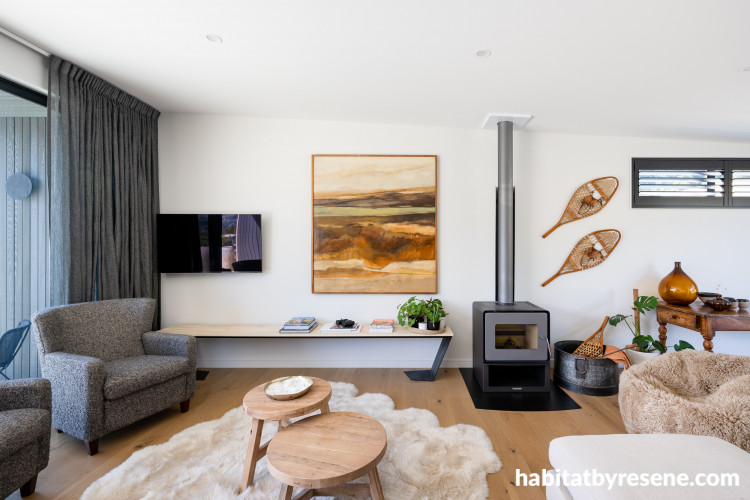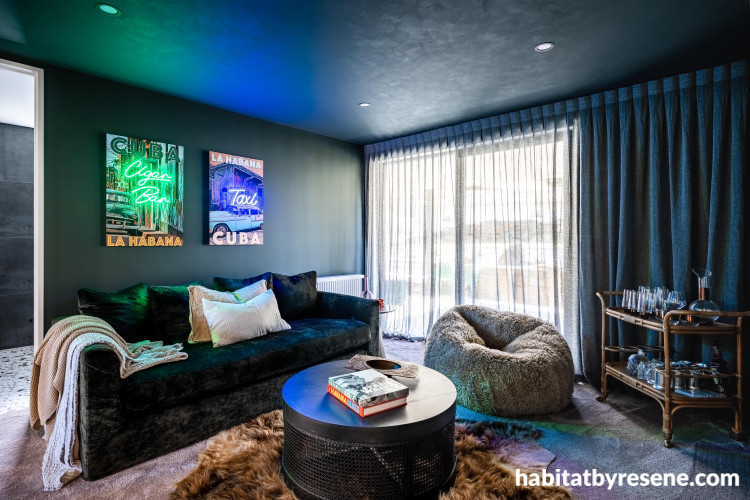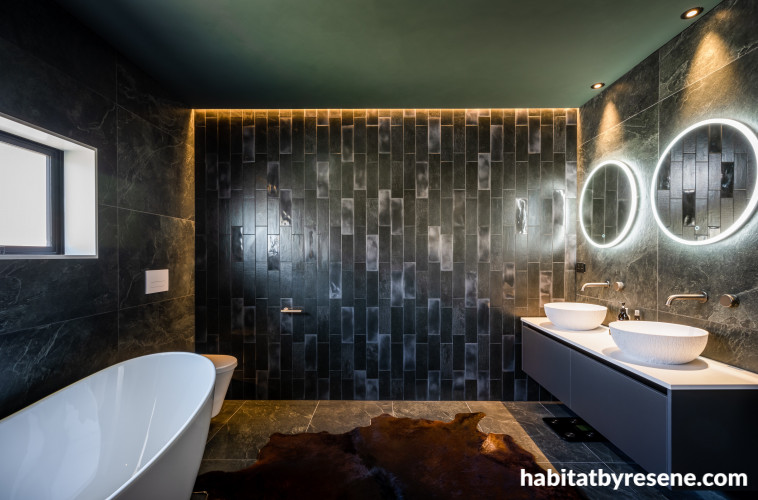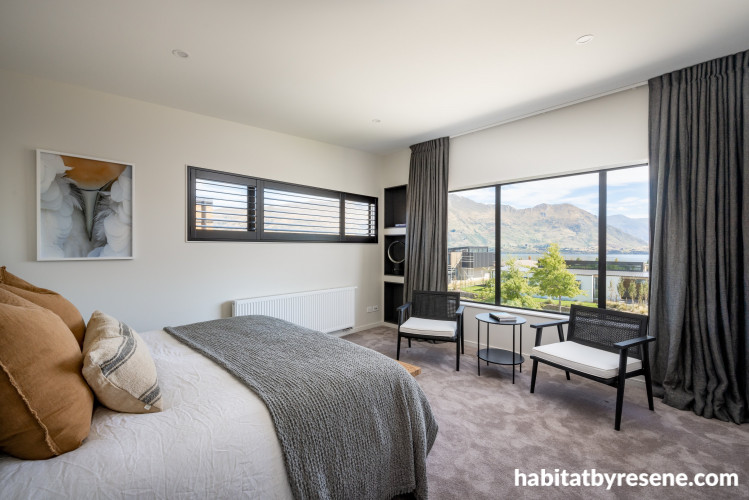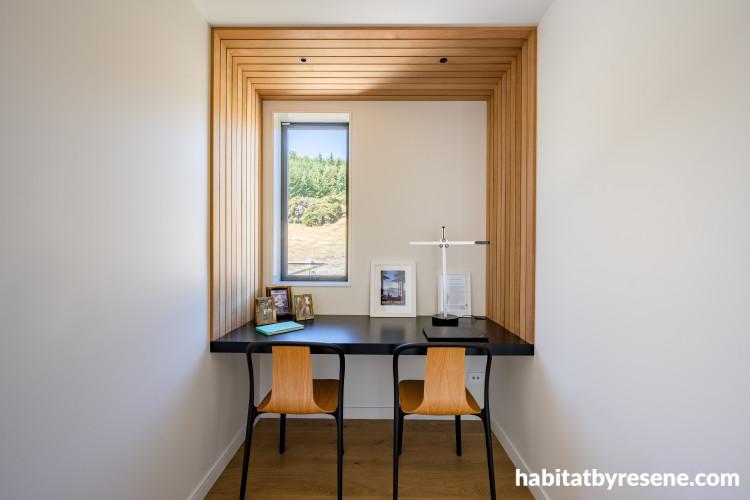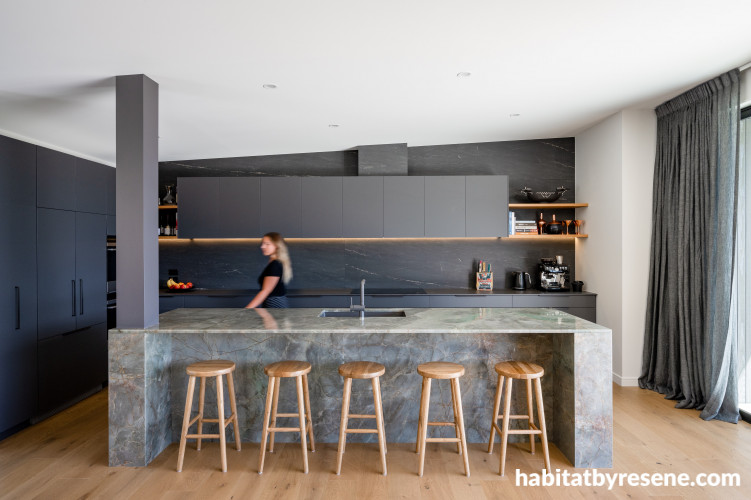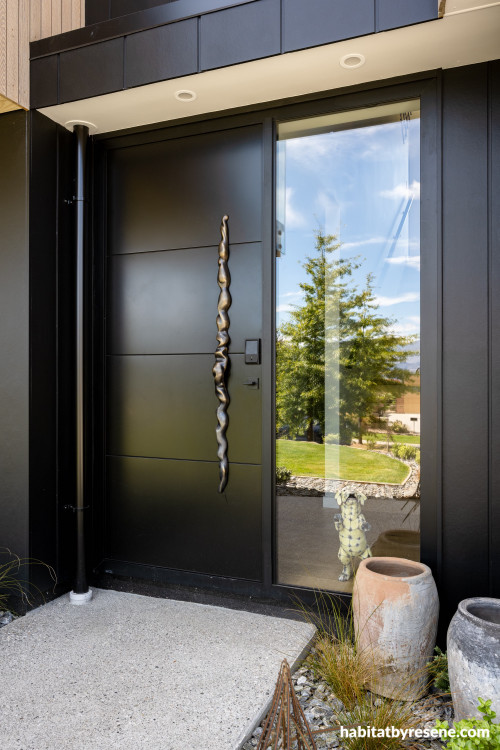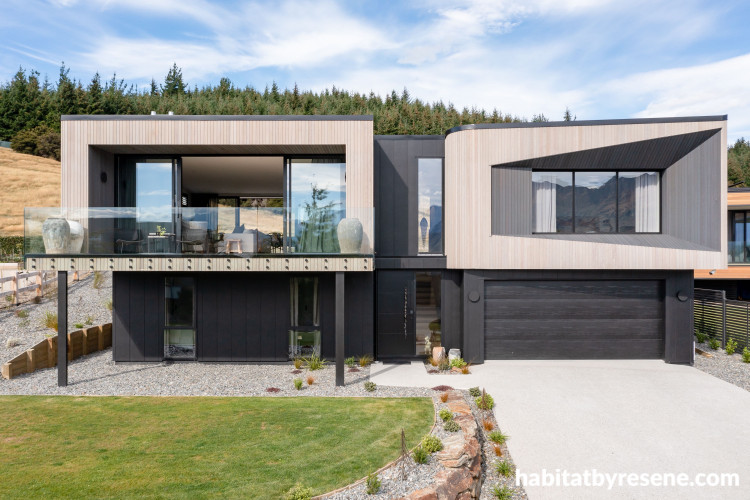 Nature's moody hues: A home that reflects its alpine surroundings
Architectural and interior designer at Home Factor, Priyanka Sareen, has done it again. With an array of soft and bold Resene paint colours, she drew inspiration from the natural environment of the surroundings, nailing the brief to create a luxurious, cosy Wanaka retreat for the new homeowners.
Sold off the plans to Auckland couple Mark and Rebecca Robinson, the magnificence of this home creates unparalleled street appeal while embracing the dramatic landscape and optimising spaces for maximum enjoyment, family time and relaxation.
Contemporary, bold colour schemes and dramatic bathrooms add to the luxury and appeal, making this a one of a kind home.
"Our vision was to create a luxurious and intriguing home design that would captivate the eyes and draw the new owners to Wanaka more frequently," Priyanka says. "A cosy retreat where they could escape to and spend quality time with friends and family."
"The architectural inspiration for this home was drawn from the alpine surroundings and a vision to use angles to create design intrigue. Each angled area captures a different perspective of the views on offer of the lake, mountains and forest at the back."
As you walk towards the front door, a bold 1.4m tall door handle in aged brass marks the start of an exciting experience. The moment you enter the home you're taken in by the striking copper and black shades of Resene Wallpaper Collection 296111 covering the double-height stairwell wall, with a trio of customised pendant lights centred in the space.
The copper and black tones then flow throughout the home, with shades from the same family used to create unique bathrooms and living areas, amalgamating in the heart of the home - the kitchen.
A wide-spanning kitchen was created that felt open and airy, with plenty of room for food preparation and entertaining. A vast view of the natural surrounds of Lake Wanaka and its stunning mountain ranges connect the kitchen to the outdoors from the warmth of a sunny open plan living space.
Resene Merino, and Resene Half Merino - Priyanka's favourite shade from Resene, were used for the ceiling, trims and walls, respectively. The harmony between these colours enhanced the cosy atmosphere we aimed to create. The subtle warm hues of these Resene neutrals paired with bold murals and finishes in other areas accentuated the interior design of this home, helping to create a truly boutique bespoke home.
"When deciding on a colour palette, I first find my inspiration, then pick the shades that would help me tell my best design story," Priyanka says. Our inspiration for this home was its Alpine surroundings and the colours and textures found in nature."
The master ensuite, which has turned out to be Priyanka's favourite room, features a calming rainfall effect, artistically created using tiling combinations to create a relaxing intimate mood. This was enhanced with different types of ambient lighting to create different atmospheres.
"The dark ceiling is a first for us," Priyanka says. "Initially the clients felt it would make the bathroom too dark, so we told them if they don't like it we will repaint it at no charge. A risky move, but it paid off.
"The ensuite looks stunning and is unlike any we have created so far. The clients love that it is a huge ensuite and they can truly unwind there. It's amazing what we could achieve with just different shades and textures in black."
The bathrooms are undeniably one of the most intriguing and striking features in this home. Aside from the moody and luxe master ensuite, an exciting mural adorns another powder room, featuring hues of deep clay & dusty cerulean. Resene Wallpaper Collection PO32-VD4 from the Resene Komar Pure Wallpaper Collection was a great choice, taking this WC to the next level against the darker tiles and flooring.
Entertainment was a design must for homeowners Mark and Rebecca, and the media room provides the perfect balance of entertainment and relaxation with access to an outdoor entertainment area and fireplace to be enjoyed at any time of the year.
"We wanted to create a special vibe in the media room, a place for the entire family to feel like they were on a getaway or in a private cinema," Priyanka says. "We achieved that by painting the whole room in a custom colour.
"We had Resene colour match a shade to create a special colour for us. On the walls using the special colour worked really well, but on the ceiling, critical light created a less than ideal finish. We came up with an alternative and used a manual sponge finish to create a unique, fascinating look that worked very well to overcome critical light and added a really fun vibe to the room."
Priyanka's dedication to her role and her clients is without a doubt her first priority. Her offer to repaint the master ensuite ceiling if the homeowners didn't like it was not her only commitment to helping them achieve their dream home.
During the design process her clients fell in love with the door handle and pendant lights, but when the lights fell outside their ideal budget. Priyanka and the team at Home Factor saw how much Mark loved them, they decided to pay for one of the lights themselves. This kind gesture signified a genuine love for design and desire to make their clients happy - to not only design the dream, but make it come true.
In terms of challenges, Priyanka says most things ran very smoothly, especially as the clients were more than happy with her recommendations, making the process relatively easy. However, architecturally the curved front facade was a feat of both engineering and technical application.
"We heard the word 'impossible' constantly throughout this build," Priyanka says. "The intersection of angular, cedar-cladded planes was a major source of difficulty. However, we would not be bested by this challenge and persevered to find a creative solution."
"The end result was truly magnificent – an awe-inspiring, wide-spanning angular facade. A visually floating box made of cedar slats makes the perfect office nook inside with views out to the forest. The exterior boldness and angles also follow through the home to create a unique and bold interior."
The expansive rear balcony allows for spacious indoor-outdoor flow and is a prime spot for soaking in the sunshine and scenery. With everything you can dream of from stunning lake and forest views to extensive entertainment areas and cosy relaxing spaces, this house truly captivated its owners in every aspect.
"As a designer, I design the architecture of the home as well as the interiors. Typically, people specialise in one or the other, but I love to do both as it helps me to bring my overall vision to life in a very cohesive way.
"My advice is that a whole home does not have to have the same tiling or colour scheme. I'm a firm believer that every part of your home should be unique and enjoyed as such, but come together cohesively with an overall theme."
Desejo, meaning 'desire' in Portuguese, is Priyanka's new company providing European made modern luxury furniture and fittings. As a designer, she was constantly looking for unique fixtures and fittings from around the world to use in her homes at Home Factor and eventually felt she needed to share that with Kiwis. Inspired by nature and the world around us, Desejo supplied the front door handle (Sonoran - inspired by the Sonoran Desert), as well as the striking pendant lights (Leaf pendant lights - inspired by palm leaves) in the stairwell of this home.
Priyanka is thrilled to say she has extremely happy clients. Mark, Rebecca and their two girls love their home and since its completion they are spending more and more time in Wanaka, with the potential to move down permanently.
interior designer and specifier Priyanka Sareen priyanka@homefactor.co.nz
images Sampford Cathie
Top tip: Homes with good indoor and outdoor flow, also tend to come in for a little extra wear and tear as friends and family move in and out more than they would tend to in a more closed off area. Make sure your paint finishes can handle this with durable waterborne enamels, such as Resene SpaceCote Low Sheen on walls, Resene Lustacryl semi-gloss on trim and joinery and Resene SpaceCote Flat on the ceiling.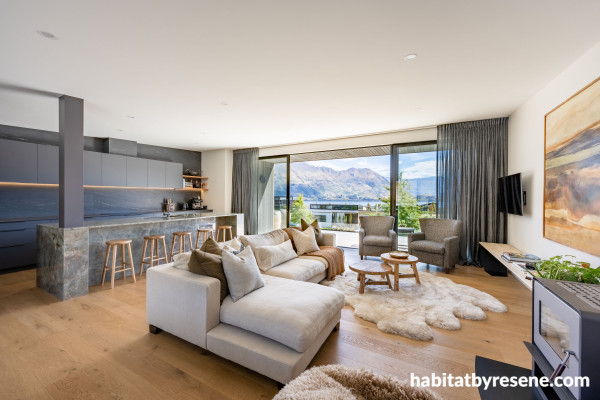 The inspiration taken from nature is clear through the unique kitchen island, wooden flooring and shades used within the home. Resene Merino was painted on the walls and trims, and Resene Half Merino on the ceiling.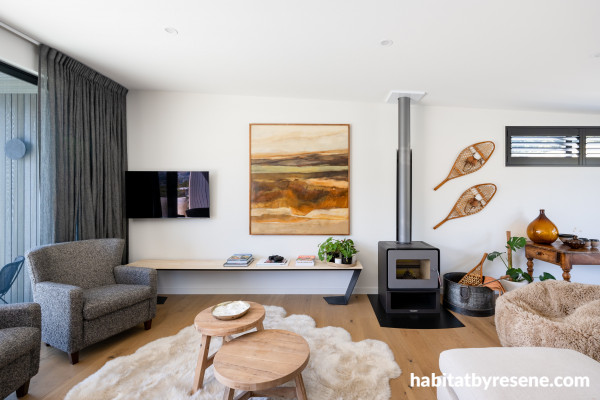 Neutral shades are a great backdrop for feature artwork and décor. The walls are painted in Resene Merino, a warm shade that looks even more beautiful in natural light. Resene Half Merino is used on the ceiling.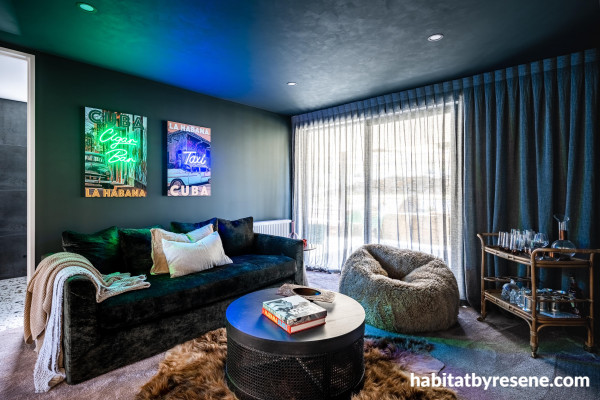 The media room was given a moody vibe with a custom made Resene colour, similar to that of Resene Jurassic. The ceiling was sponged to provide less sheen and give a unique look. Trims are painted in Resene Merino.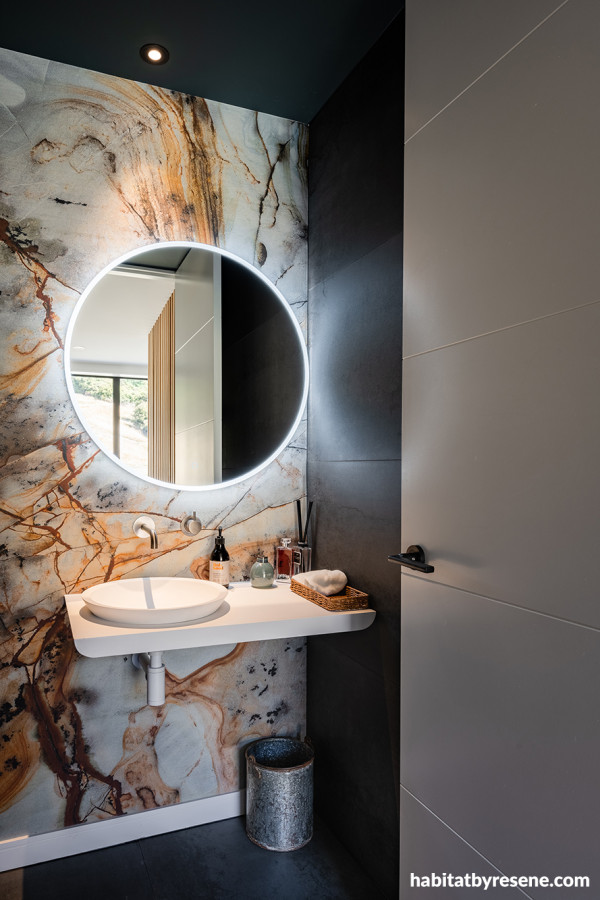 The clay and marble shades of Resene Wallpaper Collection PO32-VD4 reflect the inspiration nature offers throughout the house and provides a luxurious look for this powder room. Trims are painted in Resene Merino.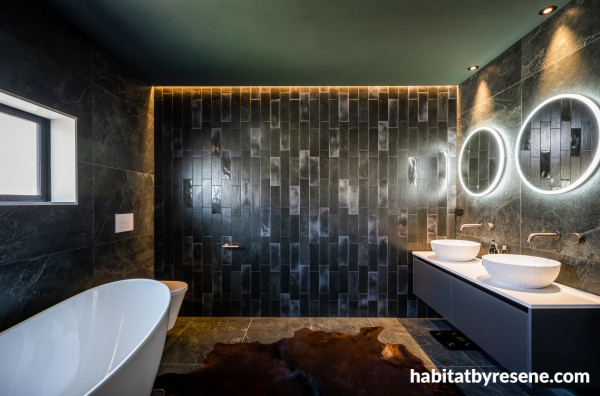 This intimate and moody bathroom provides a relaxing escape at the end of the day. The ceiling is painted in a custom made Resene colour, for a similar look try Resene Jurassic. Trims are painted in Resene Merino.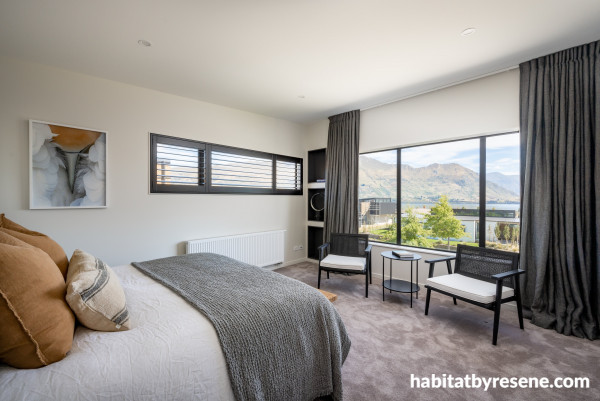 A classic neutral bedroom in the warm and timeless shade of Resene Merino, with ceiling in Resene Half Merino. The light shade means the landscape and alpine views are the main feature.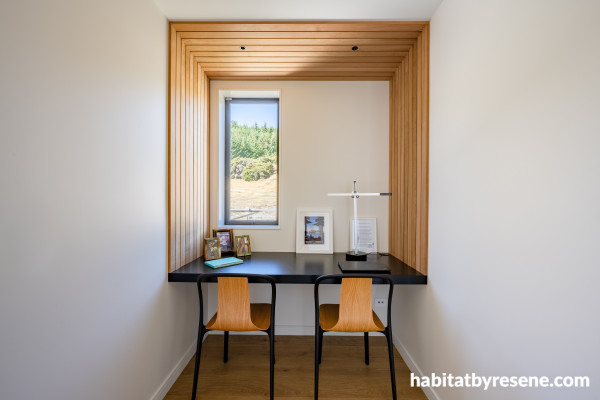 An intimate creative floating cedar seat forms a home office in this perfect nook. Resene Merino is painted on the walls and trims with Resene Half Merino on the ceiling, a shade that works well with natural timber.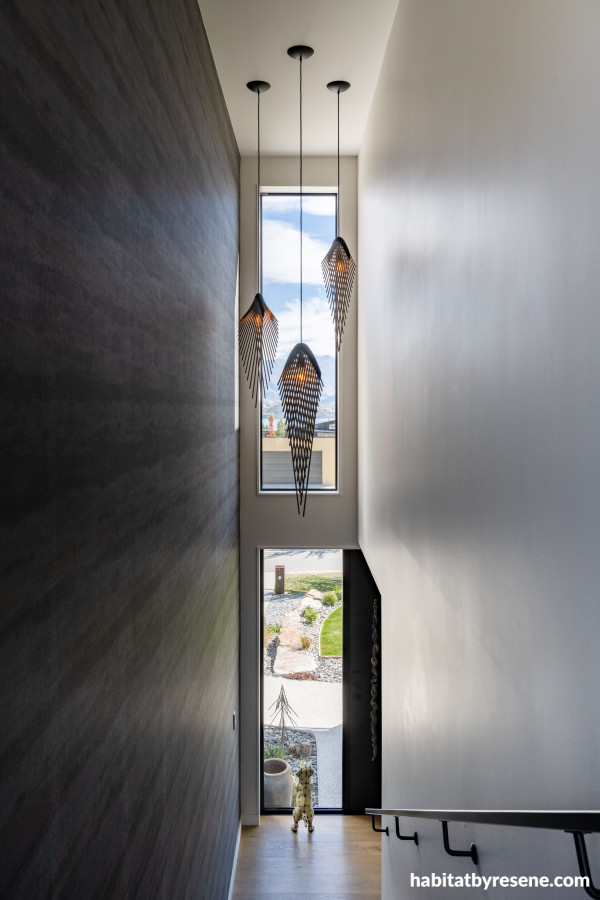 The copper and black shades shine through in Resene Wallpaper Collection 296111, creating a luxurious and intriguing welcome to the home. The custom pendant lights from Desejo also reflect the colours within the wallpaper for a cohesive feel. Resene Merino was used on the walls and trims and Resene Half Merino on the ceiling.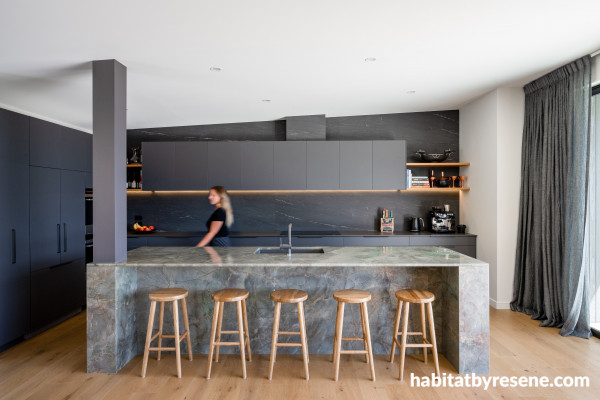 A rare natural stone with organic tones of schist and the forest features in the kitchen, with a complementing cinder colour stone with copper veins as a splashback. Resene Merino was used on the walls and Resene Half Merino on the ceiling.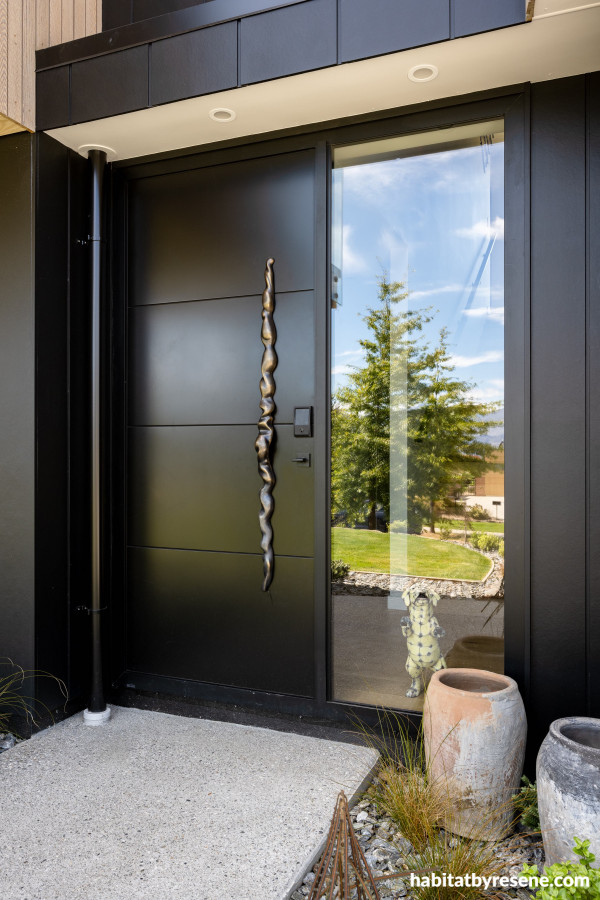 Inspired by the Sonoran Desert, this 1.4m tall door handle from Desejo is a favourite feature of the homeowner's home and looks great against the dark shade of the door in Resene Charcoal.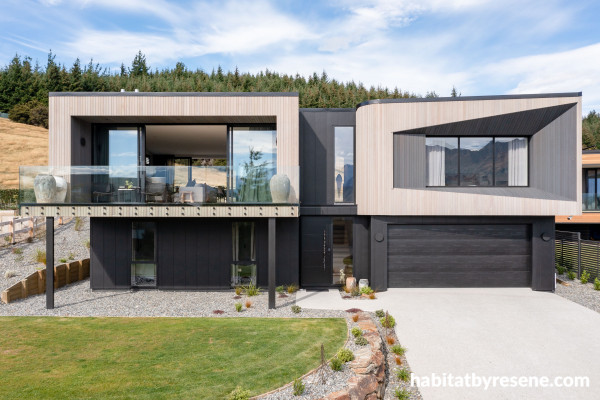 The magnificent curves and angles give this home a one of a kind look, with maximum street appeal and beauty. The dark shade of Resene Charcoal on the Stria cladding is striking against the lighter timber.
Published: 13 Apr 2023
Do you have a home full of wonderful Resene paint and colour? Send us some snaps by emailing editor@habitatbyresene.co.nz.








the look
If you're stuck on what
colour to use or need colour
advice, try out the Resene
Ask a Colour Expert service.