►
◄
latest
habitat tv
blog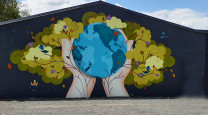 Spring into action: Get your outdoor areas ready for summer
Dust off your DIY and maintenance skills, it's that time of year when we all race outside to enjoy some warmer weather and realise there's some work to do to get our outdoor areas looking ship-shape for summer.
Keeping on top of maintenance is less overwhelming if you schedule in small jobs regularly so the focal points of your section, like gates, fences, paths and decks look smart and cared for.
Here are some quick and simple ways to set your outdoor areas up for spring and summer.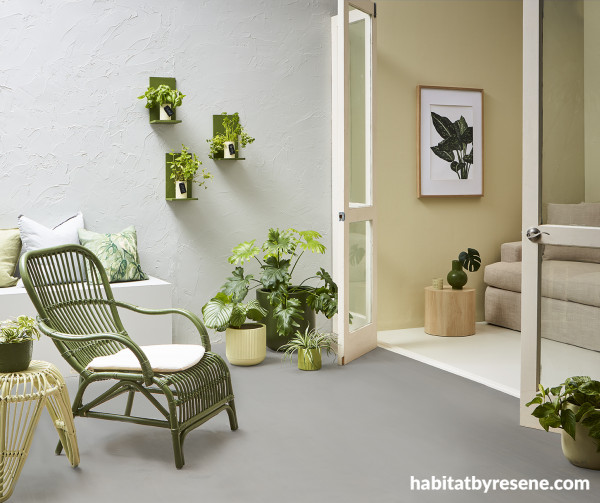 The fresh botanical green of Resene Awol on this chair brings this whole patio to life. Similar fresh spring colours in the space help seamlessly connect inside with the outside. The textured exterior wall is painted in Resene Resitex Plastercote in Resene Foggy Grey. The bench seat is also Resene Foggy Grey. Deck painted in Resene Walk-onGunsmoke, small side table in Resene Nirvana, table pot and large planter in Resene Turtle Green, medium planter in Resene Fawn Green, small planter in Resene Awol, planter holders in Resene Clover with tins in Resene Fawn Green. The interior walls are Resene Miso and the floor is Resene Thorndon Cream. On the oak table the vase is Resene Clover and the tealight holder is Resene Fawn Green. Project by Vanessa Nouwens, image by Wendy Fenwick.
Freshen up the furniture
If you have outdoor seating, tables or even a BBQ bench, planters or a shed, give them all a once over. Check for areas that might need repairs to make them safe to use.
Give them a wash down, to remove flaking paint and treat any moss and mould with Resene Moss & Mould Killer.
If some of your furniture is looking a bit tired, a refresh with paint or wood stain is a cost-effective and quick way to bring it back to life - and maybe get a season or two more from it before it needs replacing.
If you're staining wooden furniture and planters experiment with different shades instead of just the natural wood colour. Darker stains like Resene Woodsman Treehouse or Resene Woodsman Banjul look dramatic and modern with bright-coloured cushions and throws. Using a darker shade on planters and fences also makes them recede so the focus is on your beautiful flowers, vegetables and shrubs.
For something eye-catching to liven up a plain porch try painting your furniture in bold brights like primary blue Resene Surfs Up and yellow Resene Paris Daisy for the colours of a summer day.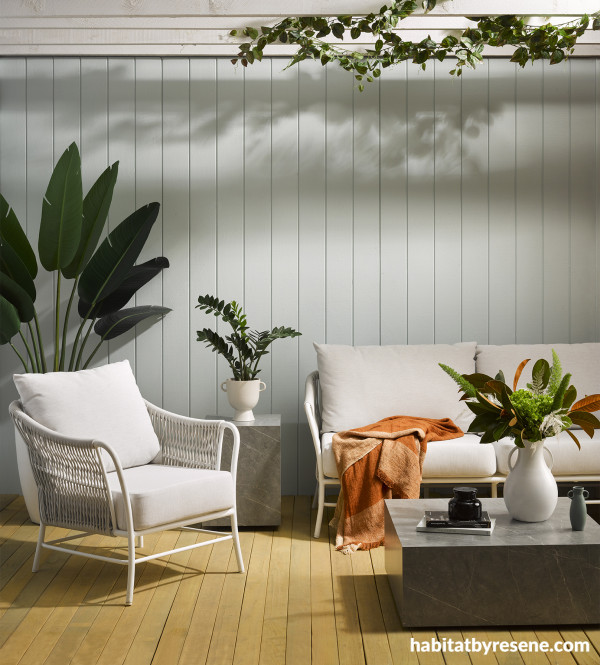 Make use of walls, fences or wind shelters to create warm sunny outdoor rooms. This wall is painted in Resene Nebula with a deck in Resene Woodsman Uluru and pergola in Resene Sea Fog. The large vase is also Resene Sea Fog. The planter on the side table is Resene Cloud. Project by Laura Lynn Johnston, image by Melanie Jenkins.
Create outdoor rooms
Think about how you might be using the space over the warmer months. Will you need different types of seating? Do you need flexible options that can easily be stored until you have larger groups to entertain? Do you have enough tables? Where should you position your furniture to get the most sun or shelter from the breeze?
What mood do you want to create? Maybe it's a tropical retreat or a coastal escape. Having a theme or mood in mind helps keep your space cohesive.
Once you have a plan, you can start to create use areas within your garden just as you might inside. Painted recycled doors, or wooden screens, even concrete blocks can be repurposed as dividers, or shelters to give you a secluded relaxation or eating area that's separated from the kids' play area or the tool shed. Try darker greens in Resene Midnight Moss or charcoal Resene Woodsman Canopy so your shelters recede into the surrounding garden. For something different try a wooden ply screen in neutral Resene Half Tea and hand paint it with flowers in your favourite shades.
For a less solid option, train climbing plants such as sweet peas or even beans to grow up wires to create a living screen.
Add layers of colour and texture, just as you would in an indoor sitting area - as well as lots of plants and flowers.
Top tip: Using a similar or the same colour palettes as you've used inside helps create that indoor-outdoor flow we're all aiming for. If your interior is in light colours, try a double or triple version outside as the sun will make colours seem lighter outside.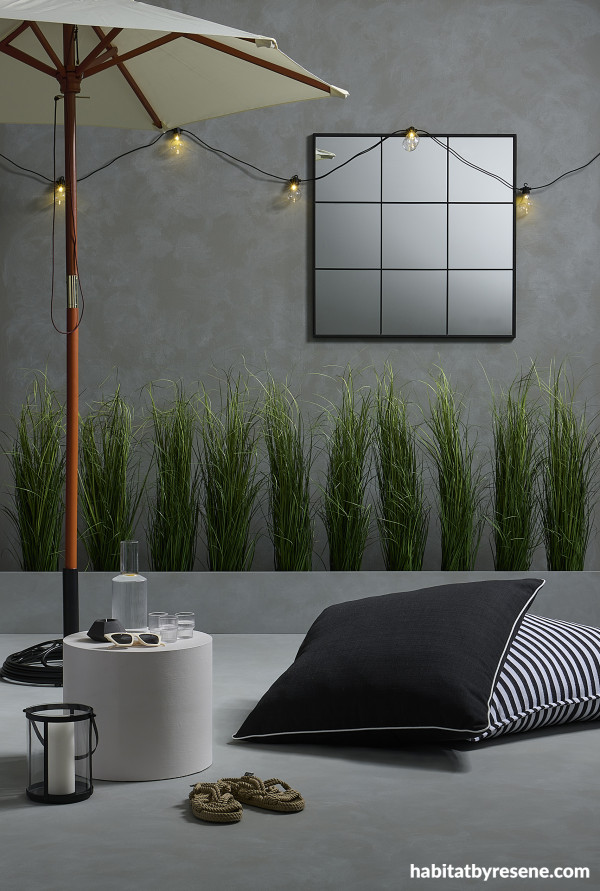 A good-sized mirror and subtle lining turn this plain space into a perfect relaxing or entertaining area. The patio floor, walls and planter box are in Resene Half Tapa with weathered concrete effect in Resene FX Paint Effects medium mixed with Resene Half Atmosphere. Plinth table in Resene Half Blanc and tealight holder in Resene Half Bokara Grey. Project by Melle van Sambeek, image by Bryce Carleton.
Add light and art
Outdoor, solar power fairy lights are a quick way to make everything look more glamorous when the sun goes down. Wrap them around your trees, or through your grapevine before the spring growth takes off. Hang them from your fence or pergola, or simply tangle them up inside a glass vase for a pretty outdoor table lamp.
Hurricane lanterns or tealights floating in a large platter or birdbath, are other simple, fast and effective ideas for outdoor lighting. If you have older lanterns you want to revive, give them a coat of paint in a bright shade like Resene Blaze or go for a burnished effect with Resene Gold Dust metallic paint.
Decorating the walls and surfaces of your outdoor space is an effective way to give it a new lease of life, and add some of your personality to your garden. Find inexpensive ceramic or concrete tiles and have a go at painting your own designs to dot around the garden. It can be a fun activity to do with your kids too using Resene testpots.
If you have a long stretch of wooden fence, refresh it with a natural look wood stain such as Resene Waterborne Woodsman Natural to protect it, or paint it a neutral base colour like Resene White Pointer, then decorate over that with a mural. If you don't trust your freehand skills try abstract, geometric designs that you can mask up. Paint it in colours that reflect the shades of your garden - or add colour if your garden is mostly green. Try flowers in subtle pink Resene Wafer and violet Resene Lip Service. Alternatively try using a section of plywood as a canvas you can move around the garden.
If you prefer darker fences, wood stain colours like Resene Pitch Black will help your fence nestle nicely into the background. Make sure you choose the Resene CoolColour version of your dark colour to help reflect more heat and keep the paint, stain and surface cooler.
Mirrors can be another fun way to add life to your garden. They'll throw light around nicely and can make smaller gardens seem larger. Put some thought into where you place them, so they don't bounce the glare right at where you're planning to sit and relax.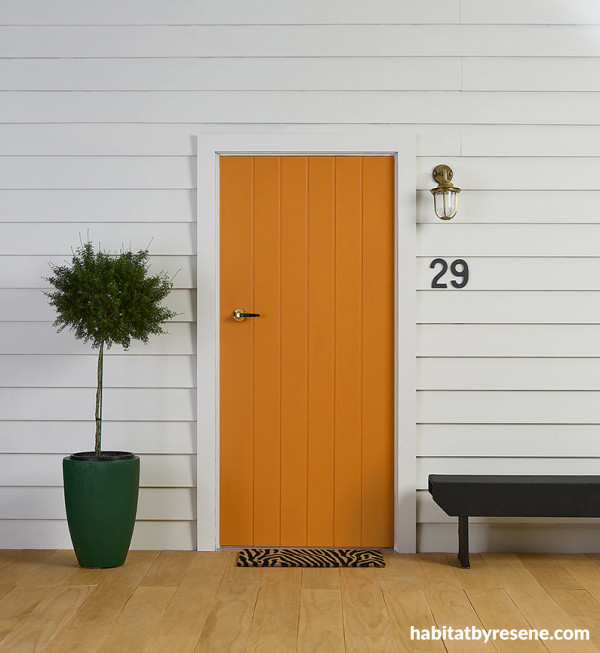 Like the impact of a red door, but keen to try something different? How about using a bright orange such as Resene Hyperactive? Weatherboards painted in Resene Merino, deck in Resene Woodsman Natural, plant pot in Resene Kaitoke Green, bench in Resene All Black and stripes of zebra doormat painted in Resene Hyperactive and Resene All Black.
Repaint your front door
One way to give your home an instant update, and improve your curb appeal is to paint your front door. Embrace the trend for vivid statement doors by choosing a bold colour like gold Resene Mandalay or citrus Resene Adrenalin.
If that doesn't appeal, think about painting your door a bolder or lighter shade of your exterior colour. For example, if your exterior is a neutral beige such as Resene Quarter Napa, try Resene Double Napa on your front door. Paint your door frame and any surrounding porch trim in grey-white Resene Sea Fog for a fresh, light touch.
To make your door stand out - and cope with wear and tear – use a Resene paint with a gloss or semi-gloss finish, such as Resene Enamacryl (gloss) and Resene Lustacryl (semi-gloss). And for added drama to your entrance, add two painted pots with large trees on either side of the door.
To extend your paintwork a little further, you could also paint porch steps, the mailbox and pathways in Resene Non-Skid Deck & Path to keep your family and friends safer.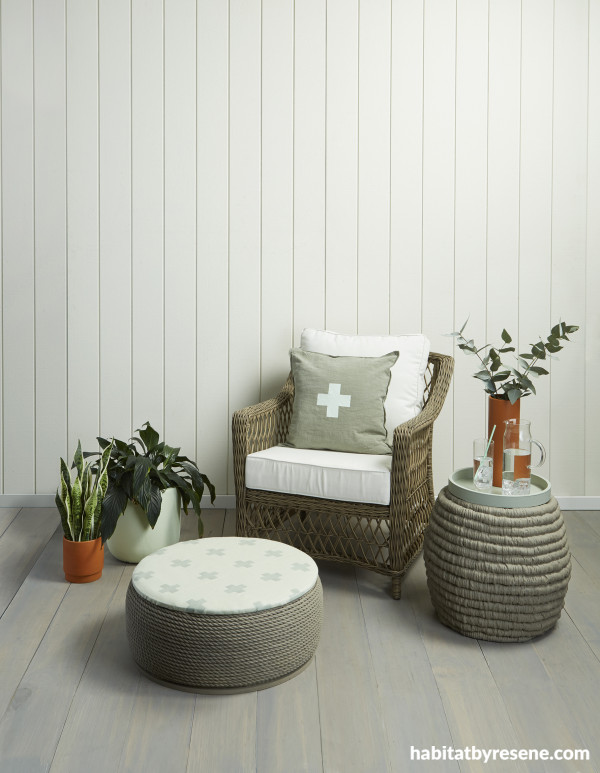 This simple setting even includes a car tyre recycled as an ottoman painted in Resene Double Pravda. Walls painted in Resene Half Villa White, desk in Resene Woodsman Mid Greywash, side table in Resene Double Pravda, tray in Resene Peace, vase and small pot in Resene Bi Hoki while the larger plant pot is in Resene Kandinsky. Project by Laura Lynn Johnston, image by Bryce Carleton.
Clean and upcycle
Fresh foliage, inexpensive furniture and a lick of paint can do wonders for an outdoor area. If you're looking at your outdoor area, no matter how large or fancy it is, feeling overwhelmed at the work and cost involved in getting it to where you want it, think about materials you can repurpose or upcycle.
Paint old pavers, and planters. Give your tired furniture a wash, sand and paint. Simply painting a few inexpensive terracotta pots filled with herbs, flowers, shrubs or even miniature fruit trees will give your space an almost instant makeover.
If you're in need of new furniture look around second-hand stores for items you can upcycle. Just check for signs of rot and make sure they're stable if they're items that have been used outdoors previously.
Most materials like wood, metal, cane and even some plastics can be revived and given new life with Resene paints.
Washing with Resene Paint Prep and Housewash or Resene Bio-Cleaner, rather than fully repainting can also be a budget-friendly way to revive exterior weatherboards. Once cleaned treat any areas of mould with Resene Moss & Mould Killer. Check for areas with flaking paint, rot, or lifting nails, then you can spot repair rather than having to full repaint.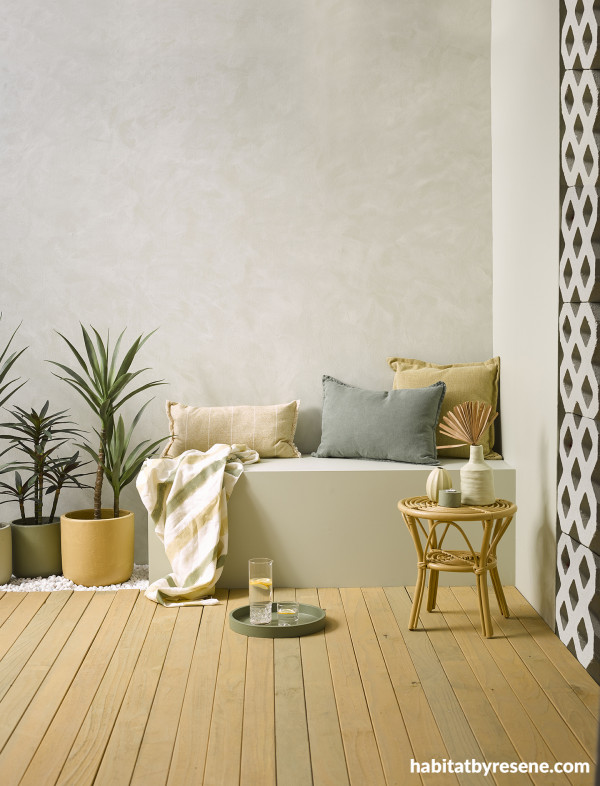 High-gloss finishes can show up imperfections on older or textures surfaces. Opt for matte or low sheen finishes if that is an issue in your exterior project. Back wall painted in Resene Aspiring with paint effect in Resene FX Paint Effects medium mixed with Resene Moon Mist. Right wall, breeze blocks and vase painted in Resene Moon Mist, bench seat in Resene Aspiring, deck in Resene Woodsman Uluru, table and large plant pot in Resene Teak, tray in Resene Flax and small plant pot in Resene Siam. Project by Vanessa Nouwens, image by Wendy Fenwick.
Restain surfaces
We do love a timber deck to give us long-lasting, low maintenance outdoor living that flows easily from inside and spring is the perfect time to give them a freshen up for summer.
Give your deck a clean with Resene Moss & Mould Killer to treat any moss and mould then clean with Resene Timber and Deck Wash. Once rinsed and dry, restain to protect your deck from the elements. Top tip: if you want to change the colour of your deck it is easier to go from a lighter shade to a darker colour. For greyed tone try Resene Woodsman Tiri, or a darker brown Resene Woodsman Dark Oak.
If your deck sits in a lot of full sun, it's also a good idea to choose a Resene CoolColour which will help protect it from the heat, particularly if you've opted for a darker shade.
For an oiled finish try Resene Woodsman Wood Oil Stain, which also comes in a range of shades.
Think about what colours will work with the surrounding garden and the exterior of your house. Perhaps something with a green hue to blend into nature like Resene Rangitoto, or paler for a beachy effect like Resene Woodsman Natural.
Top outdoor tip: If you have old concrete pavers that have faded, you can refresh their colour using Resene Concrete Stain, much like a wood stain works on timber.
Published: 05 Oct 2022
Do you have a home full of wonderful Resene paint and colour? Send us some snaps by emailing editor@habitatbyresene.co.nz.