►
◄
latest
habitat tv
blog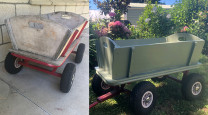 5 ways to transform your outdoor space
Summer is here, even though the recent weather may not suggest so. Now is a great time to refresh your outdoor space, whether you want to add a pop of bright colour, or go for some chic neutrals, Resene has the paint colours and wood stains that can make your deck and garden look fabulous.
If your outdoor space is exposed to the elements, try using Resene CoolColour paints and wood stains to reduce heat stress and damage. A Resene CoolColour reflects more of the sun's UV rays than the standard version of the colour and is especially useful when you're opting for a dark shade. Find out more at www.resene.com/coolcolour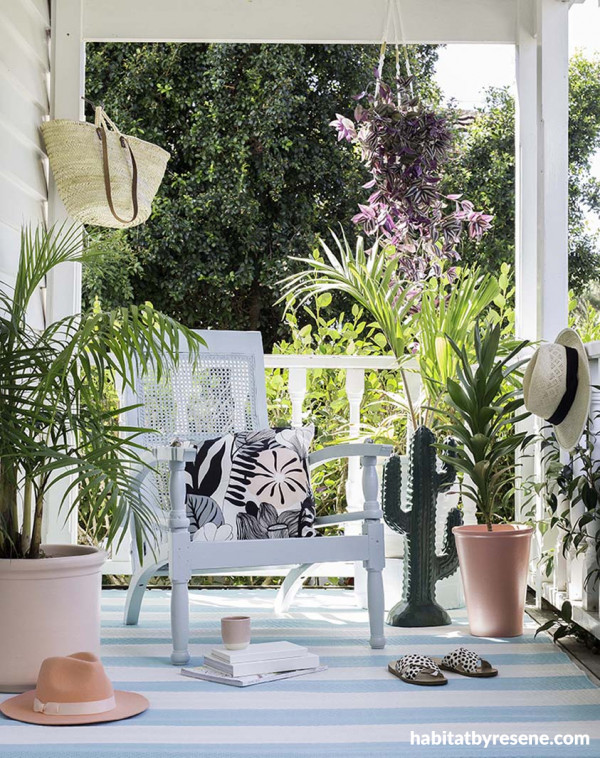 No matter how small the space, outdoor living adds a valuable asset to your home, and can always be improved with paint and colour. Chair painted in Resene Ashanti, walls and balustrade in Resene Quarter White Pointer, cactus in Resene English Holly, pot on left in Resene Wax Flower and pot on right in Resene Glorious. Project by Amber Armitage, image by Aimee Magnee.
If you have a bland decking area, try painting furniture and other elements like pots and ornaments to liven the space up. You can choose any of your favourite colours and create your own theme. If you don't have time to freshen up your timber deck you can always opt for a colourful outdoor mat to match your chosen colour palette.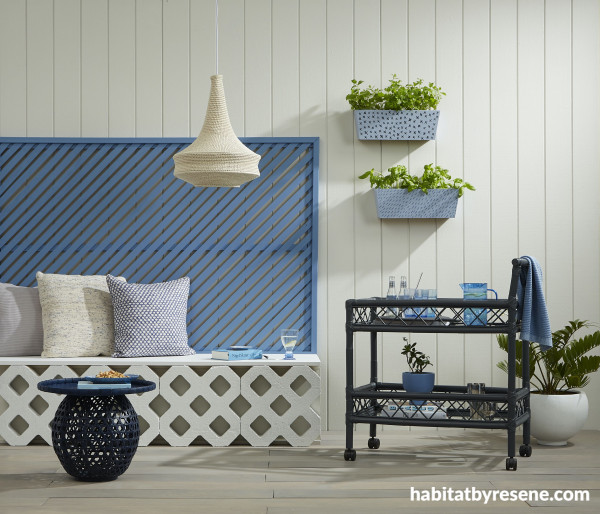 This outdoor wall is painted in Resene Triple Merino, with a screen in Resene Kashmir Blue to add a pop of colour. Breeze blocks painted in Resene Triple Merino, boards in Resene Tiri, trolley and woven tray table in Resene Indian Ink, planter boxes in Resene Smokescreen with dots in Resene Indian Ink, medium pot plant in Resene Alabaster and smaller pot plant in Resene Kashmir Blue. Project by Kate Alexander, image by Bryce Carleton.
It's amazing what you can achieve with leftover timber or wooden pallets. By simply painting them you can create a central feature and inviting space in your outdoor area. The breeze blocks create a versatile seat along with the blue screen and planter boxes to brighten it up. You can also add some cushions to make it more inviting and comfortable.
If you're having guests over, you can even make an outdoor garden bar by repainting old shelves or a trolley and adding wheels. If the kids want to take over the space, you can wheel it away to make room for a family zone or barbeque.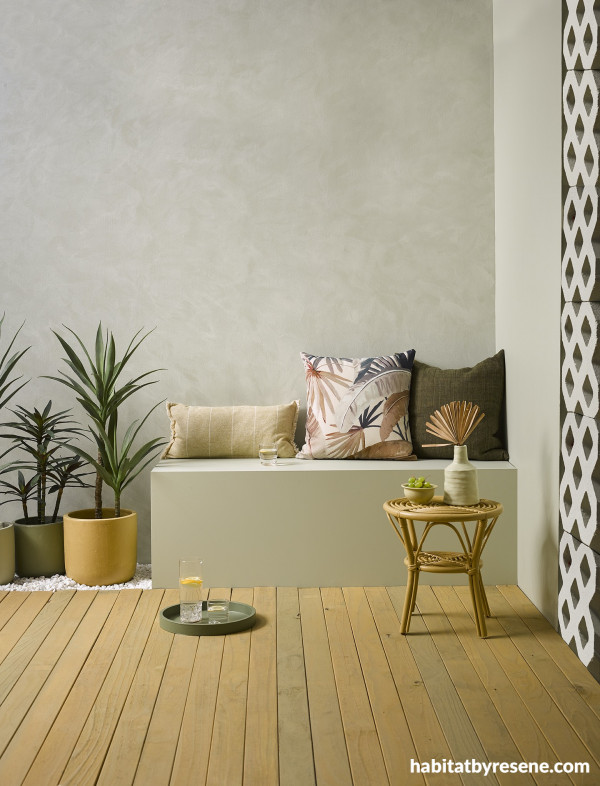 This concrete patio corner is given a touch of softness and sunshine with the use of Resene Woodsman Uluru on the decking. It works well with the added greenery from the plants and the touch of Resene Teak on the table and large plant pot. The back wall is given added interest in Resene Aspiring with Resene FX Paint Effects medium mixed with Resene Moon Mist. The breeze block side wall and the small vase on the table are also in Resene Moon Mist. The bench seat is Resene Aspiring and the smaller planter is Resene Siam. Project by Vanessa Nouwens, image by Wendy Fenwick.
This minimal chic look can be easy to achieve if your outdoor space is looking a bit drab. You can refresh walls with Resene FX Paint Effects tinted to the colour of your choice creating intrigue in an otherwise plain space. Try adding some cushions, furnishings and plants to create a modern feel.
If you've got a timber deck, which is great for indoor outdoor flow and low maintenance, try giving this a refresh by using Resene products such as Resene Woodsman or Resene Kwila Timber Stain. For an oiled finish try using Resene Furniture and Decking Oil. When choosing your colour, you can emulate the finish of a wood of your choice by choosing a stain like Resene Woodsman Natural or Resene Woodsman Dark Oak. Take a look at the surrounding environment to get some inspiration.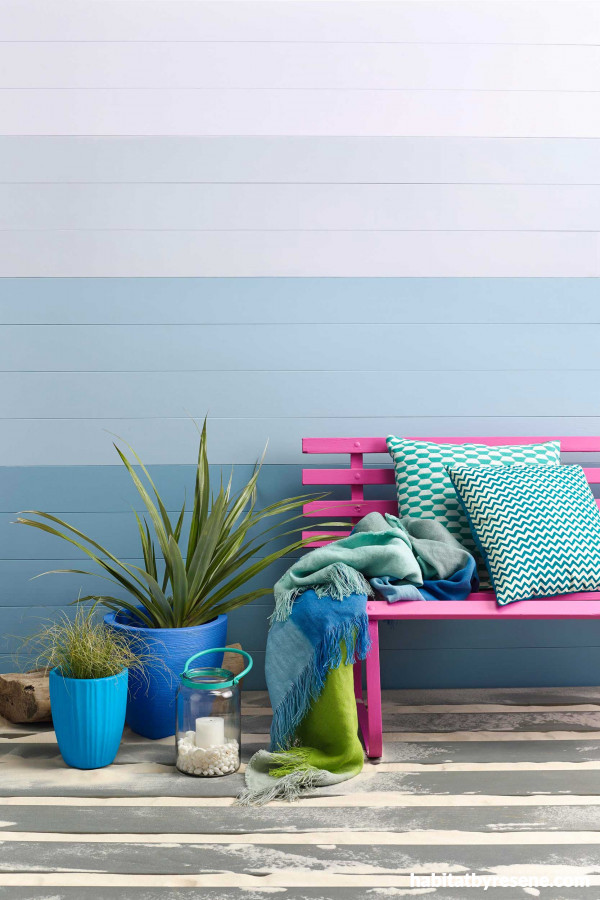 Aim for colourful coastal chic by contrasting bright styling with natural deck shades, such as Resene Woodsman Iroko. Project by Claudia Kozub. Resene Solitude, Resene Breathless and Resene Frozen create a tonal ombre effect, which is teamed with a feature piece of furniture painted in Resene Smitten. Image by Melanie Jenkins.
Create a striking ombre wall using various shades of one colour going from dark to light. Choose your darkest colour first, then use lighter variants to get a tonal effect. You can also add a pop of brightness by painting your seating in a contrasting colour.
Wood stain is not the only option for your deck, if you're up for the challenge you can add some visual impact by doing a bit of DIY using paint colours of your choice. You can opt for a finish such as Resene Lumbersider low sheen waterborne paint, or Resene Walk-on flooring and paving paint.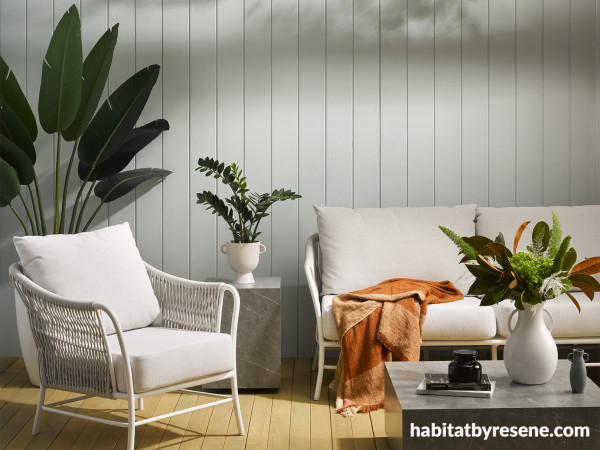 Make use of walls, fences or wind shelters to create warm sunny outdoor rooms. This wall is painted in Resene Nebula with a deck in Resene Woodsman Uluru and pergola in Resene Sea Fog. The large vase is also painted in Resene Sea Fog. The planter on the side table is Resene Cloud. Project by Laura Lynn Johnston, image by Melanie Jenkins.
This outdoor space gives a Hamptons vibe with its lush seating and exquisite décor. Try adding some cool neutrals on the walls and shelter such as Resene Nebula or Resene Duck Egg Blue. If you're thinking about how you might also use your outdoor space in winter then adding some shelter or windbreak might be the option for you. You don't have to completely block off the outdoors and nature, you can always add some climbing plants such as sweet pea or passionfruit vines to bring in some greenery and create a nice flow into the garden. Bring out some blankets and an outdoor heater and you're set for the warmer months ahead.
If you're planning an exterior or interior update and are not sure where to start, visit your local Resene ColorShop or use the free online Ask an Expert service. Resene Paint Experts and Resene Colour Experts can answer your queries direct to your inbox. Ask the Resene experts online at:
Colour expert: www.resene.com/colourexpert
Paint expert: www.resene.co.nz/paintexpert
Published: 18 Jan 2023
Do you have a home full of wonderful Resene paint and colour? Send us some snaps by emailing editor@habitatbyresene.co.nz.