►
◄
latest
habitat tv

blog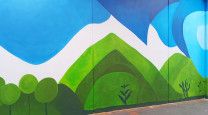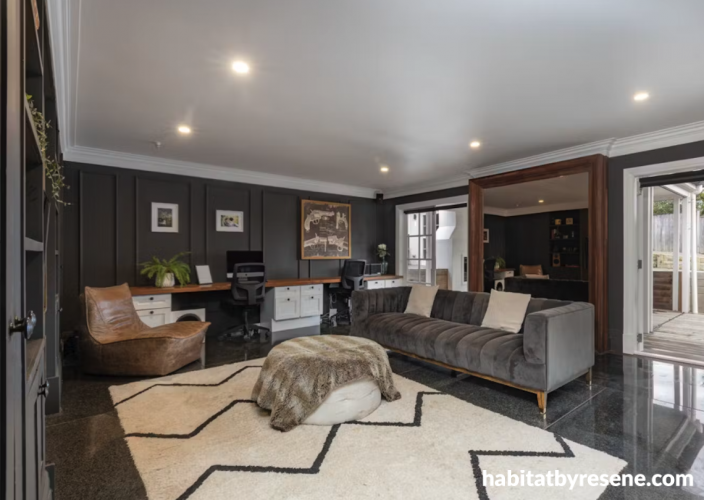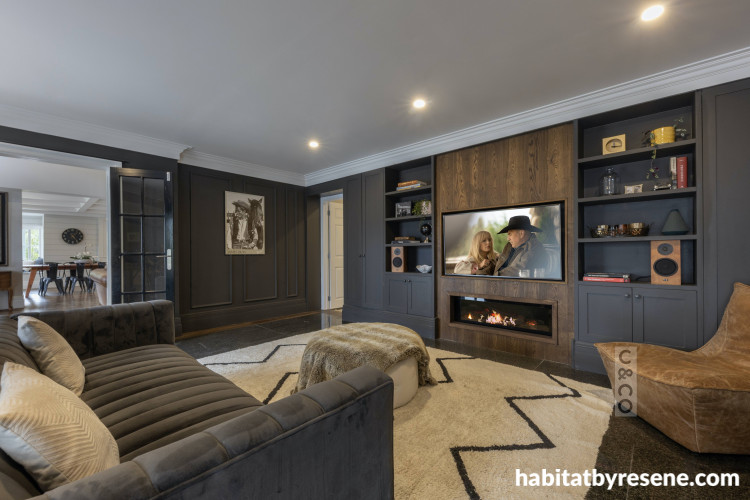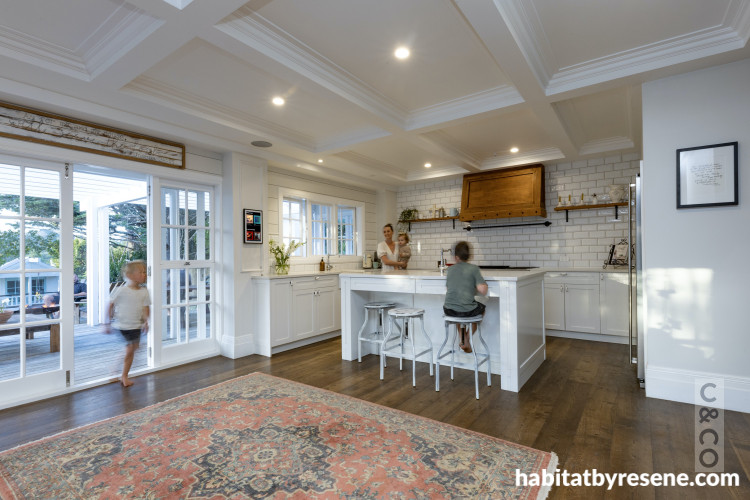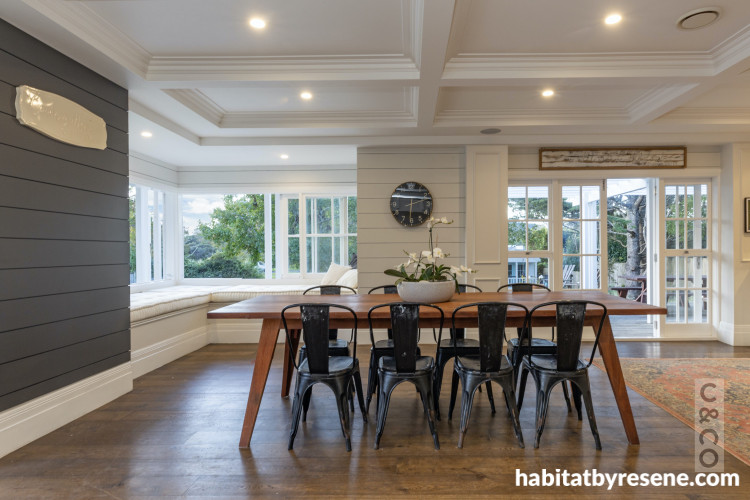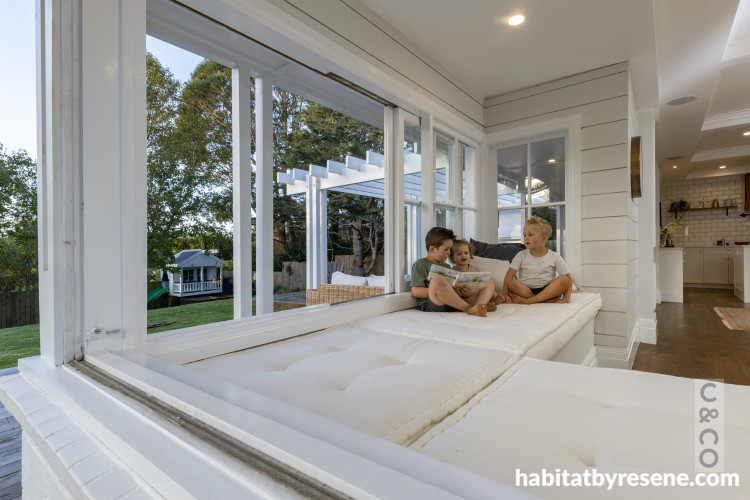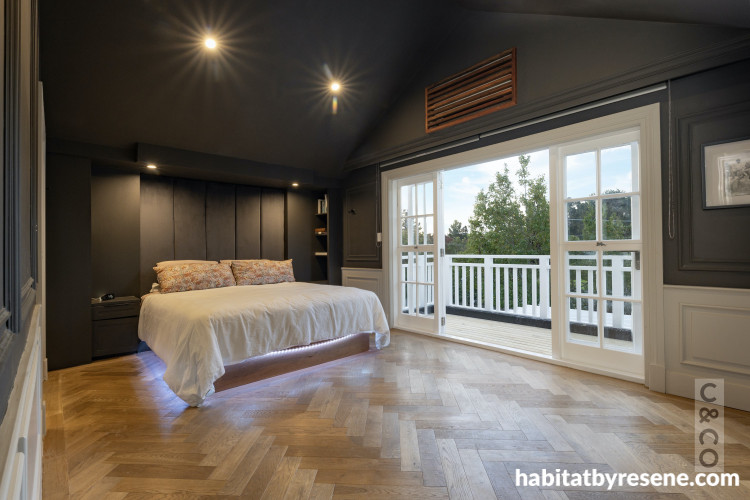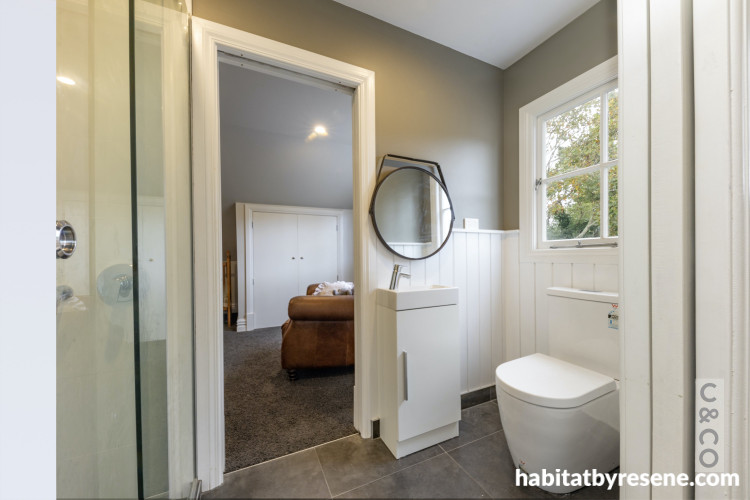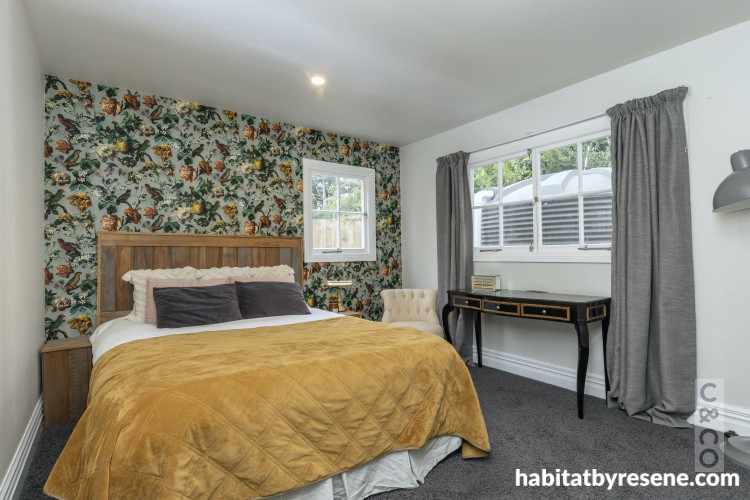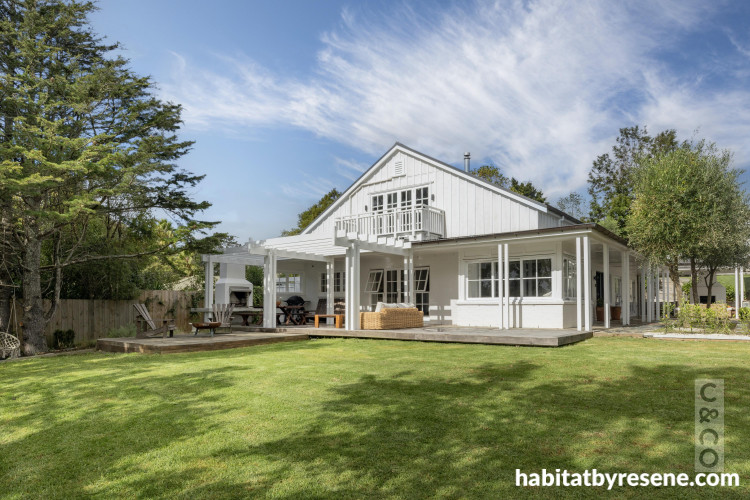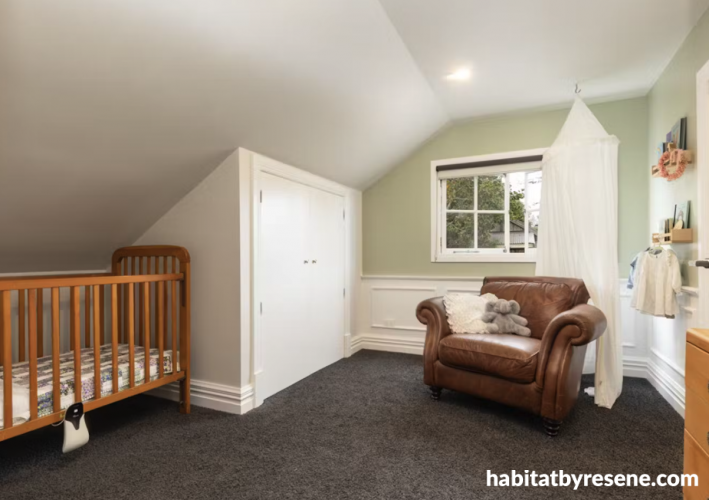 Hamptons meets the countryside: A winning combination for this converted barn house
Amalia and Matt bought a barn shed in 2014 with a vision to transform it into a modern Hamptons style barn house. Using bold greys like Resene Ironsand and gentle greens like Resene Green Spring, this hard-working family team have created a stunning home design with maximum appeal.
Matt's father was the architect for the couple's project, and with Matt being a certified builder it was an exciting project for the family to sink their teeth into. Although they had a dream team with an exciting plan, the experience didn't come without its challenges.
"We moved in when I was seven months pregnant with Jack," Amalia says. "We lived in a building site, it wasn't easy, but it was a fun challenge, and the memories are so special. We own a business, so the home was very much built in our weekends and the occasional days off work.
This home project has been a huge effort but so rewarding. We went on to have another two children and we're so proud of all we've accomplished, the love, muscle and time that went into this home, and the finished design."
Keeping the foundation and bones of the barn gave the advantage of size and height which adds a real wow factor to the home. Many textures, materials and statement pieces were also built into the home such as wainscotting paneling, herringbone floors, dark American oak floors, dark granite floors, dark carpet and an original English oak feature wall from Smith & Caughey's.
"We love all things interiors, homes, building, you name it," Amalia says. "We wanted to build these bespoke and special pieces that are part of the home, not just added to the home. We also wanted our colours to work nicely with all the beautiful bespoke features that make our home unique, aiming for a classic but sophisticated feel.
"The furnishings are minimalist because the home oozes luxury and we wanted it to breathe and be a statement enough instead of cluttering it and covering its beauty. It's a family home with young children but it feels luxurious and welcoming."
Amalia and Matt describe their interior style as luxe, stylish and bespoke. "We love letting the home speak with its statement features and adding beautiful textures and rich colours. We're not afraid to try things out that others may shy away from and think outside the box."
Loving the boldness and dark shade of Resene Ironsand, the couple chose to use this in the media room, creating a cosy and deluxe cinematic vibe, as well as in the master bedroom where it creates the ultimate luxury adults only space and works so stylishly with the lighter warm colours surrounding.
"Resene Ironsand is dark and luxurious, but when the sun hits it it's such a warm dark grey brown and feels so cosy," Amalia says.
Resene Double Sea Fog, a classic greyed white perfect for a Hamptons style home, was used on the walls throughout the home, along with Resene Half Alabaster on the ceiling, skirtings and window frames. These timeless neutrals pair well with the wooden features and charming décor throughout.
A cheerfully tropical wallpaper, Resene Wallpaper Collection 307302 from the Resene Museum Wallpaper Collection creates a classical and elegant feel to the guest bedroom and pairs well with the accented fabrics and furniture, resulting in a space that would make any guest feel welcome.
A fresh quiet-natured green, Resene Green Spring, was used for Jack, Maximus and Sadie's rooms. "It's so fresh," Amalia says. "It looks absolutely gorgeous in our daughters room paired with soft pink decor, yet in the boys room it works nicely and looks more grown up and super stylish with their silver bunk beds and display of books on their wall."
The kitchen and dining room is Amalia and Matt's favourite space in their home. This light and enchanting kitchen suits the style of the house, and the custom rangehood and mix of neutral colours offers a timeless appeal that is hard to beat in this heart of the home.
"Our friends come and snuggle up on the window seat, drink many cups of coffee and stay a lot longer than they'd planned," Amalia says. "We love hosting and the fact we've created a home that people feel comfortable and welcome in.
"We love the exterior, and indoor-outdoor flow. It's the most amazing entertaining house. There are so many areas for people to hang out in and it never feels too full. Visitors think it's an old house because it's full of character and special details so we're super stoked we've achieved that but love that it's in fact all new, warm, cosy and dry.
"All our amazing memories have been in the thick of renovating, running the business, having three kids and working tirelessly to create our beautiful home. It was always the plan to do it and move on to another big project. These last few weeks getting it ready to put on the market have felt like preparing a special present for the new owners, whoever they may be."
Amalia and Matt have lived and breathed this home, designing it from scratch, along with raising a family and creating many memories. They didn't want to create a home that could be easily replicated, and it really is one of a kind. Their home is now on the market ready for brand new owners, and Amalia and Matt are so excited to do it all over again somewhere new.
images and real estate listing Courtney & Co: https://www.realestate.co.nz/42359669/residential/sale/853-state-highway-16-waimauku
Top tip: Using bold Resene colours can really liven up and add depth to a space. Consider first what functions you're going to be using the room for: is it a cosy retreat, a lounge for entertaining or somewhere practical for getting work done? Decades of studies have shown that the colour you choose in a space impacts your mood when you're in it, so you'll want to select one that brings the right vibe for the activity at hand.
A strong colour scheme that showcases deeper, more saturated colours can elicit a strong emotional response. Certain bold shades create feelings of security and comfort while others may feel too heavy or even closed in.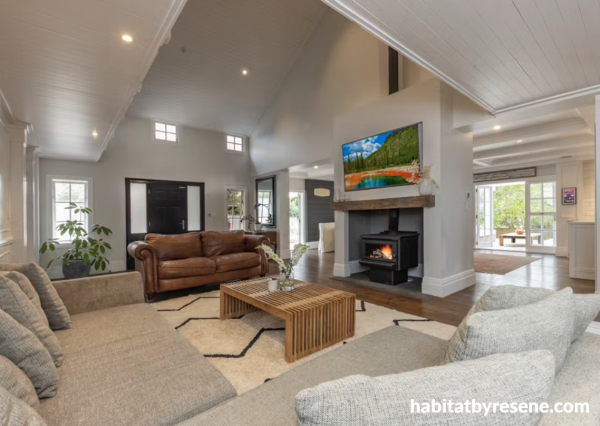 Perfect for this country meets Hamptons style home, Resene Double Sea Fog was painted on the walls of the living area, with Resene Half Alabaster on the trims and ceiling. The tall barn style ceiling and the original foundation add extra charm and appeal to the home.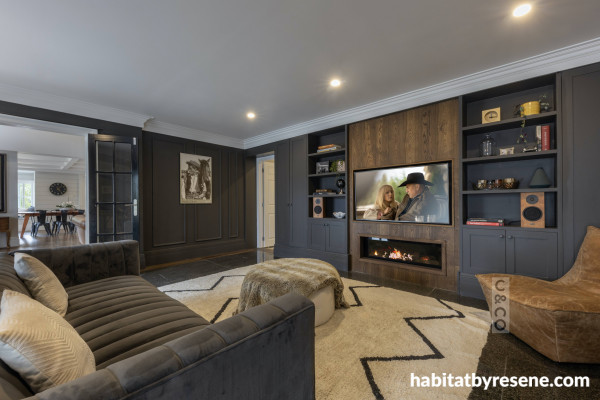 The striking and luxurious media room has a cinematic feel thanks to the dark shade of Resene Ironsand painted on the walls. Lush couches and blankets add to the relaxing essence of this space. Resene Half Alabaster was used on the trims and ceiling.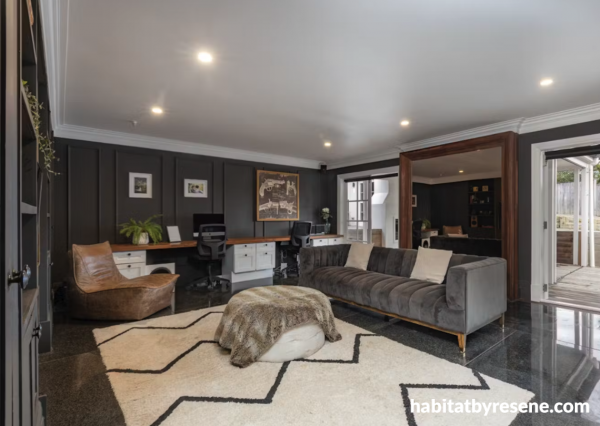 Doubling as an office, this media room's statement pieces like the granite floor and large-scale mirror give the room unbeatable charm, mixed with elegant and cosy décor to create an inviting space. Resene Ironsand, a dark and dramatic shade, was painted on the walls, with Resene Half Alabaster on the trims and ceiling.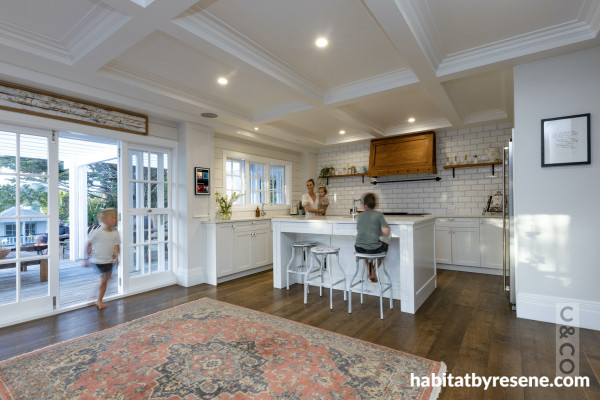 This welcoming, charismatic kitchen gives off an old-world country feel with a modern touch. The wooden rangehood pairs perfectly with the white tiles and neutral shades of Resene Double Sea Fog on the walls and Resene Half Alabaster on the ceiling and trims.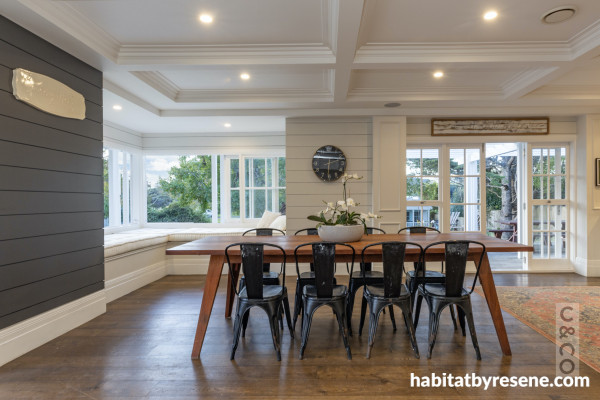 The dark shade of Resene Ironsand stretches out to a feature paneled wall in the dining area, creating cohesion through the home. Resene Double Sea Fog was painted on the walls and Resene Half Alabaster on the ceiling and trims.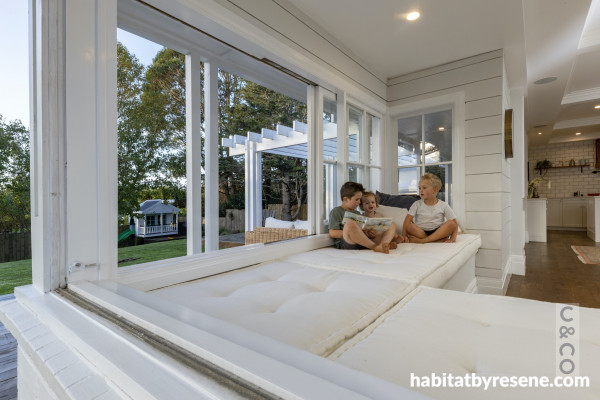 Jack, Maximus and Sadie enjoy reading their book on the comfy bay window seat. Looking out to their playhouse and backyard, this quaint corner of the home is extra special. The walls are painted in Resene Double Sea Fog and trims in Resene Half Alabaster, a stunning shade to frame the view of their family yard.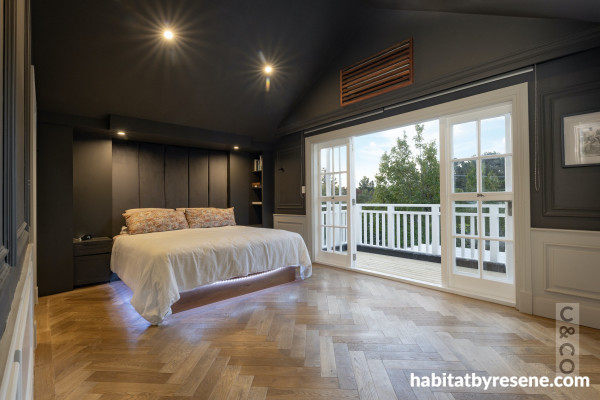 The adults only sanctuary of the master bedroom, is painted in the dark shade of Resene Ironsand, creating a cocooning feeling, perfect for relaxing at the end of a long day. The dark shade contrasts well with the trims painted in Resene Half Alabaster and the beautiful herringbone timber floorboards.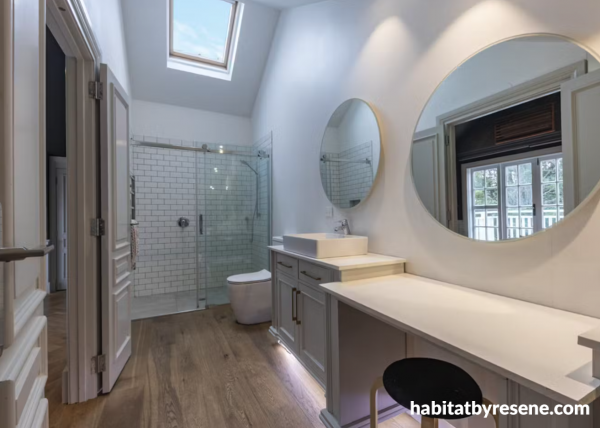 The master ensuite offers plenty of space for both relaxing, or getting ready for the evening. Sunlight offers natural light to the space, bouncing off the lovely neutral walls painted in Resene Double Sea Fog with ceiling and trims in Resene Half Alabaster.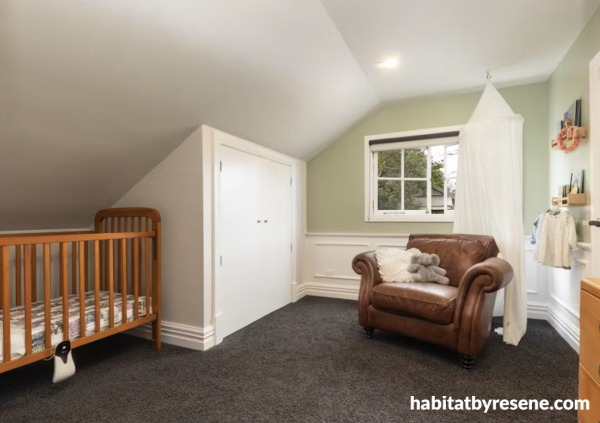 A fresh and gentle green, Resene Green Spring, was used in the children's rooms. This shade has a pleasant calming feeling, complementing the shades of greenery popping through the windows, along with the white walls painted in Resene Double Sea Fog and ceiling and trims in Resene Half Alabaster.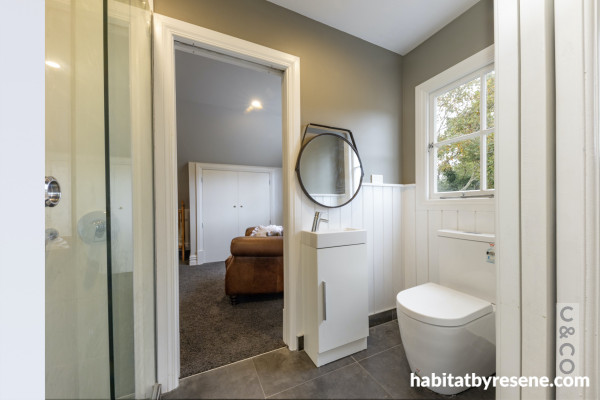 Stretching through the kids' rooms, their bathroom creates a cohesive feel with Resene Half Alabaster on the paneled wall and trims and Resene Green Spring on the above wall space - a fresh and soft colour, great for a bathroom.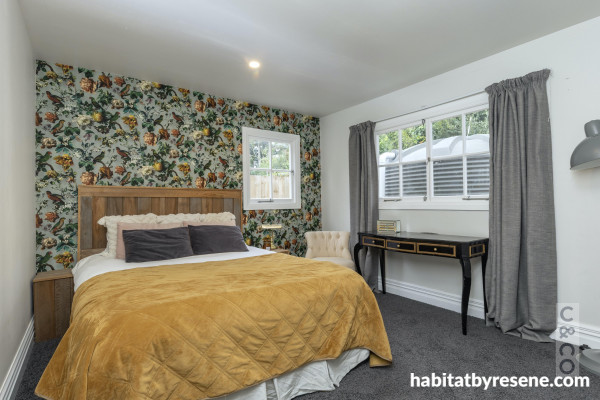 This unique and artsy wall in the guest room, wallpapered in Resene Museum Wallpaper Collection 307302, makes a welcome addition for any guests coming to stay. The small pops of gold have been reflected in the décor giving more colour to the room. Adjacent walls are painted in Resene Double Sea Fog with ceiling and trims in Resene Half Alabaster.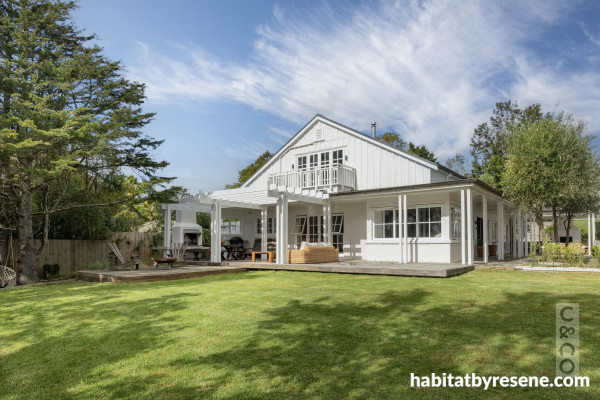 This home and yard has many special family memories. The ease of indoor-outdoor flow in this barn-style home is perfect for entertaining, and the neutral colours flow seamlessly from the interior to the exterior, painted in Resene Black White.
Published: 10 May 2023
Do you have a home full of wonderful Resene paint and colour? Send us some snaps by emailing editor@habitatbyresene.co.nz.
the look
If you're stuck on what
colour to use or need colour
advice, try out the Resene
Ask a Colour Expert service.
the look
If you're stuck on what
colour to use or need colour
advice, try out the Resene
Ask a Colour Expert service.