►
◄
latest
habitat tv

blog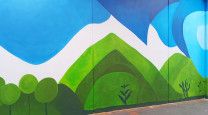 Embracing the cold: Designing the perfect outdoor space for winter
As the temperature drops and the days become shorter, many of us begin to retreat indoors and leave our outdoor spaces neglected until the warmer months return. However, with a few touches of inviting Resene paint colours, and some cosy décor, you can transform your outdoor area into a comfy haven that you can enjoy even in the depths of winter.
Cosy nooks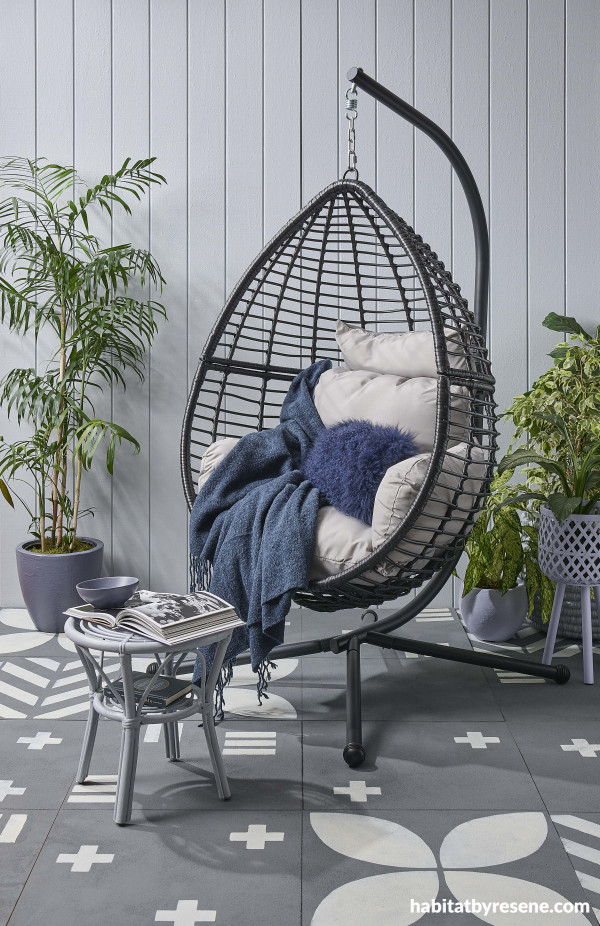 This cosy nook for one is the perfect place to read a book on a winter day. Weatherboard walls are painted in Resene Half Grey Chateau, the floor is coated with Resene Non-Skid Deck & Path in Resene Landscape Grey with stencilling in Resene Off Piste. The coffee table is painted in Resene Grey Chateau and planters in Resene Grey Chateau, Resene Poet and Resene Jimmy Dean. Hanging chair, throw and cushion from Nood. Project by Megan Harrison-Turner, image by Bryce Carleton.
This outdoor area may be small, but it feels incredibly luxurious and spacious with a modern painted effect on its tiles. Resene Off Piste contrasts beautifully with Resene Landscape Grey and creates a coastal, soothing outdoor scene. Outdoor spaces are a fantastic place to be more daring with colours and patterns – it's often the confidence boost needed to bring that adventurous design spirit indoors.
To complete the monochrome look, a coffee table in Resene Grey Chateau blends seamlessly into the space. If you're after a brighter pop of colour to create a statement piece, try pastel tones like Resene Geneva or Resene Half Pale Rose that complement cool grey hues. Add some cosy cushions and blankets, and you're all set for a colder evening relaxing outside.
Blushing pinks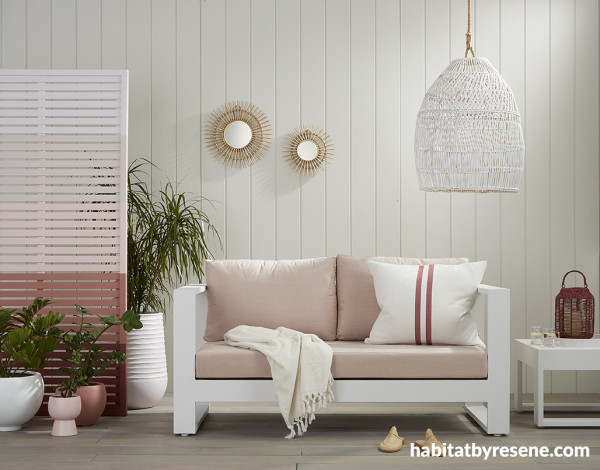 Wall painted in Resene Triple Merino, deck in Resene Woodsman Tiri, ombre screen in (from top to bottom) Resene Ebb, Resene Soothe, Resene Paper Doll, Resene Coral Tree and Resene Merlot, plant pots in (from largest to smallest) Resene Ebb, Resene Alabaster, Resene Coral Tree, Resene Paper Doll and Resene Merlot and pendant lampshade in Resene Alabaster. Sofa and coffee table from Outside Space, cushion from Collect Living. Project by Kate Alexander, image by Bryce Carleton.
Adding touches of warmth through blushing pinks, toasty terracotta or sunny oranges can make those dark winter evenings feel just a little more cosy. These shades evoke feelings of the summer sun and warm sand, and if you've got an outdoor heater to make the evening sweeter, you might even forget it's winter! Try an ombre design reminiscent of a sunrise or sunset in the pink shades above, or try oranges or ochres like Resene Tuscany, Resene Whiskey Sour and Resene Manhattan.
Top tip: If your timber deck, patio or furniture needs a refresh before you even dream of inviting over visitors, clean it with Resene Timber and Deck Wash then finish with Resene Woodsman or Resene Kwila Timber Stain. For furniture you can also use Resene Timber and Furniture Gel.
Sun-kissed patio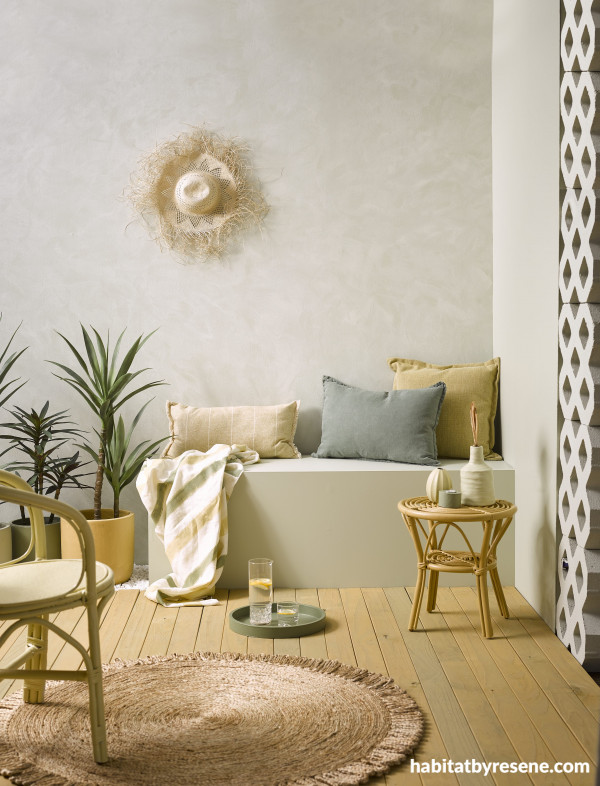 The walls on this outdoor patio have been painted in Resene Aspiring with Resene FX Paint Effects Medium mixed with Resene Moon Mist. These, combined with the textured and visually interesting element of the stacked breeze blocks on the left, painted in Resene Moon Mist, bring life and pattern to the outdoor space. Deck is in Resene Woodsman Uluru, a wood stain combining timber protection with the most natural appearance possible. Table and large plant pot in Resene Teak, smaller plant pot in Resene Siam, tray in Resene Flax and DIY striped painted throw in Resene Yuma and Resene Flax, vases in Resene Thistle and Resene Eagle and tealight holder in Resene Bitter. Rug from Mocka, cushions from Adairs and Allium, carafe and tumbler from Città. Project by Vanessa Nouwens, image by Wendy Fenwick.
Why not create a warm Mediterranean vibe for the colder months? The south-of-France look pulls together sun-washed colours and the texture and patina of age on building materials. Since we don't have hundreds of years to work up that look, we can speed things up using Resene FX Paint Effects Medium to give a limewashed effect. This visual design feature is a unique alternative to traditional wall coverings and is especially suited to outdoor areas where surfaces are often rougher.
Snug screen time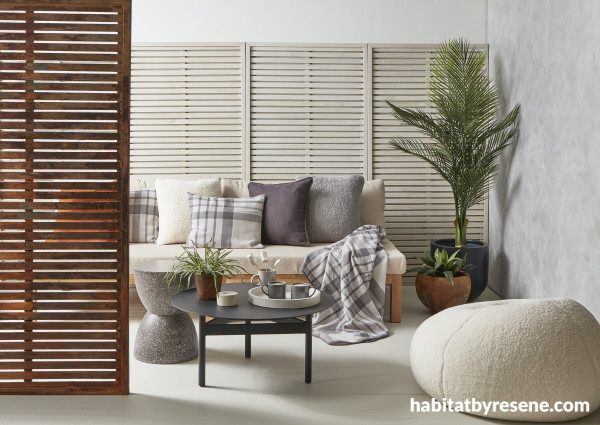 This winter patio is a great addition to any backyard. The back wall is painted in Resene Triple White Pointer with a side wall in Resene Friar Greystone rag-rolled with Resene FX Paint Effects Medium mixed with Resene Quarter Friar Greystone. The back trellis panels are in Resene Woodsman Whitewash and the flooring is in Resene Triple White Pointer. The table and large planter are in Resene All Black. The smaller planter and front trellis are in Resene FX Faux Rust Effect. Sofa from Early Settler, blanket and chequered cushions from The Warehouse, fur cushion from Adairs. Project by Vanessa Nouwens, image by Wendy Fenwick.
Whether your patio is flush against your home, further into your yard or on a balcony or rooftop, one of the key considerations for ensuring you can make the most of this space year-round is by creating protection from the elements. While sun and rain are some of the obvious culprits, wind and cold can be just as lousy for interrupting your shared or solo chill time. Panels like these slitted timber screens at the rear of this patio, which have been finished in Resene Woodsman Whitewash, can be moved around to keep out the lion's share of the wind, provide privacy from surrounding neighbours and look beautiful and casual while doing it.
Don't limit your outdoor patio to the summer months. Sit in style all year long by transforming the space into a warming winter nook with warm and inviting Resene paint colours, cosy cushions, throws and wind breakers.
Ways with breeze blocks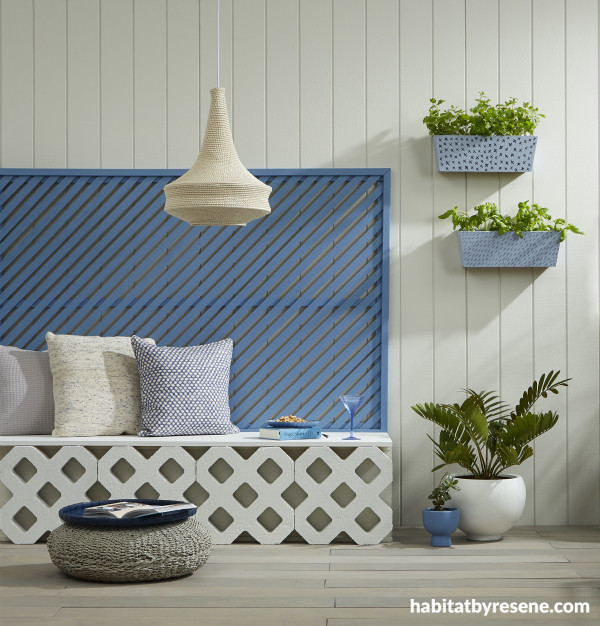 This outdoor wall is painted in Resene Triple Merino, with a screen in Resene Kashmir Blue to add a pop of colour. Breeze blocks painted in Resene Triple Merino, boards in Resene Tiri, trolley and woven tray table in Resene Indian Ink, planter boxes in Resene Smokescreen with dots in Resene Indian Ink, medium pot plant in Resene Alabaster and smaller pot plant in Resene Kashmir Blue. Project by Kate Alexander, image by Bryce Carleton.
Breeze blocks are also a great addition to any outdoor space, they are not only a visual element but also provide privacy without blocking all light from the space. Strong and flexible, these landscaping staples can be used for much more than garden beds. Try one of these projects with blocks painted in a couple of coats of Resene Lumbersider in your chosen Resene paint to complement your colour scheme:
Use them as a barrier: have a builder or stone mason stack and grout breeze blocks vertically to create a barrier or divider for added privacy around an outdoor social space.
Use them to build a bench: line up a series of breeze blocks horizontally to form a decorative front base of a bench and cut structural plywood to size to create the rest of the bench.
Use them to build a raised planter box: stack and grout breeze blocks both vertically and horizontally to form a four-sided planter box lined with plywood cut to size.
Unless you are using them purely decoratively, be sure to choose breeze blocks that are structurally sound enough – and properly anchored and secured – for the project you're making.
Remember when you're planning to spend time outdoors over the cooler months, make sure you have snugly rugs and blankets handy or consider adding an outdoor heater. Make the most of your time outdoors all year round!
Published: 19 Apr 2023
Do you have a home full of wonderful Resene paint and colour? Send us some snaps by emailing editor@habitatbyresene.co.nz.